Mig Vapor is one of the most trusted firms in the vaping industry. This statement may take you aback if you are an industry veteran, and you haven't heard this name often. You may not have heard it because Mig rebranded.
Initially, the company was known as Mig Cigs. After an intense period of research, Mig increased their range of products and took their current name. If you are looking for vape pens, vape mods, all manner of vaporizers, or even juice, Mig Vapor have them all. You can check out their most outstanding products in this Mig Vapor review below.
Mig Vapor Product highlights
The following are the highlights of Mig Vapor products under different categories.
Mig Vapor Dray Portable Dry Herb Vaporizer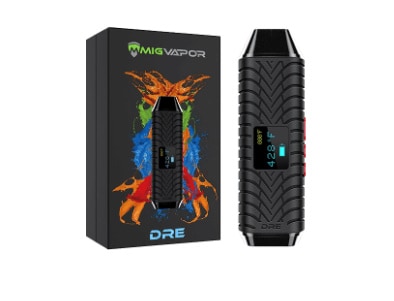 This is a recent creation that puts into consideration the thoughts and dreams of vapers as gathered by the manufacturer over time through customer reviews of previous products. It is well priced to ensure affordability while at the same time striving to give its users a quality vaping experience. 
The Dray is arguably the best Mig Vapor Dry Herb vaporizer in the market today.
It gives you almost complete control of your vaping temperature, which allows you to establish which temperature works best for you. You can set your preferred temperature to use throughout or change it as you deem fit if you prefer to alter your vaping temperature from time to time.
Mig Vapor Matrix Sub-OHM Kit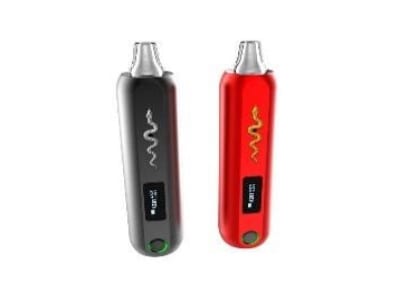 This vaporizer is versatile, and you can use it regardless of the length of time you have been vaping. It is suitable for dry herbs and concentrates, and it has separate chambers for concentrates and herbs. You use the chamber for herbs when vaping dry herb and the other one at the time you are vaping wax. 
This pen is suitable for both beginners and experienced users. Its suitability for this wide range of users is because it has settings that can be adjusted to meet their needs. 
It is suitable for dry herb and concentrates. It has temperature settings ranging from 3000 F to 4500F, which allow you to vape your weed to the degree you like it vaped.
Mig Vapor 21 Clear Fusion Kit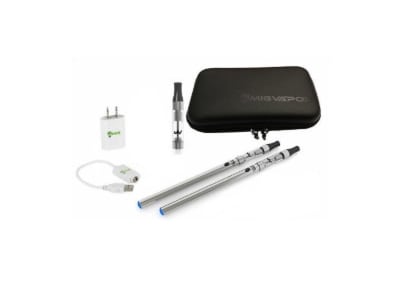 This pen is about the size of a cigarette, and it is highly stylish. Its fusion tank is transparent, which allows you to see its content to determine refilling time quickly.
Its small size enables you to have a time of discreet vaping wherever you may be. It also comes in a wide variety of colors, which allows you to pick the one you prefer. The pen battery is designed in such a manner as to enable you to vape while on the go comfortably.  
Despite its small size, it produces high-quality vape. The pen itself heats up at an impressive three seconds, and its battery is capable of maintaining power for up to twelve hours of moderate vaping.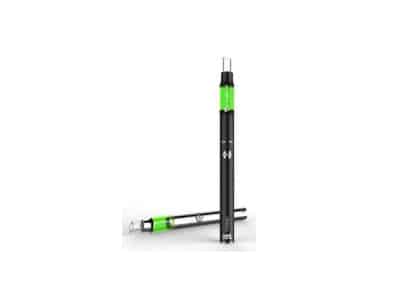 It is specially developed to meet the needs of mobile vapers. It is light and small, thus allowing discreet vaping. 
The dab pen WASP has LED light indicators and a 1900mAh battery, and it uses a Pyrex glass mouthpiece, which helps preserve flavor. Its hit output ranges from 4000F – 4550F, and this makes it suitable for vaping different types of dabs.
This Mig dab pen also comes with a wireless USB charger for greater convenience.
Mig Vapor Khan Dry Herb Vaporizer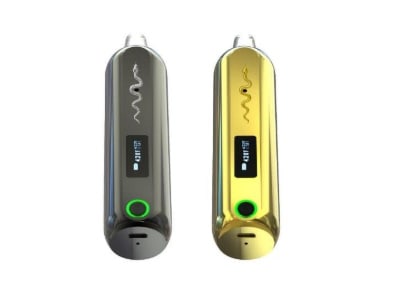 It has an aluminum body, which makes it both light and durable. The vaporizer has a ½ gram dry herb chamber, which is a substantial amount for a single packing.
Its chamber is entirely ceramic with no plastic at all, and that ensures that you only get the flavor you bargained for. The pen has an LED screen on which you can see its temperature setting.
The Khan Dry Herb Vaporizer comes with a 2500 mAh battery, and it has temperature settings that range from 302 to 4640F.
This range of temperature enables you to vape dry herbs with different dominant cannabinoids. Further, the pen has an isolated air path that keeps your vaping experience pure.
Mig Vapor Morpheus Vape Mod Kit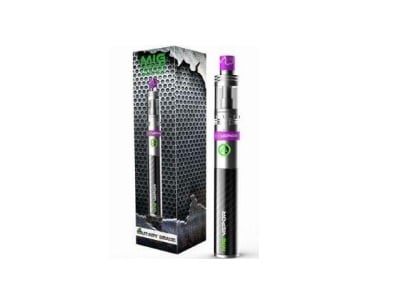 This high-end Mig vaporizer is made from carbon fibre and steel. It comes with two different coils which are made of kanthal wire. The pen also has an exceptionally powerful battery that releases 100 watts.
Its tank has a 3mls capacity which is higher than most pens. The bigger tank enables you to enjoy vaping for a long time without having to refill.
Morpheus doesn't have an LED monitoring screen, and this lack of screen appears to be an anomaly for a pen that is so advanced in every other way.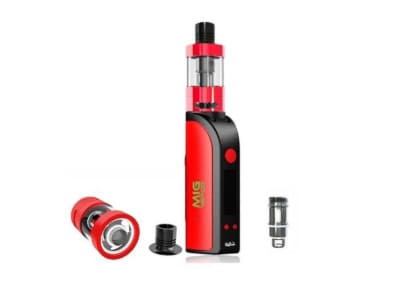 This mini-mod ensures the needs of all categories of vapers are met. Its temperature range from 2000F to 6000F allows all different groups of vapers to enjoy.
The power of the device doesn't in any way affect its portability, and you can comfortably walk around with your pen and even enjoy some discreet vaping. The manufacturer has put measures in the design to help you protect your device from overheating, short-circuiting, or overcharging.
Mig Vapor SubHerb Target Mini
This vaporizer of Mig Vapor is made for use with both dry herb and concentrates. It has a glass mouthpiece and a chamber entirely without plastic. 
Lack of plastic in the chamber preserves the flavor and enhances your vaping experience. You will enjoy using this pen for a long time since it has a durable stainless steel body.
It takes an impressive 3-8 seconds to heat up. The pen has a beautiful design, and its body is made of stainless steel.
The battery produces 40 Watts of power, which is moderately high, but a more powerful battery might give a heavy vaper a better experience
Mig Vapor Minion Vape Mod Kit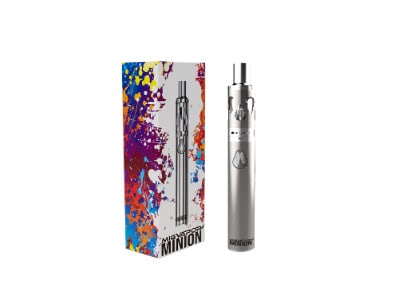 This pen is small and very portable, just like its name suggests. It also has a single button function, which makes it easy to use on the go. 
It is most suitable for vaping juices, and it has a kanthal wire coil, and its connector is spring-loaded. 
The Minion is easy to assemble, and this makes it easy for users who are not DIY gurus to clean and reassemble without destroying it in the process. 
You should be careful to avoid dropping it, though; the top cracks easily.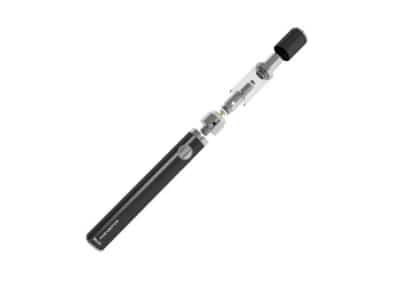 This pen from Mig is both beautiful and simple. It is designed for both men and women and where each can choose the color that most fits them as a way of expressing their individuality.
It has a magnetic cap that increases its discretion and prevents contamination of the product in the chamber. An experienced vaper might find its power, at 22 W, a bit underwhelming.
It has a magnetic cap to enhance stealth and prevent leakage.
Mig Vapor Premium Nirvana Grunge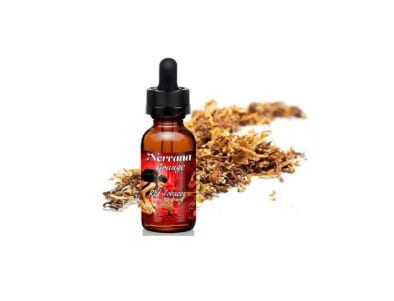 If you prefer full-body tobacco, this is your product. The flavor is simply Virginia tobacco, skillfully extracted and blend and slightly sweetened.
Its nicotine level ranges from 2.4% to zero, which makes it suitable for moderately heavy nicotine users at the beginning, and it helps them work downwards as they reduce the intake of nicotine.
This is a premium product that is ideal for people who love class.
Mig Vapor Premium Mocha Mint
This juice contains a well-blended combination of coffee and chocolate mint flavor, among others. Its  two primary flavors are coffee and chocolate.
Its nicotine level ranges from 2.4% to 0%, which enables the juice to cater for people at different levels.  The oil is made from a high-quality nicotine base, and it has a 30:70 PG-VG ratio.  
The PG-VG ratio is perfectly blended to give you a throat hit and adequate vapor thickness. All the ingredients used in manufacturing are of exceptionally high quality.
Mig Vapor Red Line Vimmana High VG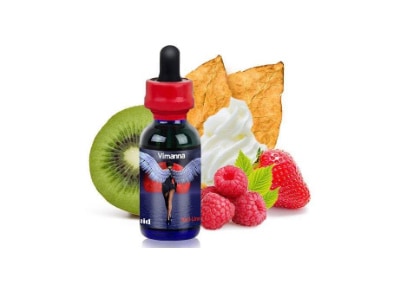 The juice has a combination of flavors that make vaping it enjoyable. The flavors include strawberries, raspberries, and pomegranates. Besides these flavors, it also has a bit of tobacco flavor, which blends perfectly with the rest.
Its nicotine levels range from 0.6% to 0%, and it is one of the most popular vape juices in the world. The manufacturer gives you a 30-day money-back guarantee on this product. 
Mig Vapor Colombian Coffee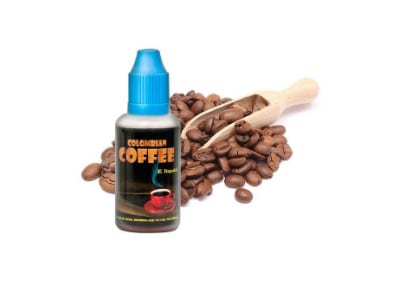 This juice is made from a combination of coffee beans from South America and cappuccino, and it has a relatively high nicotine level.
The juice allows you to enjoy a great taste of coffee in the morning without back taste. It works well for both beginners and experienced vapers. The juice can be used by vapers of different experience; from beginners to veterans.
Mig Vapor Premium Caribbean Freeze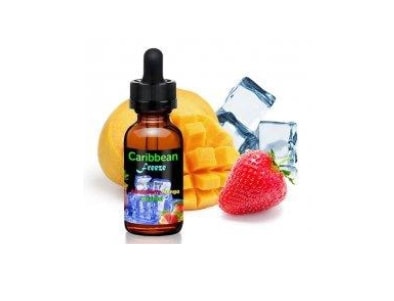 It has a dominant menthol flavor. Besides menthol, it has strawberry and mango flavors giving you an enjoyable blend of taste.
The flavors are both artificial and natural, and it is packaged in 30 ml bottles. Its nicotine levels range from 2.4% to 0%.  
This juice's PG-VG ratio is 50:50, giving you a nice cloud and throat hit for enjoyment. This equal ratio, however, isn't suitable for people who prefer more PG or more VG, and a majority of smokers are likely to prefer more of either. Fortunately, there is a wide range to choose from. 
Mig is a big, respectable brand in vaping, and there is a lot to like in their products and services. The company continually invests in research and development to better meet the needs of clients. It optimizes device effectiveness so that customers get the best experience in their price range if they follow the Mig Vapor instructions while using them. 
Most of Mig devices allow customers to set temperature, and setting temperature is also a way of controlling the intensity of a user's vaping experience. A good number of these devices are made from materials such as aluminum and stainless steel, which are quite durable.
Some of these devices can record the last temperature you used. This makes it possible to try out different temperatures until you get the perfect hit. Once you get the hit, you don't need to worry about forgetting which temperature it was because you already have it recorded in the device. 
Concerning the juices, Mig Vapor has endeavored to ensure that the products are clean and healthy. Customers like the fact that these products are manufactured in FDA approved laboratories and that they are made in the United States. The products, therefore, have to meet American safety standards that are among the most stringent in the world.  
Some of the juices are made from natural flavors, while others are made from artificial flavors, and you, therefore, get to pick the one you prefer.
The company ships all orders for free in the United States, and the delivery system is quite efficient.
Some gadgets are quite delicate, especially in parts made of glass. To reduce the possibility of them cracking, get stands for your vaporizers, especially those that are cylindrical to keep them from rolling off the tops upon which you keep them.  
There have been a few complaints concerning chemical taste in some of the vape juices. This, however, doesn't happen with all e-liquids.
Some products of Mig have an evenly split PG-VG ratio, and it may end up not satisfying your need either for a better hit or for thicker smoke.
Mig Vapor has such a well thought out wide array of products that even if there are challenges, you can always get a solution by trying a different product from their range. 
Mig Vapor works hard to ensure that customers are well handled and that their shipments get to them in a reasonable time. 
Ultimately, you are better off buying your products from Mig through their website because then you have a considerable quality guarantee.  
Read more on AmericanMarijuana