The CBD industry is booming and you'll find tons of CBD brands trying to outshine each other. With so many brands to choose from, it's easy to feel overwhelmed and confused, particularly if it's your first time to try CBD products.
If you are looking for a brand worth investing your hard-earned money, here's a handy Sol CBD review you can check out.
Sol CBD started out with Oksana and Larry Ostrovsky. This married couple has an intense passion for natural healing and they have several blogs about it.
They started out as life coaches who were focused on health as their main subject. After spending time in the said field, they decided to branch out and produce high-quality CBD products.
The brand is transparent when it comes to the quality of its CBD products.
In addition to submitting them for third-party testing, they also share the results of the tests on their website. This gives you a clearer idea of what you're actually buying with your hard-earned money.
The company also has a money back guarantee. If you're not satisfied with any of their products within a 60-day period, you can get a refund.
Sol CBD Product Highlights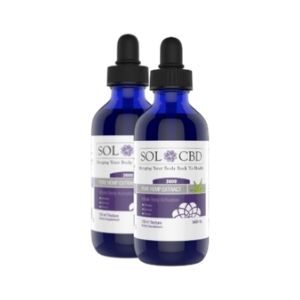 You can get Sol CBD Tinctures in 2 different strengths.
If you are just starting out, you can get its 300mg bottle. In case you're looking for something stronger, then purchase its 4000mg bottle.
This option has about 3x more CBD per dose than other brands.
Take note that the 300mg bottles are available in 2 flavors- cinnamint and natural. There are no flavor options for the stronger tincture.
The hemp extract in this product is suspended in MCT oil. It's supposed to increase the effectiveness of the oil and there are tons of Sol CBD oil reviews that agree.
Now, in case you're wondering how to use Sol CBD's Tincture oils, it's actually quite easy. All you need to do is apply the oil under your tongue. Wait for a few seconds before swallowing.
With the bigger 4000mg bottle, you'll get a 2ml dropper. For the smaller 300mg bottle, you'll get a 1ml dropper. This is important when you're still trying to figure out the right Sol CBD dosage for you.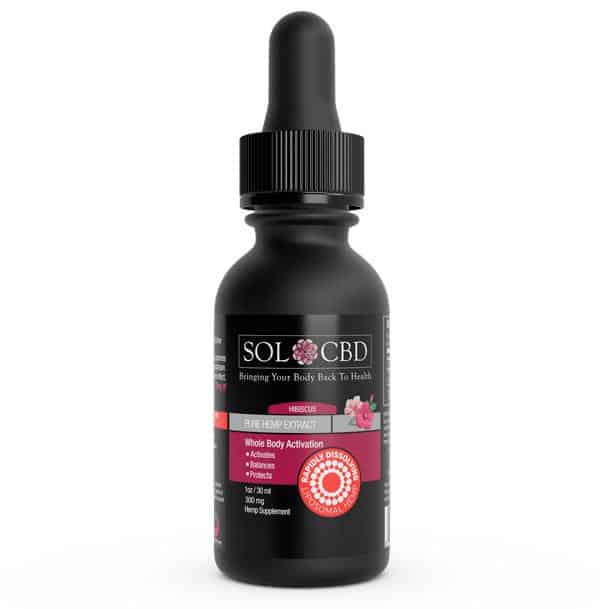 Sol CBD is one of the few brands that market liposomal CBD products. They are basically CBD oil which you can dissolve in water.
Is it a good thing?
Well, if you don't really like the taste of hemp, then yes. Liposomal CBD makes it easier for you to make your preferred CBD beverage.
In case you're wondering about the taste, the product actually has an orange flavor made with natural flavorings.
Sol CBD's version of liposomal CBD is made using sunflower-extracted phospholipids, egg yolk, and soybeans. It's also loaded with a full range of terpenes and cannabinoids.
As for how much you should take, the ideal is around 4 pumps in a glass of water two times a day. Sol CBD Liposomes come with a pump lid which is good for getting the said recommended serving size.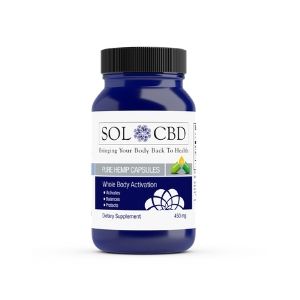 Sol CBD Capsules offer an easy and convenient way for you to take your CBD if you can't tolerate the taste of the tinctures or if you need your CBD dose on the go.
Apart from that the capsules mask the taste of CBD, they also make dosing a bit easier. With each capsule, you'll get about 15mg of CBD. So for each 30-capsule bottle, there's around 450mg of CBD.
The capsules are manufactured from high-quality hemp that's grown in the country. Sol CBD uses CO2 extraction method so you won't have to worry about dangerous chemicals getting into your CBD products.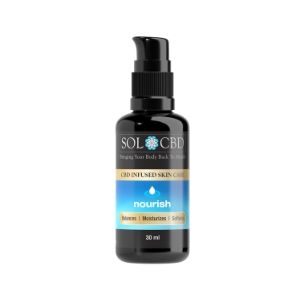 One of the exciting things about this brand is that it actually has a CBD skincare line and it has two products.
There's the Nourishing Organics Oil which is highly recommended for skin that's already good but needs maintaining. If you're already satisfied with the way your skin glows and don't want it to deteriorate or develops signs of aging, go with this one.
Now, if your skin needs a bit more help, the Healing Organics oil is for you. It's helpful in managing spots, blemishes, and fine lines. Containing more CBD, it's a bit more intensive.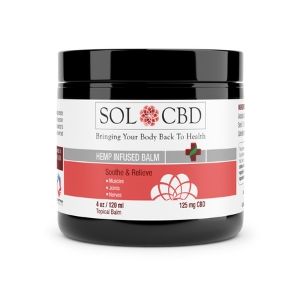 If you have painful muscles, nerves, and joints, Sol has a balm infused with 13 different ingredients. It's formulated to penetrate the muscles and joints quickly for your desired effect.
Apart from pain-relief, the balm also has nourishing properties. With Omega 3s and 6s and vitamins C, D, and E, it can also help treat eczema and manage stretch marks, acne, scars, and wrinkles.
When you are trying out CBD oil for the first time, there's always that doubt and fear that it might not work for you. Sol CBD addresses that by offering 60-day money back guarantee.
If you buy any of their products and you're not satisfied with the effects you experience, you can just return it and get your money back. You can use the whole 60 days to test them out.
The brand submits its product for third-party testing and they make sure that everyone has access to the results.
If you're going to buy their products and you want to make sure that you're buying the right one for your needs, you can check the section under each product. There you'll see the complete information you need.
Sol CBD has a good range of products. While its list is not as extensive as other bigger names in the industry, what they have to offer is already impressive.
Remember, apart from the liposomes, it also has products for the skin.
While Sol CBD offers choices, the range of strengths of its products is limited. If you're still on that stage of finding the perfect dose for you, it can be a tricky process.
You'll find brands with similar products at a lower cost. However, the brand offers Sol CBD coupons which you can use to reduce the price of their products.
Currently, Sol CBD only ships within the US and the US territories. We suggest you buy directly from the site.
About Sol CBD Customer Service
Providing excellent customer service is one of the focuses of this brand. Apart from sending them an email, you can also talk to one of their representatives directly on the site.
And speaking of the website, its design is super user-friendly. There's a tab where you can see every product they sell so you won't have to open multiple tabs just to see which one to pick.
It also has a FAQ section that provides really useful information for its consumers.
It has a CBD 101 section, too. In this part, you'll learn a great deal about CBD, how it works, and what benefits you can get from them. The section also shares information and tips on how to choose the best CBD product for you.
Overall, Sol CBD is an excellent brand that definitely deserves more attention. While it's small, it offers a handful of really good products that aren't just effective in providing relief and easing stress but also in keeping the skin in good condition.
Take note that the brand is based in the United States. If you are from the UK or from other parts of the world, you may not easily get your hands on their products.
Sol CBD only ships within the US.