This roundup collects our picks for the best CBD wax and CBD dabs on the market, across a wide range of related products including live rosin and CBD crumble.
While the CBD marketplace has exploded in popularity over the last few years, CBD dabs remain a niche product. Unlike other categories like CBD oil or gummies, there are actually fewer quality CBD wax products on the market than there were when we first started working on this article. We've browsed through the top CBD brands, and looked at online feedback to collect the best CBD dabs you can buy in 2021.
We're broadly going to discuss a wide variety of products here, which could generally be called "CBD concentrates." These include CBD wax, CBD dabs, CBD live rosin and CBD crumble. The issues of discussion in this review are relatively similar regardless of which form they come in, though of course CBD consumers may develop preferences for a certain form. 
We're looking only at hemp-derived CBD dabs in this roundup, meaning they are high in CBD and (legally) must remain below 0.3% THC. The various kinds of CBD wax in this article should be legal to purchase across the U.S. under federal law.
First we'll look at our favorite CBD wax products on the market, then we'll talk about our favorite method of taking CBD dabs, and finally some introductory information to explain what CBD wax is all about.
The following are some of our most preferred CBD wax products. We have evaluated them for purity, potency, and general quality.
1.

Cheef Botanicals CBD/CBG Wax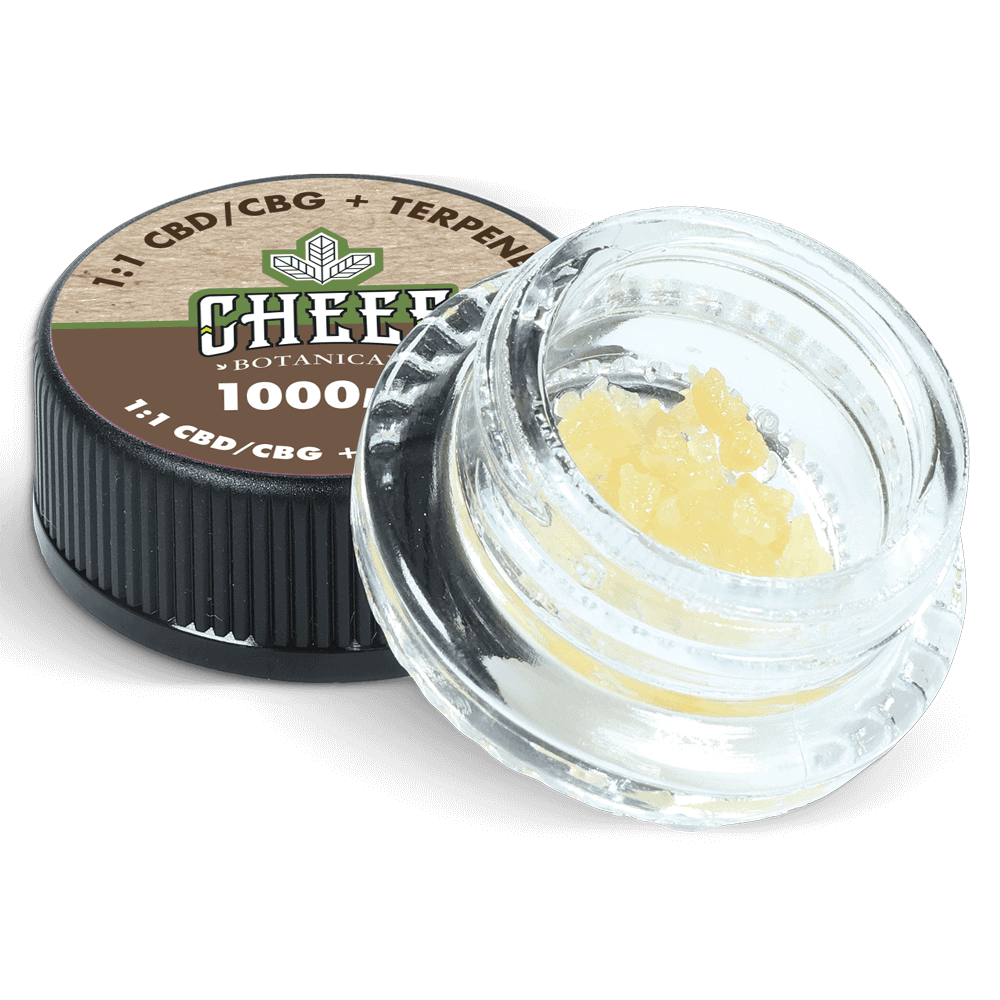 Highlights
One of our favorite brands at American Marijuana
Available in a CBD / CBG blended wax
CBD Distillate & Isolate also available
Cheef Botanicals is a leading producer of high-quality CBD products and one of American Marijuana's favorite brands. As a result, we feel extremely confident about the quality and purity  of these dabs, even though this brand offers less variety than some others on the list below. 
We also appreciate Cheef Botanicals' generous satisfaction guarantee. You have 30 days to try almost all Cheef Botanicals products, and can return them for a full refund if you're not completely thrilled with what you experienced. That includes their CBD dabs which they claim contain the "cleanest CBD on the net."
One great feature of this brand is their CBD + CBG wax, combining two of the most popular and potent cannabinoids into one great dabbing experience. Their full spectrum dabs also contain a wide range of other trace cannabinoids like CBN, CBDA and so on, ensuring you get the full benefits of the hemp plant. 
2.

Robin Hood Extracts King Richard's Reserve Rosin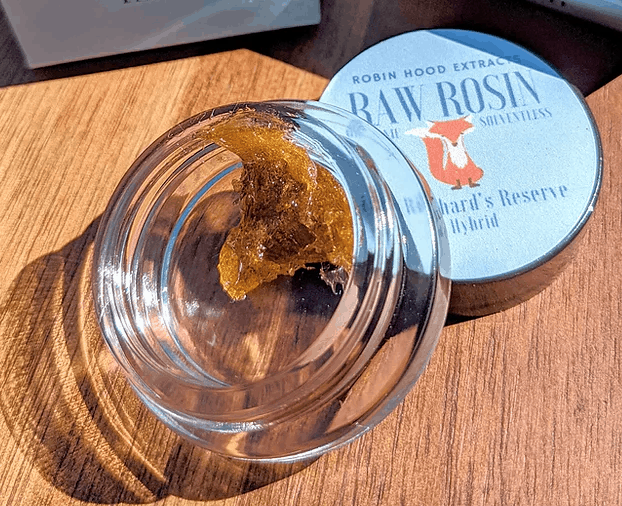 Highlights
Unique rosin format
Rich in terpenes and additional cannabinoids
All natural solventless CBD dabs
Rosin is a form of dab rarely found in CBD form. It's become extremely popular in states with legal recreational or medicinal THC-rich cannabis, because it's seen as an especially pure form of dab. They are typically made simply through the application of heat and pressure alone, without the use of any solvents. 
Robin Hood Extracts brings this popular form of dab to the CBD field. Their King Richard's Reserve Roisin has the legal, low levels of THC (below 0.3%) but is high in CBD and other cannabinoids, and the natural extraction method creates a dab that's very high in naturally-occurring terpenes.
This is a smaller brand, with just the one product available, but one that comes highly recommended for people who prefer a more natural CBD dab.
3.

Extract Labs Blue Dream Crumble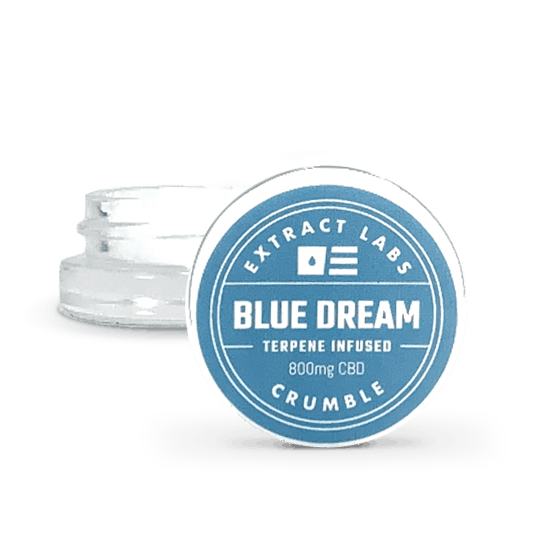 Highlights
Produced by extremely experienced, high-quality extraction team
Blends great CBD dabs with terpene blends to reproduce popular cannabis flavor profiles
Over a dozen varieties of CBD dabs and bundles available
Created by a veteran with a goal of helping veterans and others find relief, Extract Labs have assembled an extremely experienced team of hemp and cannabis experts. As a result, they not only make great products but offer their services as a lab, testing the purity of the products produced by other CBD brands. They've learned a lot about best practices in the industry as a result.
They offer their dabs with a variety of terpene profiles to match popular cannabis strains like Tangie and Blue Dream. Both CBD crumble and CBD shatter are available from Extract Labs, as well as variety packs. 
These CBD dabs are broad spectrum products, meaning they're completely THC free, even less than the trace amounts found in full-spectrum CBD or hemp products. That makes them a good choice for people who are very sensitive to THC, or who otherwise need to completely avoid THC.
4.

Steve's Goods Girl Scout Cookies CBD Wax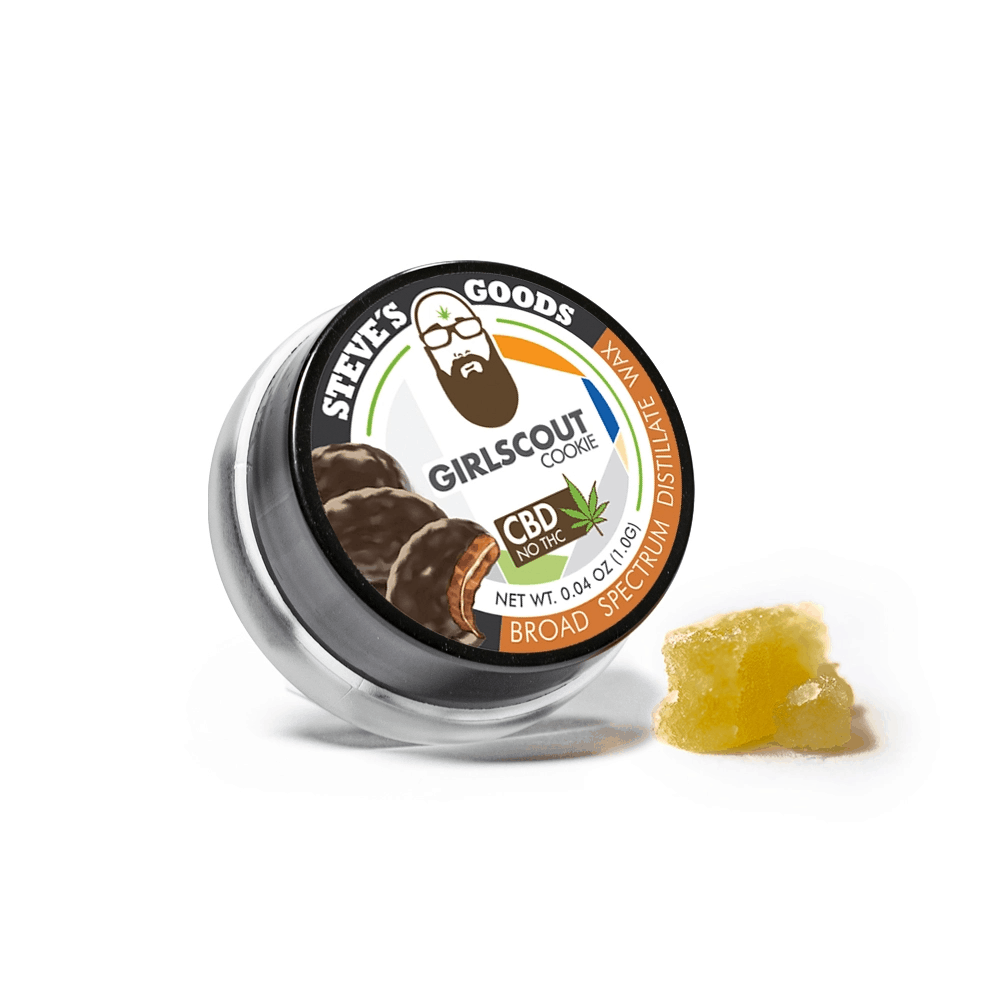 Highlights
CBD wax, dabs and shatter in a variety of strains
Recommended by redditors on /r/CBD subreddit
CBD isolate slab suitable for dabbing also available
Concentrates from Steve's Goods come with exciting terpene profiles like "StrawNana," "Apple Cider" and even the classic "Girl Scout Cookies." Girl Scout Cookies is one Steve's Goods award-winning products, for its delicious terpene rich flavor when dabbed. Steve's Goods offers shatter, wax and isolate in both powder and slab form, the latter of which is perfect for dabbing. 
Steve's Goods uses only Colorado hemp in their products, and shares 5% of their profits with their employees, which might make you feel good about your purchase. They also offer an easy, 30 day money back guarantee if you're ever unsatisfied with your purchase.
5.

Johnny Apple CBD Live Resin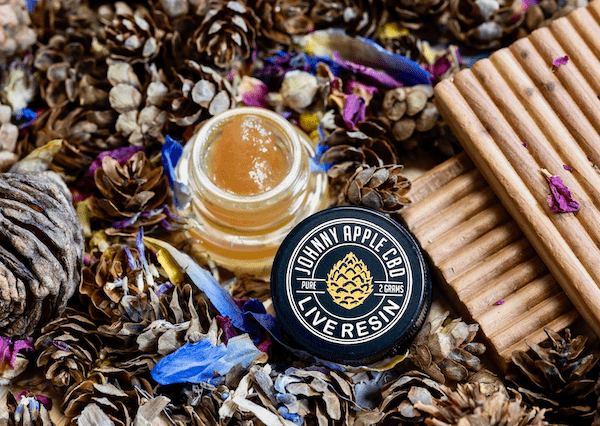 Highlights
A variety of CBD waxes and specialized dabbable isolates
Unique CBD honey oil product
Both full spectrum and broad spectrum CBD wax available
Unlike other brands which try to mimic specific cannabis strains, Johnny Apple CBD offers their CBD concentrates in terpene profiles meant to evoke specific moods like "Zenergy," "Uplift" or "Calm." They offer both broad spectrum (THC-free) and full spectrum (up to 0.3% THC) CBD dabs. They also offer a CBD honey oil, which is a unique type of concentrate which can be dabbed directly, or frequently used to enhance other forms of ingestion, such as adding it to a joint.
Johnny Apple CBD promise to use only clean extraction methods, and non-GMO organically grown hemp in all their products. They are a San Francisco company which focuses only on CBD.
6.

Redwood Reserves Carolina Dream CBD Dabs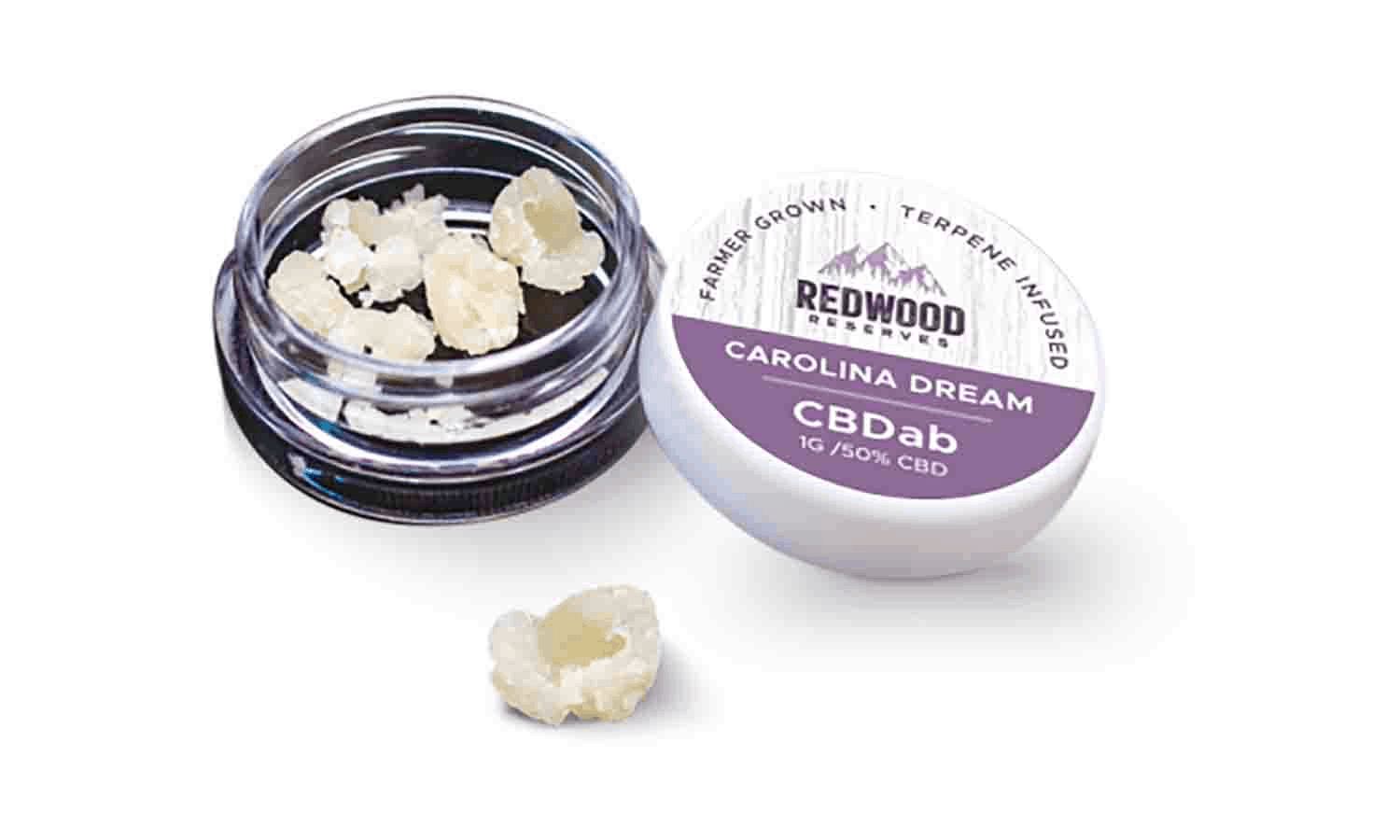 Highlights
Bargain-priced CBD dabs
Broad spectrum only, THC-free CBD dabs
3 strains available
Starting at just $8.99 per gram, this is the cheapest brand of CBD dabs on the list. If you're looking for a value option, this is a brand you might explore. All their concentrates are broad spectrum (THC-free) with naturally derived terpenes. 
Even though they are a bargain option, they still offer third-party lab results. This is also a seed-to-sale product, with all their concentrates beginning as hemp grown on their family farm in Oregon's Willamette Valley. Their farm is also home to a variety of rescued livestock.
7.

Asheville Extracts Special Sauce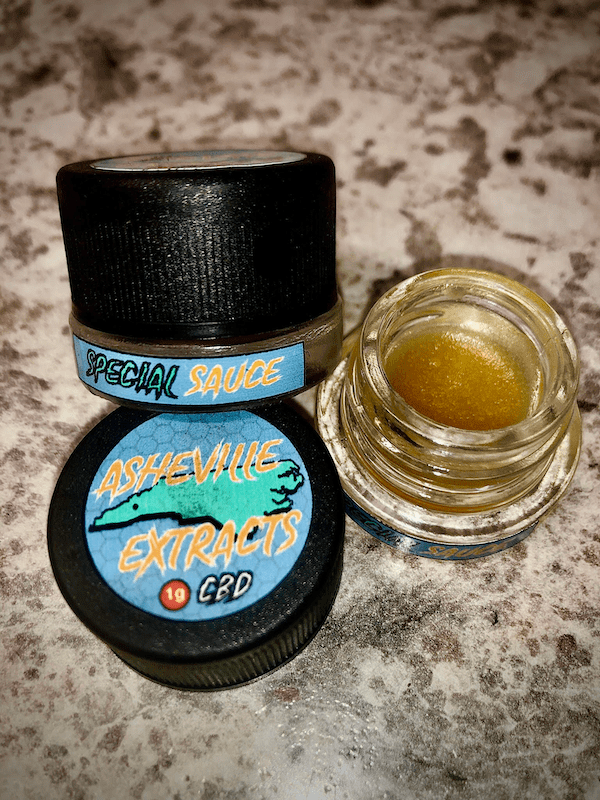 Highlights
Locally grown, small business
Made from hemp carefully sourced from small farms
Lab reports not available online
Another smaller brand, Asheville Extracts offers a small but interesting selection of CBD concentrates. Asheville Extracts carefully sources their hemp from local hemp farms, and offers 5 different types of strain-specific CBD dabs. 
Unfortunately, Asheville Extracts does not offer their third party lab reports online, so we recommend reaching out to their customer service to see the results before you order.
To use your CBD wax or CBD dab products, you'll need something to smoke or vape them with. With so many options out there, it's hard to cover them all concisely. With that in mind, read our guide to the Best Weed Vape Pens to see a breakdown of the best dab pens on the market.
What are CBD concentrates?
Concentrates, like their names suggest, are high potency hemp extracts. It is not atypical for a concentrate to be made up of 99% CBD. Concentrates are ideal for people who want to rapidly take in CBD in large quantities within a short time due to its composition. CBD concentrates come in different forms including:
CBD Distillate 

CBD crystals (Isolates)

CBD wax

CBD shatter 

CBD crumble 
The concentration of CBD in these products varies from 45% to 99.9%. The final product largely depends on the extraction method used when processing the hemp.
How are CBD Concentrates Made?
It is natural to wonder how CBD concentrates are made, seeing their ultra-high potency. The following is a brief description of the process.  
The manufacturer starts with the extraction of sap from the hemp. The hemp extract can be obtained in several ways, including using solvents such as oil, ethanol, among others. When such solvents are used in the extraction process, the product obtained also contains them. The manufacturer then has to go through a distillation process to separate the hemp extract from solvent residue that may have remained. 
If, however, a manufacturer uses the supercritical CO2 method in the extraction phase, the extract is immediately ready for the next step in the process. As a result, CO2 extraction is considered the "gold standard" for any CBD product including dabs and waxes.
CBD may undergo further refinement to remove plant waxes, or change the makeup of the oil. This can be done to change a full-spectrum product into a broad spectrum or isolate by removing THC and trace cannabinoids other than CBD.
Vaping vs. Dabbing CBD concentrates
Vaping and dabbing are both methods of taking CBD wax, and there has been an ongoing debate on which of the two is better, in terms of effectiveness and safety.  
Vaping is currently more popular than dabbing, but dabbing has been gaining popularity steadily. With vaping, you use a vape pen while you need a dabbing rig to dab your wax correctly. The dab rig looks somewhat like a bong, and unlike a vape pen where you put in the wax before heating, the rig gets heated before putting in the wax.
One of the reasons why more people prefer vapes is because they are more straightforward and thus more comfortable to use. This simplicity of use means that even an inexperienced person can easily use it. Dabbing often requires multiple tools, including a small blowtorch, while vape pens are small enough to carry in the pocket. 
Some people who vape claim their method is healthier, because you can precisely control the temperature of your extract with a high-quality vape pen, allowing you to avoid inhaling smoke or other carcinogens. However, fans of dabbing argue they get the purest experience with their rigs. There are some health concerns stemming from the metals used in some vape pens which can deteriorate under repeated heating. Ultimately, there's no proof that either method is safer.
What Are the Benefits of CBD Dabs?
CBD dabs have many benefits, some of which we have listed below. 
When dabbing, the CBD is delivered fast and in large quantities into the body. This means that you don't have to wait for the effects of CBD to take hold in your body after you have vaped it. A person who suffers panic attacks after taking the dab at the onset of an attack might find it better than the best CBD oil for anxiety and depression in terms of speed. Dabs are also advantageous because they deliver the CBD through the lungs and directly to the bloodstream. This increases the bioavailability of CBD to the user. This is unlike other forms of intake using formulations such as CBD capsules where the product has to go through the stomach and liver before it can find its way to the endocannabinoid system. Essentially, if you're looking for one of the fastest ways of getting your CBD, then it's hard to beat dabbing.