If you're testing your green thumb for the first time with cannabis, you're probably wondering about the best LED grow lights. After all, having a quality light source is the first step to a  successful indoor harvest. 
The problem is: what makes an LED grow light better than the rest? Between the techy acronyms and the sheer number of options to choose from, buying an LED grow light with confidence is no easy task. 
Different types of LED grow lights
To simplify your search, there are three types of LED grow lights to know about:
Spread

: Spread-style grow lights are panels dotted with small diodes over a large surface area. You get the advantage of targeting many plants, higher output, and a built-in cooling system. Subcategories include quantum board or spider-style. 

Traditional Panel

: For small spaces, traditional panels come in a compact size and generally include full-spectrum lighting. They're a "hybrid" style between the spread and COB style.  

COB style

: Short for "chip on board," COB style offers powerful lighting from a single source. It targets the plants directly underneath the grow light, emitting a full-spectrum frequency. 
How to choose the right LED grow light for you
As you shop online, you'll need a basic understanding of what to look for in an LED grow light:
Spectrum: LED grow lights mimic natural light, but unless they're full-spectrum white LED lights, they don't always feature every color on the electromagnetic spectrum. If you're growing cannabis plants from seed to flower, you should look for a combination of blue, purple, red, and infrared (IV) diodes. 
Heat output: To avoid leaf burn, the best LED grow lights feature cooling systems such as heat sinks or fans that also help the system from overheating. Optimal LED grow light temperature is between 80-84° F. 
Footprint Map: The footprint map refers to how much grow space the light covers at various heights. This is measured in feet and generally falls anywhere from 2'✕2' to 4'✕4'.
Power: Contrary to popular belief, higher wattage isn't the best way to assess how much power an LED light draws. LEDs are designed to be cost-efficient, therefore higher wattage may put more of a strain on your wallet. The true measurement of power comes down to how much light a plant absorbs, listed as a 400-700nm PAR rating. PAR stands for photosynthetically active radiation. In other words, it's the amount of visible light the plant uses for photosynthesis. 
Light intensity: The standard for measuring light intensity is micromole per joule. On a product listing, you'll see this written as umol/j or PPF (photosynthetic photon flux). The best LED grow lights have high PPFs because they produce more photons of light every second. Look for lights with 1.5 umol/j and up. 
In addition to PPF, you may see a measurement of μmol/m2/s, or PPFD (photosynthetic photon flux density). It sounds technical, but all you need to know is that PPFD measures the number of photons hitting a plant surface per second. You'll need to gauge PPF and PPFD on the footprint map to understand how intense the light will be at various heights. 
Voltage: Often overlooked by home growers, make sure your power outlets can handle the voltage range of an LED grow light, especially if it includes the daisy-chain function. This allows you to connect multiple lights across wide spaces but draws more wall power. 
Warranty/Lifespan: Since LED grow lights are a financial investment, having a warranty gives you peace of mind and ensures you'll be able to return and replace faulty parts. Additionally, it's better to go for products with a higher lifespan (more hours). 
1.

Horticulture Lighting Group 65 V2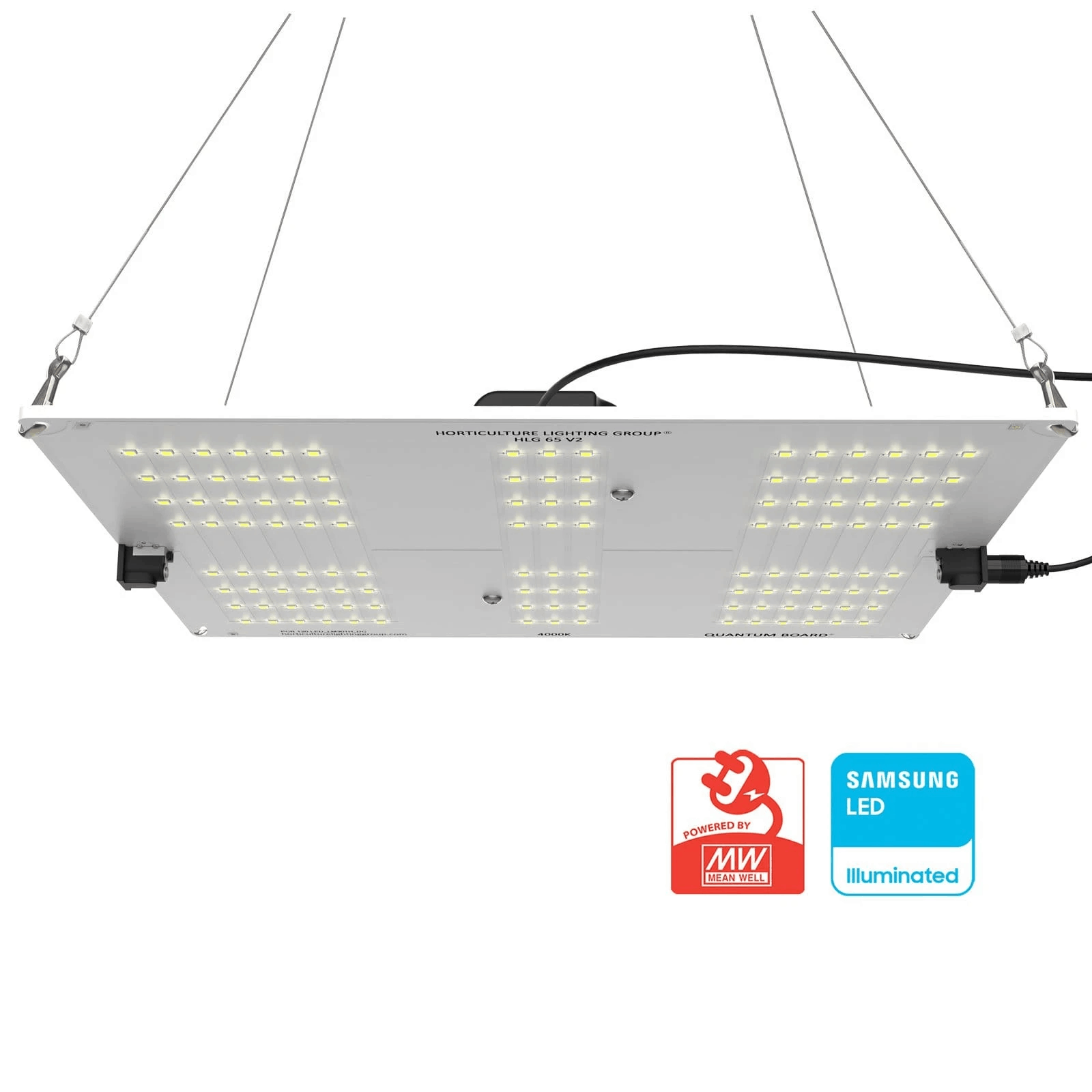 Highlights
Great for small clones or first-time growers
Quantum board style diffuses light over plant canopy
Affordable, easy-to-hang kit with only 3 components for set-up
Value-wise, the HLG 65 V2 is a reliable, affordable, and powerful LED grow light with a PPF of 2.35 μmol/joule. The quantum board style gives first-time or more experienced growers the advantage of wide, yet compact light diffusion. No need to fret about overheating, because the HLG 65 V2 has passive cooling, without the need for a heat sink. Those who may be somewhat hesitant about jumping into home grows will appreciate the simplicity of the hanging kit and can use the video support included within the light description to get started. 
Product Specifications: 
White 4,000K full-spectrum light

2.35 μmol/joule PPF

Fits a 2'✕1' or a 1'✕2' grow space 

Produces 10,000 lumens with 65W

Back by a 3-year warranty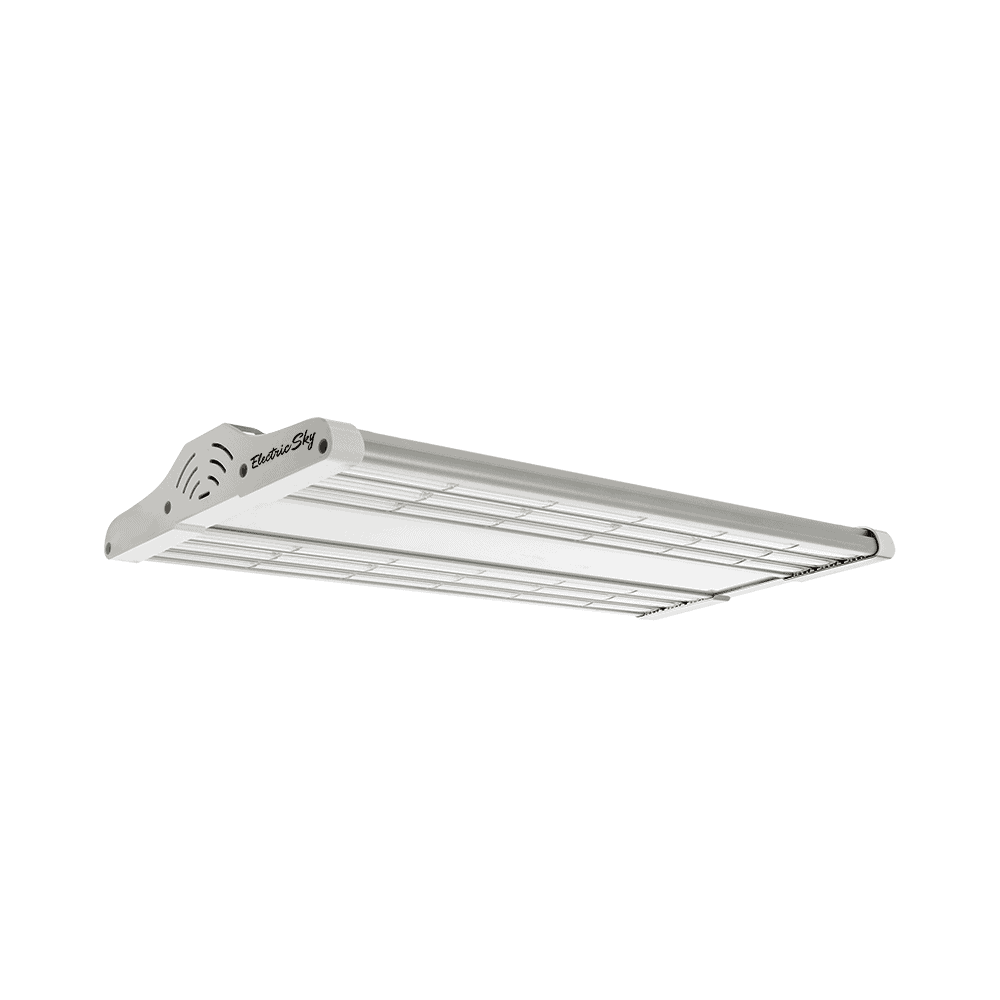 Highlights
Edge-to-edge plant yields thanks to rectangular spread style
Linear lenses focus light in two directions and won't "blind" your vision
Product description includes informative videos from the company founder
A pricier, but a worthy investment, the Electric Sky 180 V3 includes a dimmer to adjust light intensity during various points in the flowering process. The daisy chain ability is also an added perk here, while the system itself emits "wideband" full-spectrum white light. The reason this light wins a 5/5 star rating comes down to the company's dedication to customer education. Within the product description, the founder, Dan, personally explains the features of this upgraded third version, using layman's terms that don't go over your head. 
Product specifications:
200W power consumption costs as little as $0.35 per day

Lifespan of 50,000 hours

90-day money-back guarantee and 3-year warranty 

Great for 1.5'✕3' to 2'✕4' grow space

"Wideband" full-spectrum replicates afternoon sunlight indoors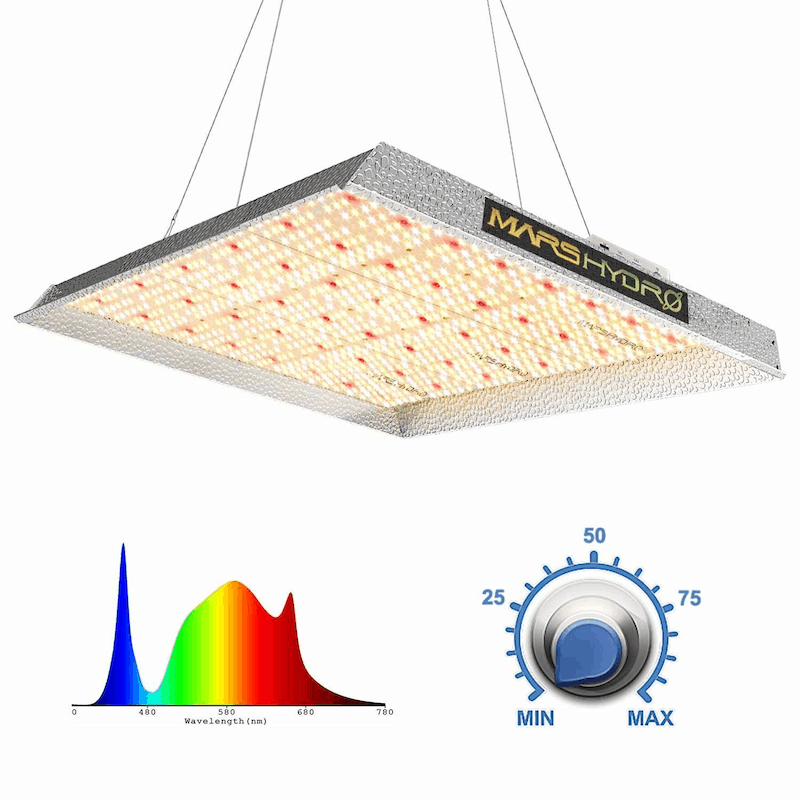 Highlights
Features a noise-free fanless compact design
Ability to daisy chain and dim intensity
Description includes helpful graphics and footprint map
The Mars Hydro TS 3000 covers grow spaces up to 4'✕4' wide and long during the bloom stage, making it a prime choice for more established home growers or commercial facilities. Whether you're setting up one or looking to daisy chain multiple systems, the internal cooling system makes this LED grow light quiet as a mouse. From an 18" distance, it puts out a 1274 µmol/m2/s PPFD, clearly depicted on the helpful footprint map. Using full-spectrum white light, the Mars Hydro TS 3000 can support your plants from seed to flower. 
Product specifications:
Suitable for 4'✕4' (bloom stage) to 5'✕5' (veg stage) grow tents 

Full-spectrum white light with "sunlike" infrared 

450W and

2.7µmol/j PPF

50,000-hour lifespan 

Bigger size for large room or commercial use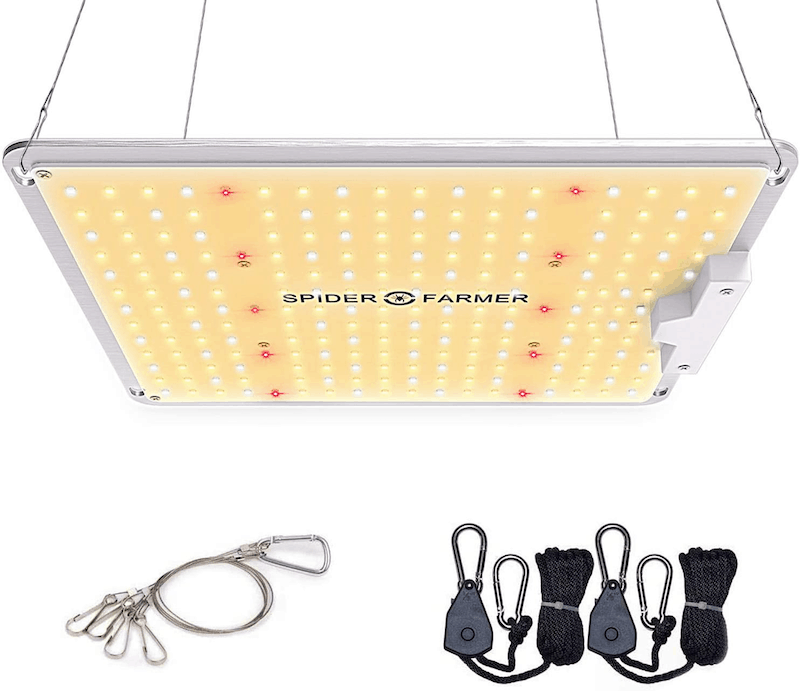 Highlights
Receives consistent highly rated reviews on Amazon
Includes dimmable daisy chain function
Lightweight, affordable light for budget shoppers
Small, yet intensely efficient, the Spider Farmer SF-1000 has everything a home grower needs and won't put a strain on your wallet. This system has a lifespan of 100,000 hours. You're able to control the light intensity using a dimming knob and achieve full-spectrum white lighting. Backed by a 1-3-year warranty (with specifications), you can request local maintenance in case your Spider Farmer SF-1000 suddenly stops working within 90 days. Reviews as a whole gush over this system's affordability and power capability. 
Product specifications:
Suitable for 2'✕2' to 3'✕3' grow space 

660nm-760nm full-spectrum light: white, blue, red, IR

2.5

µmol/j PPF 

Consumes 100W

Includes 90 days free after-service local maintenance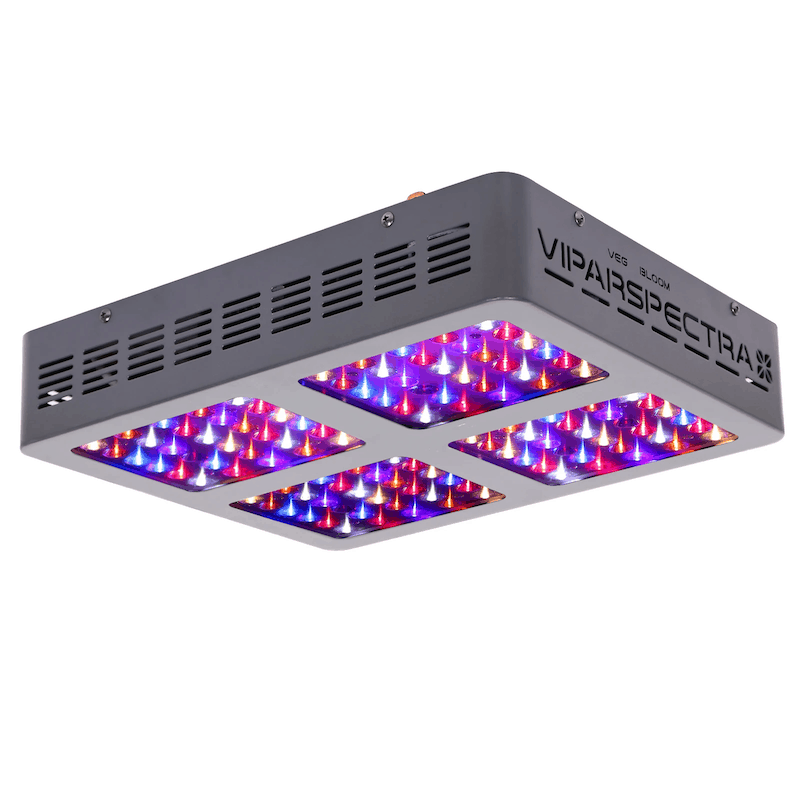 Highlights
Manufacturer explains PAR rating and PPFD metrics with simple graphics
Includes a Veg and Bloom switch to change between flowering stages
Quiet fans and optimized heat sinks for temperature regulation
The Viparspectra V600 is another sound LED light investment that offers everything a first-time grower could want. Compared to others, this is a compact system that covers 3'✕3' (veg stage) to 2.5'✕2.5' (bloom stage) grow spaces, making it ideal for smaller harvests with sizeable yields. The ability to toggle between the Veg and Bloom switch is an added feature we love about this product because it makes harvesting cannabis feel as easy as pushing a button. Feel free to daisy chain systems if you like, and rest easy knowing the light is UL certified with fire-resistant technology. 
Product specifications:
Daisy chain function included

Fire-resistant reflectors 

3-year US warranty 

Up to 100,000-hour lifespan 

6-foot power cord, hanging kit, and user manual included with purchase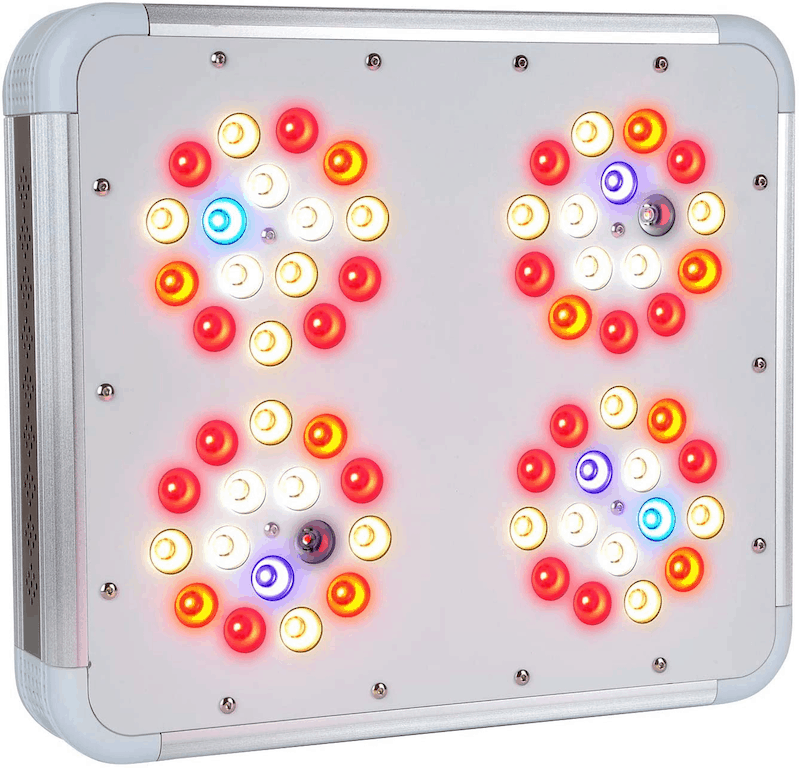 Highlights
Inexpensive to run
COB style for targeted light emission
Manufacturer includes a quick reference guide for first-time buyers
Growers interested in trying their hand at a COB style LED grow light will appreciate the intensity of the LEDTonic Z5. The PPFD spans from 630-911 umol/m2/s, depending on the mounting height from the plant canopy. What gives this system a 5/5 star rating is its energy-efficient power consumption, costing as low as $0.23/day running at 16 hours. According to the manufacturer, set-up is a breeze—just plug it in and start playing. 
Product specifications:
911 umol/m2/s at 12″ & 630 umol/m2/s at 18″ PPFD

118W power consumption at $0.23/day (16hrs)

Covers a 2'✕2' to 2.5'✕2.5' grow space

Backed by a 3-year warranty

White full-spectrum light 
7.

Phlizon CREE COB 2000W Series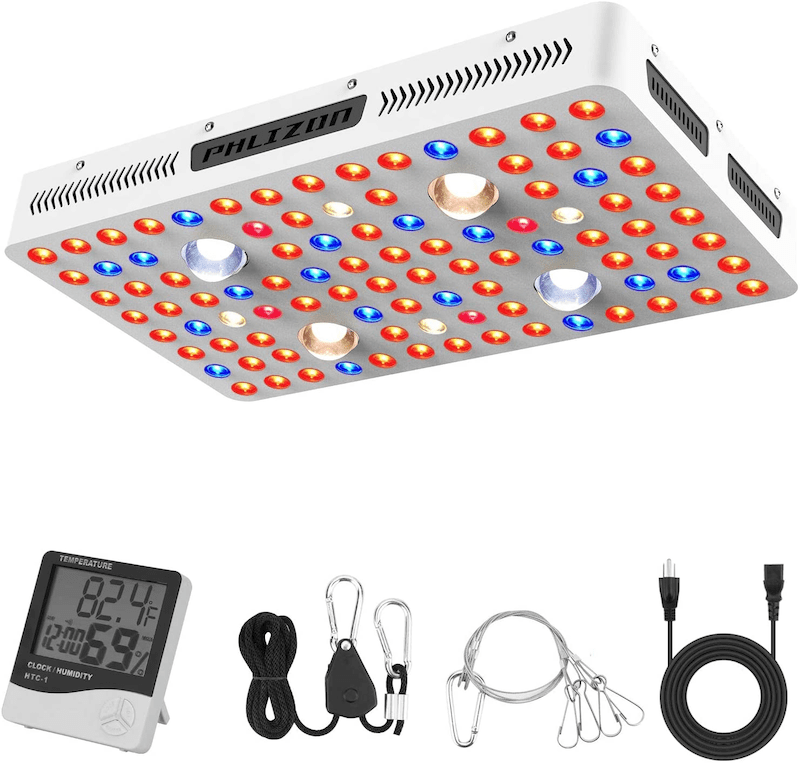 Highlights
COB style with warm/cool temperature settings
Over 1,000 highly rated reviews on Amazon
Manufacturer includes simple and straightforward PPFD footprint map
While the Phlizon 2000W may wear a hefty price tag, you have all the benefits of a high-end LED grow light. Hanging at 12", the PPFD reaches 2573 μmol/m2/s. The four light COB style design is said to be better than traditional LEDs, according to the manufacturer. Highly rated reviews brag on the strength and brightness of this system. Your seeds will appreciate the full-spectrum light availability as they move from stage-to-stage. 
Product specifications:
Full-spectrum light design

2573 μmol/m2/s PPFD

400W power consumption 

2-year warranty plus 90-day money-back guarantee

Great for home growers looking for bright COB style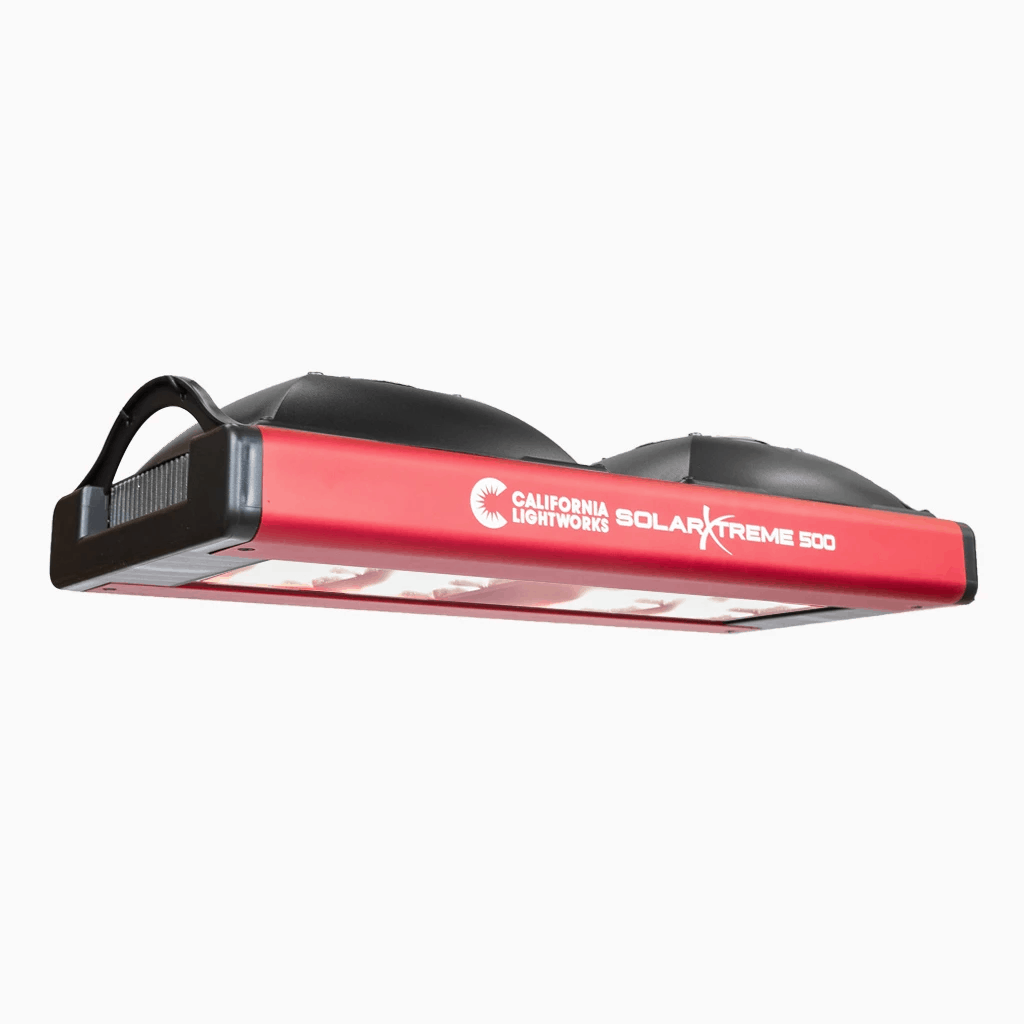 Highlights
COB LED style and direct AC drive for temperature regulation
Reviewers recommend it for home growers
Option to choose between 120V or 240V
As one of the higher-priced systems on this list, the SolarXtreme® 500 consumes half the energy of traditional LED lights, according to the manufacturer. That means more bang for your buck and less energy waste. Another feature that makes this product stand out from the rest is the option to buy according to voltage. This is a major appeal for home growers with outlets that require a specific voltage. On a final note, this product comes from an American-made manufacturer, which seems to please many reviewers. 
Product specifications:
Draws 400W

Full-spectrum light 

500 PPFD at 24

"

or 800 PPFD at 18″

Suitable for a 4'✕4' grow space/tent or smaller 

3-year warranty
Don't let manufacturers fool you when they say their product has "high-powered" wattage. Wattage isn't the best indicator of power. The best grow lights for indoor plants use PAR, PPF, and PPFD instead to gauge how light intensity is measured. That said, you can determine the best wattage by measuring your grow space, then multiplying each square foot by 32. In other words, that's 32W/sq.ft.  
Full-spectrum grow lights are designed to mimic the sun's spectrum, from ultraviolet (UV) to visible to infrared light. It's a term used by manufacturers, but full-spectrum doesn't tell the whole story about what kind of light a plant actually needs. 

For photosynthesis, plants only need light within the 400-700nm PAR (visible) spectrum. Broad-spectrum white lights offer a more realistic representation of the sun's light, while full-spectrum offers the added boost of infrared light. All in all, maximizing the type of light your harvest receives will greatly impact the quality of your buds, trichomes, and terpene expression.