FOCL isn't your typical CBD company. In many regards, they're innovators who see CBD as a powerful tool to be used alongside other supplements. This innovation is reflective in their products which all use a concoction of all-natural alternatives in order to provide you with plant-powered wellness. Read our FOCL CBD review to learn more.
FOCL has a simple mission, to create plant-powered supplements that allow you to perform at your peak performance. The way in which they carry out this mission is what allows the brand to stick out in this market.
Ken Lawson, CEO of FOCL, has been taking supplements for years due to a diagnosis of chronic fatigue syndrome. This experience of trying all different herbs and botanicals has allowed him to develop an encyclopedia of knowledge concerning what these medicines are good for. However, the cost on both his body and wallet to reach this state was exhausting. So, he decided to create FOCL and devise a handful of CBD products that incorporate these alternatives.
The company is 100% transparent about what goes into its products. Beyond the slew of information on their website, each product has a Certificate of Analysis (CoA) that's easily accessible. Furthermore, FOCL only sources its ingredients from the finest places and is always striving to obtain premium-quality.
When it comes to FOCL, you're getting more than just cannabidiol with each purchase. You're also getting a selection of Mother Nature's best medicines – carefully crafted so as to be extremely effective.
FOCL CBD Product Highlights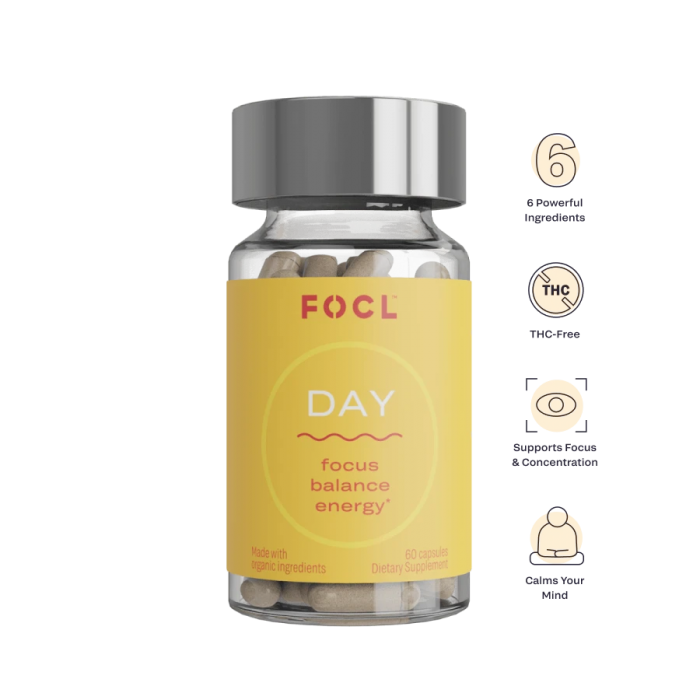 While a morning cup of coffee is the American way to getting your day started, many are starting to look for alternatives. As a stimulant, coffee can sometimes make us more anxious and stressed than we were prior to consuming it. And many are realizing that these negative feelings aren't helping them in the long run.
FOCL Day is a craft of six different herbs and supplements that are meant to provide you with energy, focus, and relaxation over a period of time. They start this blend with 10mg of broad-spectrum hemp extract. From there, you'll also receive:
Rhodiola Rosea

– A natural adaptogen that can decrease certain stresses in the body, including anxiety and fatigue.



Lion's Mane

– A natural supplement to improve cognitive functioning and help clear brain fog.



L-Theanine (Green Tea)

– A natural amino acid that can help with focus and cognitive performance.



Vitamin B6

– Helps to regulate mood, memory, and focus.



Bacopa Monnieri

– Protects you from free radical cell damage.
It's best to take FOCL Day consistently as most people notice the effects over a period of time. Each bottle comes with 30 servings and costs $49.00. However, FOCL offers a subscription service that allows you to get this product at $43.99 every month.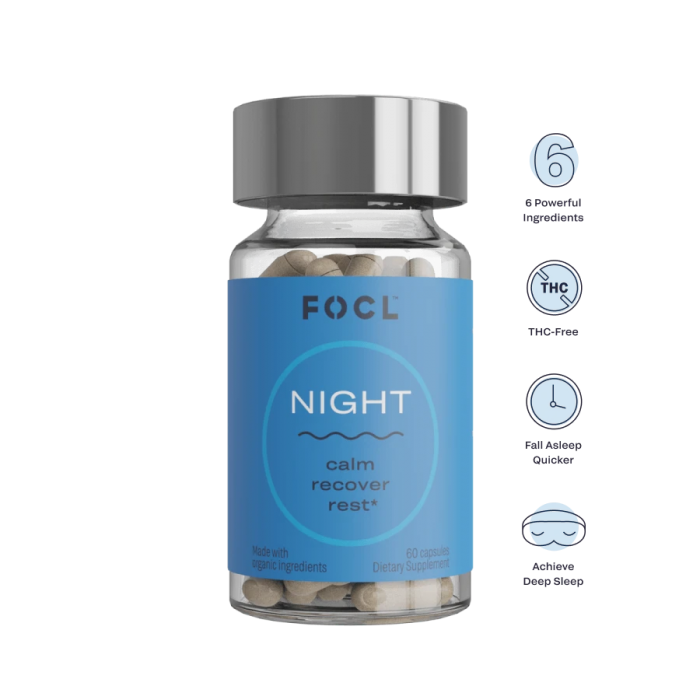 If you have trouble getting to bed at night, it's likely you've looked into CBD to help with whatever sleep issues you're facing. While many products out there currently incorporate melatonin, this may leave you feeling groggy and still tired the following morning.
FOCL Night attempts to make getting to bed an all-natural process. Beyond the 20mg of broad-spectrum CBD, each serving also comes with a dose of the following:
Valerian Root

– Leaves users with a calming effect that's believed to produce less stress and, in turn, better sleep.



Hops Flower

– When combined with Valerian Root, it can help with your sleep cycle and better-quality sleep.



Ashwagandha

– Promotes brain function and helps to ease stress.



Purple Passion Flower

– Reduces anxiety and insomnia.



Griffonia simplicifolia (5-HTP)

– By producing serotonin in the brain, this can help to naturally promote melatonin.
As with FOCL Day, it's best to take FOCL Night over a period of time in order to feel its effects. You can get yourself a bottle of 30 servings for $49.00 (or you can opt for a monthly subscription for $43.99).
Outside of cannabidiol, FOCL also offers a supplement that's meant to help the immune system. Known as FOCL Immunity, these little capsules can help to fight off undesired health conditions and provide immune support using the following ingredients:
Echinacea

– Has antiviral abilities that have been linked to shortening cold and flu symptoms. Not to mention, it can help relieve stress.



Elderberry

– Helps to support heart health, reduce inflammation, and is loaded with antioxidants that fight free radicals.



Reishi

– Promotes white blood cell activity making it natural support for infections. It can also help fight fatigue and stress.



Maitake

– This mushroom helps to bring together the benefits of the other fungi used in FOCL Immunity. It can also help to promote the heart, metabolism, and immune system.



Shiitake

– Helps to promote brain function, energy, and provides the body with amino acids and B vitamins.



Astragalus

– Helps to outsmart infection thanks to its antibiotic properties.



FOCL Immunity is only $29.00 or $26.10 per month if you opt for their subscription service.
If you're looking for a standard CBD tincture, FOCL also provides these using premium broad-spectrum hemp extract. These CBD drops come in either 300mg (10mg per serving) or 1,000mg (about 33mg per serving) and can be purchased in the following flavors:
FOCL CBD Drops are often hailed for their calming effects and the product has made a number of articles concerning the best CBD oils for anxiety. You can purchase these drops for either $39.00 (300mg) or $69.00 (1,000mg).
If you're new to CBD, you may want to opt for FOCL's CBD Fruit Chews. These provide a convenient and familiar way to consume cannabidiol. Not to mention, they're delicious and come in the flavors of orange cream, strawberry, and wild berry. Each gummy contains a dose of 10mg of broad-spectrum CBD. While this is a fairly low dose, it's the perfect amount for newcomers to simply see how CBD affects them. Furthermore, if you've been around the industry for some time, you can always take two or three of these gummies to really feel the effects. Each bottle comes with 30 gummies and costs $39.00.
FOCL Relief Cream is a powerful CBD topical that incorporates a number of all-natural ingredients in order to help ease muscle and joint pain. Such a product is ideal as it allows you to target specific areas of the body. Each bottle contains 500mg of broad-spectrum CBD along with a dose of shea butter, menthol, camphor oil, arnica, and eucalyptus. You can get yourself a bottle for just $39.00.
Ingredients

– FOCL uses a concoction of all-natural ingredients to further the effects of their products. These are more than just another CBD product on the market, they're all-natural supplements with a lot of potentials to help you.



Quality

– All of FOCL's products are made with the highest-standards this industry has to offer. All hemp is sourced within the United States and products are manufactured in a GMP-compliant facility. Not to mention, FOCL offers a Certificate of Analysis (CoA) by the batch for their products.



Pricing

– FOCL's products are very fairly priced compared to other CBD brands. While they aren't the cheapest on the market, they are extremely affordable considering their quality. Not to mention, FOCL offers a number of ways in which you can further save, such as their subscription service.



Company Expansion

– FOCL is consistently expanding its product line. In the last year alone, they released their FOCL Fruit Chew, FOCL Relief Cream, and FOCL Immunity. This makes them a company to truly keep an eye on and we're personally always looking forward to seeing what innovative product they release next.



Return policy

– FOCL allows for a 60-day money-back guarantee. If you're unsatisfied with your product for any reason, you can reach out to them for the option to return it.
Shipping

– FOCL only offers free shipping for orders of $75.00 or more. Not to mention, as of this time, FOCL is unable to ship internationally nor to South Dakota, Idaho, and Nebraska.




More than just CBD – This isn't necessarily a con, but some people may be simply looking for a CBD supplement. While FOCL offers premium-quality products such as their FOCL Fruit Chews and CBD Drops, their claim-to-fame is their combination of all-natural ingredients with CBD. Those who are looking ONLY for CBD products may be interested in other brands.
FOCL is truly unlike any other CBD company currently on the market and, for this reason, we highly suggest you give their products a try. We were specifically impressed with their FOCL Day and FOCL Night CBD capsules as these provided a unique effect we hadn't received from any other brand. If you're in the market for more than just CBD, FOCL is the brand for you.