CBD creams are applied topically and can be used to provide relief for muscle and joint pain, to relax and soothe the body, to release tension, and to elicit calm and relaxation. With the popularity of CBD products growing every day, it can be difficult to navigate all the options available to the curious consumer. 
Would you like to know the best CBD cream for pain, the most effective CBD lotion for pain, our recommended CBD ointment, and more details about the hottest CBD products on the market? Lucky for you, we've compiled a list of CBD creams reviews and done the research so that you don't have to! 
Read on to see our latest roundup and review of the best CBD creams, topicals, and lotions on the market in 2021.
The Best CBD Cream: Our Picks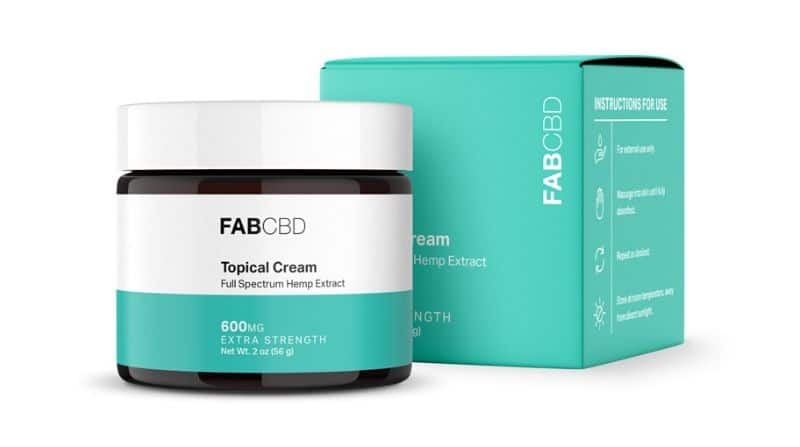 Highlights
Organically Grown
Extra Strength
Farmed In Colorado
Third-Party Lab Tested
​Get 20% off all FAB CBD products as an AmericanMarijuana reader. Use this code at checkout: AMMA
Get Discount
Clocking in at 600mg of CBD per 2oz jar, it's no wonder this topical cream cream is at the top of our list. Besides its impressive potency–3x stronger than the average CBD topical–this cream also gets five stars for using organic, full-spectrum hemp extract grown in Colorado, and is non-GMO and has zero pesticides to boot.
With its high potency, this topical CBD cream can be applied to the body for relief from everyday stress, for recovery from exercise, or to elicit a sense of calm or focus. It is also formulated to help manage muscle and joint pain.
Scented with blood orange and cinnamon, this cream leaves a pleasant aroma on the skin and efficiently masks the natural smell of hemp. With an ingredient list featuring coconut oil, cocoa butter, and aloe vera, this product not only applies smoothly and consistently, it also leaves your skin feeling moisturized, nourished, and softened. 
To use, apply a fingertip-sized amount to the targeted area and gently massage into the skin. If you feel no change in your discomfort, apply a second coating using the same fingertip-sized amount.
2.

CBDfx CBD Balm Stick Muscle And Joint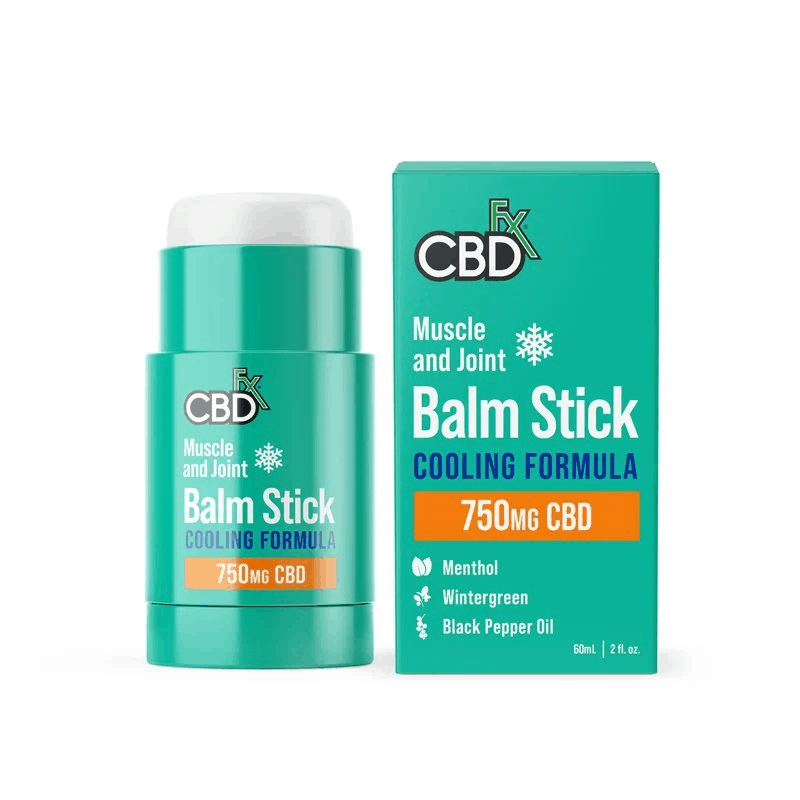 Highlights
U.S.A Grown
Peta-Certified Cruelty-Free
Cooling + Warming Effect
Get 20% off all CBDFx products as an AmericanMarijuana reader. Use this code at checkout: AMMA
Get Discount
If you're a fan of the cooling/warming sensation of standard muscle-soothing balm, then this is the product for you. Experience the time-tested relief of the warming effects of camphor oil and the cooling feeling of menthol (peppermint and wintergreen oils), paired with the relaxing benefits of broad-spectrum CBD. 
Whether you want to recover from a tough workout, relax some stiff and sore muscles, or if you simply want to relax after a day of quotidien stress and activity, then this is the product for you. The combination of the soothing effects of the warm/cool method paired with the benefits of topical CBD will have you feeling like you've just gotten back from a day at the spa! We tip our hats to the CBDfx™ team for dreaming up this iconic duo.
This balm stick comes in an easy-to-use format, and is made with supporting topical ingredients like coconut oil, shea butter, and black pepper oil, leaving your skin feeling moisturized and calmed. Apply as needed: start with a small amount of the product and rub slowly on to the affected area(s). Re-apply as frequently as needed.
3.

Charlottes Web Hemp Infused Cream With CBD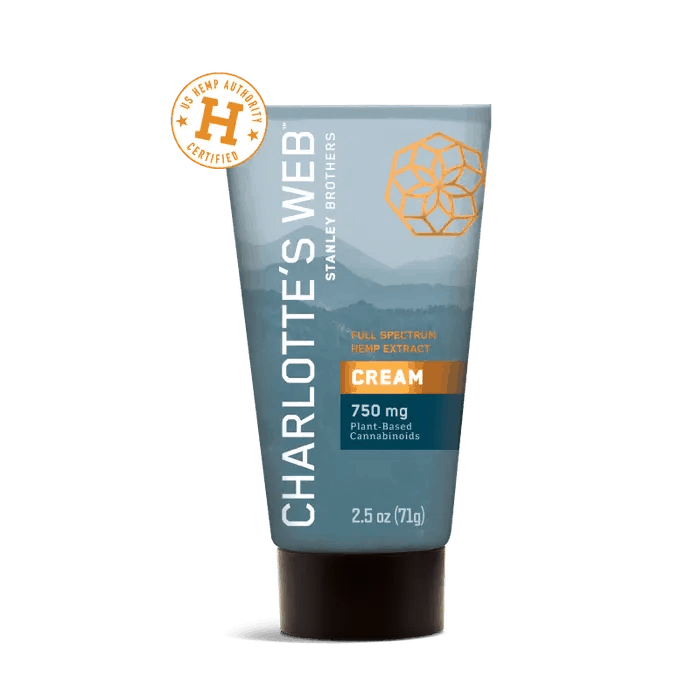 Highlights
Free of 8 Major Allergens
Formulated without parabens or PEGs
No synthetic fragrances or artificial colors/dyes
Get 15% reduced all Charlotte's Web CBD products as an AmericanMarijuana reader. Use this at checkout: AMMA
Get Discount
This Hemp-Infused cream is perfect for the earth-conscious consumer. Vegan, gluten-free, and non-GMO, this cream is a great choice for vegans or those who prefer to consume ethically-made products. With a seal of approval from PETA, you can confidently know that this CBD cream was not tested on animals. 
This cream is also an excellent choice for those with sensitive skin and allergies; it is free of 8 major allergens, is paraben-free, has no sulfates, and is made without synthetic fragrances or artificial colors or dyes. To top it off, it boasts a healthy ingredient list featuring aloe vera, coconut oil, oat extract, and sea buckthorn oil, leaving your skin moisturized and nourished. If you'd like a holistic and naturopathic CBD cream that soothes and relaxes muscle and joint pain with all-natural products and scents, then this is the choice for you. 
To use, apply a small amount to the affected area(s) and slowly rub in. Re-apply as needed.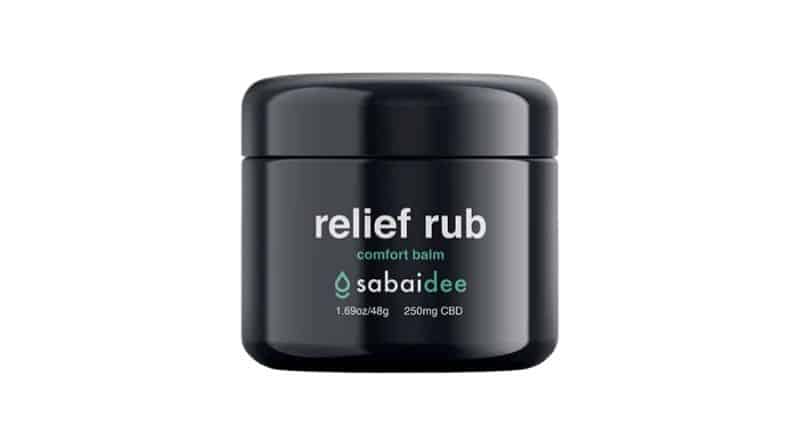 Highlights
Environmentally Conscious Practices
Happiness Guaranteed Customer Service
Natural Ingredients
​Get 15% off all Sabaidee CBD products as an AmericanMarijuana reader. Use this code at checkout: AmericanMarijuana
Get Discount
Another excellent choice for those looking for a potent and reliable CBD cream, Relief Rub uses a blend of natural botanicals, alongside sustainably-grown broad-spectrum CBD from hemp. You can feel good about using this topical cream on your skin, as it is a natural product with no synthetic scents or artificial ingredients.
Made with natural botanicals such as Camphor oil, blue tansy, and wintergreen leaf, this product not only soothes and relaxes, it also smells great. While many CBD creams and CBD lotions on the market have an overpowering menthol/mint scent, this cream is described as a subtle "sweet mint." Since this product is triple tested for purity and potency at multiple independent laboratories, you can be confident that you're getting exactly what is advertised. Moreover, with a "Happiness Guaranteed" customer service attitude, you can be sure that any questions, needs, or concerns are resolved swiftly.
To use, take a pea-sized amount of product and massage the balm into the skin as needed for relief.
5.

GreenRoads Muscle and Joint Relief CBD Cream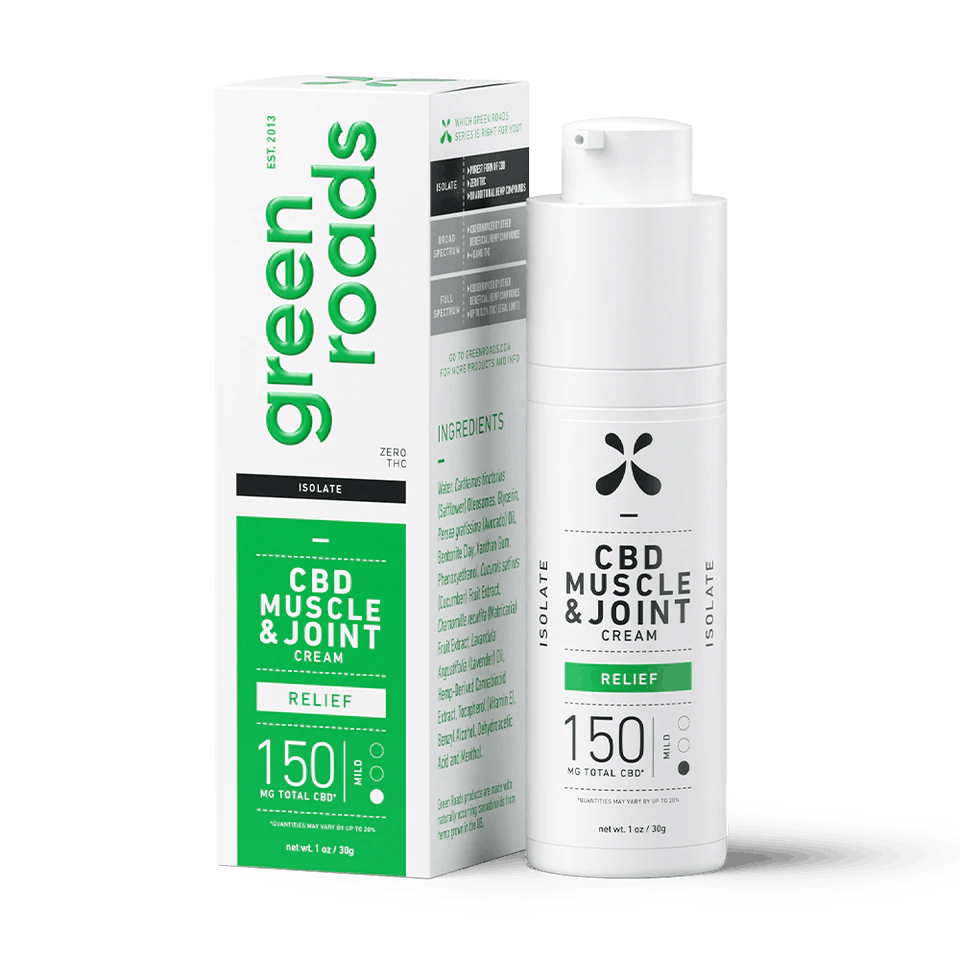 Highlights
No animal testing
Available in travel-size
Made with Avocado Oil
​Get 15% off all GreenRoads products as an AmericanMarijuana reader. Use this code at checkout: AMMA
Get Discount
Available in multiple sizes for your varied needs, this Muscle and Joint Relief CBD Cream is an excellent option to soothe tired and sore bodies. A customer-favorite, this CBD cream has an easy-to-use pump bottle, allowing you to apply it easily and without having to contaminate the tub of product with your fingers. 
Excellent for use after workouts, after long work shifts, or whenever you want to target location-specific pain or discomfort. Made with avocado oil and other natural botanicals, this product not only delivers soothing relief, it is also excellent for your skin and smells great. All Green Roads products are tested by a third-party independent laboratory, meaning you can be confident about the potency and purity of the product. 
To use, press down on the pump and then apply a small amount to the affected area(s), reapplying as needed.
6.

Spruce Topical CBD Cream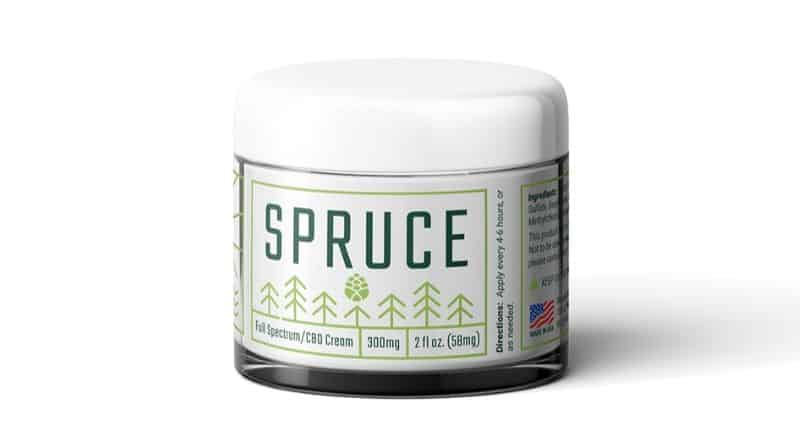 Highlights
Third-Party Tested
No Pesticides
Plant-Derived Scents
​​Get 10% off all Spruce CBD products as an AmericanMarijuana reader. Use this code at checkout: AMMA
Get Discount
Yet another excellent option, this product is a classic CBD lotion for pain made with full-spectrum oil. Formulated with a silky-smooth texture, this cream is fast-absorbing and doesn't leave a greasy or oily feeling on the skin. Made with all natural plant-derived scents, this cream is a great choice for someone who wants an effective CBD cream.
If you suffer from joint and muscle pain, or if you just simply want to relax your body after a long day, then this cream is an excellent option. Since it is third-party tested and lab grade, you can use it confidently and know that the purity and potency of the product is exactly as advertised on the packaging. 
To use, apply a small amount to the targeted area and massage slowly until the product is absorbed into the skin. Re-apply as needed.
CBD Creams and Topicals: What Are They?
To put it simply, the term CBD topicals refers to salves, lotions, creams, and ointments that have been formulated with cannabidiol and are applied topically on the skin. Most CBD topicals are made with CBD extract derived from hemp plants, and like all CBD products, contain no more than 0.3% THC (a trace amount). 
Contrary to popular belief, even though CBD is derived from hemp and cannabis plants, CBD topicals won't get you high. They are extremely unlikely to appear on drug tests, as standard tests only monitor for THC, not CBD, and trace amounts are unlikely to be detected.  
CBD creams, salves, lotions, and other topical products are formulated to ease pain related to the inflammation of the muscles and joints. CBD has been found to possess anti-inflammatory properties and can be used to soothe ailments as diverse as arthritis and back pain. Though topicals are considered to be effective for everyday aches and pains, their effects are limited. For example, if you suffer from chronic pain or other serious physiological issues, or have a pressing injury, CBD topicals are not an adequate treatment. Seek medical assistance and follow the treatment recommended by your doctor.
Are CBD Creams Better Than Other CBD Products?
Well, the answer depends on your needs and what you hope to get out of your CBD usage.
If you are looking to experience the soothing pain relief benefits of CBD, topicals will not disappoint. Since you can apply the products directly to the affected area(s), you enjoy targeted relief. However, since the CBD in the topicals takes longer to absorb and enter your bloodstream, it is a slower process than consuming CBD oil orally or by vaping. 
With CBD topicals, patience is a virtue and consistency is key. Since this is a topical product, you can't expect immediate results. Start with a small amount and be careful to not overdo it; wait one full hour before reapplying. Another consideration with CBD topicals is packaging: they often come in tubs with wide openings and are applied with your fingers and hands. To ensure that your product doesn't become contaminated with each use be sure to wash your hands and skin before and after each application, or choose a product that comes in a pump bottle. Some products also come with spatulas that can be used for application and cleaned between uses.
Compared to CBD topicals, CBD oils, tinctures, vape oils, gummies, and capsules have more overall systemic effects. They are an excellent choice for less area-specific issues such as insomnia, depression, and anxiety.
It's important to make an informed decision when buying CBD topicals: that's why we prepared the CBD creams review above! To make the most of the research we've compiled you need to identify your needs and goals for the product. Here are some crucial factors to consider when selecting the best CBD cream:
Potency

: This refers to the amount of CBD present in the product. Having a higher percentage of cannabinoid in the topical makes it more effective for pain relief. Some products are specifically formulated for muscle and joint pain and have a higher CBD percentage, whereas others are for more general usage (relaxation), and tend to have a lower percentage. When in doubt, start with a lower potency and increase if needed. Since topicals absorb through the skin, the bioavailability is much lower in this technique than in other formulations such as oral consumption. This is why the CBD potency of topicals may appear quite elevated. 
Cannabinoids

: Hemp products usually come in different forms: some are isolates, some are broad-spectrum, and others are full-spectrum. Each option offers different benefits and qualities; factors such as the presence or absence of organic compounds such as terpenes affect the quantity and variety of cannabinoids available in the product, making it a more or less effective pain reliever.  
If your CBD topical is made from

CBD isolate

, that means all other cannabinoids have been stripped away and only CBD remains. This option is ideal if you are required to take drug tests regularly, as there is no chance of even trace amounts of THC appearing on the results.  

 

When

broad-spectrum

hemp extract is used in a topical, it contains all of the cannabinoids found in the hemp plant

except

for THC. This option offers the benefit of the entourage effect while also having a very low probability of setting off a drug test.

 

Your topical can also be made from a

full-spectrum

hemp extract which contains

all

cannabinoids. A full-spectrum product is advantageous as THC has some pain relieving attributes and thus enhances the overall effectiveness of the product.
Quality Control

: Quality control is a massive challenge that cuts across the CBD industry as a whole, because there is no regulation or laws on CBD products. Industry players have had to step up and put in place their own measures to assure customers of the quality of their products. Some keywords to look out for are organically-grown, USA-grown, third-party tested, lab grade, and organic.

 
Organic and GMO-free growing is a particularly important component to consider, because hemp is a bio-accumulator. That means that it absorbs toxins from the soil, and the toxins then find their way into the plant and ultimately into the final product. The vast majority of toxins in commercial farming come from agro-chemicals, which is why it is recommended to check whether your product comes from an organic farming supplier. Standards for organic farming are enforced within the US, which is why American-grown hemp is a safe bet.
Additional Ingredients

: Manufacturers fortify CBD topicals with other ingredients besides hemp extract/CBD. Additional components may be added to enhance the product's ability to condition the skin, provide relief, or to make an alluring scent, texture, or appearance. Additionally, some ingredients are added to make the product more easily absorbed by the skin, or to provide additional cosmetic benefits such as moisturizing and softening agents. If you are sensitive to added fragrances, artificial dyes, and other synthetic ingredients, then be sure to choose an all-natural product or one formulated for sensitive skin.
How to Apply Your CBD Cream
When using CBD cream, CBD ointment, or other CBD topicals, you want to ensure that it delivers the pain relief you're expecting. Though it seems counterintuitive, trust us when we say to start with a small amount. If the pain persists an hour after application, you can gradually increase the amount, being sure to stay consistent with the amount of product applied. Remember that there's a wide range of factors that can affect the effectiveness of the product. From the potency of your cream, the severity of your pain, the age of the product and how you've stored it, there are many stakes to consider before giving up on CBD topicals. 
Always clean the affected area and your hands before applying the product. You can wash using soap and water, or using an antibacterial sanitizing gel. While washing the area, check for any open wounds or cuts. CBD topicals should not be applied if there is a break in the skin, as it could cause further irritation and infection. With clean fingers or using a clean application spatula, take a small amount of the product and rub it on the affected area(s). You can use circular motions to help with absorption. Store your topicals in a cool, dark place, similar to any other therapeutic product. Check the expiration date and do not use if the seal has been broken before your use.
If your needs aren't met by CBD topicals, consider using them in conjunction with other CBD products. Vaping CBD oil is effective if you need fast-acting pain and inflammation relief. CBD edibles are excellent if you want to ensure you're getting a fixed dose every day. Whether you stick to your CBD cream or create a routine with other CBD products, be sure to stay consistent in order to see results.
Do CBD Topicals Make You Feel High?
The question of psychoactivity is an important one where cannabis products are concerned. CBD creams and topicals are made from legal industrial hemp. According to US law, only hemp containing 0.3% THC may be grown legally. This level of THC (a trace amount), is too low to have mind-altering effects on the user. 
CBD offers many positive health benefits, like relieving anxiety and stress, and encouraging relaxation. The relaxation and anxiety relief you may experience after consuming CBD or applying it topically is not equivalent to the psychoactive effects of THC.
The Pros And Cons Of Using CBD Creams
Looking for a quick cheat-sheet on the benefits and limitations of using CBD topicals? Look no further, we've got you covered below:
Convenient

: CBD topicals are super easy to use. Just take a small amount of the product and apply it directly to your targeted areas.

Added skin benefits

: Most

CBD creams

are formulated with ingredients that benefit the skin. Some of the most common additions include cocoa butter, aloe vera, lavender, shea butter, peppermint, coconut oil, and more.

Targeted pain relief

: CBD topicals are meant to be applied to specific parts of your body where you feel pain and discomfort: this allows you to achieve localized pain and inflammation management.
Limited benefits

: A big downside to CBD topicals is their limited effects. Unlike vaping or oral consumption of CBD, topical application doesn't allow you to experience the complete and holistic effects of CBD. For this reason, CBD topicals are not recommended for issues like depression, anxiety, and seizures.

Dosage

: Finding the right dosage is easier with tinctures, oils, and edibles. Since creams are slower to act and you can't adjust their potency, it can be tricky to figure out the correct ratio for your needs.

Cost

:

CBD creams

aren't cheap. In fact, they are one of the most expensive CBD products out there. If cost is prohibitive, you can research how to make your own CBD topicals at home.
CBD topicals are products you should look into if you are experiencing pain and discomfort in specific areas. With consistent use, they provide localized pain relief. They are particularly useful to people who have conditions such as arthritis, sciatica, chronic pain, and more. 
After diligent research for the CBD creams review above, our vote for the best CBD cream in 2021 is the Topical CBD Cream from FAB CBD™. Featuring impressive potency, organic full-spectrum hemp grown in the US, and a certified pesticide-free and non-GMO status, it's no wonder this product came in first place. Whether you need a topical for relief from everyday stress, for recovery from exercise, or to elicit a sense of calm or focus, it is an excellent choice. And to top it off, this cream dares to veer from the mint/menthol trend and is scented with blood orange and cinnamon.
Be sure to follow standard TSA regulations for taking creams, lotions, ointments, etc while travelling by air. As of January 2020, TSA guidelines state that you can travel with CBD products, as long as they contain no more than 0.3% THC. For interstate travel

not

by air, check regulations in each state.
CBD topicals have not been shown to prevent or treat hemorrhoids, but it can provide relief from inflammation and pain at the affected area(s). Do not apply topicals to broken, bleeding, or infected skin.
Contrary to popular belief, even though CBD is derived from hemp and cannabis plants, CBD topicals won't get you high. They are extremely unlikely to appear on

drug tests

, as standard tests only monitor for THC, not CBD, and trace amounts are unlikely to be detected.