While cannabidiol (CBD) often takes the spotlight in terms of cannabinoids, the hemp plant truly has so much more to offer. Beyond the more than 120 naturally occurring cannabinoids, hemp also produces terpenes, flavonoids, and other phytonutrients that may be able to provide therapeutic relief. In this Five CBD review, you'll see why they are pushing the envelope of full spectrum CBD products.
FIVE CBD is well aware of this and on a mission to incorporate these other aspects of the hemp plant into their CBD extract. Each of their products offers a 5:1 ratio (CBD to other cannabinoids) in order to provide you with a full-spectrum experience. We invite you to take a deeper look into FIVE and all the CBD products they have on offer.
Get 25% off all Five CBD products with coupon code AMMA.
Admittedly, FIVE CBD doesn't offer the most versatile selection of CBD products. However, what they do offer are a unique collection of carefully crafted CBD supplements that hold the potential to help with varying health conditions.
FIVE CBD puts a focus on their full-spectrum hemp extract. Each of these products is loaded with minor cannabinoids, terpenes, flavonoids, and other phytonutrients. The goal of such an extract is to encourage the entourage effect – garnering all the potential benefits the hemp plant has to offer.
All the hemp used in FIVE's products are harvested in the United States and tested in a 3rd-party laboratory in order to ensure safety and quality. Each product is manufactured in a certified Good Manufacturing Practice (cGMP) facility. They offer a 30-day return on any unopened and unused products.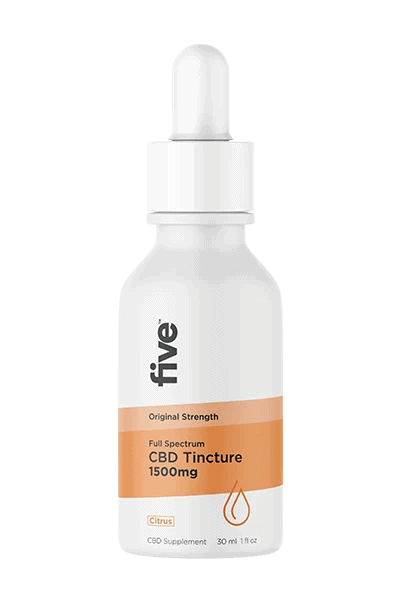 CBD Oil
Using that 5:1 CBD to minor cannabinoids ratio, FIVE's CBD oils truly provide you with a unique experience. These extracts can be purchased in three different strengths (1500mg, 3000mg, and 6000mg) – each of which is a much higher strength than standard. This not only ensures that you'll feel the high-quality effects with each dose but it may also provide you with a relief you won't find from other tinctures.
Currently, FIVE CBD offers their oils in three different flavors: Citrus, Mint Chocolate, and Lavender. You can get yourself a bottle for $49.99 (1500mg), $89.99 (3000mg), and $174.99 (6000mg). Admittedly, newcomers may find the high-potency of these products a bit overwhelming. If you're new to CBD, we suggest their 1500mg tincture and to start off with about half a dose to see how cannabidiol makes you feel.
Use code AMMA for 25% off: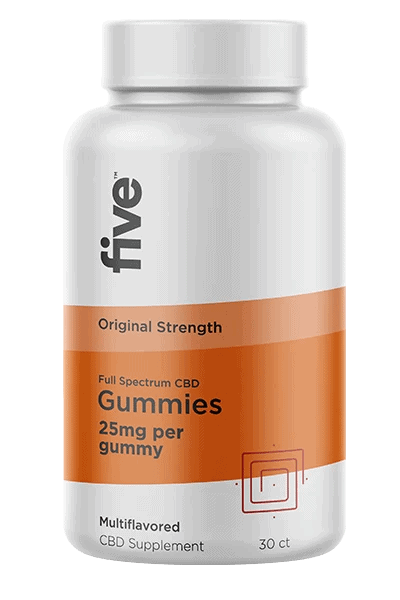 CBD Gummies
FIVE also offers a collection of CBD gummies that are sure to get your taste buds going. These come in a multi-flavored pack with varying fruit savorings made from all-natural ingredients. Their standard CBD gummy can be purchased in either 25mg ($39.99) or 50mg ($59.99). However, they also offer a sleep gummy that incorporates 25mg of CBD and 3mg of melatonin ($39.99). All gummies are vegan-friendly.
Use code AMMA for 25% off: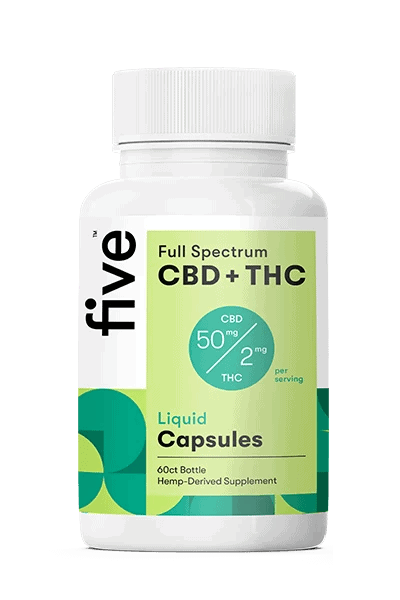 CBD Capsules
CBD capsules are also extremely popular as they provide you with a convenient way to consume CBD. FIVE offers all-natural capsules containing 50mg of CBD and 2mg of minor cannabinoids per serving. According to reviews on FIVE CBD's website, customers have found these more effective than the CBD gummies even when it comes to getting a better night's sleep.
Use code AMMA for 25% off: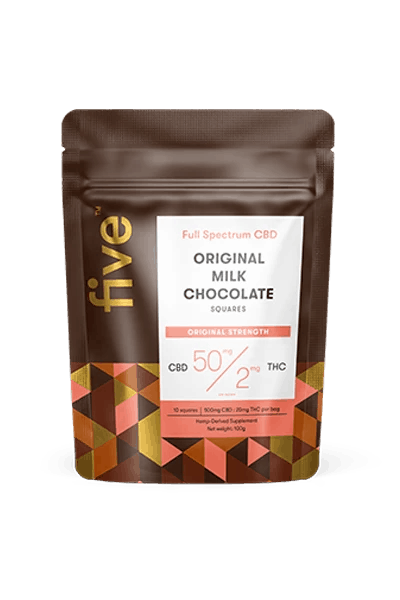 CBD Chocolate
If you're looking for a more unique product, FIVE also offers a CBD chocolate. These are packaged individually to ensure you're getting the exact dosage as advertised (which is 50mg CBD and 2mg minor cannabinoids). You have the option to choose from either a milk chocolate or sea salt dark chocolate flavor. Beyond the effects of CBD, eating chocolate regularly may provide health benefits, such as reducing the risk of heart disease. You can purchase these CBD chocolates in a pack of 10 squares for $39.99.
Use code AMMA for 25% off: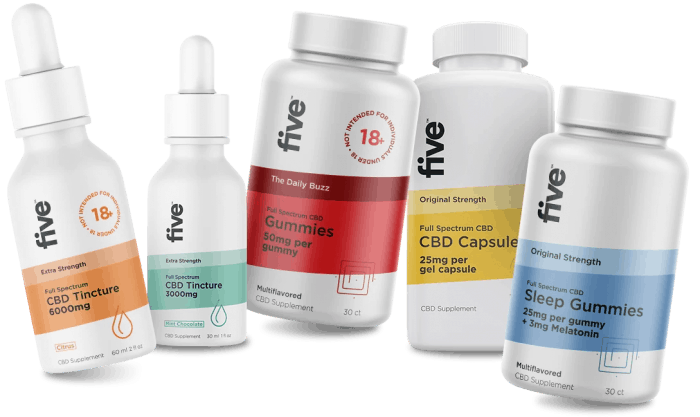 CBD Bundles
If you're interested in purchasing a number of FIVE CBD products, they offer bundles at a reduced value (per product) in order to cater to your needs. These bundles include:
OG Bundle

($84.99) – CBD Chocolates, 1500mg CBD Oil, and CBD Gummies (25mg per gummy)



Tincture Flight

($99.99) – 3 tinctures in 1500mg in all of FIVE's flavors (Lavender, Citrus, and Mint Chocolate)



Sleep Bundle

($64.99) – 1,500mg Lavender CBD oil and Sleep Gummies
If these bundles aren't offering the products you're interested in, we offer coupon codes to help you save on your total order! Therefore, you can still enjoy a multitude of products while also enjoying some savings.
Use code AMMA for 25% off:
5:1 Cannabinoid Profile

– Each of these products is made using an extract that's 5:1 CBD to other minor cannabinoids. This full-spectrum extract gives you the ability to experience the entourage effect.

Product Pricing

– FIVE's CBD products are very fairly priced when compared to competitors. This makes their selection of products much more accessible to those who may need them.

High-Strengths

– The products discussed above come in moderate to high dosage strengths, making these the perfect option for both longtime CBD users and newcomers who haven't found success with lower strength products.

Manufacturing Process

– FIVE CBD keeps a close eye on manufacturing from seed-to-sale, ensuring quality and safety. Not to mention, they operate out of a cGMP facility and all batches of their products have a Certificate of Analysis (CoA).

"CBD Quiz"

– If you're unsure as to which FIVE CBD product is right for you, they offer a questionnaire on their website. By answering this "CBD Quiz," FIVE will help you determine which of their products is a best fit for your needs.
Return Policy

– FIVE CBD only accepts returns on unopened and unused products within 30 days of receiving your item.




Limited Product Selection – FIVE's product selection isn't the most versatile we've come across. Luckily, they make up for this by offering a number of potency and flavor options for each of their high-quality products.
We would suggest FIVE to both newcomers and longtime CBD users. The 5:1 ratio of CBD to minor cannabinoids is such a unique feature that it's unlikely you'll find a product similar. Plus, since these products are of a higher strength than most of what's on the market, they're guaranteed to pack a punch every time you take them. Furthermore, the affordable pricing makes FIVE CBD ideal for just about everyone!