More and more dog owners are turning to CBD to help their pets cope with common but debilitating ailments such as arthritis, cancer, anxiety, seizures, and more. However, if you're new to using this all-natural treatment on your four-legged family member, it can be quite overwhelming to look through all of the options that are on the market to determine the best CBD oil for dogs.
After all, there are many factors that came into our selection for the best CBD oil for pets. For our guide, we have taken a holistic approach at determining the best CBD oil for your pets by examining factors such as:
Overall quality

Testing standards

Cost

Customer feedback

The availability of money back guarantees 
You will also find herein an extensive guide on using CBD for dogs, including the answer to the common conundrum of "how much CBD oil should I be giving my dog?"
Let's get started!
Best CBD oils for dogs: Our top picks
1.

Charlottes Web Hemp Extract Drops for Dogs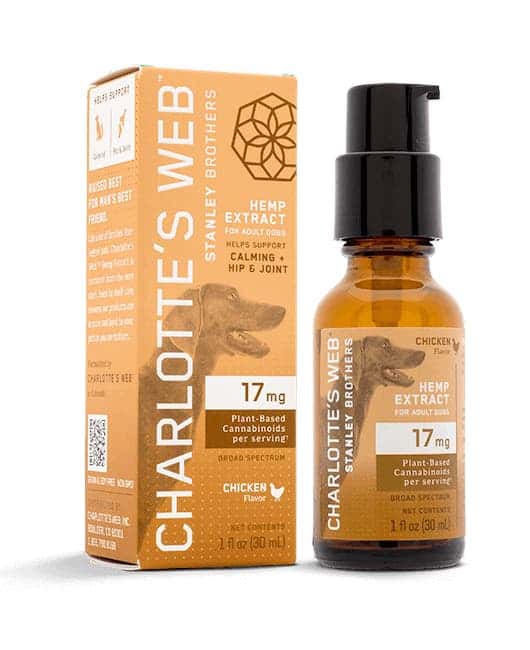 Highlights
High-quality standards from seed to product
Colorado hemp
CO2 hemp oil extraction
CBD Treats (2mg CBD/treat, 25 CBD treats total) and tincture (250mg CBD)
Free shipping within the United States for orders over $74
Get 15% off all Charlotte's Web products as an AmericanMarijuana reader. Use this code at checkout: AMMA
Get Discount
All Charlotte's Web products come with all the cannabinoids that naturally occur in the cannabis plant, making it a forerunner for the best CBD oil for dogs on the market. The cannabinoids in this product contribute to what's called the "entourage effect", where the compounds work synergistically to produce a strong sensation only found in a full-spectrum CBD product.
Our top picks:
Calming Chews for Dogs

, which are specially formulated to help relieve stress and come in hip and joint chews as well as cognition chews and comes in 30 ml and 100 ml that each contain 17 mg of CBD

Hemp Infused Balm for Dogs

, which is a topical product that is specially formulated for pets with sensitive skin and comes in a 45.2 g tin with 450 mg of CBD per tin
2.

Honest Paws CBD Oil Other CBD Products for Dogs
Highlights
Full-spectrum CBD oil products
Hemp grown in Colorado
Fun treats, peanut butter, and coconut oil
Get 10% off all CBD products from Honest Paws as an AmericanMarijuana reader. Use this code at checkout: CBD10LIFE
Get Discount
Our top picks:
CBD Oil for Dogs

, which comes in three different formats of 125 mg, 250 mg, and 500 mg to cater towards all breeds 

Dog Treat Bites (Calming, Relief, and Healthy Coat Restore)

, which come with 30 treats per  bag with 5 mg CBD in each and support a calm mood and a healthy coat, as well as pain relief

Dog Soft Chews (Joint Support, Calming Aid)

, which come with 30 treats and dosage guidelines (but no CBD mg provided); they are intended to be taken alongside medicine to promote healthy joints and a calm demeanor

Peanut Flavored Spread

, a spreadable CBD product that is ideal for picky eaters 

Coconut Oil for Pets

, which is infused with 23 tablespoons of oil, each with 5 mg CBD 
Honest Paws is impressive when it comes to transparency – they make their lab tests publicly available. They also source their plants from farms in Colorado, and they use ingredients that are all-natural, soy-free, and GMO-free.
3.

FAB CBD Treats for dogs
Highlights
Colorado-grown hemp
3 treat varieties (3mg CBD/treat, 40-50 treats)
Third-party tested
Broad-spectrum CBD oil for dogs
Get 20% off all FAB CBD products as an AmericanMarijuana reader. Use this code at checkout: AMMA
Get Discount
Our top picks:
Active Immune (Chicken Flavor) Crunchy Dog Treats

, which includes turmeric, bone broth, flaxseed, and milk thistle extract 

Skin & Coat (Salmon Flavor) Crunchy Dog Treats

, which includes salmon oil and flaxseed, both rich in omega-3 fat, to support a healthy coat and healthy skin. 

Calm & Cool (Peanut Apple Flavor) Crunchy Dog Treats

, where chamomile and passionflower are added to further encourage a calm pup.
FAB's CBD Crunchy Dog Treats are among the top CBD-infused products you can give your pets. They come in three varieties and each of them contains 3 mg of CBD. They are also free from common dog allergies such as corn, soy, wheat, and dairy. 
FAB CBD Treats for Dogs use Colorado-grown broad-spectrum hemp oil in their products. Broad-spectrum hemp oil is a CBD-rich oil that is completely void of THC but contains other healthy plant compounds like terpenes and secondary cannabinoids.
4.

Hemp Bombs CBD Oil and CBD Biscuits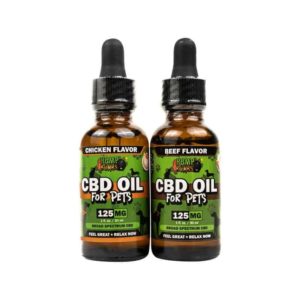 Highlights
European-grown organic hemp
Biscuits (10mg CBD/treat, 8 treats) and tinctures (150mg, 300mg, 1,000mg CBD)
Third-party tested
Pure CBD isolate products
Get 20% off all Hemp Bombs CBD products as an AmericanMarijuana reader. Use this code at checkout: AMMA
Get Discount
Our top picks:
CBD Biscuits

, which comes in peanut butter flavor and comes with 8 chews with 15 mg of CCD per chew 

CBD Oils

, which come in beef or chicken flavor in 125 mg, 250  m, and 1000 mg concentrations 
Hemp Bombs made it to this list because of two factors: cost and quality. They're made with CBD isolate, which means they contain zero THC. 
Hemp Bombs partners with a third-party lab to test all of their products and they post the results on their webpage. Additionally, their CBD oil is sourced from European hemp plants. Because Europe has high standards for its hemp farming, you can expect the products from this brand to have excellent quality.
5.

NuLeaf Full Spectrum CBD Oil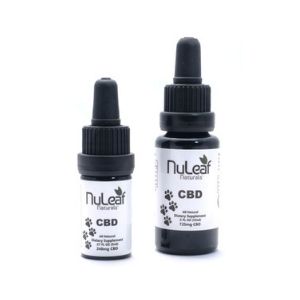 Highlights
Full-spectrum hemp oil
Tincture (240mg CBD)
Gluten free
Get 20% off all NuLeaf products as an AmericanMarijuana reader. Use this code at checkout: AMMA
Get Discount
The only ingredient in this tincture is hemp. This means that it has no additives or preservatives.  Their source is 100% organically grown in Colorado. They use CO2 extraction which doesn't use heat or solvents, allowing for secondary cannabinoids, terpenes, and other healthful plant compounds to make their way into the final product. 
In fact, their testing shows some of the greatest diversity in secondary cannabinoids that we've seen in a full-spectrum CBD oil. However, while a hemp-only product is great from a quality perspective, the lack of flavor options make it less exciting. Plus, there is no variety when it comes to  product strength.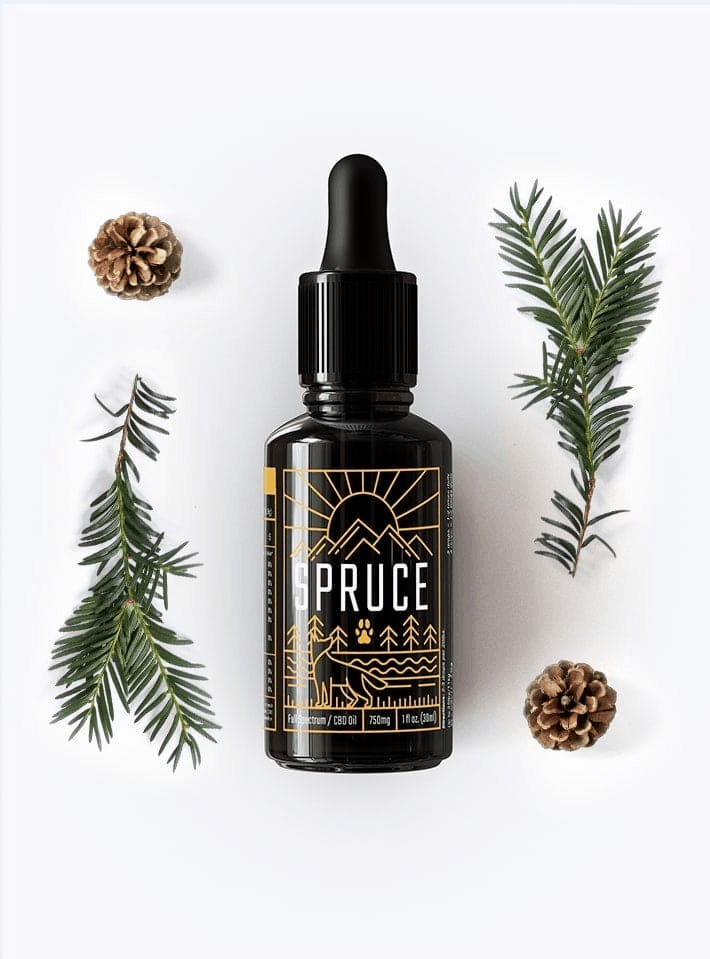 Highlights
Made in the United States
Lab-grade quality
Third-party tested
100% natural; no pesticides
Get 10% off all Spruce CBD products as an AmericanMarijuana reader. Use this code at checkout: AMMA
Get Discount
Our top pick:
Spruce Dog CBD oil

, which comes in a 750 mg bottle and contains dosage information that is determined by dog weight 
Spruce CBD Oil is unique for using coconut oil as a carrier oil in the place of hemp seed. This makes it an ideal choice for dogs with sensitive digestive systems, as coconut oil can be easier on some dogs' stomachs. Coconut oil also results in a mild taste, which makes it easy to slip this oil into your dog's food.

It's a slip you will want to make, as this full-spectrum CBD Oil is held to the same lab grade as Spruce's CBD oils for humans. The product also contains less than 0.3% of THC, which means that it does not include psychoactive properties. However, since it does include coconut oil, it is not appropriate for dogs with tree nut allergies.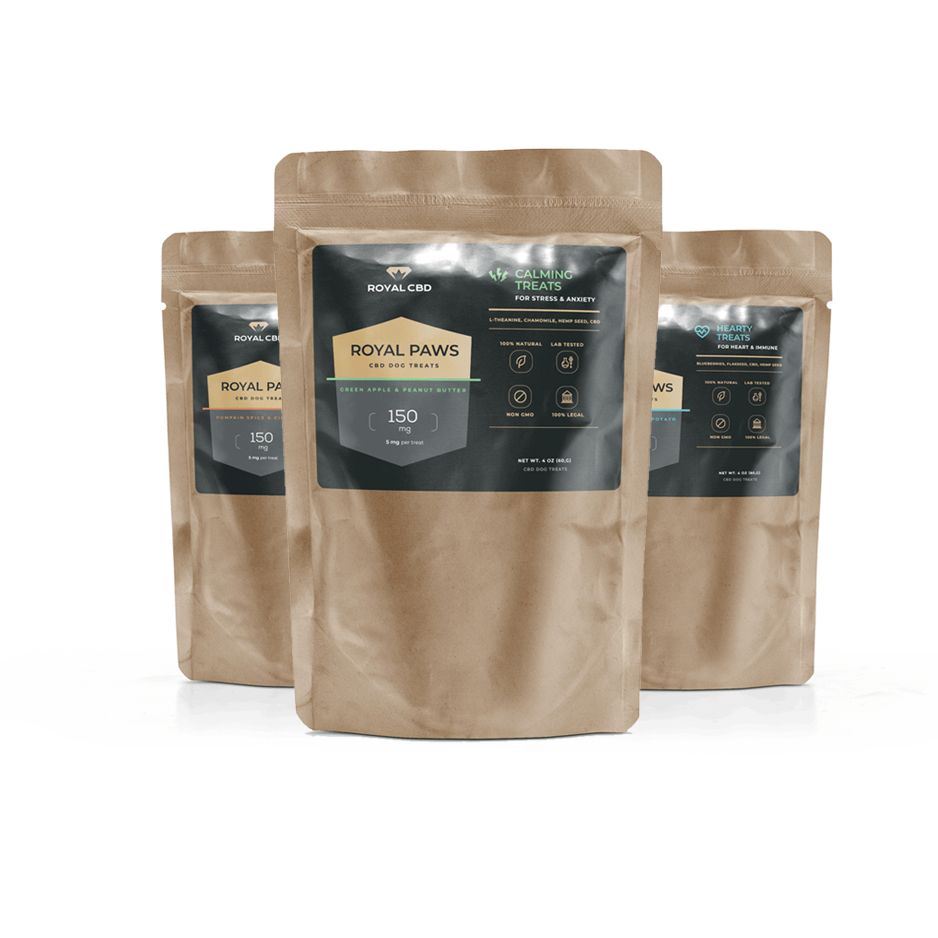 Highlights
Non-GMO
Gluten free
Lab tested
Made in the USA
Get 10% off all Royal CBD products as an AmericanMarijuana reader. Use this code at checkout: AmericanMarijuana
Get Discount
Our top picks:
CBD dog treats

, which comes with 30 treats in either an active, calming, and hearty variety with 5 mg of total CBD per treat

Full Spectrum CBD Pet Oil

, which comes in a bacon flavor and comes in 125 mg, 250 mg, and 500 mg sizes with 4.16 – 8.33 mg of CBD per serving
Royal CBD is a CBD retailer based in California that offers a wide spectrum of products for both humans and pets. They can boast a number of impressive claims, such as the fact that their products are made up of 100% organic materials and contain full-spectrum CBD extracts. They are also tested in a lab to ensure quality and effectiveness.

Royal CBD only offers two options for pets, but they are both incredibly versatile. Both the CBD Dog Treats and the Full Spectrum CBD Pet Oil come in a variety of sizes and strength levels to ensure that they cater to the specific needs of a diverse range of dog breeds, which makes it an ideal choice for owners of small dogs, big dogs, and any other dog in-between.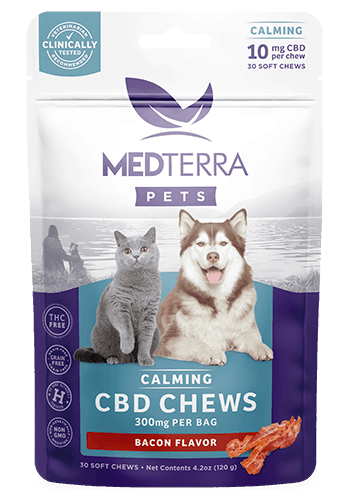 Highlights
Non-GMO
Gluten free
Lab tested
Made in USA
Get 25% off Medterra products as an AmericanMarijuana reader with coupon code AMMA
Get Discount
Our top picks:
CBD dog chews

, which come in a joint support and a calming variation, with each chew of both flavors containing 10 mg of CBD 

CBD Drops for Dogs

, which comes in either beef, chicken, or flavorless in 150 mg, 300 mg, and 750 mg sizes 
Medterra CBD, which offers products for both pets and humans, discloses their Certificate of Analysis right on their website, which can help inspire confidence in an otherwise unregulated industry. They are able to ship across the United States as well as the world, and all of their CBD products contain 0% THC. 

Medterra offers unique CBD dog chews in either bacon (for the calming chews) or peanut butter (for pet joint support) flavors. This is a unique way to administer CBD which is ideal for fussy dogs who will not eat food that has been mixed with CBD oil. However, if you prefer to purchase drops, Medterra also offers various sizes of CBD drops to suit different sized dogs. Their website even includes a handy pet dosage calculator that can make product suggestions based on your dog's weight.
CBD (or cannabidiol) refers to the non-intoxicating compound found in the cannabis plant. Unlike THC or tetrahydrocannabinol, it doesn't have psychoactive properties. Basically, this means you won't get "high" after taking it. 
In humans, CBD oil offers potential health benefits. It can help reduce stress and depression and provide pain relief. There is also early evidence that shows that CBD can health soothe the following ailments in dogs: 
Arthritis

Anxiety

Cancer

Chronic inflammation

Seizures

Digestive problems

Aggression
Hemp Seed Oil vs CBD Oil for Dogs: What's the Difference?
The main difference is that hemp seed oil does not have any CBD content. Hemp seed oil is made by pressing hemp seeds together up to the point where oil is extracted. It contains fatty acids and essential amino acids that offer benefits not just to humans but for pets, too. Hemp seed oil is good for your pet's skin and coat and can also help ease mild cases of inflammation. 
CBD oil, on the other hand, is rich in CBD. CBD is good for calming your dog's nerves whenever he or she needs to travel or see the vet. It can also help with separation anxiety, certain mental health conditions, aggression, pain and inflammation, and seizures.
Can I Use CBD Oil for Dogs With Seizures?
Recurring seizures happen in pets diagnosed with epilepsy. This condition often comes with twitching, jerking, loss of consciousness, and tongue chewing.
Most cases of epilepsy in dogs are treated using a combination of antiepileptic and anticonvulsant drugs. Some are prescribed with corticosteroids which they have to take for a certain period of time. If the epilepsy and seizures are caused by a tumor, surgery may be required.
CBD oil is known to possess anticonvulsant properties. It can reduce not just the frequency but also the length of each seizure episode. It works by stopping the firing of the nerve impulses in the dog's central nervous system.
Can I Use CBD Oil for Dogs With Arthritis and Other Chronic Pain?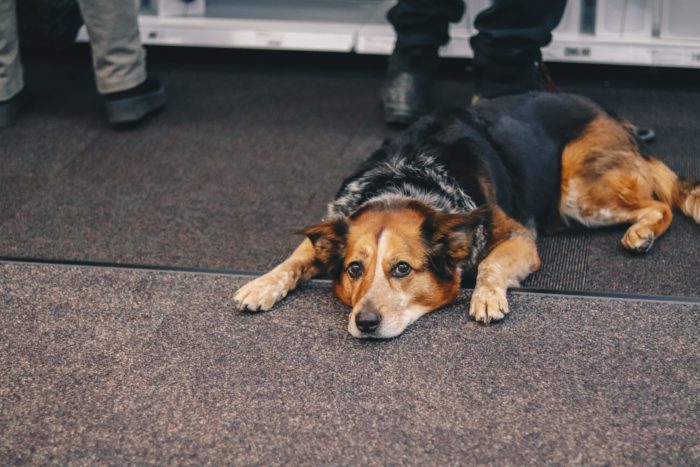 Pets that experience chronic pain including arthritis may show difficulty in moving and changes in behavior. In most cases, pets with long term pain are given non-steroidal anti-inflammatory drugs. However, there are studies that show how CBD can help relieve pain in dogs. 
Can I Use CBD Oil for Dogs With Cancer?
Cancer is, unfortunately, a common condition among dogs. Like humans, its first sign includes lumps, bumps, and wounds that don't heal. Ideally, the treatment for cancer involves four options. There's surgery, chemotherapy, radiation therapy and immunotherapy.
There is research suggesting that CBD possesses the ability to enhance cancer treatments and more effectively kill and prevent tumors.
Is CBD Oil Safe for Dogs?
Cannabidiol oil doesn't have severe side effects on dogs. However, this doesn't mean that one shouldn't keep an eye out for adverse reactions, including sedation, increased appetite, loss of energy, and dry mouth or even vomiting. It's always best to check with your vet before administering CBD oil to your dog.
CBD Oil Dosage for Dogs: How Much CBD Oil Should I Give My Dog?
The right dose for your dog will depend on many factors. The list includes:
Size, sex, and age

Health status and goals

The type of CBD taken (Isolate, full spectrum, or broad spectrum)

How it is taken (topical, edible, tincture)

Underlying biological factors 
When it comes to dosage, the rule is trial and error. You can start small and work your way up until you find the right dosage for your pet. However, to find the right dosage for your pet, you should start with 1mg to 6mg for every 10 pounds of body weight.
In case your dog is experiencing anxiety, you may want to start with a lower dose than that. For cases that involve issues with the immune system, you'll have to give your dog a higher amount of CBD.
For example, if your dog weighs under 25lbs, you can buy a 250mg bottle of CBD oil. Take a full dropper and give it to your dog daily.
If your dog is over 50lbs, you can use a 500mg bottle and give about 2ml of the oil per day. That's equivalent to 2 full droppers.
Can My Dog Overdose on CBD?
This answer will depend on the kind or type of CBD product you're giving your dog. For products that contain no THC, you won't have to worry about overdose that much since it's less likely to happen.
Keep in mind that the legally allowed amount of THC in such products is less than 0.3%.
However, if you're using a product with a high percentage of THC or if your dog accidentally gets into your stash, then that could be a problem.
If you notice your dog showing any signs of the following or any side effects, be sure to report to the nearest veterinarian:
Urinary incontinence

Lethargy

Impaired balance

Impaired coordination

Vomiting
Can I Give My Dog CBD Every Day?
Yes. In fact, it may be important to do so if your dog is suffering from seizures and epilepsy. Giving a regular dose helps prevent an episode from happening.
How Do I Administer CBD to My Dog?
There are two primary methods to give CBD oil to your pet: treats or tinctures. 
Tinctures are easy to administer, and most dogs will simply lick the oil off of your hand. If your dog isn't able to tolerate the taste or smell it, you can add it to its food or its favorite treat. Most treats are flavored so you can give them as is.
How Long Does It Take For the Effects of CBD to Kick In? How Long Do They Last?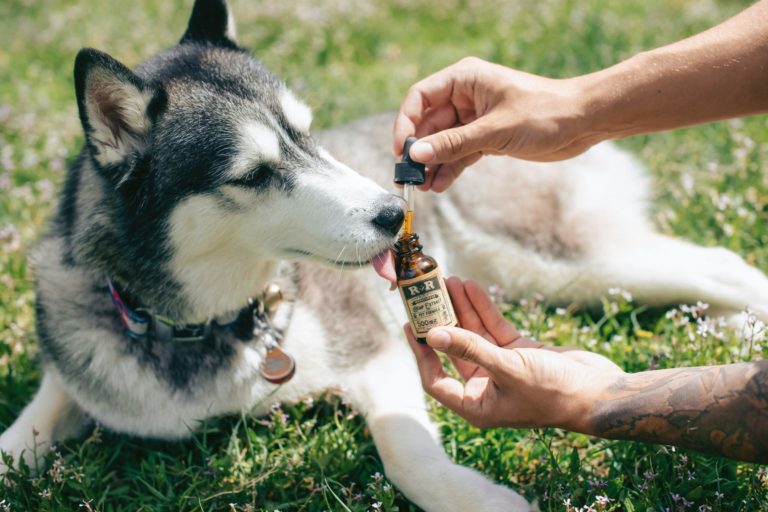 In general, it'll take about 30 minutes for your dog to feel the therapeutic effects of CBD. It should take about 4 to 6 hours before those effects fade. CBD may stay in your dog's body for up to a week. 
How Do I Know Which CBD Oil Is Best For My Dog?
The CBD oil industry isn't regulated. This means that there's no standard when it comes to the CBD for dogs and cats. If you would like to do your own product vetting, you should look out for the following attributes:

Extraction method: As much as possible, pick a product that has been extracted using CO2 extraction. 
THC level: Choose a product with as little THC as possible — ideally none.
Organic certification: As much as possible, pick CBD oils that are made from organic hemp plants. 
Third-party tested: Products that contain CBD should be checked by an independent laboratory. 
Dog owners know how important it is to give our pets the highest quality product. Putting the extra research into choosing a high-quality CBD product can help improve your dog's overall well-being. Of course, you should always consult with your vet while making any important decisions about your dog's health — but we hope that this list helps point you in the direction of the best CBD products for dogs!