If you've been searching for the best CBD oil to use for your anxiety, pain or sleeping issues, you've probably come across Fab CBD a couple of times already. The brand is one of the most popular names in the CBD market and that's not really surprising.
Curious to know if it's the right one for you? Read this in-depth review before you decide.
Fab CBD has been in the CBD market since October 2017. Although the brand is relatively new, it doesn't fall short when it comes to delivering high-quality CBD products.
It's because the company has a combined experience of 25 years in the health, fitness, pharmaceutical, and supplement industries.
Fab CBD is very transparent about their products. They actually post the lab results of their products on their website. Although it's not clear how often they post the results, you'll be able to see the updated ones on their site.
Apart from the lab results, you'll also see pictures and names of their actual customers there. The idea is actually refreshing since most companies aren't comfortable doing that.
Fab CBD Product Highlights
Fab CBD has 3 product categories and all of them are within a reasonable price range. Given their strengths and quality, you'll surely get your money's worth.
All of Fab CBD's products come from organically grown hemp from Colorado. Their hemp plants undergo CO2 extraction which is known for producing the best CBD oils.
The company sells a limited number of products compared with other brands. However, this doesn't imply that they can't keep up with the competition.
In fact, it's the other way around. With a smaller product line, they are able to focus more on quality over quantity.
Below is a quick overview of each Fab CBD product: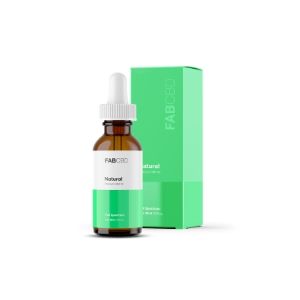 Fab CBD Oil is the brand's most popular line. It comes in three different flavor profiles to suit your preference. You can get in Natural, Mint or Citrus flavor.
As for strength, you have four options- 150mg, 300mg, 600mg, and 1200mg. The bottles are only available in 30ml-sized bottles.
What's nice about the range of its strengths is that it provides options for different health needs.
If you are new to using CBD oil, you can start with the 150mg to test its effect. And if you're looking for additional health benefits, you can go for the stronger variant.
One thing to note about Fab CBD oil is the carrier oil it uses. It has MCT oil which is considered to be a really excellent carrier as it enhances the absorption of CBD as well as other cannabinoids.
The oil is extracted using CO2 extraction to ensure premium quality. It's considered as the most effective extraction process for CBD oils.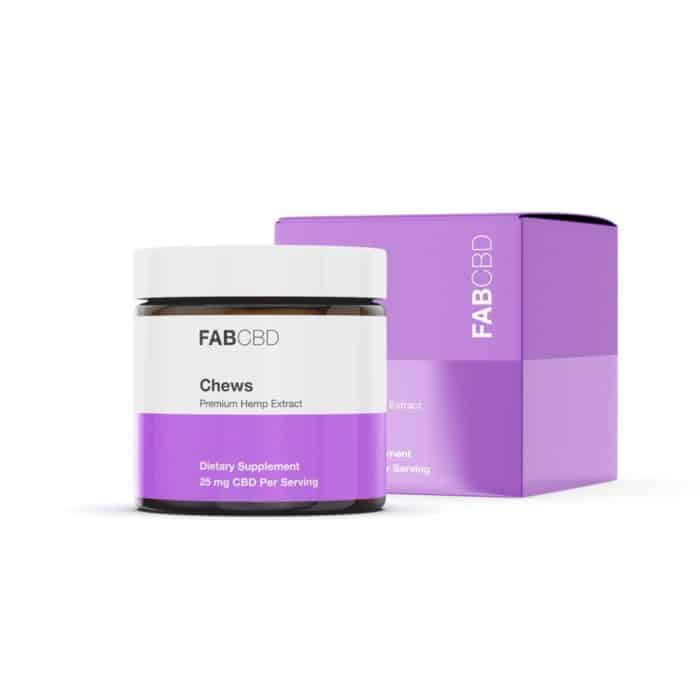 These chews offer a simpler way of consuming CBD. They are great for people who have on-the-go needs, whether it's to relieve pain at work or help with recovery after working out.
Each bottle offers 30 servings per container with a total potency of 750mg. This means that a single gummy has about 25mg of CBD.
The chews have a really nice taste. In fact, it's enjoyable to consume.
And the best part?
You won't have to worry about the extra ingredients as they are formulated using natural flavors. The chews are also vegan and considered THC-free.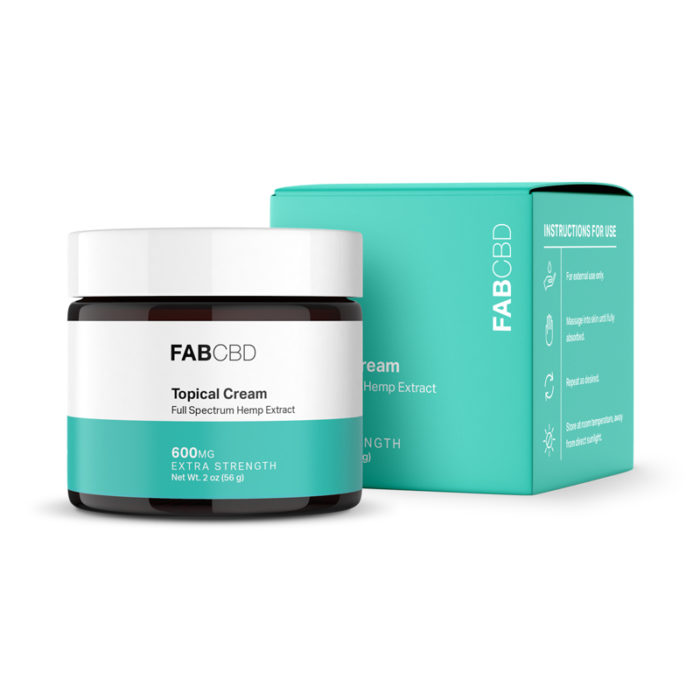 Fab CBD has this cream which you can use topically on specific areas of your body that are craving for relief. It has about 600mg of cannabidiol for that.
Additionally, the cream also has coconut oil and aloe vera which are great for the skin. These ingredients possess excellent moisturizing properties so you won't end up with dry, cracked skin.
The cream also has vitamin E which offers great antioxidant and nourishing benefits.
When applied, the cream gets absorbed easily so be sure to apply only on areas where you have pain.
Now, as for the scent, the cream actually smells refreshing. It has this fresh scent, thanks to chamomile, cinnamon, and blood orange extract.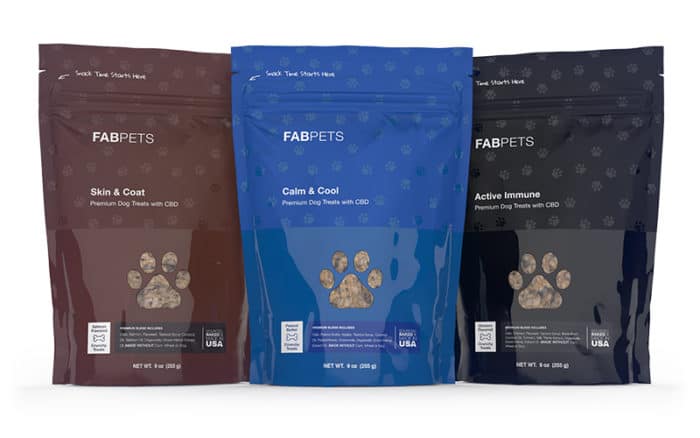 FAB's CBD Crunchy Dog Treats are one of the best CBD products for dogs. They come in three varieties and each treat in any of the varieties contains 3mg of CBD, goes along with different flavors and secondary ingredients. 
FAB's CBD Crunchy also contains other natural ingredients that have benefits for our pets' health. They have a wide range of flavors from which you can choose what your dog enjoys most.
Enhance your best friend's health with CBD combined with other powerful antioxidants, botanical extracts, and vitamins creates products that are formulated for optimal health and wellbeing.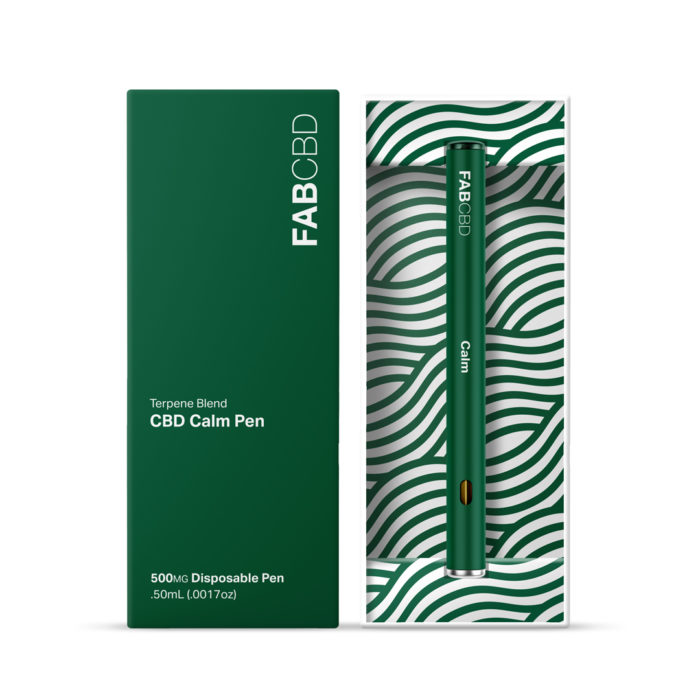 Vaping presents one of the most efficient ways of CBD intake as it enables the user's body to absorb CBD quickly. Fab CBD Vape Pen is christened 'Calm' based on the effect it is expected to have on the user.
The pen is disposable and draw-activated. The vape juice in this pen is made from broad-spectrum hemp extract. It contains a carefully selected group of terpenes to help the user calm down.
Additional cannabinoids in this broad-spectrum blend include CBG, CBC, and CBN, all of which work together with CBD to enhance user experience. Fab CBD has no artificial additives for flavoring or any other purpose. 
Fab CBD products are not the least expensive in the CBD industry.  However, they are still considered to be cheaper than the industry average, particularly the CBD oils.
Now, even though they aren't too expensive, it doesn't mean that they fall short in terms of quality or the effects they produce.
It's actually nice when brands offer bot CBD isolates and full-spectrum CBD products as that gives their consumers options.
In case you are wondering, full-spectrum oils are made with trace amounts of THC. They usually contain less than 0.3% THC which is acceptable.
CBD isolates, on the other hand, are considered to be 100% THC-free.
In Fab CBD's products, the oral drops are full-spectrum while their gummies are complete CBD isolate.
As previously mentioned, Fab CBD relies on CO2 extraction method which is considered the best one when it comes to producing high-quality CBD oil. In addition to that, this extraction method is also considered to be environmentally friendly.
The process doesn't leave behind any trace of heavy metals or solvents that can harm the environment.
Fab CBD chews are great for vegans as they aren't made with gelatin.
Brands that allow their products to be tested by third-party labs are clearly confident about their quality. Fab CBD's products undergo regular testing, at least quarterly, to ensure that they are making high-quality CBD products.
Their latest tests and results suggest that their products are 100% pure and have no traces of pesticides and heavy metals. You can see them posted on the company's website.
Well-Designed and Informative Website
Not all people are aware of what a well-designed website can do, particularly when it comes to searching for really good CBD products.
Fab CBD has an informative website that has all the data you need to make the right decision. For one, the site has an Educate page which contains really valuable articles to help you in your journey of using CBD products for health management.
From teaching you what full spectrum and isolates are to helping you understand your endocannabinoid system, the site provides knowledge to its consumers.
In addition to that, the site also has real customer reviews and there are tons of them. There's a section for questions, too.
What's also nice about their site is that each product has a dedicated page where you'll see a full description, list of ingredients, suggested use, and potency. The brand ensures that you have everything you need to properly and safely use their products to get your desired effects.
Free Shipping and 30-day Refund Policy
Yes, you got that right.
The brand actually offers free shipping for orders beyond $89. And if you're not satisfied with the products, there's a 30-day refund policy you can turn to.
Now, if you find the Fab CBD products to be effective, you can actually earn points from buying them. For each dollar you spend, you'll get 5x points which you can use for discounts and future purchases.
Well, this isn't actually a bad thing. However, because the products are in demand, it may take a while for them to be restocked.
Effects May Take A While to Kick In
While the products are effective, they may still take some time to give you the effects you're looking for. Remember, even high-quality CBD products aren't overnight miracles. You can't expect them to work right away after taking them.
About Fab CBD Customer Service
The quality of their products isn't the only thing you'll love about the brand. They actually have a prompt and friendly customer service.
The company really engages with their customers and they offer several options for you to contact them. In their website, there's a page where you can leave reviews about their products.
There's also a section where you can post questions. The company is very responsive so you can expect answers right away.
Apart from their website, you can reach out to them through their Facebook Messenger app on the site.
Fab CBD is clearly one of the best brands out there. They offer high-quality and pure CBD products and they are backed with third-party lab results as proof.
Their products are reasonably priced, considering their purity, quality, and formulas. Their customer service is also excellent.
And if you are feeling doubtful about giving Fab CBD oil a try, the brand actually offers a 30-day full refund if you're not satisfied.
However, if you find the product effective, you can earn points and rewards which you can use for future purchases as well as discounts. Just use the promo code AMMA in your next purchase to get an awesome 20% discount.