Percolator bongs, or percs for short, use water diffusion to take your cannabis experience one step further. That's not to say it's time to retire your college-style bong for good, but, for what it's worth, you could be missing out on some of today's upgraded glass designs. So, what makes a percolator bong better than a regular bong? Let's just say it's a question of preference, budget, and prior bong experience. 
However, there are clear advantages to graduating from the classic design to a more sophisticated version. Percolator bongs filter out harsh contaminants, minimize coughing, and enrich the taste of dry flower and dabs—what you'd call a bong smoker's dream. 
What is a percolator bong?
Using the process of percolation, percolator bongs encourage you to slow down and draw in creamier, luscious hits. This design forces smoke to pass through holes or slits before rising through the neck up to the mouthpiece. What happens along the way sounds more technical than it is, but the percolator component essentially pressurizes bubbles in a separate chamber, which ends up purifying and cooling down the vapor.  
Different types of percolators
There's no shortage of variety when it comes to glass percolator bongs. Here are the most common designs you'll find in online headshops (some wackier than the rest): 
Diffused downstem

: Considered the simplest perc design, diffused downstems are either detachable or fixed to the base of the bong. The thin pipe percolates smoke through narrow slits beneath the water. 

Disc

: As one of the more popular designs, disc percs filter smoke through a hole-studded, circular disk. Honeycomb percs also fall under this category, given the high rate of diffusion you get from dozens of tiny holes. The distant cousin to these types is the circ perc, which resembles a hockey pick with slits for diffusion, not holes.

Swiss

: Swiss percs make the base of the bong look dented, but these "swiss cheese holes" actually cool vapor around the vertical discs. Similarly, donut percs push smoke into an o-shaped hole, adding to the bong's aesthetic appeal. 

Turbine

: Also called cyclone or vortex percs, this style creates a whirlpool effect when you draw the smoke up to your mouth. Turbine percs are often stacked on top of the honeycomb design. 

Tree

: This perc follows the anatomy of a tree, pushing smoke through a central tube (trunk) before falling into the attached, slitted tubes (branches). You'll often see bongs with double or triple-tree percs. 

Showerhead

: Kind of like the one in your shower, except inside your bong. The smoke pushes up into a rounded chamber then goes down and out the holes/slits. 

Inline/Matrix

: Inline percs include a slitted, horizontal tube, jutting out of the base (but sometimes welded inside). This style goes beyond your

standard bong design

with its submarine-like build. A matrix perc is another wow-factor style that whips a frenzy of bubbles and smoke above a circular matrix. The vertical and horizontal slits create a mesmerizing "dancing" water effect. 
1.

Glasscity 13'' Double-tree Perc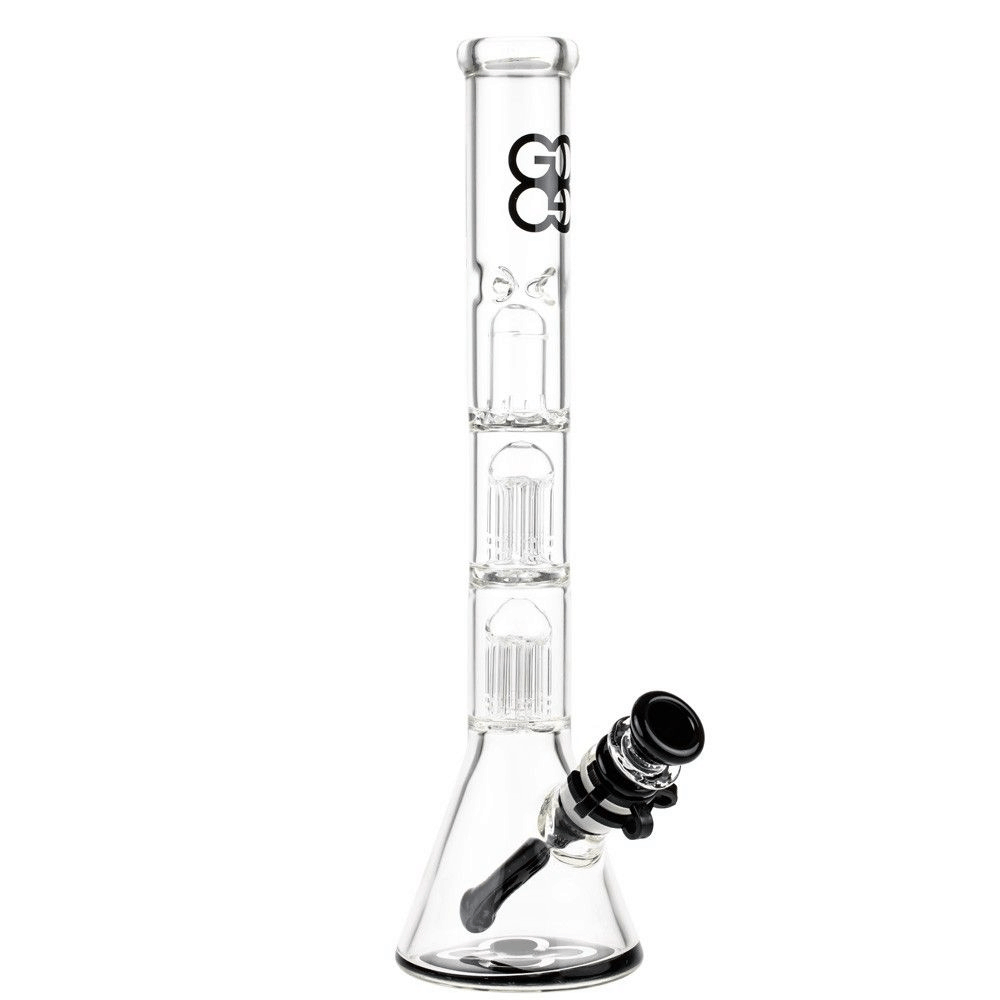 Highlights
Mouthpiece and downstem available in blue or green
Tall tube loaded with double-tree perc, each with six arms
Consistent five-star reviews stand by this reasonably priced bong
Ranked at number one, Glasscity's double-tree beaker perc is one of the best percolator bongs on the market. If you're new to percs, adding this piece to your glass collection is an undeniable upgrade from the old-school, beaker-only design. Easy on the eyes and the lungs, the double-tree perc pushes smoke through twelve arms before billowing upwards to the mouthpiece. One rip and you'll notice the difference the tree perc makes. As an added perk, Glasscity throws in a keck clip with your purchase so you don't accidentally pull apart the joint from the downstem during use. 
Product Specifications: 
13" tall

Beaker base

Slitted splash guard to keep water from overflowing

Sold with keck clip to prevent joint and downstem detachment
2.

Purr 10'' Honeycomb Perc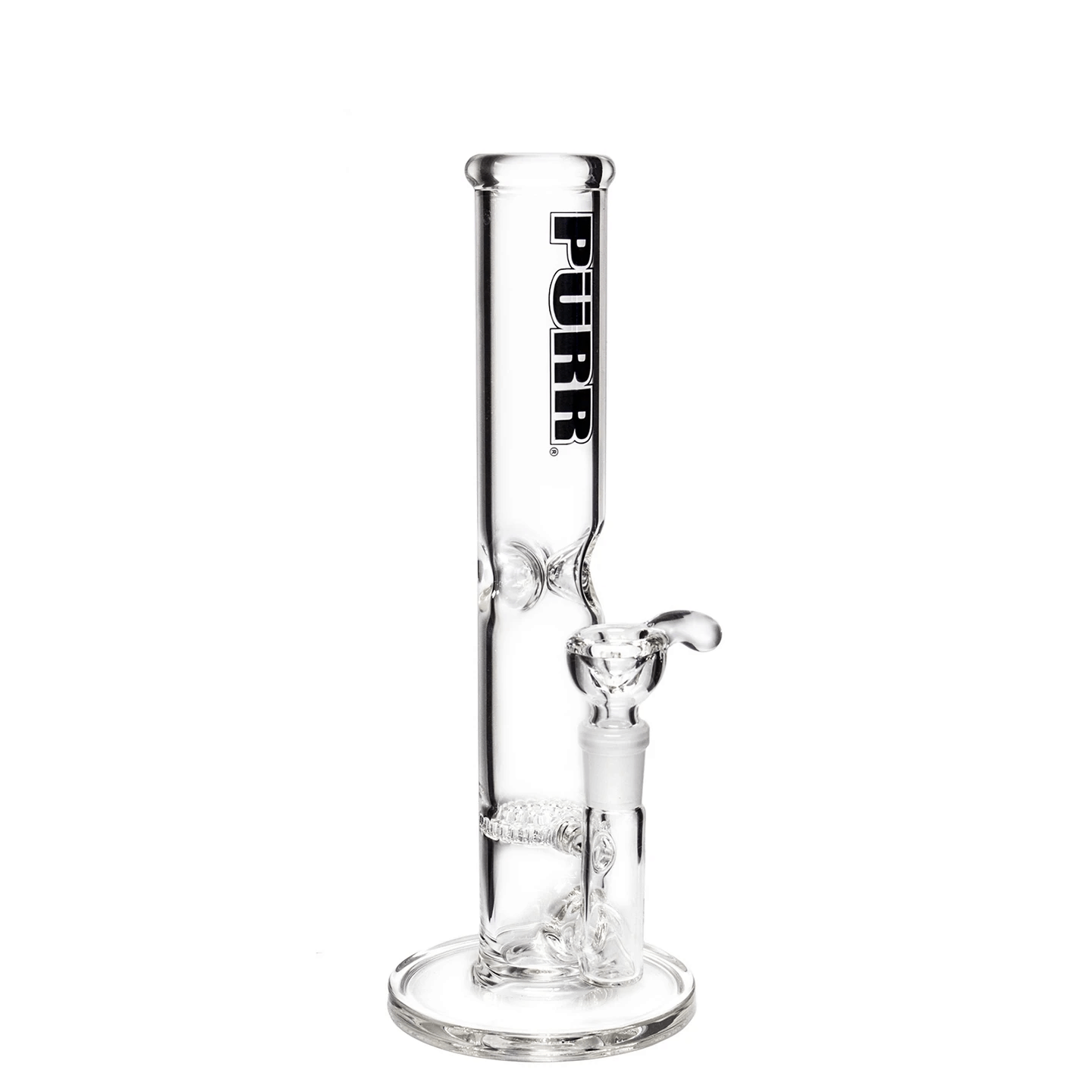 Highlights
West Coast brand, handmade in California
Option to add a 1-year warranty to purchase
Honeycomb perc stacks bubbles inside straight tube
The Purr honeycomb perc comes from an American glass company and smokes its way right to the top of this list for its easy-going design, height, and tip-resistant base. People enjoy the honeycomb perc design because it filters smoke through several holes, which means sweeter, milkier rips. Take a look at the video demo within the product description to watch the honeycomb in effect. Plus, reviewers can't stop talking about the sturdiness of Purr glass, just in case you have clumsy hands.
Product Specifications: 
10" tall

14mm male joint size

30-day money-back guarantee  

Made with thick German Schott glass 
3.

Envy Glass 17'' Pop Rocks Perc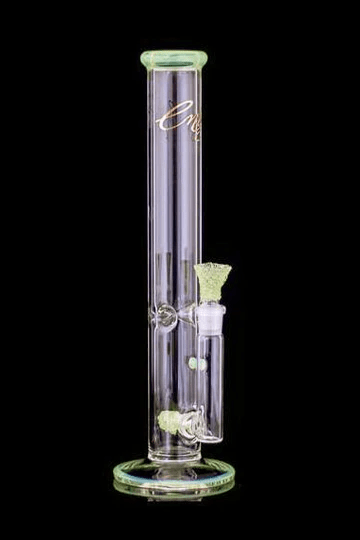 Highlights
Highly-rated and reviewed
Pop Rock (inline) design makes it the most unique perc listed
Available in seven fun colors (ex: Purple Lollipop and Red Elvis)
Site includes a video demo to help you see the percolator in action
A Pop Rocks perc—yep, you read that right. Envy Glass sells a massive 17" inline-style perc with textured glass that brings back memories of your favorite childhood candy. The color accents add a funky flair to this beast of a bong. Both the perc and mouthpiece have Pop Rocks crusted glass, which looks and smokes as crazy as it sounds. The originality of this perc design wins Envy Glass points according to customer reviews. 
Product Specifications: 
17" tall

Triple point ice catch 

Handmade in the US

18mm female joint size 

Designed with durable, scientific glass 
4.

Puffing Bird 15'' Tree Perc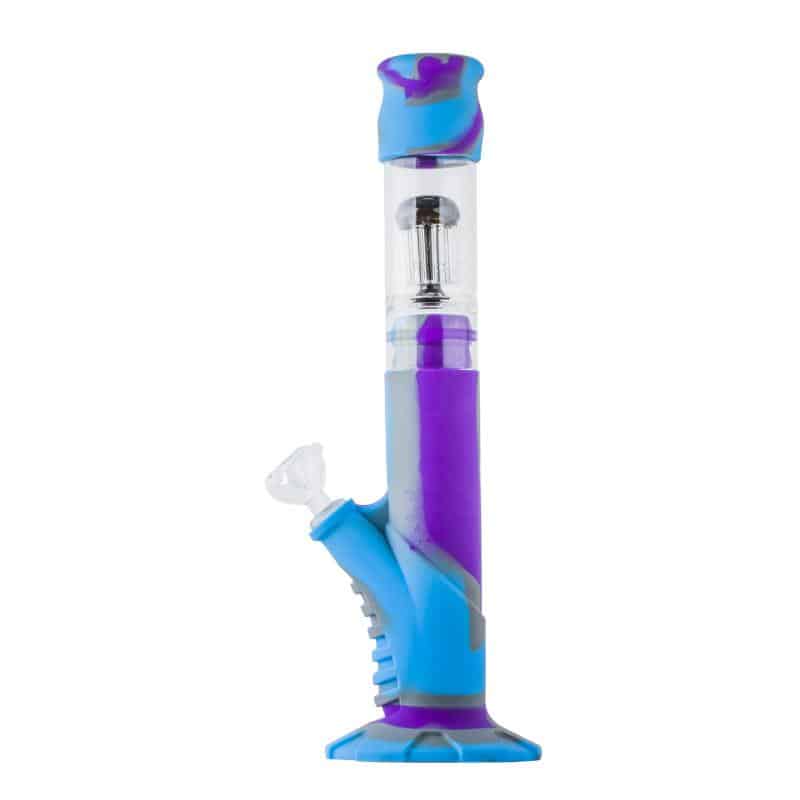 Highlights
Removable tree perc for easy cleaning
Glass surrounded by flexible silicone material
Colorful, funky pattern stands out from traditional, clear designs
Here's a glass percolator bong for those who need an added layer of protection. The Puffing Bird tree perc is swathed in an unbreakable silicone coat, so you don't have to worry about breaking another precious glass piece. For maintenance, simply detach the tree perc when it's time for some elbow grease and then reattach to rip away. This perc is about as inexpensive as it gets without sacrificing on glass quality or design. 
Product Specifications: 
15" tall

Features 18mm female joint size

Currently listed at discounted price 
5.

Dopezilla 16'' Honeycomb Perc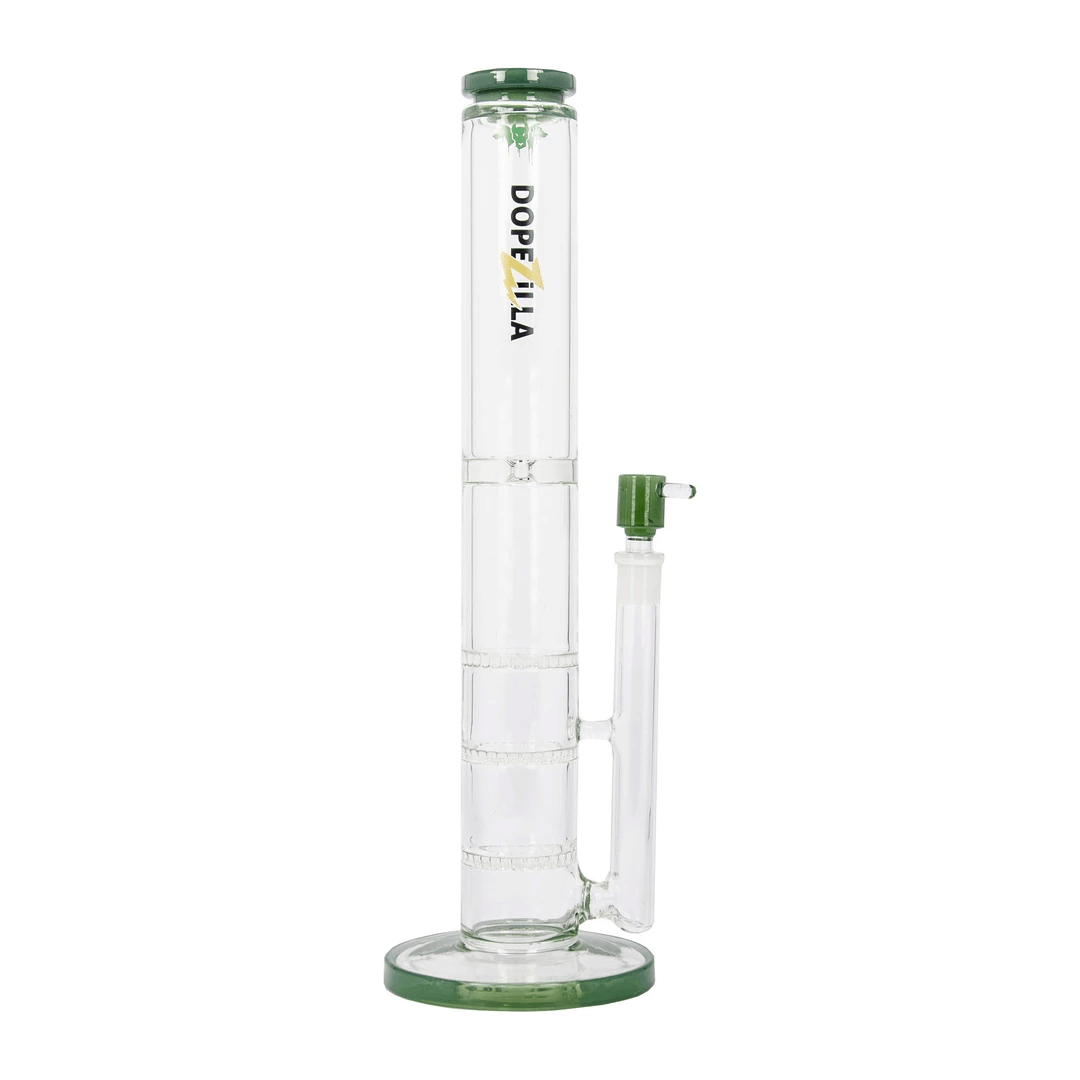 Highlights
Reasonably priced bong from a big-name brand
Stacked triple-honeycomb perc extends rate of diffusion
Base, bowl, and mouthpiece available in two colors: black and milky teal
Dopezilla perc bongs are the popular kids on the block. You'll often see this brand sold out in most online headshops, but luckily, the 16" honeycomb perc is still available. Triple stacked honeycombs and a useful handle make this perc great for group settings. Just for kicks, the bong comes with dope Cerberus artwork, satisfying your inner Greek mythology geek. 
Product Specifications: 
Catch ice in the bullet-hole notch

16" tall, but 12" option when in stock

Product description includes useful video of packaging 
6.

Diamond Glass 8'' Mini Beaker Bong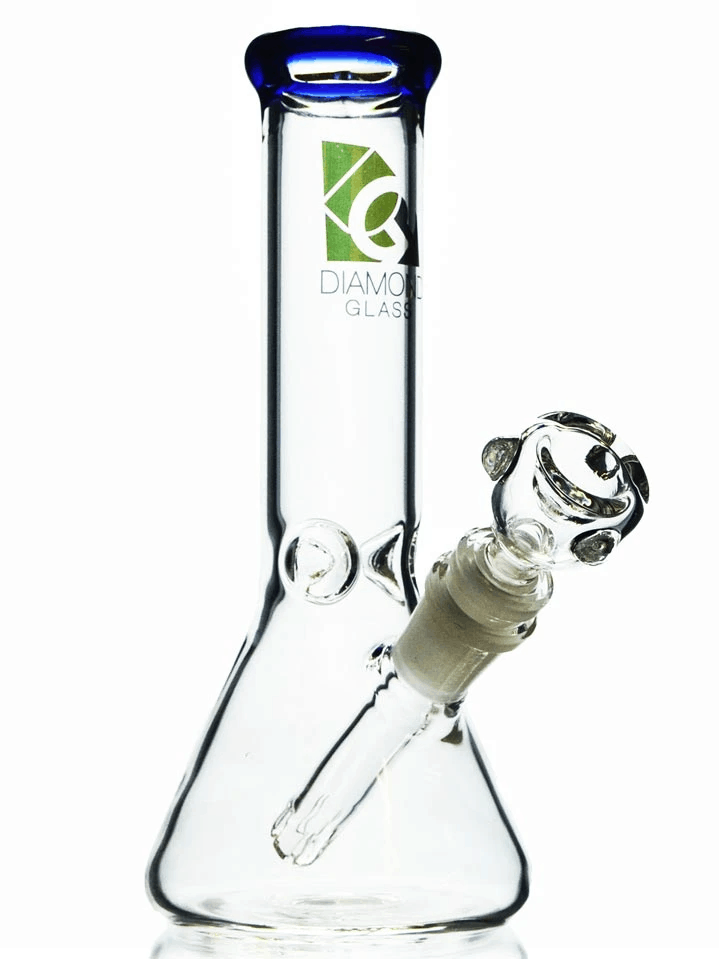 Highlights
Cute, mini-size and budget-friendly price tag
Item currently on sale with free shipping
Low-maintenance percolation with diffused downstem
Simple and elegant, the Diamond Glass mini perc is suited for small-living spaces or on-the-go use. The diffused downstem perc gets the job done without costing you a fortune. Over one hundred reviewers say they enjoy the discretion of the 8" height and quality of the borosilicate glass. If you're not interested in the bells-and-whistles of percolator bongs, this is a convenient piece to keep you company at home or on trips. 
Product Specifications: 
8" tall

Made with 5mm borosilicate glass

Blue mouthpiece adds a pop of color 
7.

LA Pipes 14″ Double-Showerhead Perc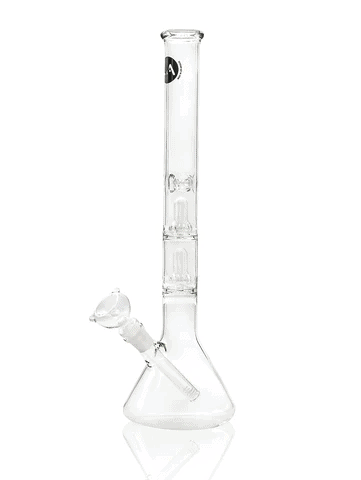 Highlights
West Coast brand made in Los Angeles
Highly-rated and reviewed bong under $100
Diffused downstem + double-showerhead perc = triple diffusion
Compatible with ceramic nail, quartz banger, and titanium nail for dabbers
LA Pipes sells a fantastic double-showerhead perc that's compatible with dry herb and concentrates (must purchase add-on accessories). In terms of diffusion, this perc takes the trophy since smoke passes through a diffused downstem before rising to the showerhead chambers. Reviewers constantly brag about the quality of LA Pipes' glass and upscaled percolator design. 
Product Specifications:    
14" tall

Ice notches

Beaker base

Free US shipping

14-18mm joint size 
8.

Straight Tube 12" Turbine Perc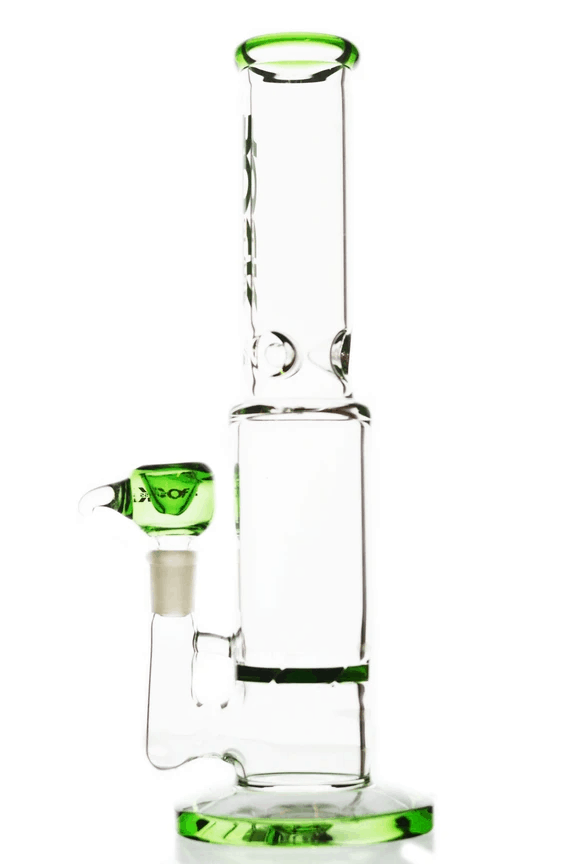 Highlights
Turbine spin effect stands out from other listed percs
Take advantage of free shipping and a decent price tag
Worthy investment for its advanced turbine design and long neck
Toker Supply sells a 12" turbine perc with a sexy, long tube for slower diffusion. The turbine whips and spins the smoke, creating an eye-catching visual experience. Priced under $100, this is the perc to buy if you're budget shopping but still want to invest in advanced percolator technology.  
Product Specifications: 
12" tall

Thick, rounded base 

14mm male  joint size

Sold with dry herb bowl 
9.

Famous Brandz 7" Cheech & Chong's Mini Perc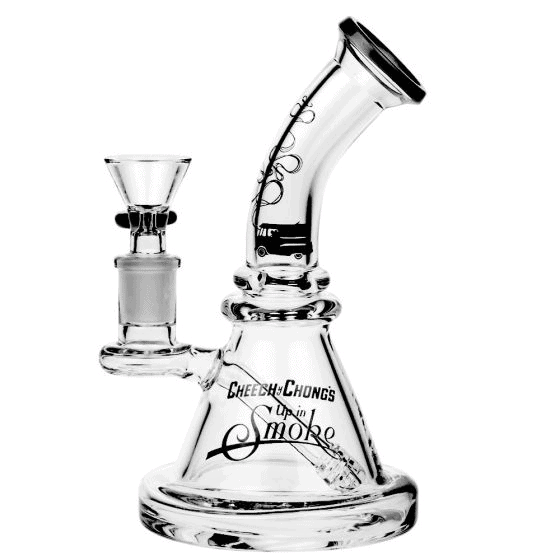 Highlights
Vintage themed Cheech & Chong packaging
Available in five, bright colors with "Up in Smoke" movie logo
Mini diffused downstem perc pays homage to cannabis comics Cheech & Chong
What's your excuse for not buying Famous Brandz' Cheech and Chong perc? Superfans will appreciate this themed piece because every rip makes you feel like you're time-traveling back to 1978. The mini-size and diffused downstem perc keep things laid back and simple, just like Cheech and Chong would have wanted. This perc is the perfect reason to rewatch the legendary stoner classic. 
Product Specifications: 
7" tall

14.5mm female joint size 

Made with borosilicate glass 

Bent neck and rounded mouthpiece
10.

Diamond Glass 8" Circ Perc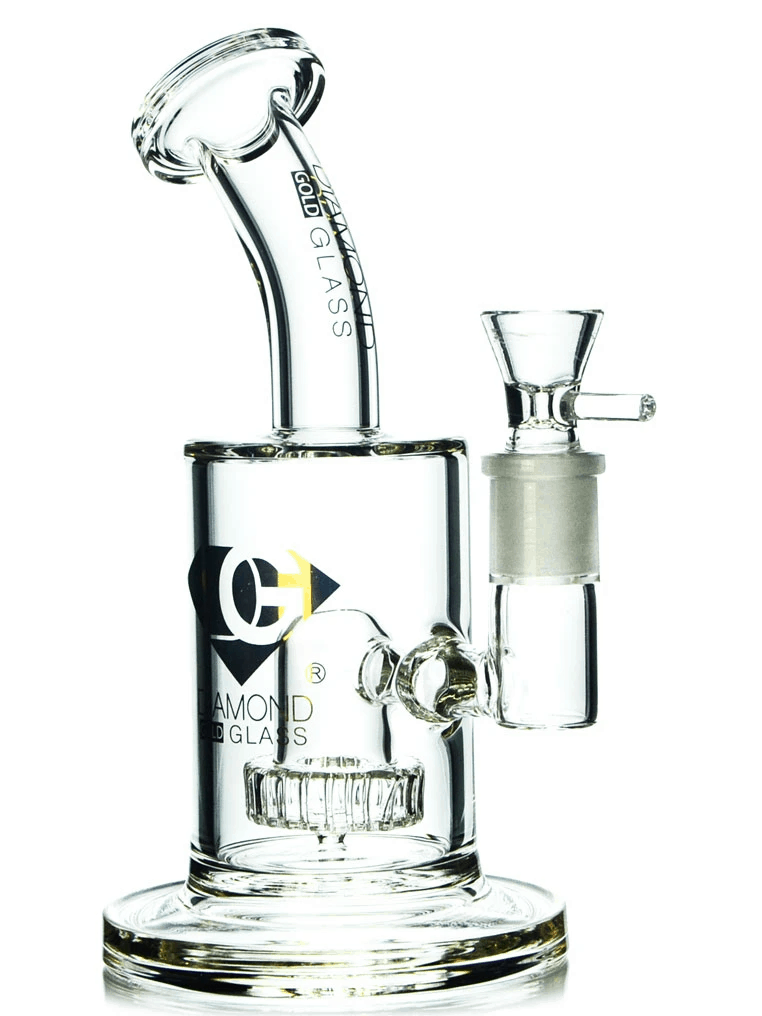 Highlights
Stunning showerhead perc inside wide tubing
Small size is an approachable option for lightweight smokers
Consistent 5-star reviews gush over shipping and packaging
Standing at just 8" high, Diamond Glass sells an insanely cool showerhead perc. This piece allows you to happily step outside of your comfort zone with an angled tube, and may even give your neck a much-needed break from straight tube bongs. Reviewers mention the simplicity of this feature since you don't have to fool around with fragile downstems. Feel free to watch the showerhead-style perc in action in the video demo. 
Product Specifications: 
8" tall 

Features female 18mm joint size

Bonus: comes with an 18mm martini bowl 
The short answer: maybe. It depends on who you ask. The question of percolator vs. regular bong leads to varying opinions. Some people swear by the classic beaker bongs (call it nostalgia). Others prefer more advanced technology with percolators because they diffuse vapor through holes/slits before inhalation. Percs use scientific glass, which means they're designed to cool down vapor, stand the test of time, and diffuse out any harmful contaminants that diminish THC potency. 
It's a tough call because percs come in so many different shapes and sizes. You have over ten types to choose from: circ, tree, matrix, inline, honeycomb, diffused downstem, turbine, showerhead, etc. Ultimately, finding the best percolator bong is a matter of preference and how much you're willing to spend. Those with less experience may want to start with a diffused downstem perc and work their way up to a more complicated design, such as a matrix perc.