If that question made you think twice, then there's a good chance that you're not sure about the product you are using. It's either the product is not working for you or you are not satisfied with its quality.
Bluebird Botanicals is one of the most reputable brands in the industry and if you are thinking of using its products, here's an in-depth Bluebird Botanicals CBD oil review- plus other important information you need about the brand.
Bluebird Botanicals was established in 2012. Since the company has started around the same time the CBD industry was just starting to bloom, it has a lot of experience in making CBD products that are high-quality and effective.
Being awarded as the #1 Hemp CBD Company of the Year in the 2016 Cannabist Awards is proof to that.
In addition to the company's commitment to producing only the best CBD products for its consumers, it's also quite upfront about its involvement in the community. It offers a handful of assistance programs as well as discounts for veterans and people with long-term disabilities.
Bluebird is also generous when it comes to giving donations to non-profit organizations. Their list includes the Colorado Coalition for the Homeless, Global Fund for Women, and the American Cancer Society.
From the get-go, it's quite obvious that the brand isn't just professional but it also cares for the society, suggesting that they are quite a reputable brand.
Bluebird Botanicals Product Highlights
Bluebird Botanicals has a wide range of CBD products which is a good thing if you're just starting out. You'll be able to test them out to see which ones will work for you.
However, since it'll be quite expensive if you'll invest in all products, we're sharing with you a quick overview of each one. That way, you'll be able to pick which ones are worth giving a try.
Bluebird Botanicals CBD Oil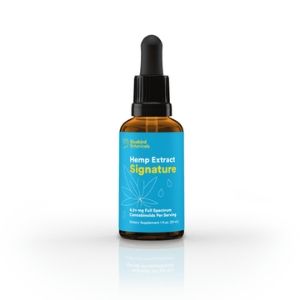 Let's start with the most popular product from the brand.
Bluebird Botanicals CBD oil comes in three types- Classic, Complete, and Signature. They are all sweetener-free, non-GMO, and gluten-free.
The oil is a full-spectrum oil which means that it has over 80 phytocannabinoids, omega fatty acids, vitamins, and amino acids. The combination of these components makes the oil a lot more effective.
The extract is suspended in organic hemp seed oil.
The Classic variant is just your regular and plain CBD oil. It offers 250mg of cannabinoids or 4.2mg per serving.
The Bluebird Botanicals Hemp Complete variant, on the other hand, has 50% CBD and 50% CBDA which is the raw version of the molecule acquired straight from the plant. It also has terpenes which help achieve that entourage effect.
Compared with the Bluebird Botanicals Hemp Classic, the extract in this variant is suspended in organic extra virgin olive oil. It's considered one of the best carrier oils for hemp extract since CBD is lipid-soluble.
Basically, CBD is absorbed easier and quicker if it is consumed with fats.
The Signature variant is a bit interesting. Apart from the full-spectrum hemp extract, it also has cold-pressed black cumin seed oil, wildcrafted Frankincense carterii CO2 extract, and organic virgin hemp seed oil.
Frankincense oil is excellent for general wellness while the black cumin seed extract which is beneficial for those with skin issues, diabetes, and obesity.
Now, if those oils are not enough for your health needs, Bluebird Botanicals offer more potent options which are the Concentrated CBD Oils. They contain 1500mg of CBD per fluid ounce which means that they are 6x more concentrated.
These oils are excellent for those dealing with sleeping issues, chronic pain, and certain mental health issues.
Of course, as the concentration increases, the prices also go up. If you are not feeling comfortable investing your money on all options, the brand offers a 6x Sample Pack which allows you to try out all the products in this range at a lesser cost.
Bluebird Botanicals CBD Capsules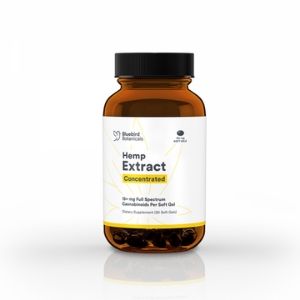 If you can't tolerate the taste or the scent of CBD oil, then these capsules are for you. They contain about 5mg of cannabinoids per each capsule.
Just like the oils, the capsules contain full-spectrum hemp extract which is emulsified in virgin hemp seed oil. They are third-party lab tested to ensure not just the quality but purity, too.
The soft get capsules, meanwhile, are made of water, glycerin, and gelatin. They aren't vegan-friendly.
Just like the oils, there's also a concentrated version of the capsules. They have a higher amount of CBD per capsule at 15mg each.
Bluebird Botanicals THC-Free CBD Oil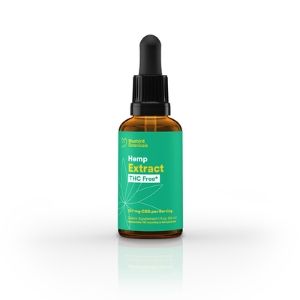 Bluebird Botanicals is one of the few brands that offer this option for people who don't want any THC in their products. It has undetectable amounts of THC so you wouldn't have to worry about failing drug tests.
Containing about 25mg of CBD per serving, the oil has organic fractionated coconut oil to enable the body to easily and quickly absorb it.
Bluebird Botanicals Pet Products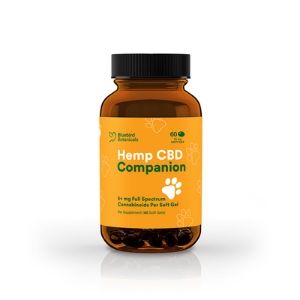 Bluebird Botanicals has the Companion Oils which it strictly suggests that humans should not use. This is a bit confusing since the oil only has two ingredients.
They have hemp seed oil and hemp oil extract which are basically what most CBD oils contain.
Obviously, these oils have a lower amount of CBD to ensure your pet's safety. 
In addition to the oils, the brand also sells capsules which have about 5mg of CBD each.
The brand is very transparent with the quality of their products. It tests products batch by batch to make sure that they don't miss anything.
In addition to that, Bluebird also makes the results of those tests easy to access. Their consumers can easily see the results on the company's website.
Speaking of the company's website, it's really easy to use. 
It has sections for the products and the results of the lab tests. It also has a separate section for the most frequently asked questions about CBD and its products.
Another nice thing about the site is that it details the company's way of sourcing and producing their products. It even tells how they do farming and the complicated process of extracting CBD.
As mentioned, the brand isn't just committed to producing high-quality CBD products but also in giving back to the community. It makes donations to non-profit organizations and offers discounts to people who have serious health issues.
Bluebird Botanicals offers a wide range of products which is quite impressive. Plus, it also has options in terms of potencies. So, whether you are new to using CBD products or you're looking for stronger doses, you'll have options from this brand.
Although Bluebird Botanicals isn't the most affordable brand out there, it still wants everyone to have easy access to their products. It offers discount programs, financial assistance, and Bluebird Botanicals coupon codes to those who can't afford to buy CBD oil and other CBD products.
Compared with other brands, the products from Bluebird Botanicals are a bit more expensive. However, considering the purity and quality of those products, you'll still find them a worthy investment.
Limited options for vape juice and capsules
If vaping is your thing or you prefer capsules instead of ingesting oils, then you may find the options for those CBD products a bit disappointing. You only have one option for each form.
Bluebird Botanicals ships products to almost every city in the country but they can't send you their products if you are in the U.K.
About Bluebird Botanicals Customer Service
Bluebird Botanicals customer service is quite impressive. The employees are responsive in assisting buyers about what CBD products are right for them and in explaining how to take them properly.
This is important for consumers. Because there are no strict guidelines on taking CBD products, it's easy for people to get confused. They turn to platforms, like Reddit, for help and that can sometimes be unsafe.
Bluebird Botanicals is one of those brands that will surely make you feel excited about if you're into CBD products. The company has a really great way of extracting and processing their final products so that they are of the highest quality.
Plus, their willingness to extend help to the community and the way they make their products affordable to the people who need them are quite impressive.
The prices are not that cheap but if you have the money to invest in Bluebird Botanicals CBD oil and CBD products, then it won't be such a bad idea. The products are high-quality and pure.