Spruce CBD is a family concern that was established in 2018 with the mission of fixing weaknesses in the pharmaceutical industry. The company seeks to be different from the pharmaceutical industry and other CBD manufacturers by deliberately concentrating on quality and not quantity. To perfect their products, they have so far produced a relatively smaller number of CBD products. Spruce CBD oil is available as a full spectrum tincture. They also infuse oil into their other product, Spruce CBD cream. This brand doesn't have CBD isolates in its inventory. Keep reading for a more detailed Spruce CBD review.
The manner of sourcing raw materials for CBD products is critical to the quality and character of the final product. Spruce CBD is acutely alive to the fact that CBD is a bio-accumulator. This understanding is visible in their insistence for the hemp they use as raw material to be grown in an environment free of chemicals and other toxins. Spruce CBD uses organically grown hemp from two carefully vetted family-owned farms in Kentucky and Colorado. The company's vetting is above the stringent requirements of all levels of government for organic farms.  
The extraction process uses food-grade ethanol as a solvent. This extraction method results in highly concentrated distillates owing to the efficiency of this extraction method. The main challenge with this extraction method is that even after winterization, some bits of chlorophyll remain in the extract. The presence of chlorophyll causes Spruce CBD's extract to be greener in color and to have a more earthy taste in higher concentrations than other brands. 
This manufacturer submits their product to third party testing. This testing gives customers a clear, unbiased profile of the contents of the CBD products they buy from the company. They analyze the following:
Cannabinoids present in the extract 

The presence and quantities of heavy metals 

Pesticides to ascertain whether the hemp is indeed organic 

Mycotoxins and 

Bacteria
Spruce CBD Product Highlights
As we observed in the introduction, Spruce CBD doesn't have many products in its stable, but the ones it has are of good quality. Below are the summarized details of the products.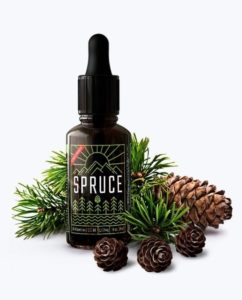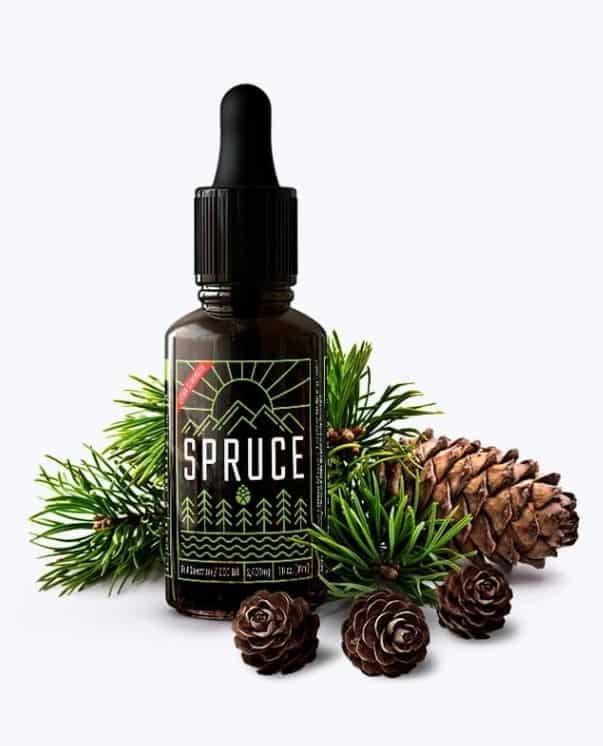 The CBD oils come in two different levels of strength. Moderate strength and maximum strength. Both of these tinctures use a hemp seed oil base. It gives the tinctures additional health benefits such as protection from heart disease, reduction of PMS, among others.
The hemp seed oil base, however, has one disadvantage; it reduces the amount of CBD available to the body. CBD is a fat-soluble compound. This means that for a boase to facilitate better absorption of CBD, it needs to have high-fat content that hemp seed doesn't.
Moderate strength: This is a full spectrum hemp oil that contains 750mls of CBD in a 30ml bottle. This tincture is ideal for people who are just beginning their journey with CBD. Cognizant of the fact that these beginners may not like the earthy taste of an unflavored tincture, Spruce CBD adds peppermint to make the CBD oil more palatable. It is noteworthy that the peppermint they use to flavor the tincture is also natural.  Owing to its lower concentration, this product is best used for general wellness and conditions such as insomnia,

mild anxiety

, among others.

Full Strength:

 Like its moderate counterpart, this CBD oil is manufactured from full-spectrum American grown hemp extract. It comes in a 30 ml bottle, and it has a potency of 2400mg. This means that every 1ml drop contains 80mg of CBD. Owing to its higher power, this CBD oil is best used by more experienced CBD enthusiasts best use this product. It is also ideal for people dealing with situations that require higher CBD intake, such as chronic diseases. 
This tincture contains no preservatives or flavoring, and some may consider its taste off-putting. The beauty with it, however, is that the flavor dissipates within a few seconds and leaves virtually no after taste. It is highly appealing to purists who prefer the pure taste of hemp.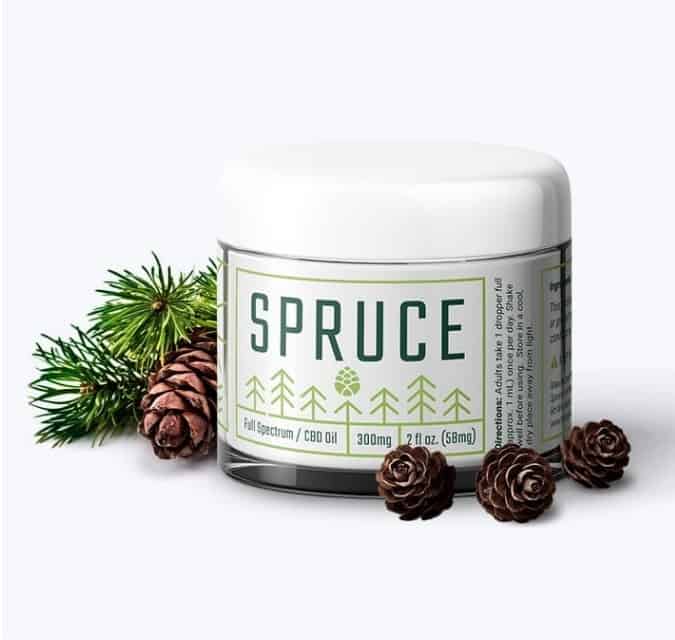 The topical cream comes in jars of 2 Ounce capacity. Each of the jars has 300mg of CBD. It has pleasant natural scents. Besides CBD and fragrances, the topical cream also contains the following ingredients.
Mineral oil 

Water 

Glycerin

Citric acid 

Lanolin alcohol 

Magnesium sulfate 

Microcrystalline wax, among others.
The cream has a whitish lotion-like appearance, and it is consistent when being applied. It can be used for joint pains such as people with arthritis experience. One can also apply it for other types of external pain relief.  This product can also be used for the management of skin conditions and even for regular skincare. The topical cream, however, shouldn't be used on open wounds. 
High potency CBD: –

Many brands focus only on manufacturing products with lower potency. As a result, people who need higher CBD doses have to take in large volumes of CBD oil or other products, which can be inconveniencing. With Spruce CBD maximum strength tincture, two helpings per day give 160mg of CBD.

American Grown Hemp: –

Spruce CBD organic hemp grown by American farmers. American states have extremely high standards for farming in general and organic farming in particular. Thus when Spruce CBD says they use organic hemp as raw material, you can be sure it has no toxins from chemical fertilizers and pesticides.
Small Product Selection: –

The company only has CBD oil tinctures and a topical cream in it stable. This is limiting for people who prefer other products

such as edibles

and products for pets. The smaller variety of flavors and potencies is also limiting for many CBD users. 
Low Transparency: –

Although the company works with the highly reputable

ProVerde Labs

, test results for all products are not readily available to customers.
Spruce is among the less known brands in the CBD oil market owing to its recent entry. In terms of quality, however, the company is doing better than many established industry players. Purists, who prefer their hemp products as natural as possible, are likely to find this brand a breath of fresh air. Spruce also occupies a gap that has existed for long, where people who require high dosages of CBD were not sufficiently catered for. Being a family business, the company can provide you with the highest possible customer service.