Tired of reading review after review just to find the best CBD capsules and softgels? Well, consider your search over with this CBD capsules round-up.
After dedicating all our resources to finding the best cannabidiol pills on the market today, we have made a list of the top full-spectrum CBD tablets that are worth your time and money. We guarantee that the products below are high quality and pure and can definitely help manage your symptoms.
Our Top Picks: CBD Capsules for Pain
1.

CBDPure CBD Capsules ($89.99)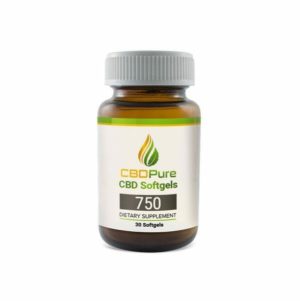 Highlights
For advanced users
High-quality hemp
Third-party lab tested
Get 10% off all Pure CBD products as an AmericanMarijuana reader. Use this code at checkout: AMMA
Get Discount
CBDPure Softgels top this best CBD capsules review not just for their quality, but their results too. You get a 30-count bottle that offers 25mg of full-spectrum CBD per softgel, allowing you to experience the full entourage effect.
If you are new to using high-quality CBD capsules and softgels, this may not be the best option for you. As a beginner, you may want to try starting with something in a lower dosage.
On the other hand, if you are using it to manage more serious and chronic health issues, it could be the right one for you. The dose should be enough to help address insomnia, pain, and depression.
To prove their quality, CBDPure submits their products to third-party labs that test for safety, accuracy, and purity. You can check out the lab results on the brand's website.
2.

Royal CBD Capsules ($84)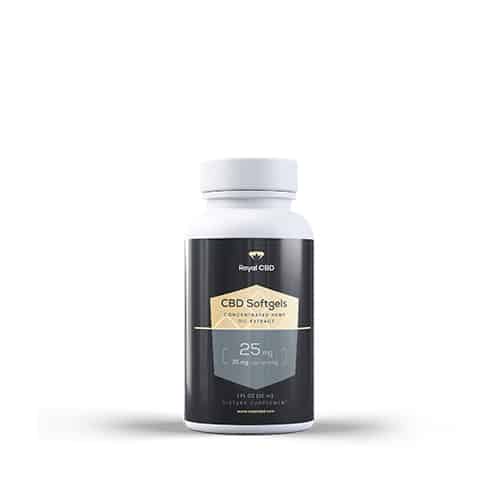 Highlights
Full-spectrum hemp
Organic
Subscribe and save
Get 10% off all Royal CBD products as an AmericanMarijuana reader. Use this code at checkout: AmericanMarijuana
Get Discount
Royal CBD Softgel 25mg Capsules, just like our top pick, are made with full-spectrum hemp extract.
Royal CBD offers a 15% discount on capsules if you sign up to purchase a bottle of 30 every month. Alternatively, if you know this product works for you, it might be beneficial to stock up and purchase a pack of two (saves $59) or four (saves $125).
The hemp used in making these capsules is organic and grown on American farms. To ensure the quality, each batch of CBD oil is carefully and strictly tested by a third-party laboratory.
The CBD oil is suspended in MCT oil to help improve absorption. This also helps extend the shelf life of the product — on average, these capsules can last for two to three years.
3.

Hemp Bombs CBD Capsules ($15 to $155)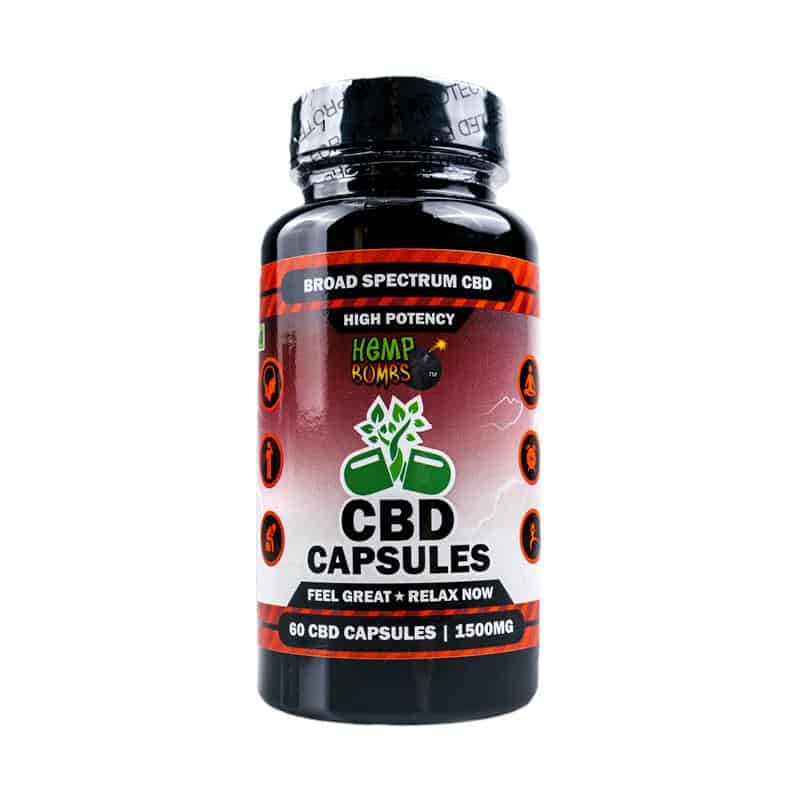 Highlights
High-quality industrial hemp
Organic hemp extract
Uses CO2 extraction
Get 20% off all Hemp Bombs CBD products as an AmericanMarijuana reader. Use this code at checkout: AMMA
Get Discount
Hemp Bombs CBD capsules are available with either broad-spectrum or isolate CBD. They are the perfect choice for you if you want to experience all the benefits of CBD without any traces of THC.
There are two potency options for these capsules – 15mg and 25mg per piece – which should be enough to manage minor to more severe symptoms.
Hemp Bombs uses organic hemp sourced from trusted European farmers and processes the oil for the capsules using CO2 extraction. This method is considered the best way to extract high-quality, safe, and pure CBD oil. And as a guarantee, the brand submits each batch of its product for lab testing.
The brand separates its CBD capsule offerings into the categories of Original CBD Capsules, CBD Sleep Capsules, and High Potency CBD Capsules, all with a few size options. For those who would just like to try these pills, there is a pack of eight capsules for new buyers to test out.
4.

CBDistillery CBD Capsules ($60 to $115)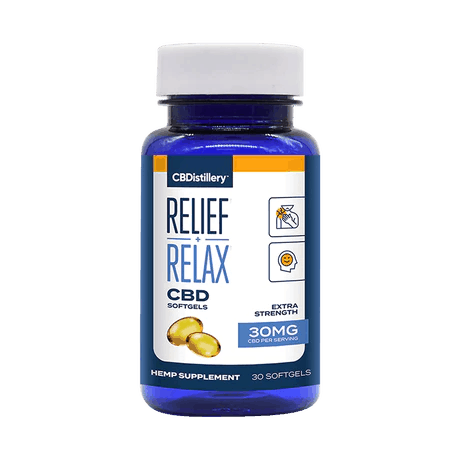 Highlights
Industrial hemp
Affordable price
Ensures safety and potency
Get 15% off all CBDistillery products as an AmericanMarijuana reader. Use this code at checkout: AMMA15
Get Discount
CBDistillery is one of the brands you won't want to miss if you are looking for the best CBD capsules. 
It's one of the few brands out there that offer a choice between broad-spectrum and full-spectrum capsules. Both products come in bottles of 30.
In this case, the affordable price doesn't mean that these capsules are low in quality. CBDistillery actually sends them for lab testing to check for safety and potency.
5.

Elixinol CBD Capsules ($24.99 to $64.99)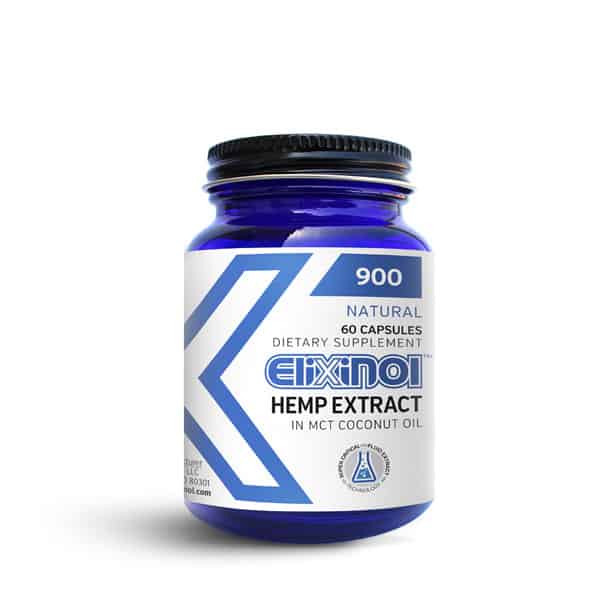 Highlights
Full-spectrum
Specially bred hemp
Vegan-friendly
Get 10% off all Elixinol CBD products as an AmericanMarijuana reader. Use this code at checkout: SAVE10
GET DISCOUNT
Elixinol offers both a bottle of 60 capsules and a pack of 20 capsules that individually come in sachets of two. Each piece contains a low CBD potency of 15mg, but you can just take more than one if you require a higher daily dosage.
One of the highlights of these capsules is that they are vegan. Yes, that's right, Elixinol only uses purified water and vegetable cellulose to create its capsules.
The company only uses specially bred and organically grown hemp. It processes these plants and extracts the oil using CO2. There are no harmful chemicals involved in the process of creating these capsules.
CBD capsules are cannabidiol (CBD) in the form of pills. They contain an accurate and concentrated dose of hemp-derived CBD. Because they contain a precise dose, there's very little room for error. Thus, taking them daily should enable your body to consume a consistent level of CBD that's needed to manage your symptoms.
CBD capsules offer all the known benefits of CBD, and as they're more discreet than CBD oils and CBD vape juices, you can literally take them anywhere. Even though CBD products are considered legal on a federal level and in most states, many people are still not comfortable with the idea of taking them in public and, therefore, prefer something a little more discreet.
Like any other supplement or vitamin, CBD capsules go right through your digestive system when taken. After being processed, they are then absorbed and react with your endocannabinoid system.
Some CBD capsules are made using raw hemp plants while others are made with CBD isolate. If you are worried about an upcoming drug test or your work, the isolates make an excellent option since they contain 0% THC.
Full-spectrum CBD capsules, meanwhile, may contain trace amounts of THC, but they usually contain no more than 0.3% which is not enough to get you high or cause legal problems for you.
Generally speaking, they are. CBD possesses a good safety profile based on the World Health Organization. However, this doesn't mean that CBD capsules are completely free of side-effects. Below is a quick list of the potential side effects you may experience when taking CBD capsules.
Possible side effects of CBD capsules
Dry mouth
The majority of CBD products from hemp and marijuana can cause a dry mouth. Another term for this is cottonmouth. It happens as CBD interacts with the endocannabinoid system present in your salivary glands. It causes your salivary glands to temporarily stop, so remember to drink lots of water before taking the capsules to avoid a dry mouth.
Diarrhea
Taking large doses of CBD capsules can leave you with diarrhea which is your body's way of flushing out the substance. You can avoid this by lowering your dose.
Low blood pressure
Taking capsules with high concentrations of CBD can cause your blood pressure to momentarily drop. As a result, you'll feel lightheaded and dizzy for a while. Usually, this effect wears off fast. 
If you have low blood pressure, be sure to talk to your doctor before you take any CBD product.
How Should You Take CBD Capsules?
Buying the best CBD capsules doesn't guarantee that you'll experience relief. For a product to work, you need to take them the right way. In the case of CBD capsules, you should take them orally. Place a capsule on the tip of your tongue and swallow it whole with water.
To ensure the best results, it's recommended that you take your CBD capsules at the same time every day. Doing this will allow your body to establish a consistent level of CBD.
CBD capsules can be taken with food or even on an empty stomach. They're not likely to irritate your stomach and cause discomfort even if you take them without eating anything.
A word of caution:
Most brands create capsules from either vegetable cellulose or gelatin. If you happen to be a vegan or just trying to avoid consuming animal products, you should consider looking for brands that offer plant-based capsules.
Another point you should take note of is the ingredient used as a carrier in the capsules — in most cases, it's coconut oil. This oil is supposed to help CBD oil work faster as well as offering additional benefits.
How Long Do CBD Capsules Take to Work?
CBD products that can enter the bloodstream faster are able to deliver quicker results. Since CBD capsules can take a while to enter the bloodstream, it can take some time for you to experience relief or feel any changes in your symptoms.
Generally speaking, a CBD pill can take between 45 minutes and two hours to work after being swallowed. The effects, on the other hand, can last between three and six hours. These numbers can vary depending on your metabolism and personal chemistry. The concentration and potency of the product you're taking matters too. 
If you are looking for quick relief, you may want to try alternative CBD consumption methods such as taking CBD oil or vaping CBD juice.
Where to Buy the Best CBD Capsules
If you live in a state where CBD products are considered legal, you are able to buy from your local dispensary and CBD shops. This is a convenient option if you don't like waiting for your products or you want to physically check them before purchasing.
Now, if you can't drive to your local dispensary or can't find one near you, just order online. There is an array of CBD shops selling products online so you won't run out of options.
Take note that buying online requires extra care. As the CBD industry is not yet regulated, there are tons of brands that aren't true to what they claim, and buying products from them could compromise your health.
If you are purchasing online, make sure you are buying from an authorized seller or directly from the brand's website. Doing this doesn't just guarantee the authenticity of the capsules but it also enables you to use discount codes to save money on your purchase. 
Another major thing to look out for when choosing a reputable online brand to buy from is results from a third-party lab test. These tests check for purity, potency, and safety, ensuring the products don't contain anything that might be harmful to you.
CBD capsules offer an easier and more accurate way to take your daily dose of CBD. Plus, you can literally take them anywhere.
In our search for the best CBD capsules on the market today, we found CBDPure CBD Capsules to come out on top. They are made from high-quality hemp and processed using the safest and most effective way of extracting CBD oil. As proof, the brand makes sure to get a third-party lab to verify the quality, purity, and safety of its products.