Trying out products after products can be frustrating, particularly if they are CBD products. They won't just burn holes in your wallet but they can also compromise your safety.
And the worst part?
Not getting any relief from your symptoms.
Because we understand how frustrating the process of finding the best CBD oil for you, we went ahead and reviewed one of the best brands in the market today.
Below is our in-depth Sabaidee CBD review, including everything you need to know about the brand and its products.
Sabaidee is a company based in Los Angeles. Believing in the benefits of CBD oil on people's general health and wellness, they aspire to make a difference in the lives of their consumers.
The company only uses organic and high-quality hemp which they source from Colorado. The use seeds that are cloned from the most superior breeds of hemp today. 
Now, what does using cloned seeds mean?
Using cloned seeds is one way for Sabaidee to ensure that you get consistent quality no matter what the season is.
The CBD products they produce are full-spectrum which means that you'll get all the benefits of the plants. They may contain as much as 18% CBD and less than 0.3% THC which is the legally allowed amount in CBD products.
Another great thing about this brand is that it makes sure that their consumers know everything about their products. It discloses every detail of their CBD oils, including the test results of the third-party lab testing.
Apart from that, they also include the interpretation of the results. This is one way to ensure that their consumers know exactly what's in each bottle they purchase.
Sabaidee Product Highlights
Sabaidee has a narrow range of products. Despite that, however, their quality and potency should be enough to address most health issues.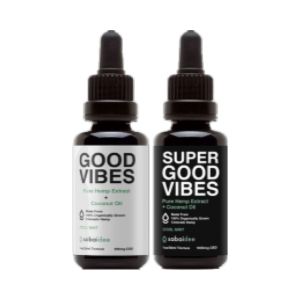 Let's start with the brand's most well-loved CBD product- the CBD oils.
The lowest potency option from this brand comes at 250mg+ per bottle. It's flavored with coconut oil and peppermint oil which gives it that subtle yet refreshing taste.
If you are new to using CBD products, Sabaidee Good Vibes is an easy oil to incorporate into your daily wellness routine. It can help ease your anxiety and stress.
For that extra kick, you can try Sabaidee Super Good Vibes. It's a popular product when it comes to potency since one dropper can provide about 33.5mg of CBD.
If you are looking for better and deeper sleep or if you have depression or chronic muscle pain, this option is highly recommended for you.
Just like the Good Vibes, this option also has peppermint and coconut oil. In case you want to go more natural in terms of flavor, you can just get the unflavored version of this one- the Pure Good Vibes. It's just plain CBD oil and MCT oil.
Next is the Mega Good Vibes which has about 88mg of CBD per dropper. Holding about 30 servings, it packs a total of 2500mg+ per bottle.
This is the brand's most potent oil. It's a good option for people who want serious relief from anxiety, joint pain, and other symptoms.
Sabaidee offers a starter kit which is good for two things. One is that it allows you to try out two products at a cheaper price. It also gives you a way to see how the Good Vibes will make you feel and work your way up to taking the more potent Super Good Vibes.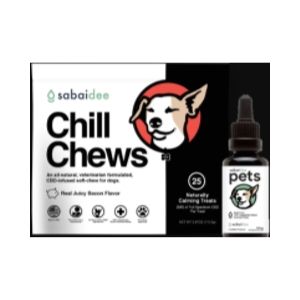 This option is for your pet. It's a bag filled with CD soft chews carefully formulated by the company's veterinarian to provide benefits to dogs.
The soft chews are bacon-flavored which makes it almost irresistible for dogs. Even the pickiest pet will not find it hard to like and eat.
The chews also have organic sweet potato which is helpful for digestive health. They also have flaxseed oil which has potent anti-inflammatory properties to keep your pet's skin and coat healthy.
In addition to the soft chews, the pack also has the Sabaidee Pets Tincture. Flavorless, it contains CBD oil from organic hemp from Colorado and MCT coconut oil.
Just like the other oils from this company, its pet tincture is also tested both in external labs and in-house to ensure consistency, purity, and accuracy.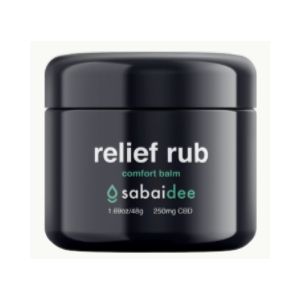 CBD creams are awesome in targeting painful areas and this particular product from Sabaidee is one of your best options in the market today.
Sabaidee Relief Rub is made from organically grown hemp plant. Each jar has about 250mg of CBD which is found effective in relieving pain naturally. 
It also has camphor oil which boosts blood circulation, minimizes inflammation, and relaxes the nerves. Blue tansy is also added to the cream for its calming and relaxing properties.
The Relief Rub is infused with wintergreen leaf, too. It has methyl salicylate which is well-known for its anti-inflammatory properties and antioxidants. 
Sabaidee is one of the few brands that are dedicated to producing only the best CBD products for its consumers in terms of quality. They source their hemp from Colorado and they make sure to test all their products in-house before taking them to third-party labs for further testing.
Those tests ensure that you won't have to worry about your CBD products getting contaminated with harmful additives or chemicals.
Commitment to the environment
Sabaidee is extremely concerned with the environment. Their products aren't just made from ogranically grown materials but their packaging is environmentally-friendly, too.
Apart from that, Sabaidee also gives donations to their deforestation partners. For each product you buy, they give a share to their partners to have a tree planted in North America.
Basically, when you buy a product from them, you are helping the environment.
Sabaidee is strict in having their products tested in-house and in third-party labs. They are also committed to letting their consumers know the quality, purity, and accuracy of the products they are using.
They post the results of their products' tests on their website. Unlike other brands which require you to send a request before you get to see their test results, Sabaidee has theirs ready. They even interpret the results for you.
Sabaidee educates its consumers, too. They teach them all about CBD products as well as their application. 
They even teach their consumers about how CBD works and its effects on drug tests and other possible side effects. Sabaidee has a separate section on their website where you can learn everything you need to know about CBD.
Those things are critical, particularly if it's your first time using CBD products. The industry is overflowing not just with product choices but wrong information, too.
One thing you may not like about Sabaidee is its price. If you compare it with most brands, you'll find that its bottles cost more.
However, considering the quality and purity of their products, they are well worth your hard-earned money. Plus, the quality is thoroughly checked, too. 
For a certain price difference, you won't have to worry about your safety or even the effectiveness of the products.
Plus, if you find the products way out of your budget, Sabaidee offers discounts. You can also get the oils in a bundle to save money.
About Sabaidee Customer Service
Sabaidee is exceptional when it comes to customer experience. They are able to provide everything their costumers need- from ordering to shipping.
The company offers free shipping to almost everywhere in the United States. They also have a money-back guarantee which you can turn to in case you're not satisfied with the products.
Now, compared with most companies which only let you get a refund from unopened items, Sabaidee will actually let you try the products first. If you aren't satisfied- no matter the reason is- you can get a refund for your entire purchase and you won't be questioned for that.
Their employees are also doing a great job in addressing every question their consumers have. Whether you ask them through phone or email, you can expect to receive a satisfying response.
Sabaidee CBD is a top choice if you're looking for quality and effective products. The brand is committed to producing quality CBD products by sourcing their hemp from organic farms and submitting their products to really strict tests.
The entire process of sourcing, formulating, testing, and packaging their final products are so consistent that you won't have to worry about contamination or getting low-quality products.
While the products come with a higher price tag, it shouldn't discourage you from trying them out. There are discount codes you can use to get them at a cheaper price.
Plus, for every product you make, the company gives donations to help the environment. For one purchase, there's one tree planted.