Having tons of choices can be a nightmare, particularly if you need to decide on something concerning your health. You'll have to spend a lot of time and money just to get through each of them.
If CBDPure happens to be on your list, then this CBDPure Oil review can help you make the right decision quickly.
CBDPure first started in 2016 with the goal of making high-quality CBD oil. Considering what their customers have to say about their products, they are actually doing a good job meeting that goal.
The company sources their hemp from Colorado and they are grown without the use of any harmful herbicides or pesticides. And to prove that their products are pure, every batch goes through a third-party lab for testing. You can access the lab tests and reports upon request.
Don't forget to use our CBDPure coupon code for the best price.
CBDPure Product Highlights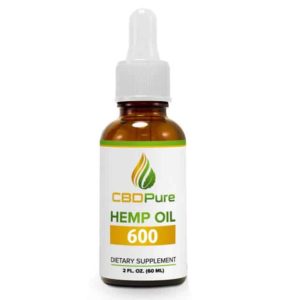 CBDPure's CBD Oil is available in 3 different strengths.
If you're just starting out or if you need something to relieve mild headaches, chronic pain, nausea, and inflammation, you can start with its 100mg hemp oil. It has about 3.3mg of CBD for each daily serving.
Now, if you need a higher dose to manage your sleeping issues, pain, and anxiety, its CBDPure Hemp Oil 300 would be right for you. Each dose has about 10mg of CBD.
Containing about 20mg of CBD, CBDPure's 600mg Pure Hemp Oil is the brand's strongest variant.
All of these tinctures are pure and free from any artificial ingredients that can compromise your health or reduce their effectiveness. 
One way to check is to see the oil's color. CBDPure's products have a golden yellow color which is generally the standard result of CO2 extraction.
This process relies on temperature and pressure to safely extract the cannabinoids from the plant. Unlike methods that use solvents such as butane, CO2 extraction is considered to be the safest way to extract specific plant materials.
When it comes to aroma, the oils have an earthy smell. This is typically how hemp oils smell like if they haven't been added to other liquids. 
Use a CBDPure discount code to save even more.
The CBD oils from this brand taste better than traditional hemp oils, too. The products have been filtered well so they don't have that strong tart taste.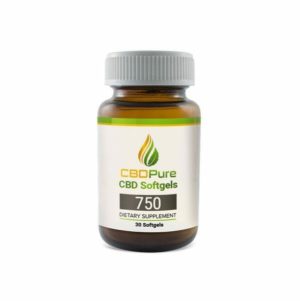 Each bottle of CBPure Softgels has 30 gel tablets and each of those tablets has 25mg of CBD. With that, you'll get a total of 750mg of CBD.
The softgels are super easy to take. Whether you have issues keeping the drops under your tongue for the recommended amount of time or you simply don't like the taste of tinctures, you will definitely love this variant.
Plus, it's quite more potent, too. With 25mg, it's greater than the CBDPure Hemp Oil 600 for that matter.
Complete Satisfaction Guaranteed
When a brand offers a money back guarantee, it's a good indication of its confidence in its products. After all, why would a company do that if they know that there'll be tons of customers asking for a refund?
That's just opening up problems for the business.
With a 90-day money back guarantee, you can send back the CBD oil tincture if you're not completely satisfied with it. The same goes for the softgels.
CBDPure chose one of the most reliable and respected labs in the country to check for the quality of their CBD products and that's SC Labs. In addition to the tests, the company also confidently shows the results on their site.
CBDPure offers full spectrum CBD oil and its quality is definitely top notch. Despite that, you can still get their products at a reasonable price.
Because of the products' costs and effectiveness, this brand is definitely one of the companies that offer the best values in the CBD industry.
Now, if the prices of the tinctures are still way over your budget, there are CBDPure coupon codes available. You can use them to get discounts on your purchases.
CBDPure produces tinctures from hemp sourced from an organic industrial Colorado farm. It has been tested and checked for traces of fertilizers, contaminants, and heavy metals.
When it comes to CBD oils, color matters a lot.
This brand's oil has a golden yellow color which is the standard for oils extracted through the CO2 method. It's considered safe and quality oil.
And since it doesn't have any hints of green tint, we could say that the brand has done an excellent job in removing the excess plant particles.
With how good the brand's CBD oil is, it's disappointing that they only have a really small range of CBD products. To date, they only sell tinctures and softgels.
If you are experiencing pain and you need a CBD product you can directly apply to the affected areas, that can feel a bit disappointing. It would really be nice if they can also sell topical lotions and edibles like Fab CBD.
CBDPure doesn't offer flavor options. However, its oil doesn't have an extremely tart taste like others. That's because of the brand's good filtering.
If you're not a fan of natural hemp oil's taste, there are other brands that sell flavored CBD oil. Our favorite is Fab CBD.
About CBDPure Customer Service
CBDPure has excellent customer service. They are quite responsive to their consumers and that's impressive. Whether you send them a snail mail or you email them, you'll get a response soon.
However, if you really want a quick answer, your best option is to use the support feature they have on their website.
As for their site, it's actually simple and super easy to use. At the top of the page, you'll find a handful of tabs which will direct you to the information you need.
Another positive thing about their site is that they have a FAQ section. It's a big help for anyone who's just starting out with CBD oil and CBD products.
The brand also has a separate section for their testimonials. You can read legit CBDPure reviews there.
CBDPure is an excellent choice if dosage and strength are your main concerns. Whether you are just starting out or you need something higher to achieve the relief you are looking for your health issues, it definitely has a choice for you.
However, if you want more choices when it comes to form or flavor, you may find the products from this brand a bit limited.
If you have a chronic condition and you are thinking of using CBD oil for it, you can test out the product first. It has a money-back guarantee which will let you return the product and get a refund in case you're not satisfied with it. You can also find lots of CBDPure discounts online.
As a guide, however, be sure to talk to your doctor first before getting CBDPure Hemp Oil. Doing that will give you a better idea of the right dose for you.
Use the code AMMA at check out to get 10% OFF your purchase