Whether you're new to the world of cannabis or you've been around a while, at some point you are going to learn about the concept of the decarboxylator. And no, we're not talking about the device that is kept in plastic boxes at the entrance of the grocery store that restores heartbeats—although those are important in their own right. We're talking about the best decarboxylator on the market today.
Decarboxylators are a new kind of technological device that gives you the ability to unlock all of the glory and potential of cannabis from the comfort of your own home, especially when making edibles. In this article, we will explain what decarboxylation is and why it's important. Then, we'll point you in the direction of a number of tried-and-true decarboxylation devices that are guaranteed to make your life easier. 
What is a Decarboxylator?
Humor us for a moment while we sound like your high school chemistry teacher—we promise this is relevant info. The term "decarboxylation" refers to a chemical reaction wherein carbon dioxide is realized from a carboxyl group. The opposite of decarboxylation is "carboxylation", which also happens to be the first step in photosynthesis.
Marijauna without decarboxylation does not produce any intoxicating effects. The reason for this is that the tetrahydrocannabinolic acid in cannabis (better known as THC) is not psychoactive in its raw form. This is why you could eat several leaves of a cannabis plant and not feel any different than if you ate leaves or basil, or of thyme, except maybe disappointment. 
There is one very easy way to bring on decarboxylation and activate THC, and that is through smoking. When you smoke or vape cannabis, heat begins the decarboxylator process. However, many individuals who smoke their cannabis still prefer to use a decarboxylator beforehand in order to ensure that their weed is the perfect temperature for smoking. 
The decarboxylator really shines if you are planning on using your cannabis for cooking/baking, as cooking or baking with raw weed would not lead to positive results, both taste-wise or psycho-active wise. Of course, many makeshift options of encouraging decarboxylation do exist—from leaving your edibles in the oven for an hour or so before baking, or by employing the help of a slow cooker—these are impractical and frankly, inaccurate. When you are performing decarboxylation haphazardly, it is easy to accidentally overcook your weed to the point where you've lost the effects of perfectly good THC. This isn't even to begin to mention the odorous residue that these DIY decarboxylation methods can cause.
How Do Decarboxylators Work?
Decarboxylators are modern technology, so it can be a bit tricky to explain how they work. In general, most decarboxylators will work through a series of heating cycles that are enabled by an intuitive decarboxylation algorithm. This is all happening on the inside — all you have to do as the decarboxylator owner is push a button. Some decarboxylators are less high-tech and will just work by keeping your buds confined to an airtight container where the temperature is closely monitored. 
What is the Difference Between a Decarboxylator and an Herbal Infuser?
The term cannabis decarboxylator is often used interchangeably with herbal or weed infuser, although they are slightly different. While decarboxylators are designed to heat cannabis to its ideal temperature, a herbal infuser is designed to extract strong oil that can be turned into a capsule, tincture, or baking ingredient. Remember, this is helpful too — THC is fat-soluble and will need a fatty ingredient to latch onto in order to do its magic. A decarbylator and herbal diffuser may also be referred to as a cannabutter machine. 
Top 5 Best Decarboxylators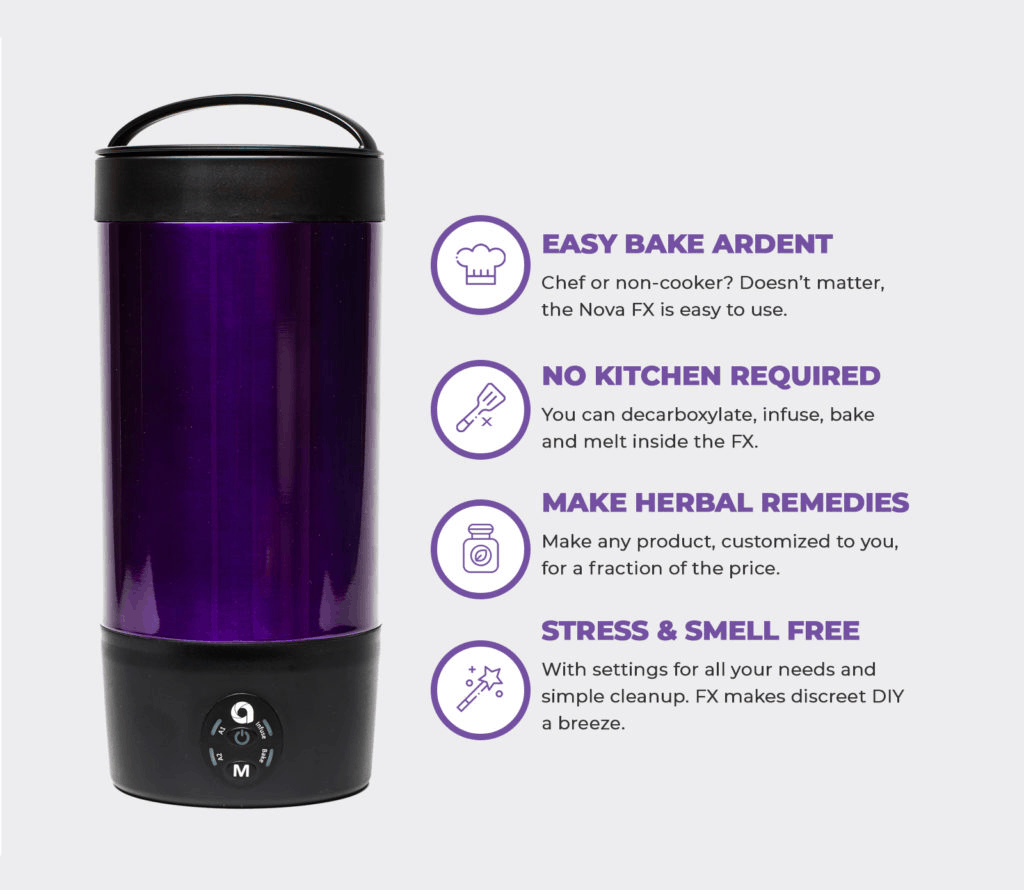 Highlights
Decarboxylate, infuse, and even bake within one device
Odorless technology
Single-button operation
The Ardent Flex (or FX) describes itself not as a portable cannabis machine, but a cannabis "kitchen". This is the newer Ardent decarboxylator, and alongside being improved over its predecessors it also packs more power and more abilities. And by abilities we mean that it can not only decarb and infuse, but it can also bake right in the device itself. 
The decarbylation process with the Ardent FX can take anywhere between 45 minutes to over two hours, and while this is longer than it would take to perform a DIY decarbylation process, the end results are quite favourable. The machine's light will flash upon completion of the process, which takes out the guesswork on your end. 
The most unique part of the Ardent FX is without a doubt its ability to bake edibles. Think of this as your weed "easy bake oven"—this is a foolproof effort for those of us who want to enjoy edibles at home but don't fancy ourselves bakers. 
5" across, 13" tall

7 lbs

Discrete, purple package

Retails for $350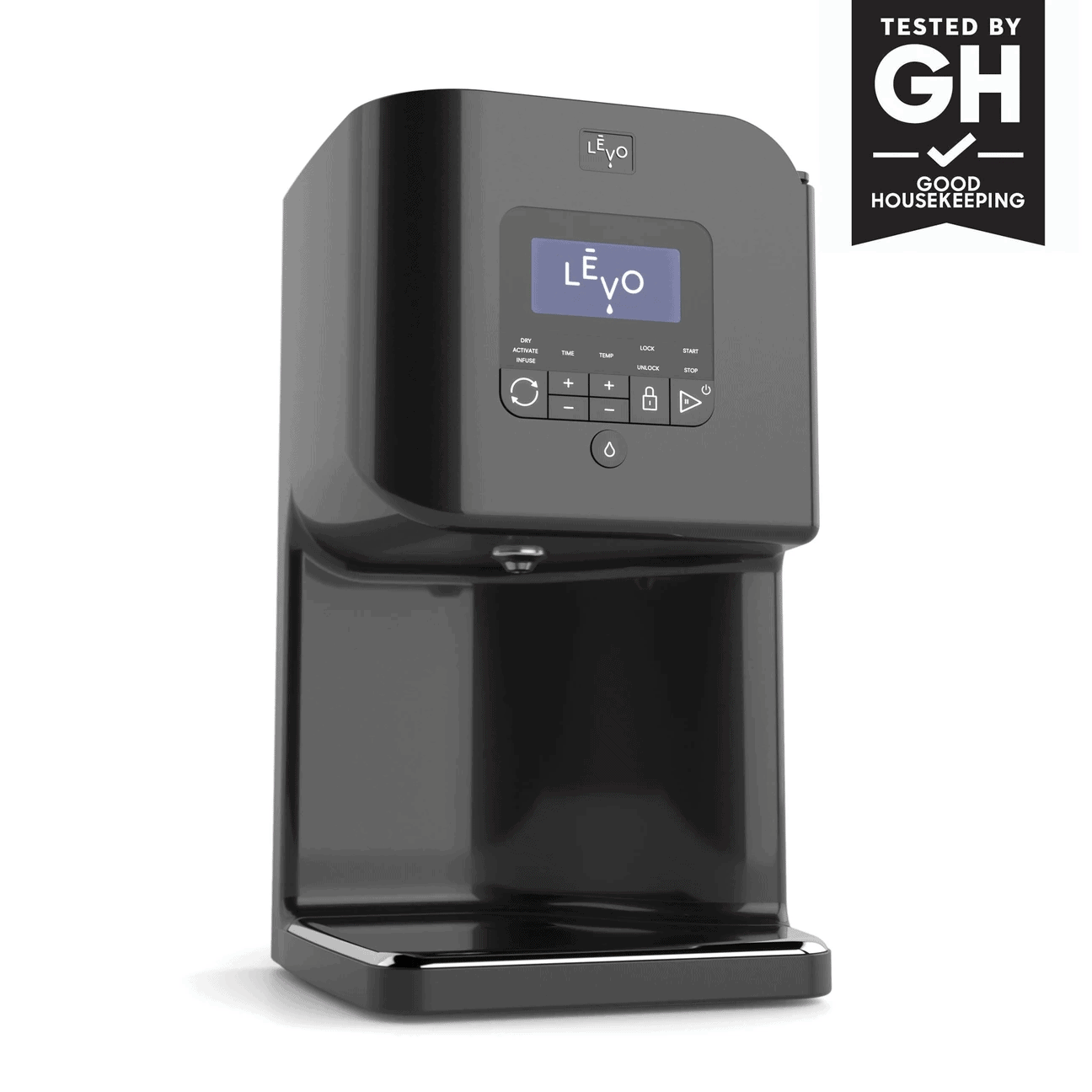 Highlights
Enjoy acute control over potency
Sleek and modern appearance
Machine can be controlled from a smartphone app
This marvellous machine works not only as a decarbylator but also as an oil extractor. Actually, the Levo II is not even advertised solely as a weed diffuser—it can technically be used on any kind of herb—but it enjoys an incredible popularity among cannabis folks.
The Levo II has the ability to dehydrate herbs as well as activate them. And yes, by activation, we are talking about decarboxylation. That means that owners of the Levo II benefit not only from a seamless oil diffusion process, but also from an easy-to-use decarboxylation process. All the appliance's operations can be controlled from an easy-to-use smartphone app that is as sleek as the Levo II's design. 
7.9" across, 13" tall

9.5 lbs

Stylish and resembles kitchen appliance 

Retails for $399 
3.

MB2e MagicalButter Machine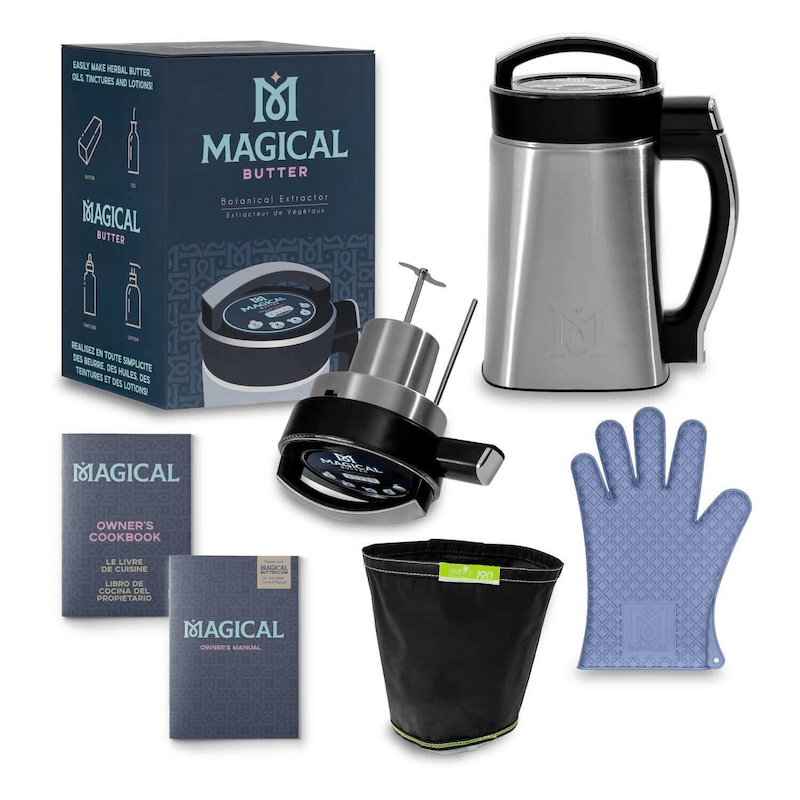 Highlights
Affordable price point
Renowned customer service
Diverse temperature settings
The MB2e MagicalButter machine is a small appliance that is designed to help budding (sorry) chefs and bakers make high-quality oils, sweets, and tinctures. The machine comes with pre-programmed temperature and time cycles, which makes it easy to use even if you are somebody without a lot of experience in handling raw cannabis.
This machine brands itself as the "world's first countertop botanical extractor", and is unique for its design which includes both an immersion blender and a programmable thermostat. This machine will do everything for you, from grinding to extraction to heating. It earns a high place on its list for its versatility and fair pricing. 
10" across, 14" tall

10 lbs

Sleek silver design

Retails for $199.95
4.

Ardent Nova Decarboxylator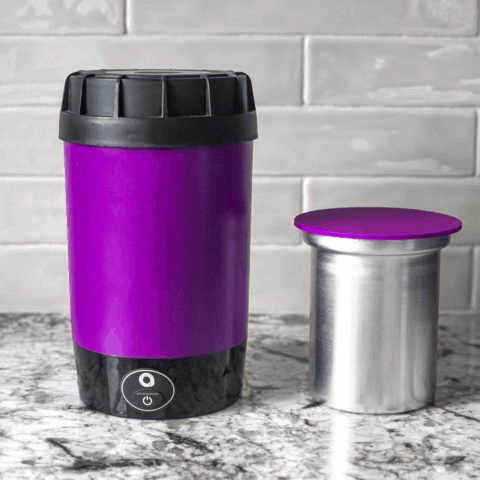 Highlights
Easy to use with one-button operation
Quiet operation
Small portable size
The Ardent Nova is a crowd favorite among decarboxylators on the market, and it's easy to see why. For one thing, this machine is incredibly easy to use, with only one button involved in its operation. This means that users do not have to stress about setting the machine's temperature settings up correctly—which is great for beginners. 
The Ardent Nova comes with an admirable goal: to leave its users with 100% of their THC. The great thing about using this accessory is that you do not have to worry about messing with this goal, since all that is required on your end is to press a button and wait. You do not even need to grind your bud before dispensing it into the machine. 
However, the reason for the 4 stars out of 5 rating is because users have reported that its operation can actually produce some odor (comparable to what it would smell like if you decarboxylated your cannabis in the oven). It is also now a tad outdated thanks to the introduction of the Ardent FX. 
7" tall, 2.5" wide

2.1 lbs

Inconspicuous purple and black design

Retails for $260.00
5.

MagicalButter DecarBox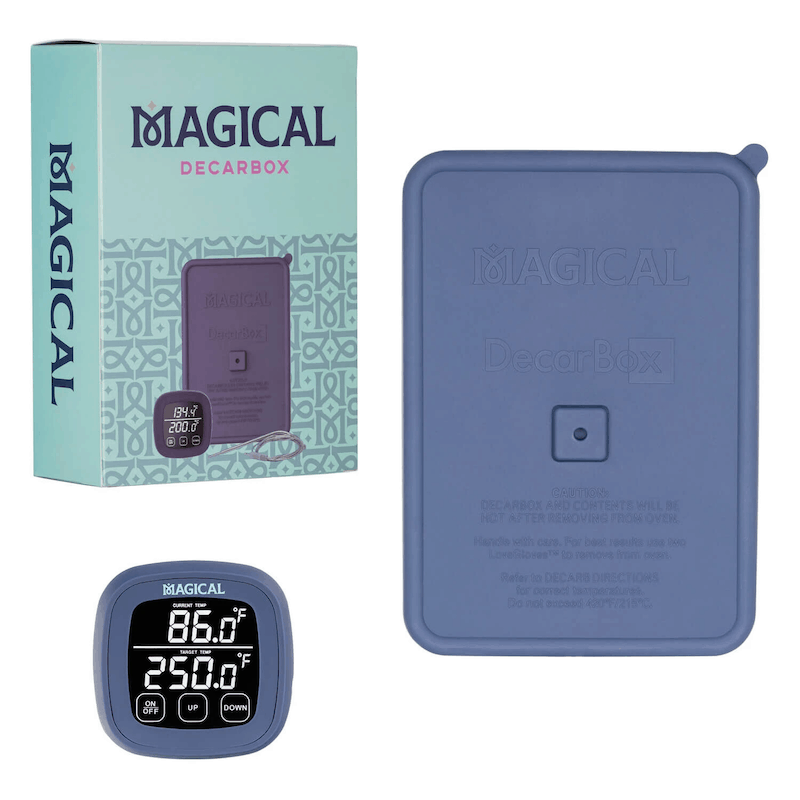 Highlights
Affordable alternative to a fancy machine
Renowned customer service
Container is easy to clean
The MagicalButter DecarBox comes in a bit of a different form than the other options on this list, coming in a basic silicone box that goes directly in the oven. The silicone box serves as an airtight environment which can then be set to a desirable temperature for the ideal decarboxylation process. The airtight container allows for odor control by locking in the scent of the cannabis inside of the box, and the box's temperature sensor helps you get a true reading of your oven's temperature. 
Although less sleek and automated than the other options on this list, the MagicalButter DecarBox does offer a way to accurately measure your oven's temperature—something that is generally difficult to do with at-home decarboxylation processes, as most ovens have an uneven internal temperature. 
6.5" across, 9 " tall

1 lb

Lightweight silicone box

Retails for $44.95
If you make your own edibles, you need to be decarboxylating, and if you're decarboxylating, you need to be doing it with the right machine. The one that you choose is a matter of personal preference, as it will depend largely on budget restraints, comfort with technology, as well as whether or not you are after a simple decarboxylator or a decarboxylator/diffuser combination. No matter what you choose, you are sure to have some fun experimenting with the different kinds of cannabis creations that you can make at home—you will be blown away with the quality that decarboxylating brings!
In order to receive psychoactive effects from baked cannabis, you will need to put your buds through the decarboxylation process. However, it is important that you perform the decarboxylation process correctly, as overdoing it can also result in the diminishment of THC. Failing to decarb your weed does not only make it less likely to achieve the effects that you were looking for, but will also not produce the best taste. Your cannabis will also need to be infused into a fat-based medium before you bake it. 
As most decarboxylation processes will result in cannabis fumes and odors, it is understandable to worry about the fumes resulting in a high. The answer to this, though is no—not likely at least. Decaboxylation works at a much lower temperature than, say, smoking cannabis, which means that it is not likely for the fumes to produce psychoactive effects, even if you can pick up on their smell in the air.