To pack a bowl, roll a joint, load a cone, or fill the chamber of your weed vaporizer, you need ground-up herb. But, what if you're sick and tired of manually grinding your stash? Don't worry, you're not alone.
Whether it's a nuisance or a legitimate difficulty — not everyone can or wants to grind weed by hand. This is where the best electric weed grinders come to the rescue.
What is an electric weed grinder?
An electric weed grinder is a machine, usually in a handheld or tabletop design, with a blade that grinds up your herb. You'll either plug it into a power source, add batteries, or charge it like you would a cell phone, and that's what makes it electric. You can think of it as a blender for weed.
Why use an electric weed grinder instead of a manual grinder?
In short, to save you precious time and prevent carpal tunnel. Ok, maybe not the second part. But an electric grinder saves your hands and wrists from the manual labor required of a hand grinder. And over time, that becomes a big deal.
Top 9 Electric Weed Grinders
Based on criteria like battery power, ergonomic design, grinding capacity, and quality of parts, we created a list of the top nine herb grinders on the market today.
Best Electric Weed Grinders
1.

Lonzen Electric Weed Grinder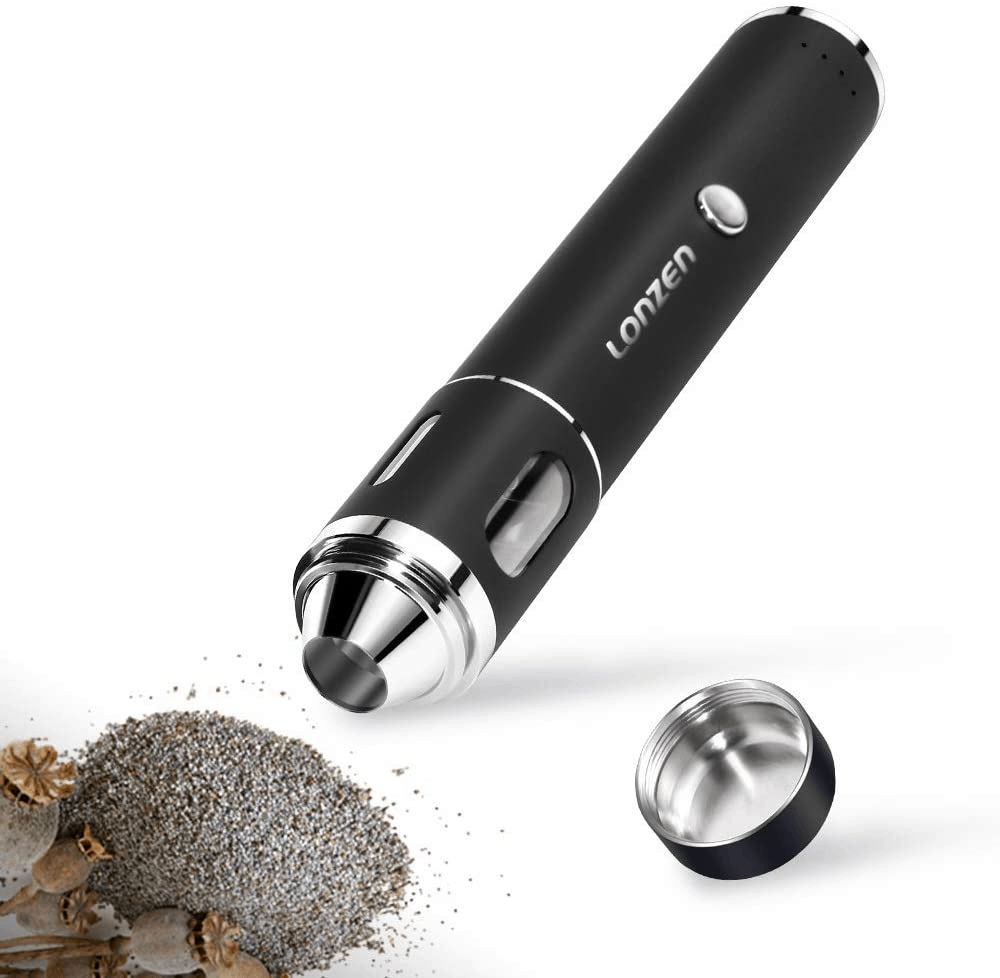 Highlights
Powerful 1400mAh rechargeable battery
Can use 300 to 500 times before needing to recharge
2-year warranty
The Lonzen is a small, handheld grinder with a thin cylinder-shaped frame. Given its small size, you can operate it with just one hand. It also features a glass viewing window so you see the grinding progress and stop the device when you feel it's time to. In addition, this electric grinder has stainless steel blades and your purchase includes a cleaning brush to wipe down the blades in between use. 
Furthermore, the manufacturer offers a 30-day money-back guarantee. So, you can send it back for a refund if there's any reason you're unhappy with your purchase. However, if you love the device, you'll understand why it topped our "best electric weed grinders" list.
Size: 6 in x 1.1 in
Battery: 1400mAh (rechargeable)
Capacity: 2 grams
Material: Stainless steel
Price: $39.99
2.

Electric Tobacco Shredder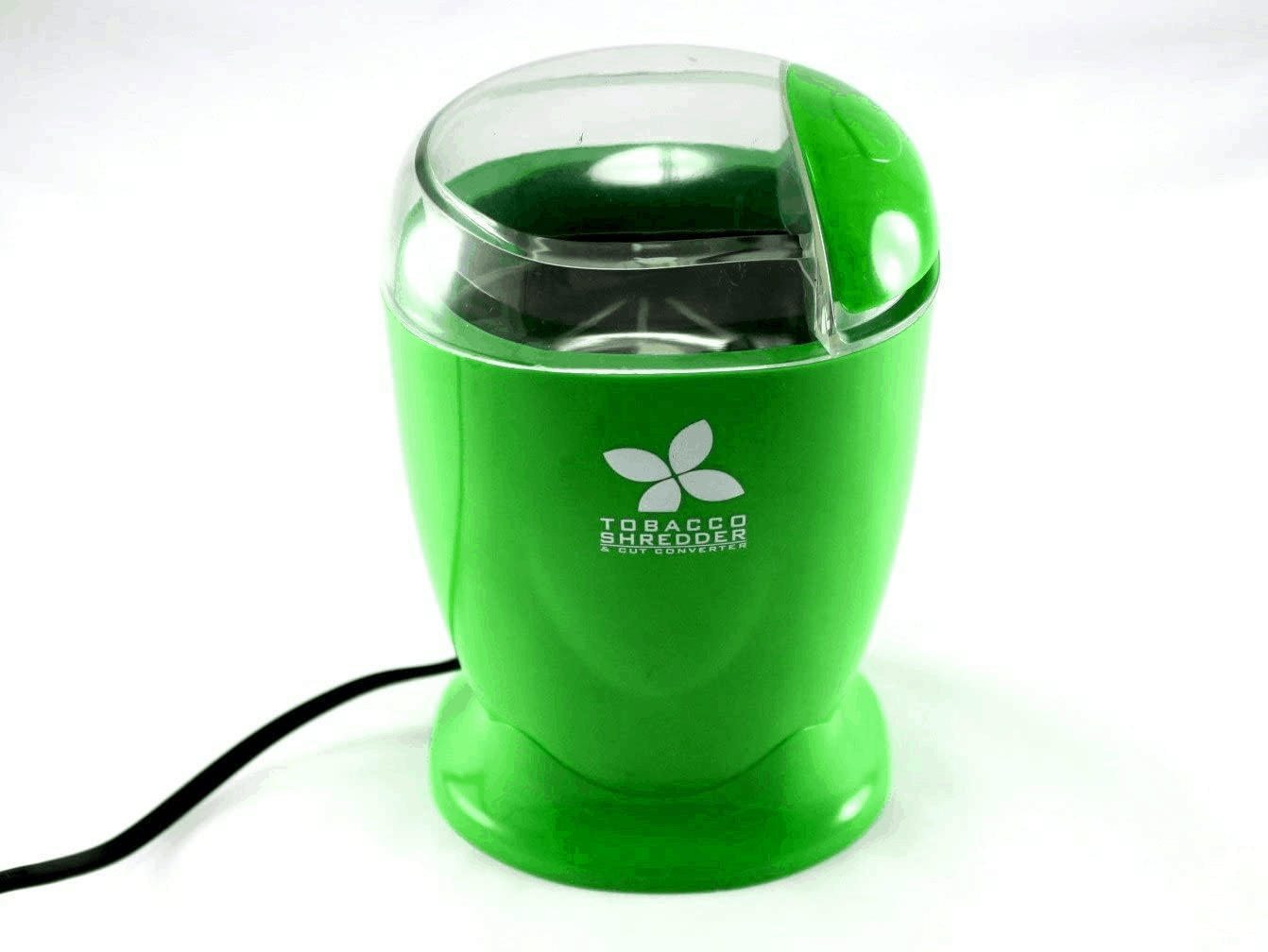 Highlights
Grinds herb into the perfect consistency for a vaporizer
Extremely affordable
Has a large storage and grinding capacity
This bright green colored electric grinder is a great appliance to have in your kitchen. It's actually the least expensive product to make this list, yet it offers outstanding value. There's a see-through lid that helps you determine when to stop the grinder. Since this machine is powerful and grinds fast, it doesn't take long before your herbs reach an ideal texture and consistency. 
This shredder has a cord that you plug in and with the touch of a button, you're on your way to perfectly ground herb.
Size: 3 in x 4.5 in x 7 in
Battery: 110 – 120V motor
Capacity: 10 grams
Price: $20.25
3.

Fancyli Electric Herb Grinder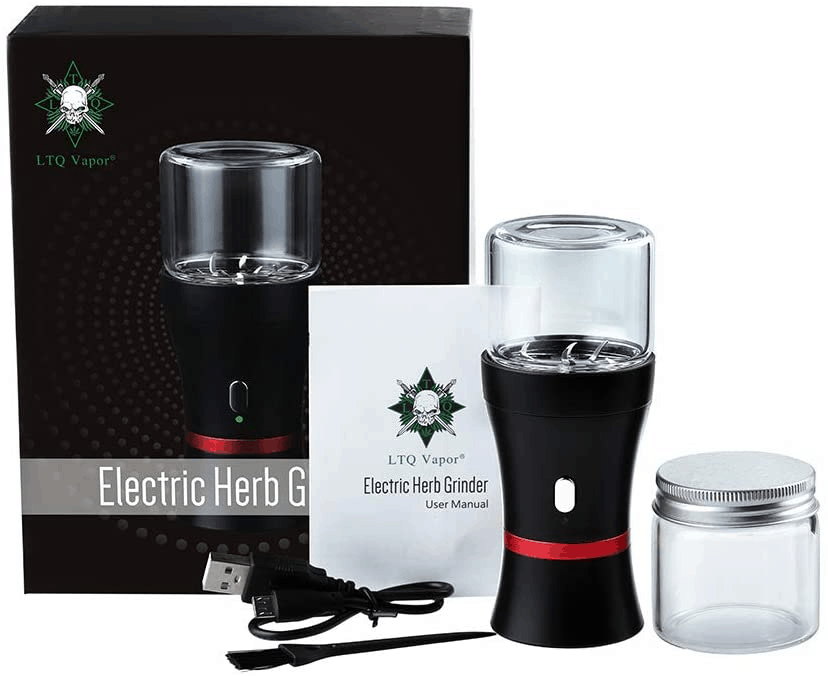 Highlights
Features a six-leaf blade for efficient grinding
Large chamber capacity
100% money-back guarantee
The Fancyli Herb Grinder is another affordable option, but not only that, it's one of the best electric weed grinders on this list. It has something that none of the others have, and that's a 6-leaf blade that grinds efficiently and evenly. Also, the device has several safety features, such as low voltage, short circuit, and overcharge protection.
Even more, the grinding capacity is 25 grams and the finished ground-up herb ends up in a wide-mouthed glass jar that's easy to rinse and clean. Plus, you can use this jar to store your herb until ready to use.   
Size: 7.1 in x 5.5 in x 2.3 in
Battery: 1100mAh
Capacity: 25 grams
Material: Stainless steel
Price: $35.99
4.

Cuisinart Electric Grinder
Highlights
Powerful motor and durable stainless steel blades
Dishwasher safe lid and bowl
Limited 18-month warranty
The brand Cuisinart has been making household kitchen goods and accessories since the 1970s. And over the decades, they've developed a solid reputation for making impeccable products. So, when it comes to this electric grinder, at its killer price, it's hard not to take notice.
Compared to the other grinders on this list, this device has the largest grinding capacity by far. It can handle up to 90 grams of dry herb. Also, with its tabletop design, you simply load your herb, place the lid on and press down to grind. It doesn't get much easier than that.
Size: 5 in x 6 in x 9 in
Battery: 200-watt motor
Capacity: 90 grams
Material: Stainless steel
Price: $39.95
5.

FreeTopHome Electric Herb Grinder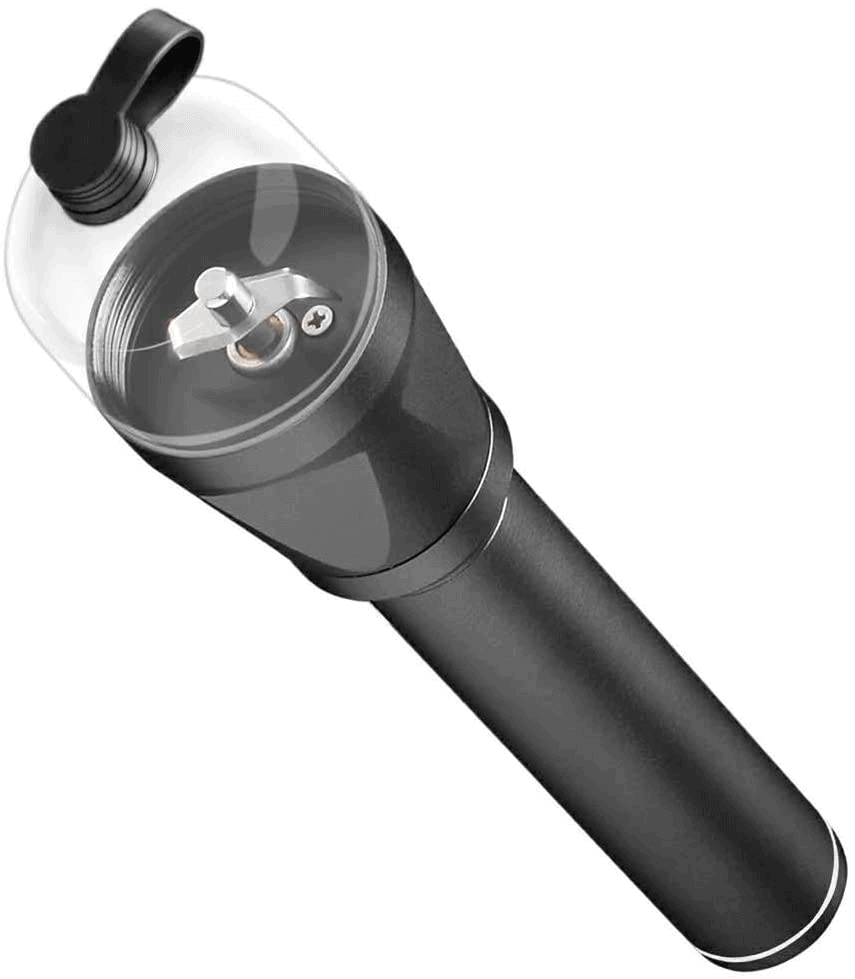 Highlights
Can recharge battery 500 times over the life of the grinder
40-second grind time with automatic shut off (could be adjusted, however)
Double-leaf shaped stainless steel blades
Although this device has a small wand-shaped design, it packs in a powerhouse battery with 2000mAh. Since it has a strong, durable battery, it will provide approximately 500 charges throughout the life of the device. This stat in and of itself is pretty incredible.
In addition, its base is made of aluminum and the double-leaf blades are stainless steel. Also, it features blue, green, and red LED lights that represent when the battery is low, when the device is charging, and when the grinder is being used to charge one of your devices, such as a cell phone or tablet.
Size: 1.7 in x 1.7 in x 8.36 in
Battery: 2000mAh
Capacity: 2.3 grams
Material: Aluminum & stainless steel
Price: $34.99
6.

OTTO Herb & Spice Grinder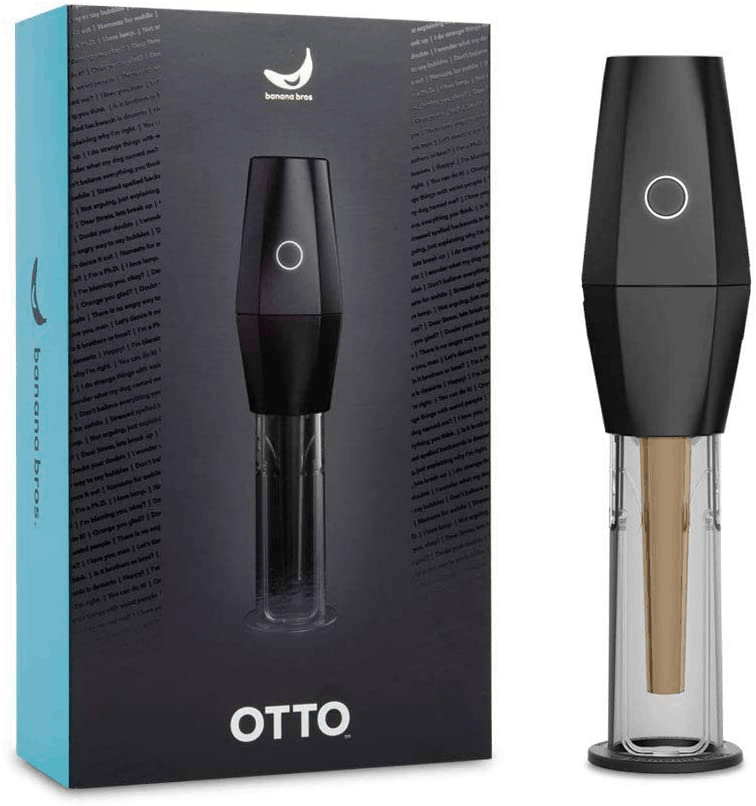 Highlights
Aerospace engineered milling plates/blades
Intelligent technology that can sense density, texture, consistency, and moisture levels
Grinds easily into pre-rolled smoking cones
OTTO by Banana Bros has a one-button operation and its design makes filling up cones with ground-up herb as easy as 1-2-3. The user- and travel-friendly design is a wonderful feature and the blades and motor grind up the herbs in a fluffy consistency each and every time. Where it's not too fine, not too coarse, but just right.
When buying this device, Banana Bros includes six cone-shaped sachets, a 4 in 1 cleaning tool, an O-tube sachet and cone holder, a measuring cup, and a snap cap. The box also includes a USB-charging cable so that you can recharge the battery when it loses its juice.
Size: 2.5 in x 7 in x 11.5 in
Battery: Lithium metal (rechargeable)
Material: Aluminum & silicon
Price: $149.99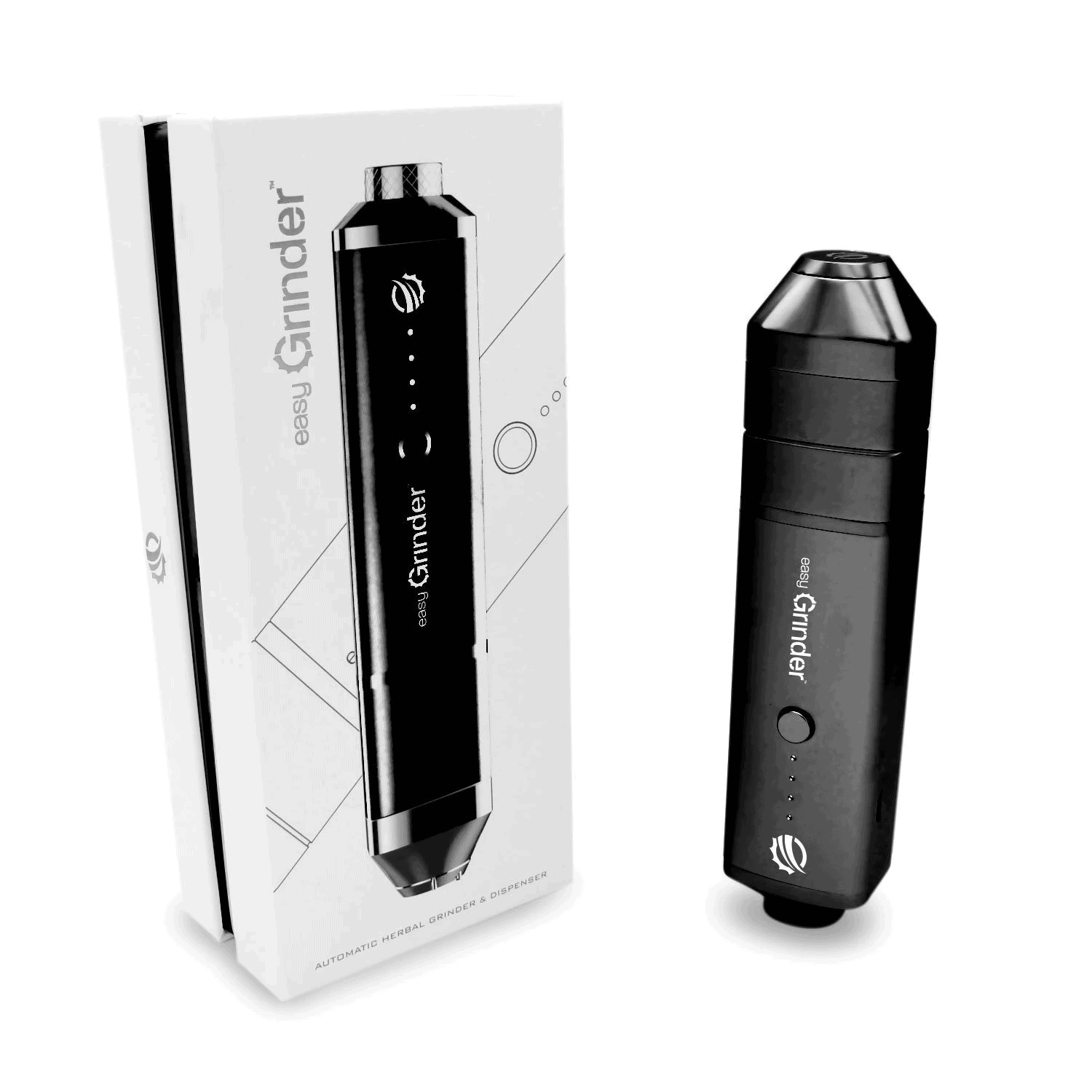 Highlights
Has a clear glass chamber
Use 300 times before recharging
Available in an assortment of colors
The Easy Grinder is just that — an easy grinder to use. It has a pen-shaped design, offering a convenient grip. Plus, it features a glass chamber, so you can take a peek while it's grinding to see how coarse or fine the texture is at any given moment. After stopping and turning off the device you can load the herb directly into your vaporizer chamber or cone because it has a dispensing hole.
Also, at the low price point, it gives you the option to choose between various colors in addition to standard black. Finally, with the purchase of the Easy Grinder, you will get a cleaning brush, a user manual, and a USB charger.
Size: 6 in x 1 in x 1 in
Battery: Lithium-ion (rechargeable)
Capacity: 2 grams
Material: Brass & stainless steel
Price: $34.99
8.

Mamba Electric Herb Grinder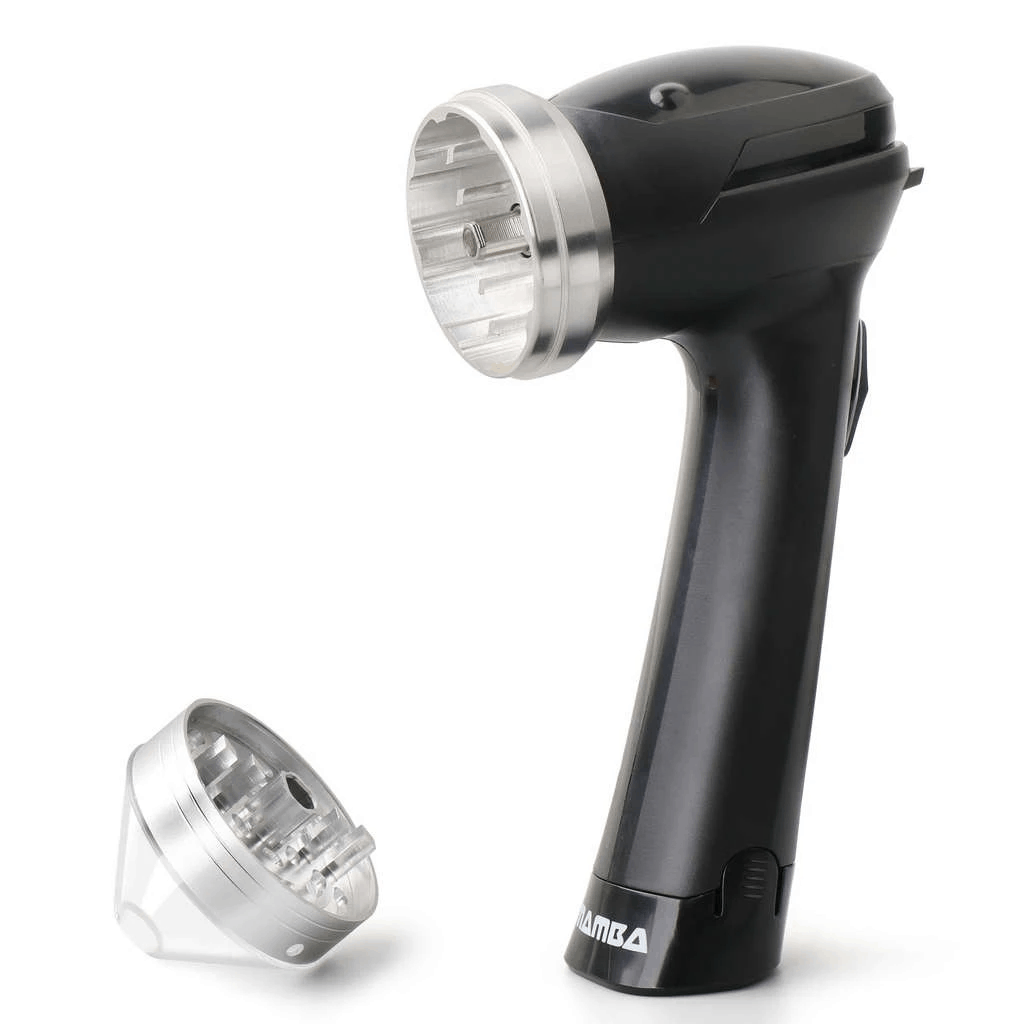 Highlights
20 times faster than a hand grinder
Engineered with aircraft-grade aluminum
High-speed motor with strong torque
Besides being super affordable and easy to operate with its single-hand use design, the Mamba electric weed grinder is battery-powered. This feature gives you the flexibility to take it on an off-grid trip or while visiting a destination without access to a power source. One really unique and stand-out feature above other products is the Mamba's forward and reverse grinding mechanism.
With this technology, you won't have to worry about clumping or your dry material jamming up while in the middle of grinding. Even more, the cone-shaped cap makes dispensing the ground herb into a container, jar, or vape chamber.
Size: 6.9 in x 2 in x 3.75 in
Battery: (4) AA batteries
Capacity: 0.5 grams
Material: Aluminum alloy
Price: $27.95
9.

Wakit Electric Grinder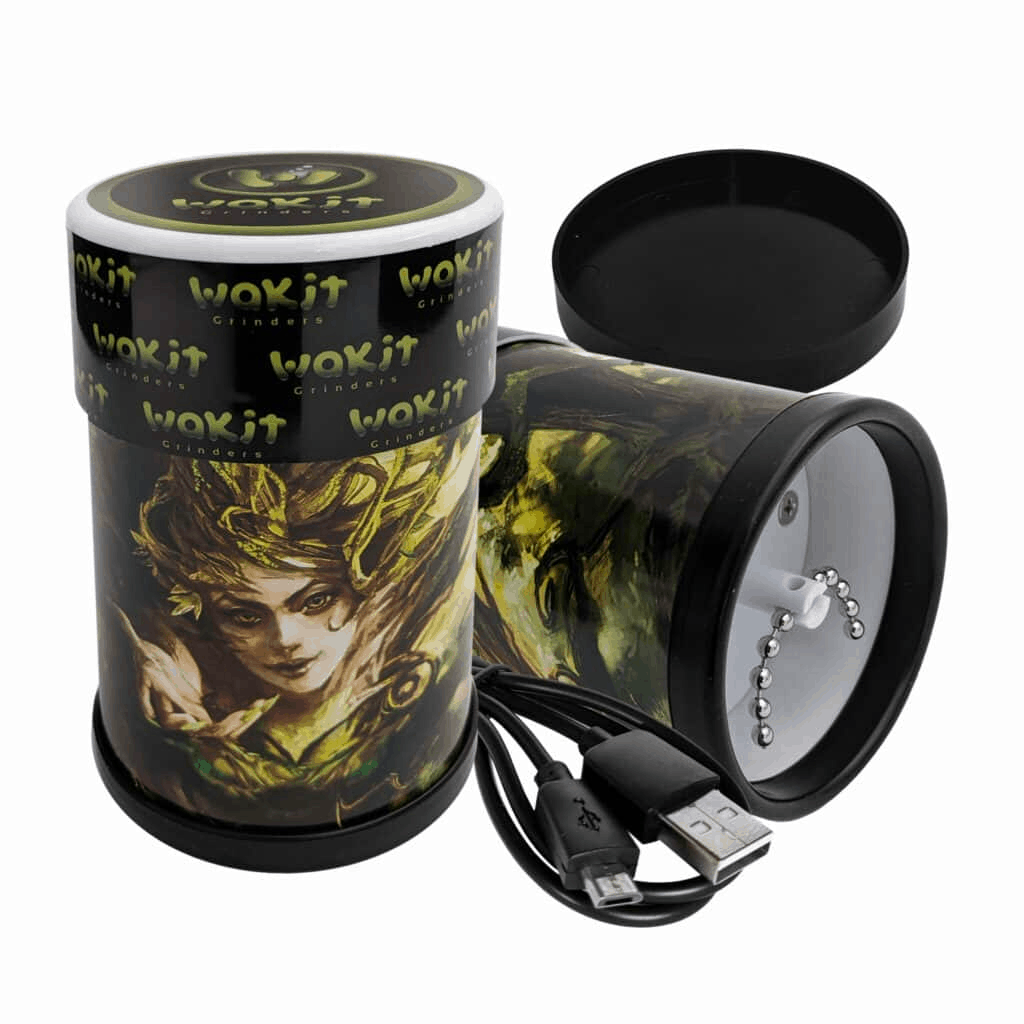 Highlights
Innovative ball and chain technology
Easy to clean with alcohol wipes
Convenient tabletop grinder
Two of the most unique features of this grinder are its drone motor and ball and chain technology. This type of motor is extremely durable and with the ball and chain that's attached within, this product grinds your herbs without clumping or over grinding. There's also an LED light inside the chamber that lights up during the grinding process to give you a clear view of what's happening.
The device comes with a charging cable and a user manual to provide specific details and answer any questions you might have. When you plug the charger in, you'll achieve a full charge within a few hours.
Size: 2.75 in x 2.75 in x 4.5 in
Battery: Lithium-ion
Price: $59.99
Final thoughts - best electric weed grinder
Of all the grinders we reviewed, the Lonzen ended up taking the top spot. It was definitely a close competition but the deciding factors for the best weed grinder included the design, durability, portability, warranty, and money-back guarantee. 
We get several questions about weed grinders from our readers, so we want to address two of the most common ones for you.
A weed grinder is a tool that grinds up your medical marijuana nugs and turns them into ground-up flower that you can load into a vaporizer, joint, cone, pipe, or bong. Or you can even infuse the flower in oil or butter to make edibles or topicals. Rather than grinding your herb by hand, an electric product has a blade and a power source that effortlessly grinds it.
If the grinder you choose has good quality parts and materials like glass and stainless steel, then you may be able to use it for coffee and various herbs. When cleaning these types of materials the odors of the coffee beans and herbs have a chance of being eliminated. But, if you've used the same grinder for coffee over the past year and then decide to grind herbs, the smell could be difficult to eliminate. In this case, you might want to think about having two different grinders — one for coffee and one for herbs.