So you want to buy a weed pipe? It's not a rhetorical question. Believe it or not, this decision is actually a rather big milestone for many cannabis smokers. This is because even the best of us start out by smoking joints or bongs or by relying on edibles, forgoing the need for a pipe altogether. 
While it can be years before a weed pipe is even considered sometimes, it doesn't have to be this way. A pipe is an effective and portable way to enjoy cannabis, and we'll tell you exactly why. In fact, we'll go a step further by also sharing our list of the best weed pipes out there, so that you can spend less time browsing and more time smoking. 
What's the Best Kind of Weed Pipe?
Weed pipe proponents stand up for this consumption vessel because of its cost effectiveness and simplicity. While edibles are gaining in popularity in a big way, smoking still remains the favorite way to enjoy cannabis, and smoking from a pipe is simply easier than rolling a joint or figuring out exactly how a bong works. 
Plus, pipes are a lot more portable than both bongs (cumbersome, oddly-shaped, and not necessarily discrete) and joints (requires too many materials that—let's face it—we'll just lose). Pipes also emit very little odor, and you can choose one based on what is personal to you. While they once seemed to come in the same three blown glass designs, pipes nowadays come with a variety of characteristics in a variety of materials, from silicone to glass to metal. 
All of this is to say that the "best" kind of weed pipe is the kind that fits your lifestyle and personal preferences. Allow our list to show you why every pipe is unique in their own way:
The Best Weed Pipes: Our Top 7 Favorites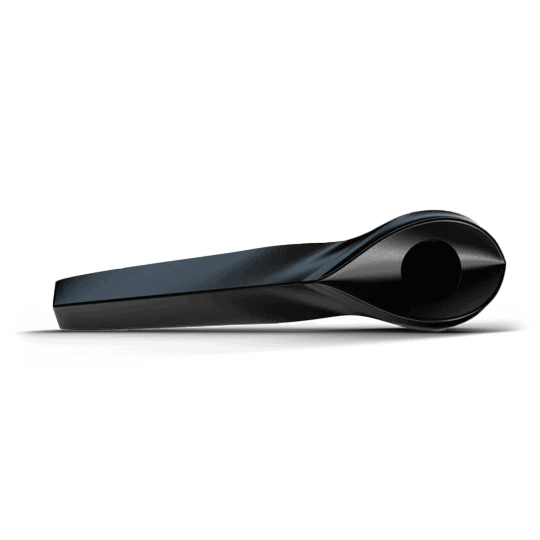 Highlights
Ergonomic design makes it easy to use
Filtering technology for cleaner smoking
Detachable magnet for easy cleaning
We, as a global society, know to expect the best from our friends in Scandinavia, especially in terms of design. And the Danish designers behind KØL certainly do not disappoint. This sleek, subdued pipe design is not all just a pretty face: users also report that this pipe is extremely easy to use.
KØL's technology-heavy design means that smoke is filtered before you inhale it, which results in a smoother experience with less coughing and more inhaling. The pipe's ergonomic design is made from combining two magnetic pieces of aluminum. The fact that it is easy to clean is another positive for your health as you will be inhaling cleaner smoke. 
Specs: 
Made from recycled aluminum

Contains rare-earth magnets

6.9" (large model), 4.4" (mini model)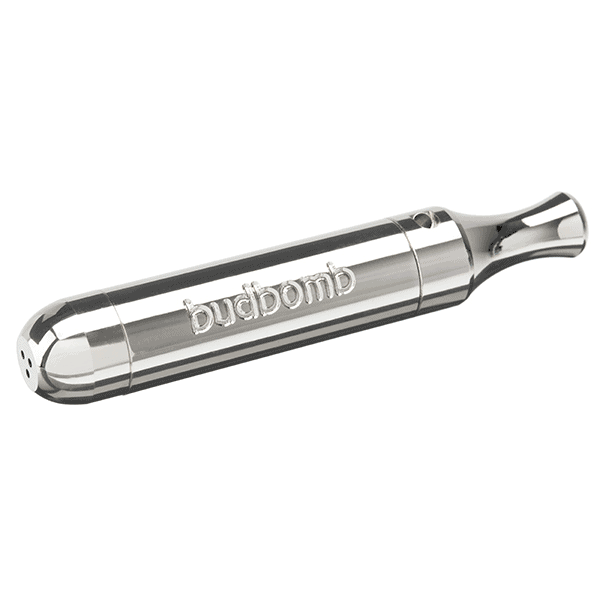 Highlights
Unique shape comes in metallic gold or silver or matte black
Durable (nearly impossible to break)
Smoke cooling technology leads to an impeccable high
It's no coincidence that the budbomb Pipe resembles a torpedo—it's right there in its name. This pipe features a process as unique as its design, as it works by pulling the flame through small holes in the tip of the cap. The smoke is then sent around the pipe's chamber, which uses a unique cooling coil to slow down and cool the smoke, resulting in an enjoyably gentle smoking experience. 
The usefulness of this pipe's cooling technology cannot be understated. Its ability to cool smoke means that users of this pipe enjoy a smooth smoke that is almost like a vapor. 
Specs:
Made from nickel plated brass 

Made in the United Kingdom 

4"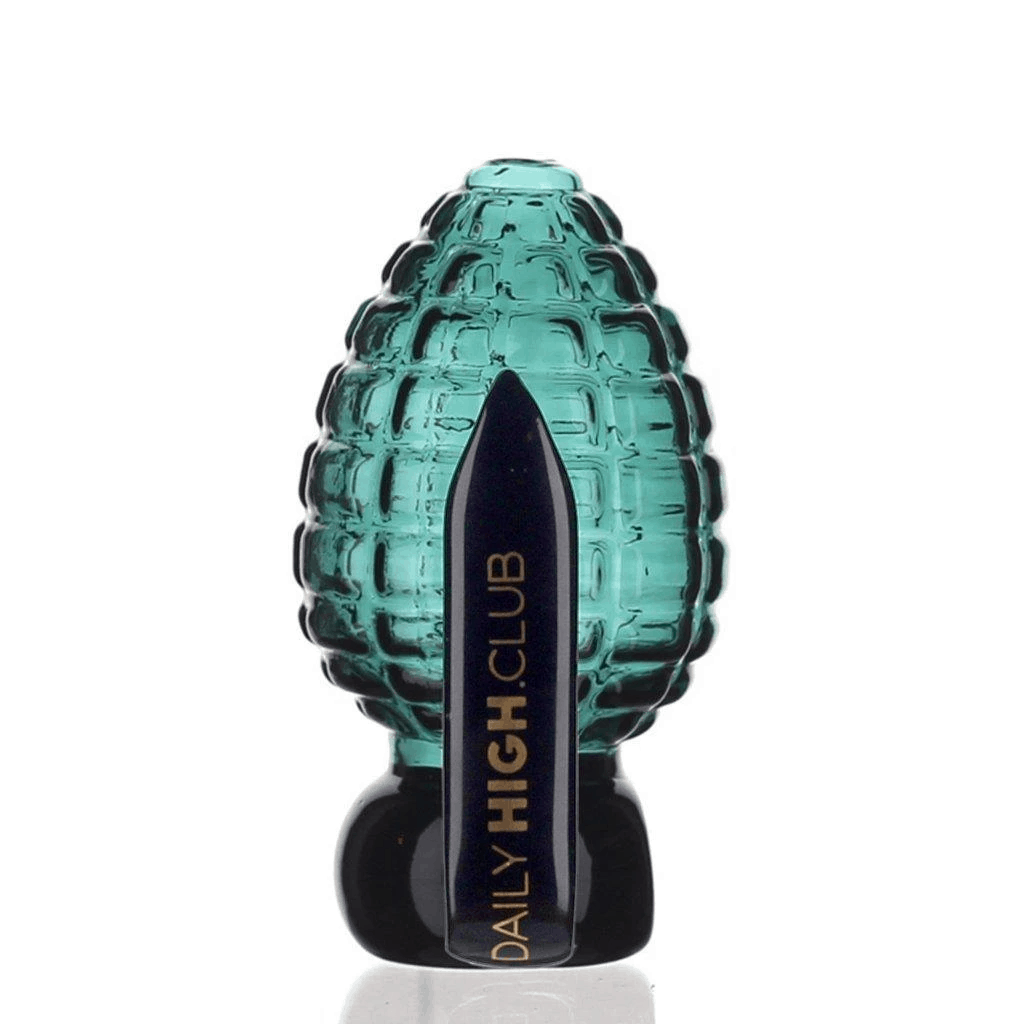 Highlights
Sleek design that resembles a grenade
Textured edge for slip-proof grip
Thin handle for easy holding
The first thing that we noticed about the Grenade Pipe is that it has a very distinctive look. In fact, good luck using this at a party without at least some conservations being started—it's the risk that comes with using such a cool weed pipe. Believe it or not, its appearance also lends to its functionality, with the sides of this "grenade" providing grip support to decrease your chances of dropping the pipe. 
Made by the Daily High Club, the Grenade Pipe is a popular bubbler among weed smokers, mostly due to its unique appearance (but also due to its smooth and immediate hits). 
Specs: 
Made from strong borosilicate glass

Laser-etched detailing

5.5"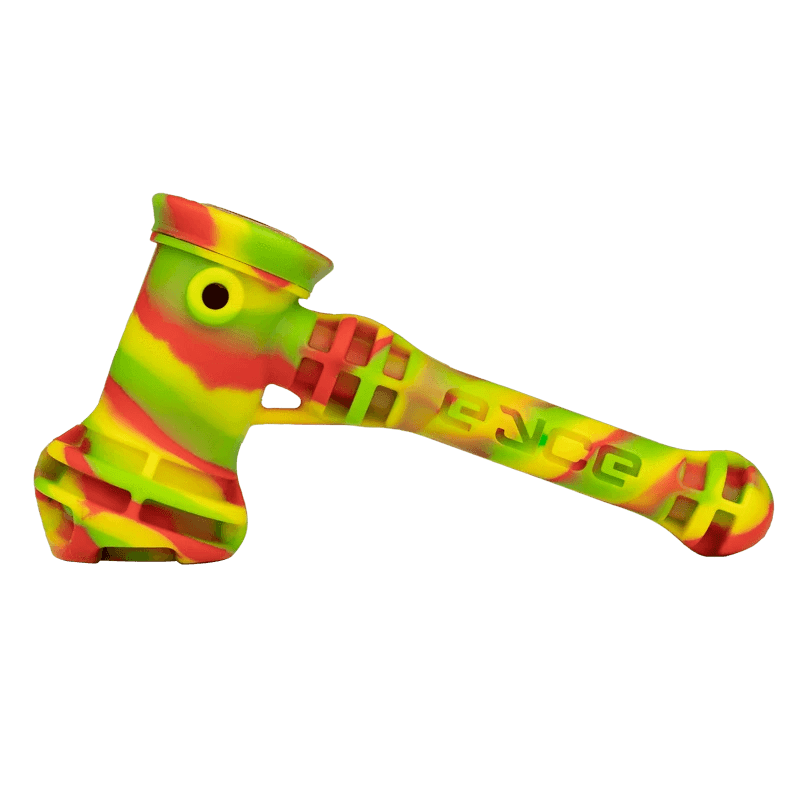 Highlights
Unique design of glass bowl in silicone pipe
Available in a variety of colorful designs
Comes with built-in compartments and tools
Eyce has a strong name in the bong game, but they make beautiful pipes as well. Nowhere is this better demonstrated than in the Eyce silicone bubbler that comes from a variety of wild color combinations.

A silicone weed pipe may seem like a novel idea, but consider its mechanics: the pipe is not made completely of silicone. Instead, it is a silicone casing around a small glass bowl. Most silicone pipes feature bowls made of metal, so the glass bowl is a welcomed change, especially if you are worrying about your smoke taking on a bit of a metallic taste. 
Eyce is known for the miniature compartments that they add to their accessories, and they've done it again with this particular pipe. Underneath the pipe lies a stash jar for keeping loose weed. This pipe also comes with a poker tool on its side for your convenience. 
Specs:
Made from silicone and glass

Comes with stem cap

7.5" 
5.

Snoop Dogg Pounds Friendship Hand Pipe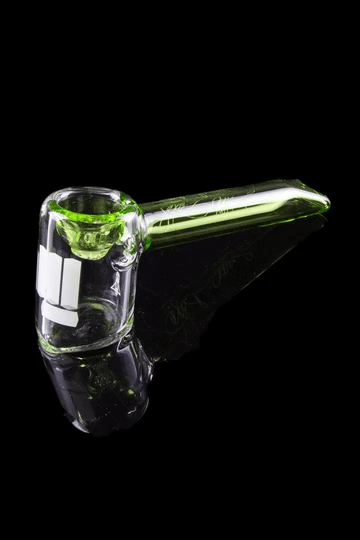 Highlights
Large bowl
Ergonomic angle
Sleek design features Snoop Dogg's signature
Who knows more about pipes than the aficionado Snoop Doggy Dogg himself? Aside from its cool celebrity branding, this pipe comes with a sleek eye-catching design and form that is built for high functionality (pun intended). 
This pipe is part of the POUNDS collection, a collection of five Snoop Dogg-themed water pipes. We love the Friendship pipe for its travel-friendly size, as well as its oversized bowl that allows for a comfortable smoking experience. This pipe features a honeycomb-shaped screen for cleaner smoking. 
Specs:  
Made from borosilicate glass

Features a deep bowl 

5"



6.

Chameleon Glass Gandalf Pipe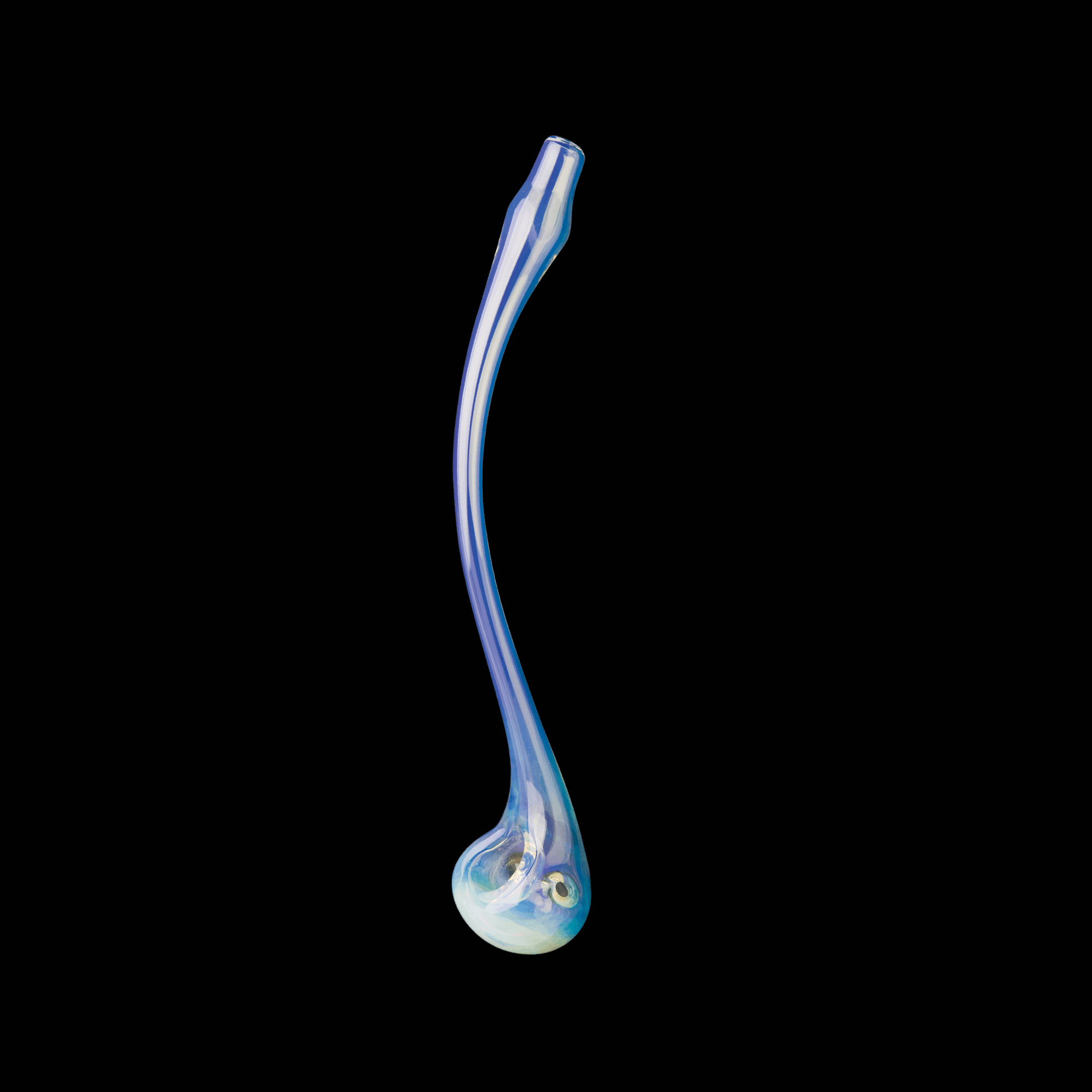 Highlights
Unique thin stem that cools smoke
Changes color as you smoke
Bowl "kickstand" to prevent rolling and fall risk
Calling all Lord of the Rings fans as well as the fans of all-things fantasy themed: we would be remiss to write an entire list about the best weed pipes without featuring this unique model. More than just a novelty, this pipe is a lot more durable than it looks, with the ability to withstand falls without breaking. 
This pipe gets its name, of course, from the uncharacteristically long and thin spout. This spout actually has a practical purpose aside from just an aesthetic one. The long spout acts to cool the smoke before you inhale, but this is not the only cool thing that the pipe does. The pipe will also gradually change colors the more you smoke through it — this impressive effect is precisely why it is known as the "chameleon". And don't worry, this color change isn't just the gray of old smokes passed—it takes on a beautiful color that makes this pipe look like a piece of art (from a gallery in Middle Earth, of course). Every time that you clean your pipe its color will reset which means that you can be entertained by its change of color all over again. 
Specs: 
Made from glass 

Handmade in the United States

9.5"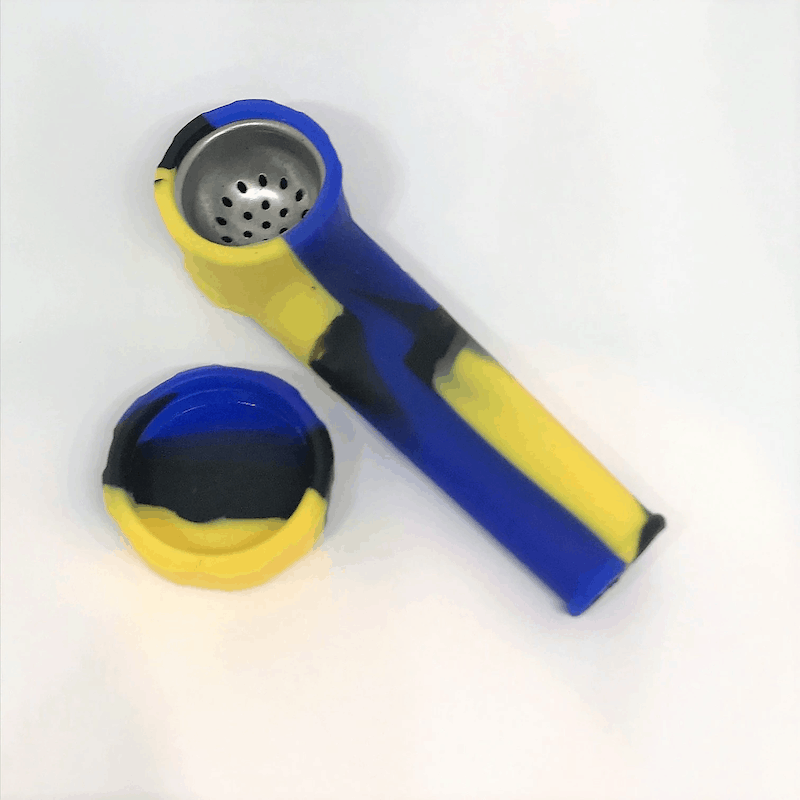 Highlights
Extremely compact size
Removable small glass bowl
Comes with poker tool and stash container
We have not smoked every pipe on the market, but we would be willing to bet that this small silicone pipe from SiliconeHandPipes.com is among the smallest weed pipes on the market. Measuring only 3" in length, this pint-sized silicone pipe somehow still finds a way to conceal a glass bowl within. It even comes with built-in accessories, namely a poker tool and stash container. 
This pipe's small size makes it a great travel companion, combined with the fact that it is less likely to break on the go thanks to its silicone makeup. It is obvious that this pipe gets its inspiration from the Eyce silicone pipe, but we're not complaining—we welcome the option of having a smaller alternative. 
Specs: 
Made from high-quality durable silicone and glass

Comes with stash container and poker tool 

3" long 
A pipe is personal, so it's no wonder that you will want to carefully shop around until you can find a pipe that works for you. Whether you are looking for something for travel or for a pipe to use on an everyday basis, the industry today is so innovative and varied that there is truly something out there for everyone — so put that in your pipe and smoke it. 
Silicone has become a popular choice for bong and pipe materials in recent years, which has led many to wonder whether or not it is safe to smoke out of a silicone bong. In short, the answer to this is: yes, it is safe to smoke out of a silicone pipe. The reason for this is that silicone can withstand temperatures of up to 520 degrees without melting, and does not emit toxic gasses when heated. 
Many cannabis lovers are always looking for ways to partake in a healthier way. While there isn't a strict rule that states that pipes are a healthier way to enjoy cannabis, there is reason to believe that this could be the case. For one thing, many pipes come with a filtration system. Also, it takes less weed to fill a pipe than it does a joint, which means that you will not be exposing your lungs to as much cannabis as you would with a joint.