Whether you're into dry herbs, oils, or concentrates, vaping is one of the most effective ways to get the most of your botanicals. Just like smoking, the effects of vaping weed using a desktop or portable vaporizer will kick in quickly. However, since vaporizers heat materials below combustion, you are inhaling vapor and not smoke. This maintains a higher level of your herb's cannabinoids and terpenes while reducing the harmful toxins associated with smoking that requires combustion.
Not every vaporizer is created equal. The quality of the device you choose will heavily dictate the type of vaping experience you will have. The best weed vaporizers use high-quality materials that don't break down in high heat settings, as well as heating technology and proper airflow to prevent combustion. Using a quality vape will help you get the most of your buds and liquid gold.
Top Five Portable Vaporizers
1.

Storz and Bickel Crafty+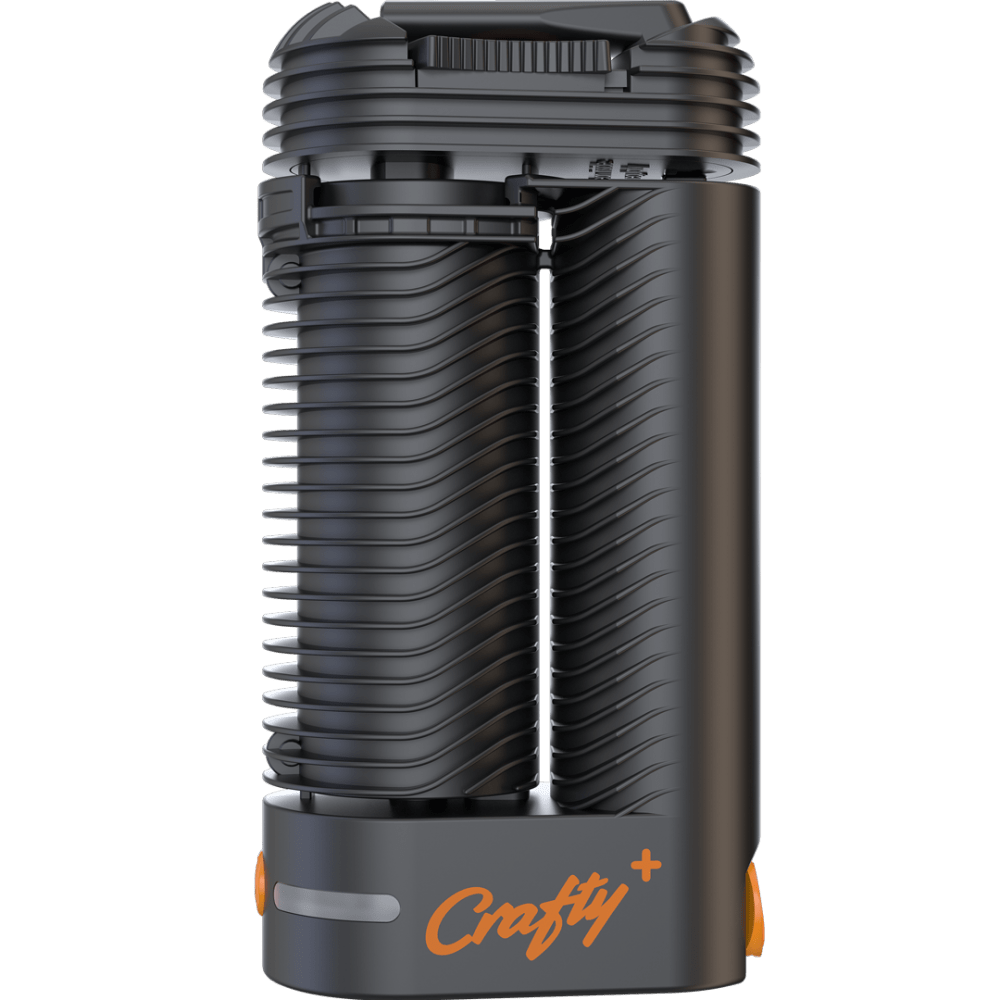 Highlights
Compatible with dry herbs
60 second heat time
3 pre-set temperatures
The CRAFTY+ from Storz and Bickel delivers 30% faster heat-up than its predecessor, getting you to 410°F in 60 seconds. The powerful convection and conduction heating system disperses heat evenly across your buds, and the exceptional airflow allows for effortless inhaling. The cooling unit is made from polyether ether ketone (PEEK), a high-grade, heat-resistant plastic commonly used in the medical field for surgical implants. The intuitive one-button control offers three pre-set temperatures for maximum convenience. Take the Crafty+ experience to the next level using the app to adjust the settings to your personal taste. Don't sacrifice performance for portability – get both with the CRAFTY+ Vaporizer.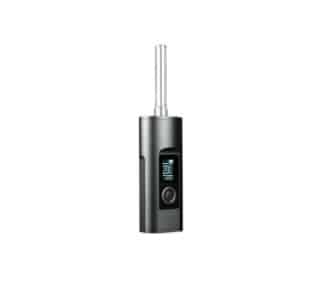 Highlights
Compatible with dry herbs
Precise digital temperature control
Long battery life
The Arizer Solo II is arguably the best portable vaporizer for dry herbs. It has two separate tubes to be used for one of its two distinctive vapor paths. Precise temperature settings give you complete control over the flavor and vapor production of your herbal products. The display also allows you to see the length of your session to master the art of pacing. Arizer doesn't mess around when it comes to heat-up time, either. You can reach the highest temperature settings of 428°F in 30 seconds. Arizer has always been known for their units producing thick clouds full of flavor. The Solo II is no exception, thanks to the increased airflow.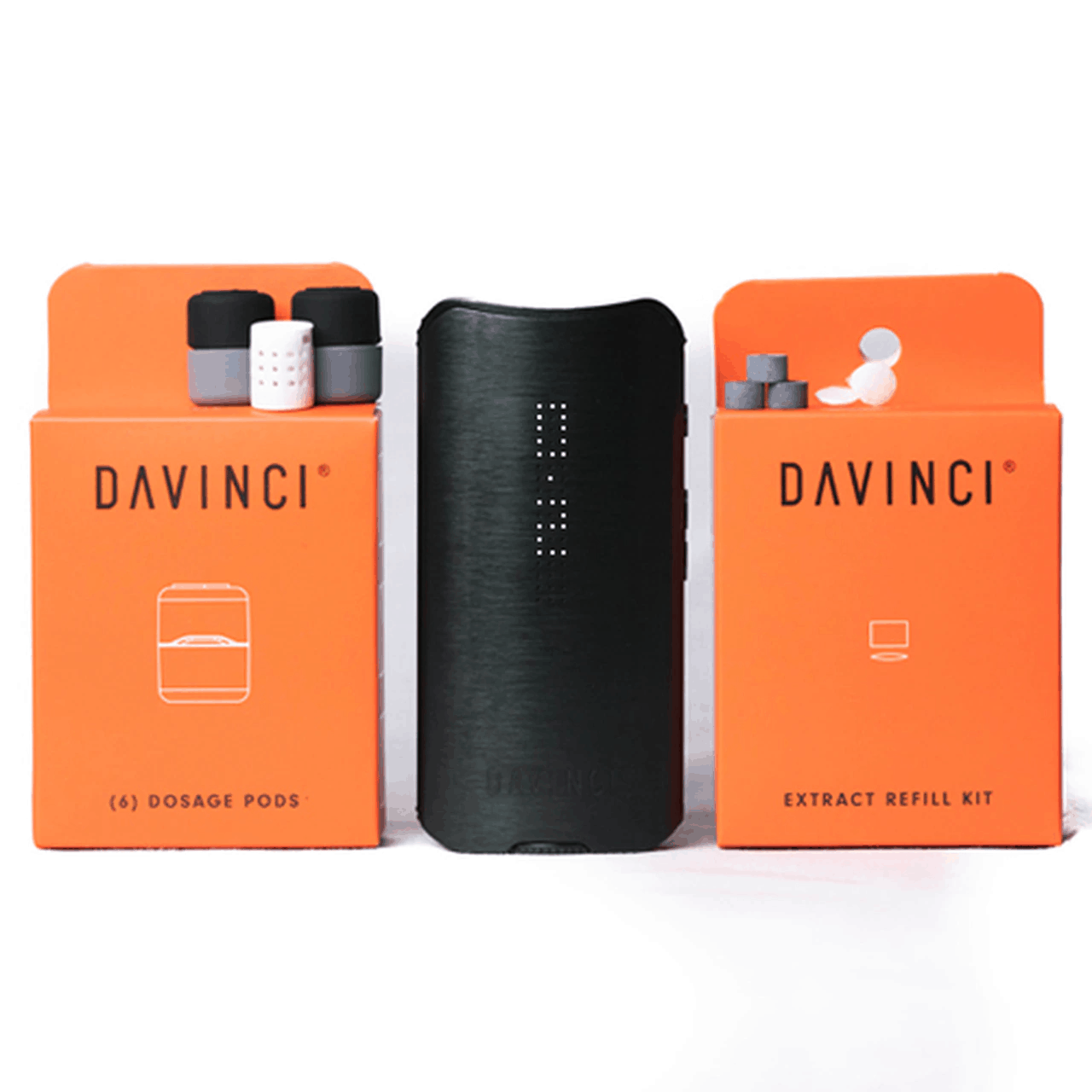 Highlights
Compatible with dry herbs
Smart path heating
Bluetooth app
The DaVinci brand goes hand-in-hand with some of the best weed vapes on the market. DaVinci went all-in on flavor when designing the IQ. They used a ceramic oven and ceramic zirconia parts to avoid any alteration to taste along the vapor path. The Smart Path technology allows you to plan out your temperature changes and settings throughout a session. You can slowly increase the temperature for an added boost, or keep it low to amplify the flavor. The replaceable battery adds another layer of value by extending the life of your vaporizer, when compared with devices that have built-in batteries that turn into expensive paperweights when they can no longer hold a charge.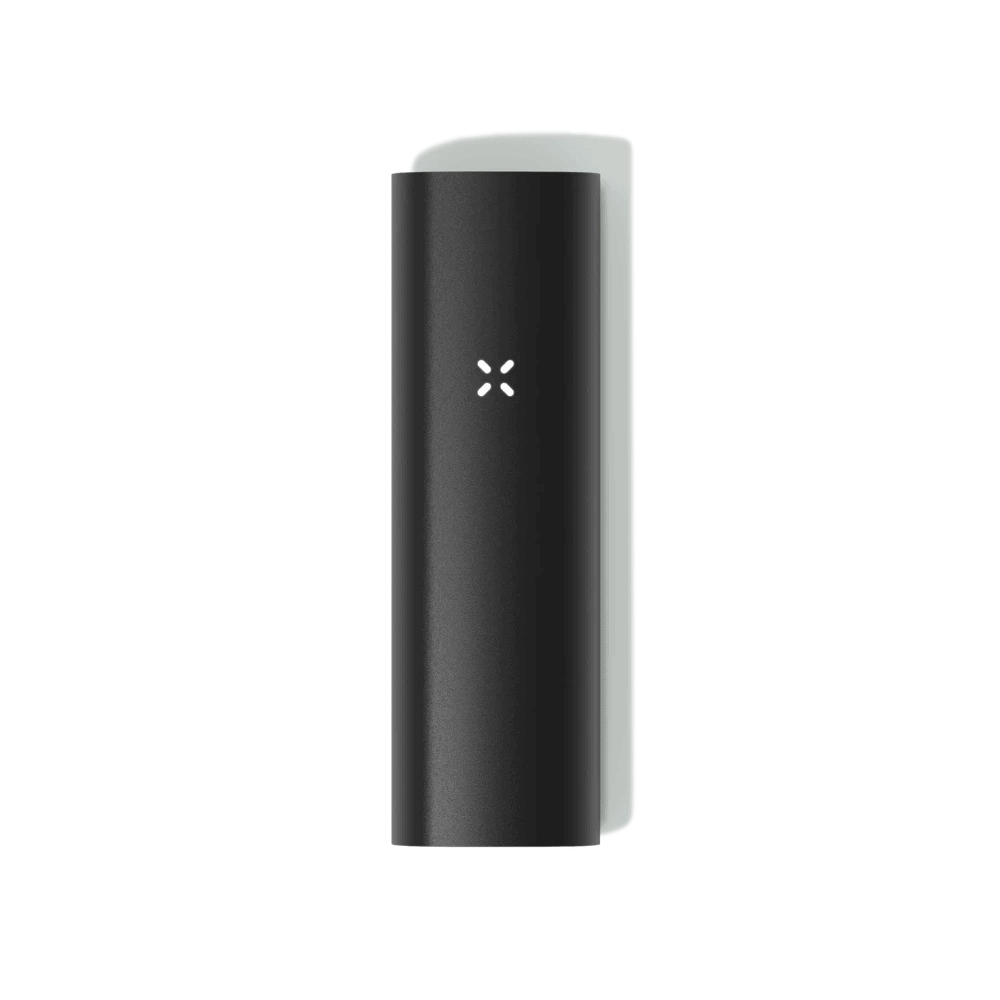 Highlights
Compatible with dry herbs and concentrates
Discreet design
Haptic feedback
You can't Google vape pen without a Pax device popping up. The Pax 3 has been referred to as the iPhone of vapes due to its hi-tech features and elegant appearance. It only takes about 22 seconds to heat up to your desired temperature, which you can further customize using the Pax app. Easily change the oven inserts to jump from dry herbs to liquid concentrates. You also get a half-pack oven lid to keep your materials fresh when you don't want a full session. The small size makes the Pax 3 travel-friendly but doesn't leave a lot of room for the vapor to cool down, which sometimes results in harsh hits.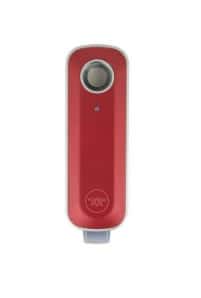 Highlights
Compatible with dry herbs and concentrates
3 second heat time
Dynamic convection heating
Crafted by a former Apple designer, the Firefly 2 delivers phenomenal flavor in less time than it takes to tie your shoe. By pressing both dual-touch sensors simultaneously, this device will heat up to your preferred temperature in 3 seconds. When the touch sensors are released, the heating will stop. This heating style not only makes it easy to get started but also helps reduce wasting or overheating your materials. The borosilicate bowl features 55 holes for optimal heating and airflow to preserve the flavor and fragrance of every puff. The Firefly 2 comes locked and loaded with five pre-set temperatures reaching 420°F for dry herb and 500°F for concentrates.
Top Five Desktop Vaporizers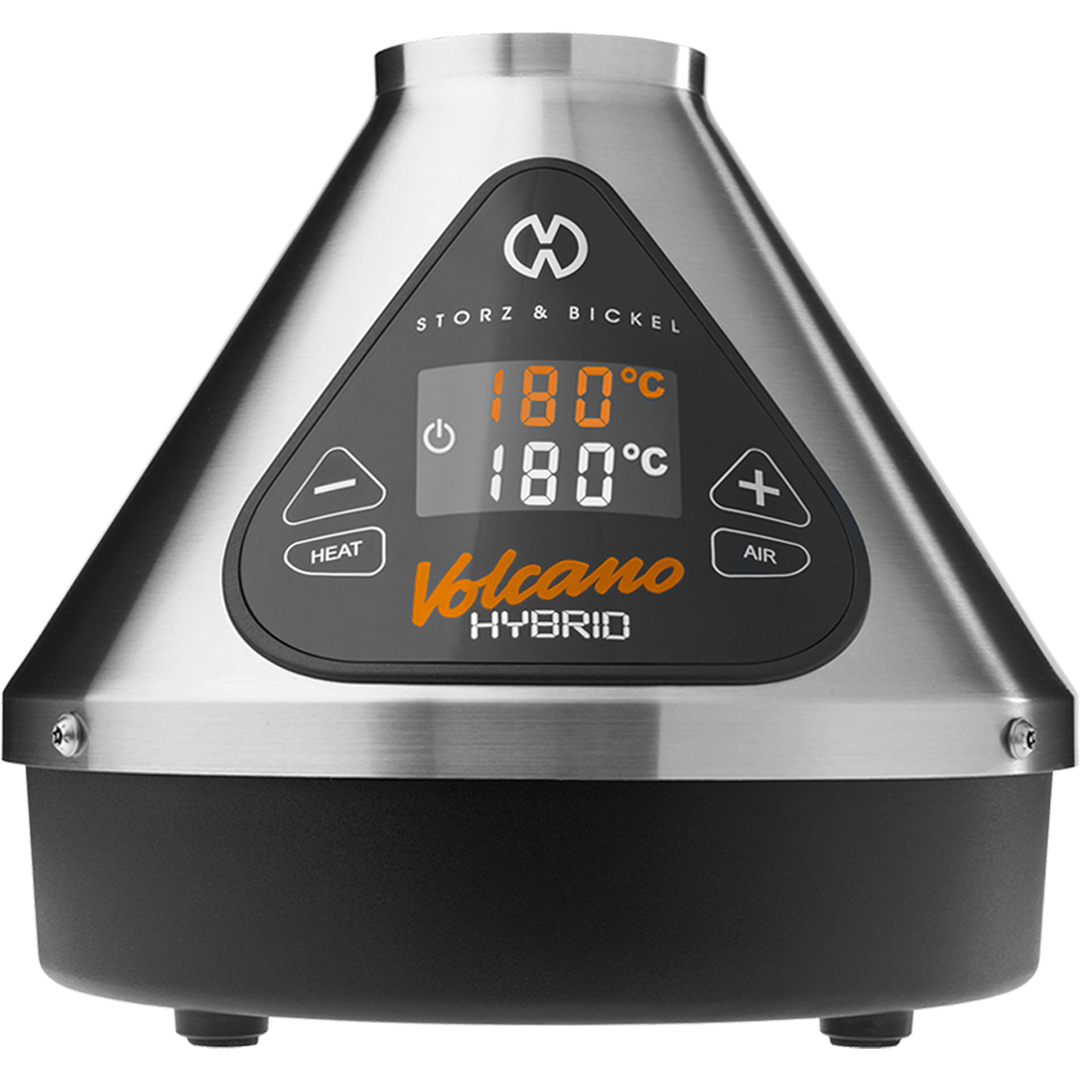 Highlights
Compatible with dry herbs
Balloon and whip draw
Double helix heat chamber
When Storz & Bickel are involved, you know you're in for a treat. The Volcano Hybrid has consistently lived up to its reputation as one of the best desktop vaporizers out there. You can fill up on fluffy clouds with the classic easy valve balloon or by using the rotatable tube system. The Volcano Hybrid combines convection and conduction heating with a double helix heat exchanger that gets you up and running in 40 seconds. You have full control over temperature settings using the display buttons or Storz & Bickel app. Low temperatures give you blasts of flavor, while higher temperatures create thick, dense vapor clouds.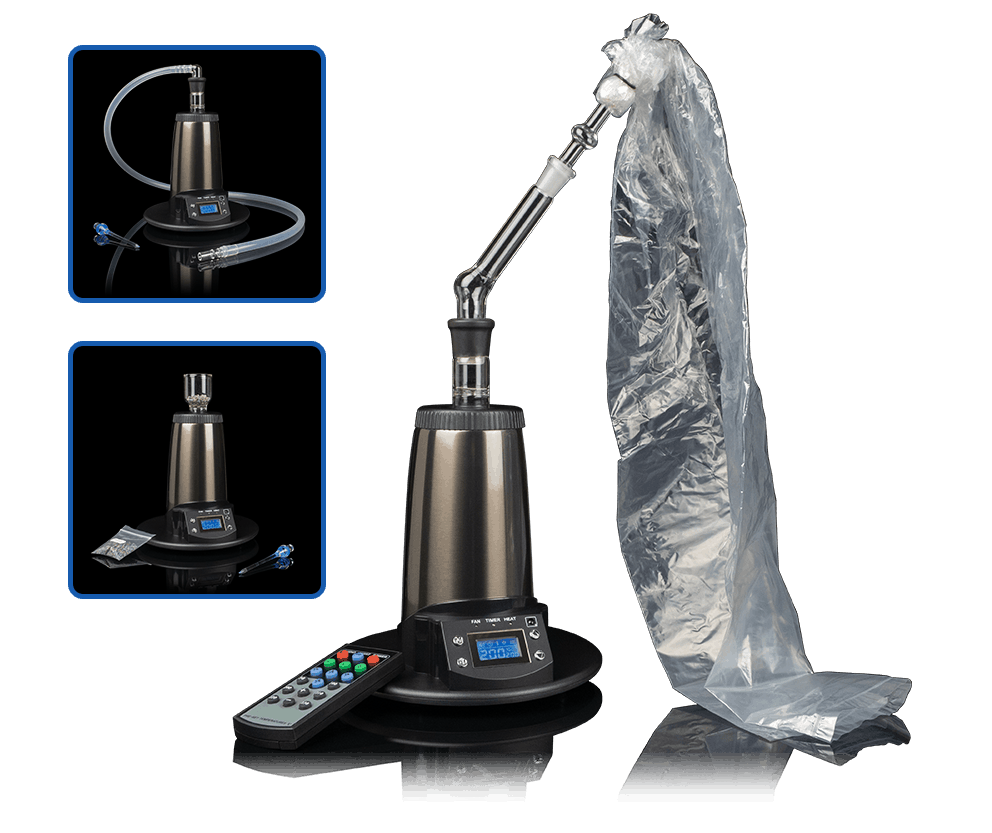 Highlights
Compatible with dry herbs
Heats up to 500°F
Remote control
If you're the type of toker that requires versatility, then the Arizer Extreme Q is one of the best weed vaporizers for your changing session preferences. Hybrid draw methods give you a choice between filling a balloon with thick vapor or using the whip system for a direct draw. Turn the fan on when using the whip for an assisted draw that pumps out vapor without any extra effort. You can use the buttons located on the base to adjust the temperature, or customize the settings from across the room using the remote control. User-friendly parts make operating and cleaning the Arizer Extreme Q a breeze.
3.

Storz and Bickel Plenty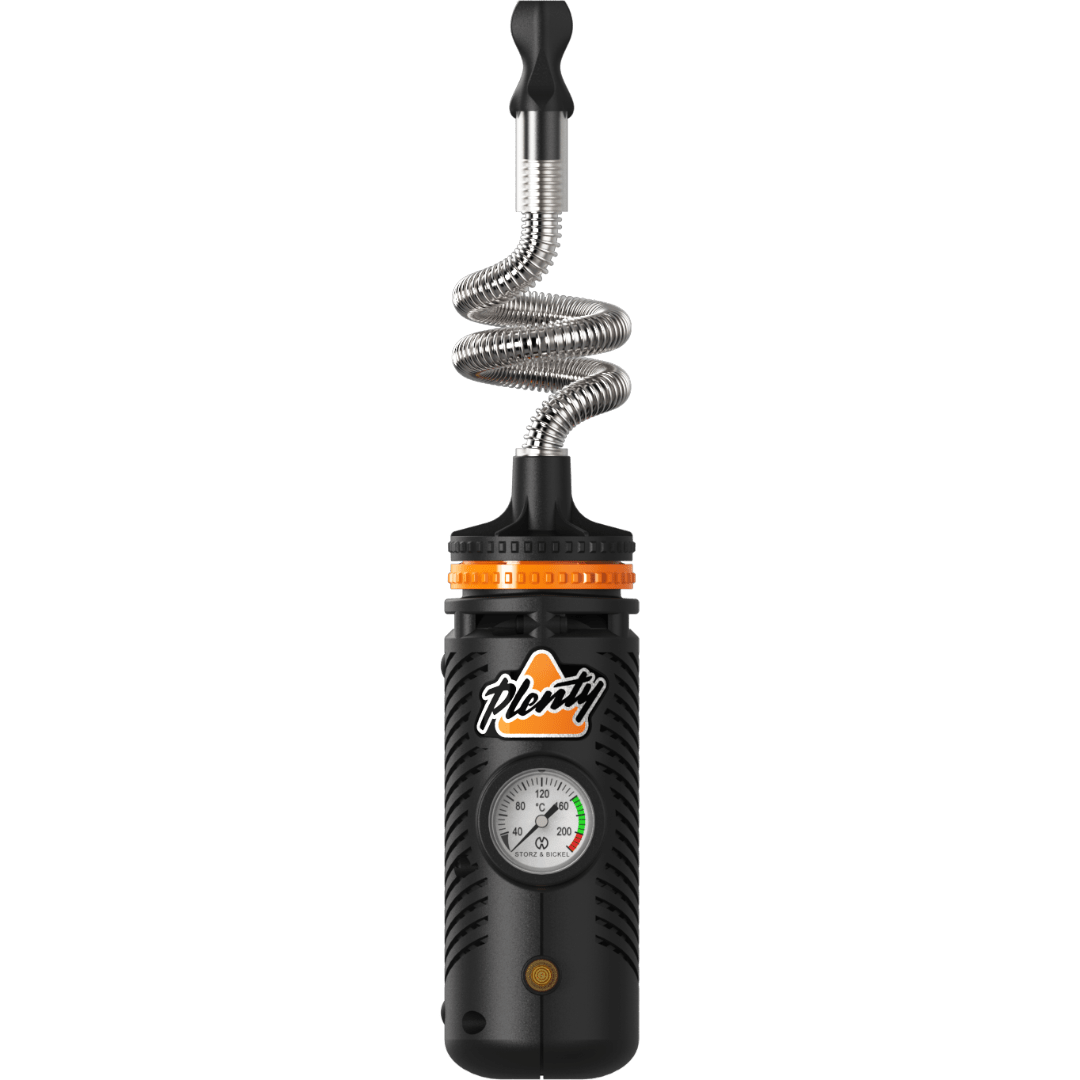 Highlights
Compatible with dry herbs and concentrates
7 pre-set temperatures
Trigger-activated heating
The Plenty is the lowest priced desktop vaporizer from Storz & Bickel, making it a great introduction to the brand without breaking the bank compared to the rest of their products. Branching out from your typical desktop design, the Plenty features a direct draw coil and a large orange trigger on the handle. Squeezing the trigger initiates heating, and a small wheel on the side lets you select a pre-set temperature from 266° F to 396° F. Unlike most vaporizers, once the Plenty reaches the target temperature, the heat will shut off. Give the trigger another squeeze to re-engage the heating element. 
Highlights
Compatible with dry herbs
Direct draw whip
Custom session settings
Arizer is back at it again with one of the best weed vaporizers for a bargain. The vertical glass heating chamber is a signature Arizer feature that ensures optimal convection heating and airflow. Precise digital temperature control and custom session settings offer complete flexibility to customize your vaping experience. Designed with efficiency in mind, the glass cyclone bowl allows you to effectively control the dosage and get the most of your buds. It takes up to 7 minutes to reach the max temperature of 500°F. This is a bit longer compared to other desktop vaporizers, but users say it's well worth the wait.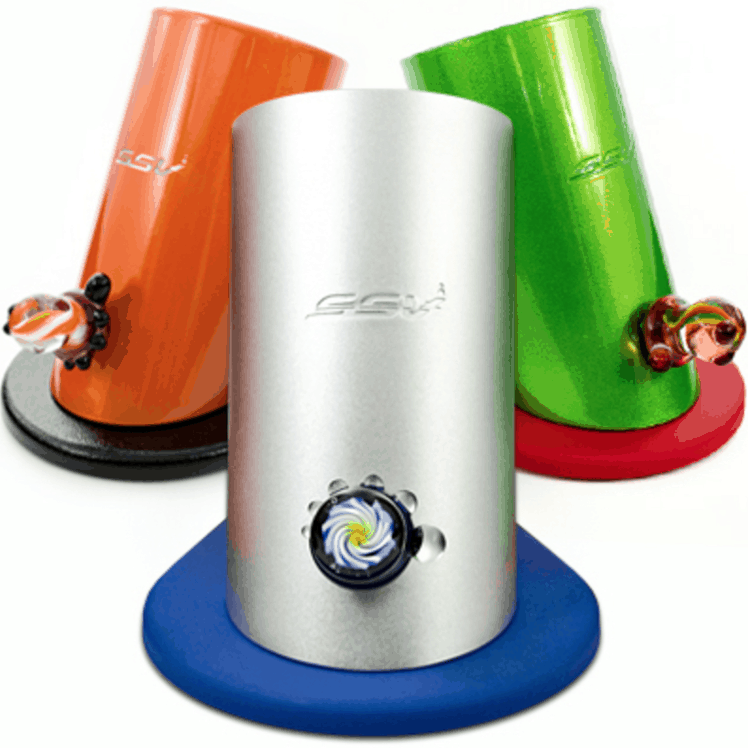 Highlights
Compatible with dry herbs and concentrates
Heats up to 700° F
Custom hand-blown glass temperature knob
The Silver Surfer was the first vaporizer to use a ceramic heating element and pure glass-on-glass air flow that you now see as a standard in most high-end vapes. 7th Floor Vapes crafted this piece from 1/4 inch thick airplane grade aluminum and positioned the heat cover to wand connection on a downward angle to prevent loose herbs from falling into the element. The temperature knob allows you to adjust the heat but doesn't offer any display. Without knowing the exact temperature you're using, this device comes with a bit of a learning curve to get your settings just right. 
The three main types of vaporizers are desktop vaporizers, portable vaporizers, and vape pens. Desktop vapes typically plug into the wall and use a whip or balloon draw method. Portable vaporizers are compact and designed for sessions on-the-go. Vape pens are even more discreet, consisting of an atomizer, a power source, and a cartridge or tank. 
The best weed vaporizers will use heating chambers made from quality materials, such as ceramic and stainless steel, that don't absorb or distort the taste of your materials. Choosing a device with multiple temperature settings will give you more flexibility in vapor production. Battery life is another indicator of a good vaporizer. You should get 10 sessions between charges with quick recharging capabilities. Bonus if you get a vaporizer with passthrough charging.