If you're interested in cannabis extracts, chances are you've heard about rosin by now. There are a few types of products in this category – flower rosin, hash rosin, and live rosin, for example. What they all have in common is that they are solventless extracts made with rosin press machines. If you're serious about your concentrate consumption, you've probably already thought about making your own rosin at home. While this can be accomplished with some pretty low-tech equipment (hair straightener and a C-clamp, anyone?), the best rosin, and the best yields, will always come from the best rosin pressing machines.
For the uninitiated among us, let's talk about the basics first – what is cannabis rosin? In short, it's a cannabis concentrate – just like shatter, budder or wax – that's made without the use of any solvents. That's why we call rosin a "solventless extract." Instead of the traditional extraction methods, performed with a solvent like butane, or with supercritical C02, rosin is created with three very simple elements: heat, pressure, and time.
The rosin pressing process, in the absolute simplest terms, consists of pressing cannabis (or hash) with high pressure and a bit of heat. The heat and pressure cause the resins inside the cannabis flower (or hash) to liquify and ooze out of the press. This secretion is collected, and often cured in jars. The resulting product is a highly-concentrated solution of cannabinoids and terpenes, which is dabbable or vapable as-is. 
Essentially, rosin is an extract that's made without the use of any chemicals. Think of it like super-charged hashish, in that it's made naturally, but at a much higher cannabinoid concentration than typical hash.
A rosin press is a machine that's used to create rosin. It consists of two heated plates that your starting material gets squished between, and some kind of hydraulic mechanism to create the pressure. 
Rosin presses are very simple machines – there are few moving parts, no reservoirs for chemicals, and minimal electronics to fuss with. When using a rosin press machine, you're only manipulating a handful of variables, when compared to solvent extractions: time, heat, and pressure.
Top 5 Rosin Press Machines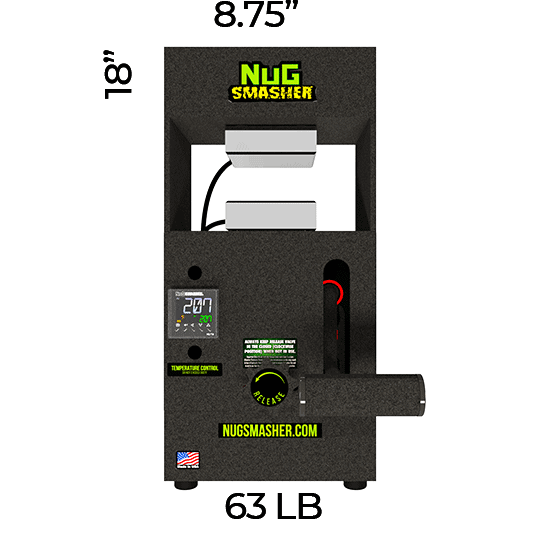 Highlights
4" x 4" plates
Dual heating elements
Fast-retract plate release
We'd be foolish to list rosin presses without mentioning the Nugsmasher OG. It's the best-selling rosin press from Nugsmasher, who are considered to be the authorities on rosin press machines today.
Manufactured entirely in the USA, the Nugsmasher OG has everything you need to get started pressing your own rosin. With 12 tons of manually controlled pressure, a gauge to measure your pressure, and detailed and accurate temperature control, it's got all the features a home rosin presser should look for. While some may prefer automatic pressure control to manual, many consider manual to be the way to go – since you can operate by "feel" for the best results.
If you're looking for your first press, or looking to upgrade, you absolutely can't go wrong with the Nugsmasher OG.
2.

PurePressure Pikes Peak Rosin Press V2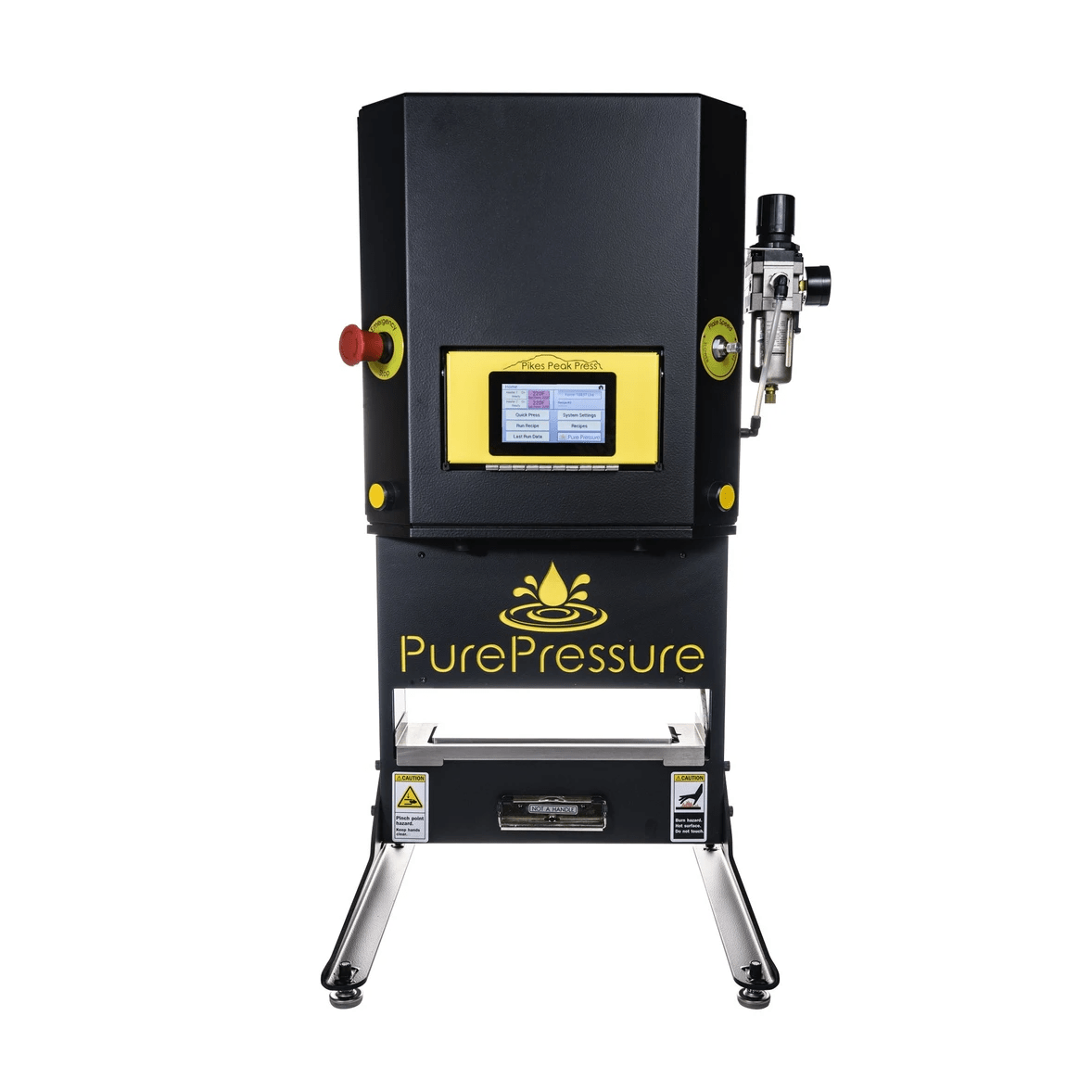 Highlights
Available in both dual and automatic pressure control models
10" x 2.5" pressing plates
Press up to 40g of hash at a time
Often referred to as "the Cadillac of rosin presses," the PurePressure Pikes Peak V2 also carries a price tag comparable to a (used) Cadillac. But there's a good reason for that – this press is absolutely top of the line. You'd be hard-pressed (get it?) to find a better rosin press on the market with a more complete set of features.
The Pikes Peak V2 delivers 5 tons of pressure, even and consistent heating up to 300F, and can be operated at the press of a button – no standing around holding the lever with this one. Unless, of course, you prefer to operate your pressure manually; the Pikes Peak V2 also comes in a dual-mode version that allows for manual pressure operation as well.
Their proprietary software allows you to save presets, so when you've dialed in the variables perfectly, there's no guesswork for next time. Just choose the right preset and you're off to the races.
While this press might be overkill for some home users, you'll know for sure that you won't need to upgrade any time soon.
Highlights
Extract up to 3.5g at a time
Under $500
Small footprint makes it easy to store and move
If you're just dipping your toes into the rosin world, you might not want to spend $6000 on a press right away. That's perfectly fine – you can still create fantastic rosin at home on a much smaller budget.
Enter the Nugsmasher Mini. At just $446, it's affordable for small budgets, but delivers big performance. The 2.5" plates are suitable for pressing 3.5g at a time, which is plenty for many home users. It's got the same sturdy, USA-made construction of other Nugsmasher models in a compact package – measuring just 7" wide. That means it's perfect for the garage or workshop, and won't take up too much space.
The Nugsmasher Mini delivers 2 tons of pressure with 2.5" pressing plates, and has a digital pressure gauge.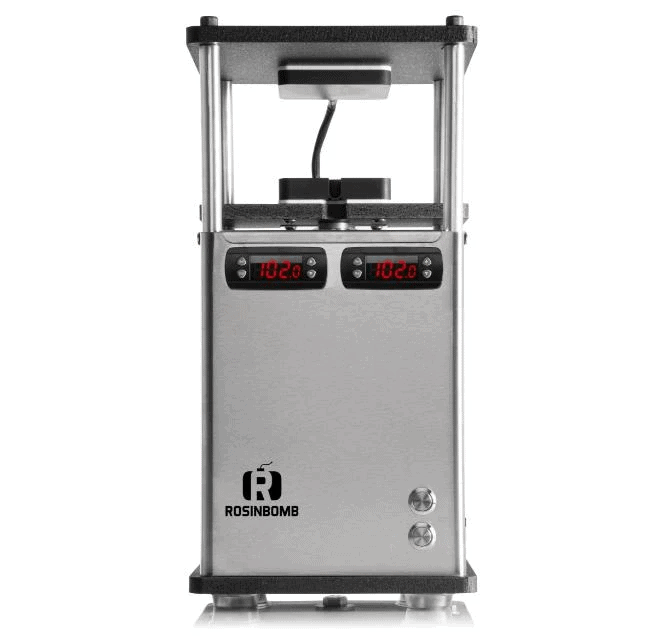 Highlights
Fully electric
Ready to use out of the box
Automatic pressure operation
Looking for something a little more advanced? The Rosinbomb M60 is one of the few fully-electric rosin presses on the market. That means it doesn't use hydraulics to create pressure – just electricity – and it also means no manual operation. For some, that might be a downside, but for most, it means ease-of-use.
The Rosinbomb M60 is fast to set up, dead-easy to use, and produces fantastic results. Because it's all-electric, it's very quiet as well. Their patent-pending "flow channel technology" allows for fast and efficient runoff, which means losing less product in the process.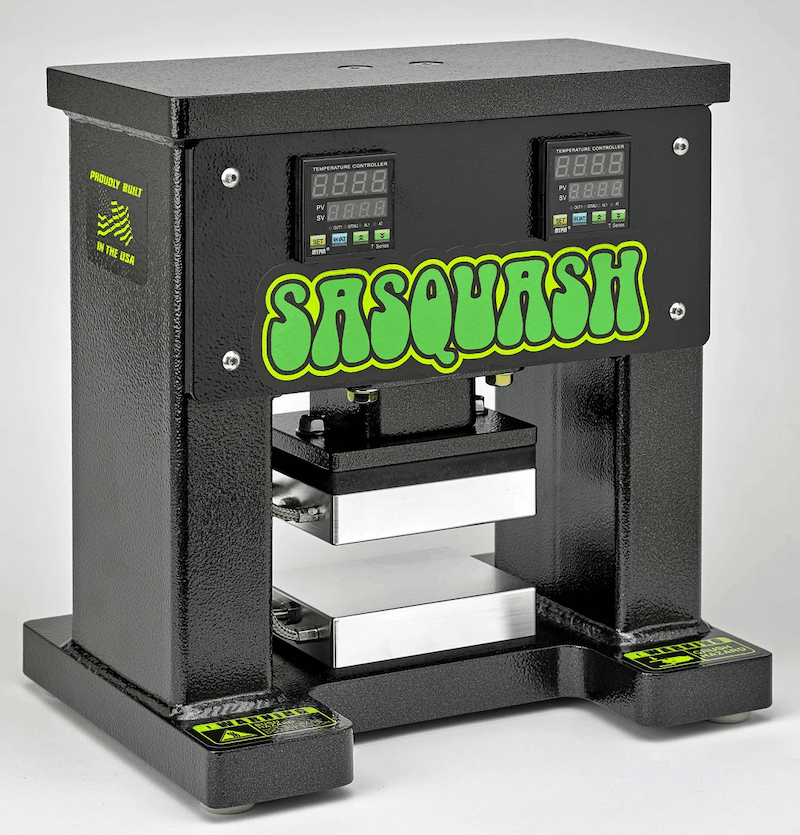 Highlights
FDA-approved coating
Free shipping
Lifetime warranty
Sasquatch is a brand that belongs on any rosin press list. One of the pioneers of the space, they're well known in the rosin community for their quality presses. These machines are built to last – one use and you'll get a feel for their supremely sturdy construction. The Sasquatch M1 also comes with a lifetime warranty, so you know for sure this will be the last rosin press you ever buy (unless you need something bigger).
The Sasquatch M1 rosin press comes in many forms – there are a variety of peripherals and accessories to customize it to any presser's tastes. For example, you can choose between a hand or foot pump to operate pressure – whichever one you find more comfortable. 
It's worth noting, however, that the Sasquatch M1 doesn't ship with a pressure gauge – it must be purchased separately.
What makes a rosin press good or bad?
Rosin presses are fairly new on the market, and new versions with new features are being released all the time. If you ask the pros, there are a whole slew of features you might or might not want in a rosin press machine. But for most people, there are only a few things to pay attention to. 
Remember our three variables we mentioned? Time, heat and pressure – these are the only things you need to create great rosin. Almost any rosin press on the market today will be able to create the right amount of heat and pressure for good results. As for time – that just takes patience!
A great rosin press will have a pressure gauge and temperature display, so that you can keep track of your variables for consistent results. Without these features, you're forced to rely on "feel" rather than any measurable variables. That's not to say you can't make great rosin without a pressure gauge – it'll just take some trial and error before you're able to determine intuitively how hard and how long to press for. If you're looking for consistent results and ease of use, look for a rosin press that has both a temperature reading and a pressure gauge.
Another main difference between different presses is the size and max pressure. These mostly concern the amount of material you can process at a given time. If you're looking to make rosin at industrial scale, you'll need to do very careful research before pulling the trigger. But for the home rosineer, size isn't so important – if your press can only handle 7g of material at a time, you can just do a second press. Time constraints are much less of an issue for pressing rosin at home, where you're not worried about meeting quotas.
Some rosin presses have manual pressure levers, where you pull a lever down to initiate and maintain the pressing process, whereas others are fully automatic. It's often a matter of personal preference which one is better for your needs.
With rosin currently selling for upwards of $100 per gram, there's no doubt that you can make it much, much cheaper at home. If you are anywhere close to a heavy user, a rosin press will pay for itself in time.
For flower rosin, yields max out around 20%. That means if you pressed 10g, you'd get a max of 2g back. Hash rosin can yield much higher, sometimes as high as 60%.