Can CBD really help alleviate the symptoms of arthritis? Research shows that the health benefits of CBD help bring relief from a range of symptoms caused by a multitude of conditions; from Crohn's Disease to acne. CBD–or Cannabidiol–is a natural compound derived from the Cannabis plant. Though they can be derived from cannabis, CBD products have no psychoactive properties. Most CBD is derived from hemp, which contains less than 0.3% THC by law. Current research is promising for a range of applications, and if you're seeking the best CBD oil for inflammation or for joint pain, our full-spectrum, third-party tested CBD product recommendations are sure to help you make an informed decision about the best CBD for arthritis. 
Health experts define arthritis as swelling and tenderness around one or more joints in the body. The primary symptoms of arthritis are joint pain, stiffness, and general joint discomfort. These symptoms unfortunately tend to worsen with age. The CDC reports that 54.4 million people in the United States have arthritis, and name it as a leading cause of disability.  
The most common types of arthritis are osteoarthritis and rheumatoid arthritis. Osteoarthritis is the most common form of arthritis, and involves the deterioration of cartilage between the bones in your joints. Rheumatoid arthritis is slightly more rare and is defined by the inflammation of the synovial membrane, which protects and lubricates joints. This painful inflammation can cause swelling and even eventual joint erosion. 
Treatments for arthritis vary depending on type, but the goal of treatment is primarily geared toward symptom-management and improving quality of life.
Can CBD help with arthritis?
While many more studies need to be conducted in order to make any conclusive statements about the efficacy of CBD for arthritis, there have been promising initial studies which indicate that CBD has pain-relieving and anti-inflammatory properties, but these effects have not been validated in studies on humans. A 2020 study posits that CBD may stimulate anti-arthritic activity which could potentially help alleviate symptoms by targeting the cells that drive inflammation, particularly in cases of rheumatoid arthritis. 
There is significant anecdotal evidence to support the use of CBD for arthritis, particularly to alleviate inflammation and discomfort. Many people who suffer from chronic illnesses want to avoid dependency on harsh or habit-forming treatments and are seeking effective holistic symptom-relief. A recent survey conducted by The Arthritis Foundation asked over 2,600 arthritis patients about their experience using CBD products to manage their arthritis symptoms. While we can't be sure if these individuals were purchasing quality, third-party tested CBD from reputable sources (which would certainly affect the quality and effectiveness of CBD), most patients currently using CBD for arthritis report relief of pain, which is the number one arthritis symptom. Individuals also reported relief from other symptoms: 71% reported an improvement in ability to sleep, and the majority of current users also experienced relief from stiffness, fatigue, and anxiety, as well as improved physical function and mood. 
How to use CBD for arthritis
Further studies still need to be conducted before we can give an informed recommendation about which method of use is best supported by healthcare professionals. However, the 2015 study which explores CBD as a treatment for inflammation in animals with arthritis is based on topical application of CBD compounds. We suggest trying a range of products depending on your symptoms and lifestyle. If you are experiencing localized joint inflammation, consult your doctor and consider trying a topical application of CBD on the area.
If you're more DIY, check out our simple step-by-step guide on how to make a cannabis-infused lotion or cream from home. Or, simply mix CBD with your preferred carrier oil and apply it directly to your skin. Some different carrier oils include: coconut oil, shea butter, argan oil, avocado oil, or olive oil. Different oils can affect people in different ways, try a spot test with your carrier oil before committing.
If you are experiencing more generalized symptoms such as multiple inflamed joints, or trouble sleeping due to discomfort, ingesting CBD in the form of an oil (which you hold under your tongue for 60-90 seconds) or gummies (which you simply eat) could be an effective method of utilizing CBD to address these symptoms. We suggest the best CBD for arthritis in the form of topically applied balms, and orally ingested tinctures and gummies. 
Best CBD products for arthritis
1.

Charlotte's Web Ginger Turmeric CBD Recovery Gummies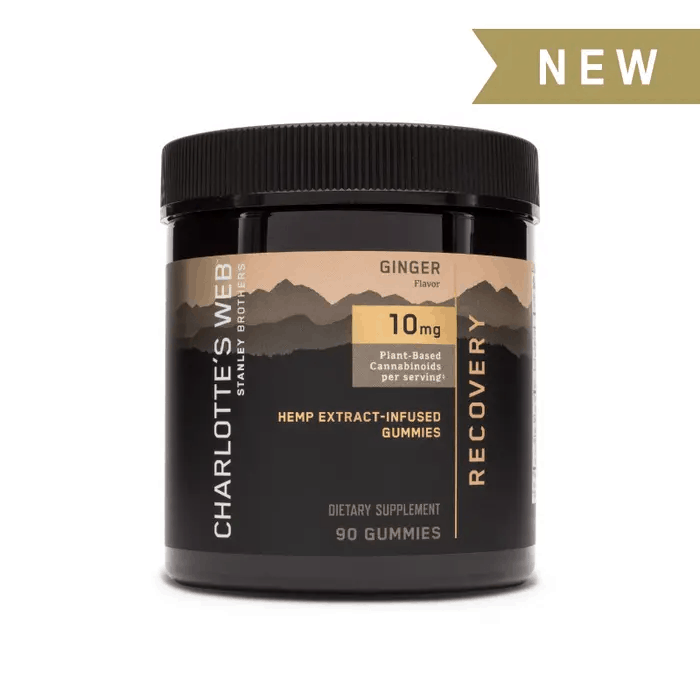 Highlights
Claims to support healthy joints, maintain joint mobility, and support recovery from exercise-induced inflammation
Contains an all-natural botanical blend of ginger, turmeric, and a proprietary whole-plant hemp extract
Gluten-free and made in the USA
Get 15% off all Charlotte's Web CBD products as an AmericanMarijuana reader. Use this at checkout: AMMA
See Lowest Price
We selected these CBD Recovery Gummies from Charlotte's Web because they contain ginger and turmeric as well as full-spectrum CBD. There are 25-50mg of ginger and 50mg curcuminoids from turmeric per serving. These added ingredients have been shown to help reduce inflammation, a major cause of pain, discomfort, swelling, and stiffness that those who suffer from arthritis experience. The gummies only use all-natural vegetable and fruit flavoring and coloring, with no artificial ingredients. This delicious product is tested by a third party to ensure purity and promote transparency with customers, and has 10mg of CBD per serving, perfect for beginners!
2.

CBDfx CBD Gummies with Turmeric and Spirulina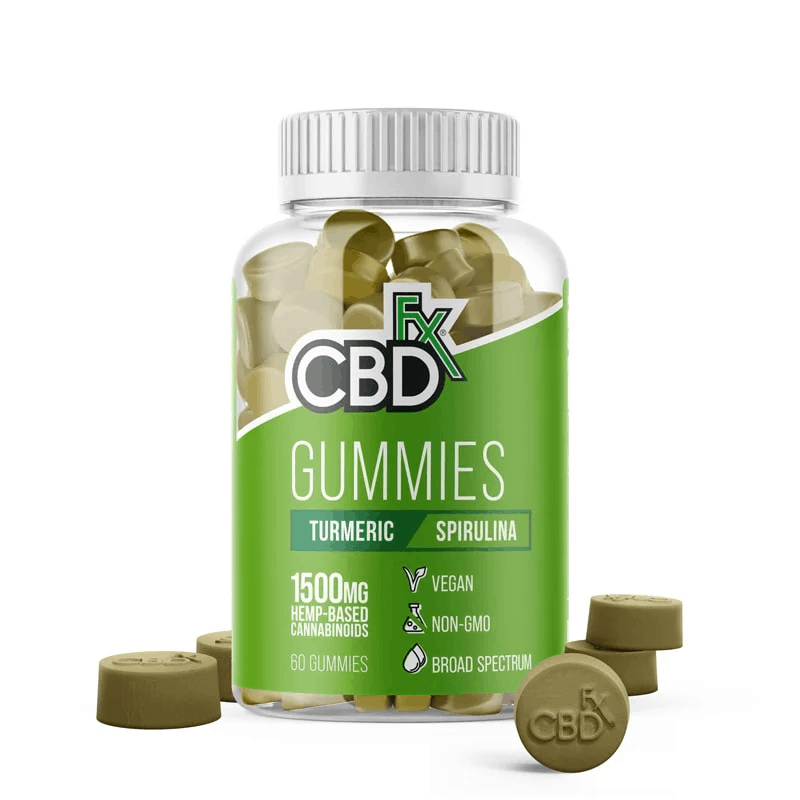 Highlights
Includes 50mg of turmeric and 20mg spirulina which are anti-inflammatory and a source of antioxidants
Vegan, gluten-free, and GMO-free
From all-natural hemp, broad-spectrum CBD
Get 20% off all CBDFx products as an AmericanMarijuana reader. Use this code at checkout: AMMA
See Lowest Price
These CBDfx gummies are made in the USA and provide 25mg of broad-spectrum CBD per gummy. Gummies are a great swap-out for people who don't love the taste of CBD, and want something simple to work into their vitamin routine. These delicious gummies also feature anti-inflammatory and antioxidant-rich ingredients, turmeric and spirulina, which could contribute to the overall health benefits for users. This product is also certified cruelty-free by Peta, and is batch-tested by a third-party lab to ensure the purity and quality of its ingredients.
3.

Medterra Ultra Broad Spectrum Cannabinoid Tincture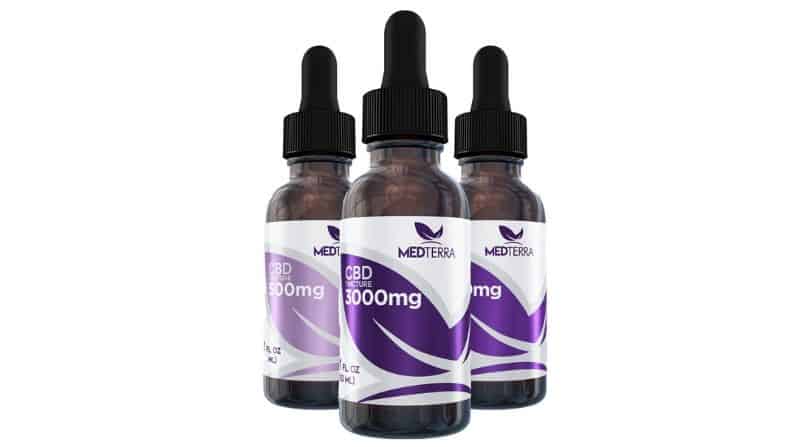 Highlights
Delicious citrus or strawberry-mint flavor
Broad-spectrum CBD contains no THC and additional beneficial compounds such as CBG, CBN, CBC, CBDV, as well as natural terpenes
Available in 1,000 and 2,000mg strengths to appeal to beginners and regular users alike.
Get 25% off all Medterra CBD products as an AmericanMarijuana reader. Use this code at checkout: AMMA
See Lowest Price
Medterra's Ultra Broad Spectrum proprietary formula contains a 10:1 ratio of CBD to other beneficial compounds (CBC, CBN, CBDV, CBG, and terpenes), which work together to produce enhanced health benefits. This phenomenon is called the "entourage effect," and some studies suggest this brings about further reaching and more comprehensive symptom-relief and general health benefits. Medterra Ultra Broad Spectrum CBD Tincture is available in two yummy flavors as well as two different strength options, something for everyone!
4.

Lazarus Naturals Soothing Mint Full-Spectrum CBD Balm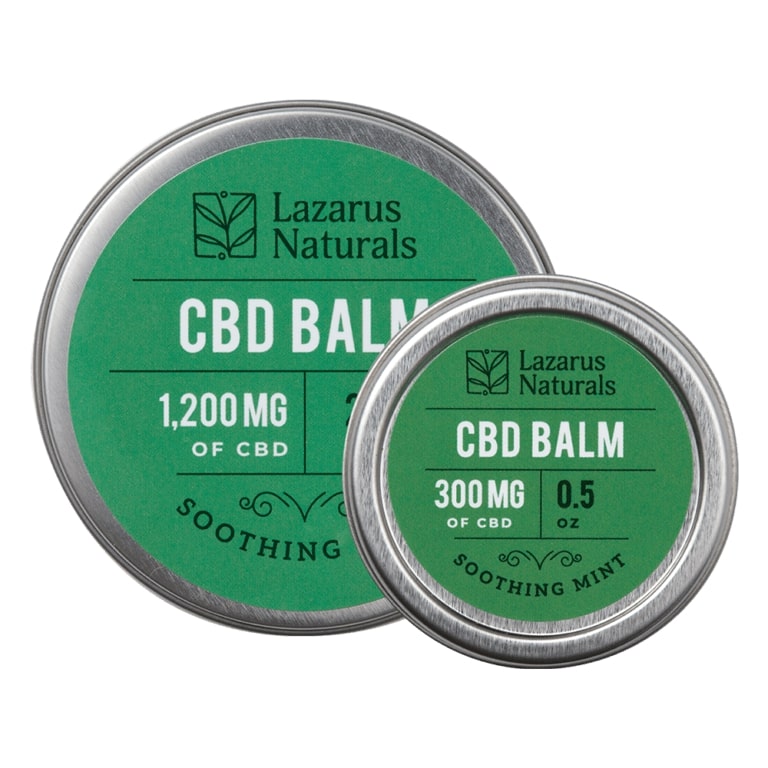 Highlights
This Full-spectrum CBD also features organic beeswax, mango butter, coconut oil, and soothing mint extracts
50mg of CBD per ½ tsp, great concentrate for topical application
Third-party tested for potency and purity
Get 10% off all Lazarus Naturals CBD products as an AmericanMarijuana reader. Use this code at checkout: AMMA
See Lowest Price
This full-spectrum CBD balm combines mango butter, beeswax, and coconut oil with basil, mint, and wintergreen oil. These last two soothing ingredients have been shown to help relieve pain and decrease inflammation. This would be a great product for people new to CBD, particularly if you are suffering from acute or specifically-located discomfort. The multiple sizes offer a great low-stakes option for first-time users. 
5.

CBDistillery Full Spectrum CBD Oil Tincture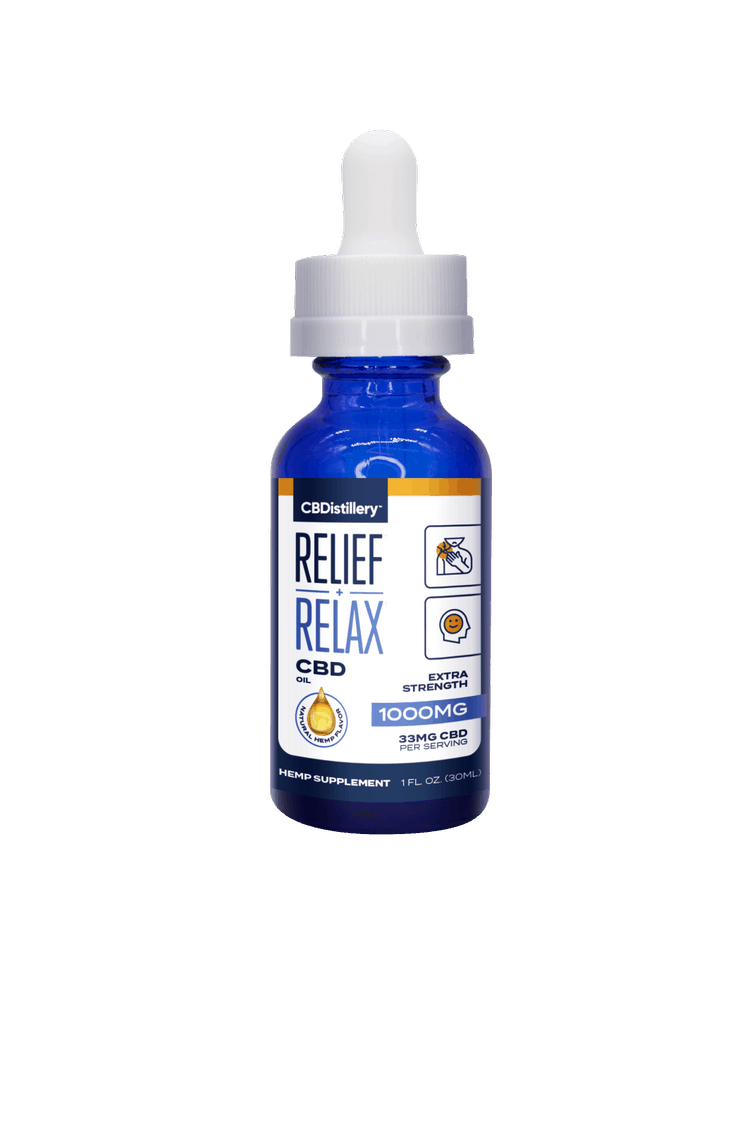 Highlights
Full-spectrum CBD provides a range of naturally occurring plant proteins, minerals, vitamins, and more so that you can reap all of the benefits of the cannabis plant
Third-party tested to ensure quality and consistent dosing
Grown in the USA using natural farming practices, this CBD is Hemp-Authority certified non-GMO
Get 15% off all CBDistillery products as an AmericanMarijuana reader. Use this code at checkout: AMMA15
See Lowest Price
This CBD oil tincture from CBDdistillery delivers 33 mg of CBD per serving. As a full-spectrum product, this tincture contains all the compounds found in cannabis as well as a range of natural compounds, and additionally contains THC at levels lower than 0.3%. A good product for beginners, people who are managing symptoms of arthritis could benefit from this straight-forward, quality CBD product. 
Now that you know all about CBD for arthritis, you're ready to choose a CBD product. With so many different brands and types of products out there, it can be a little overwhelming to choose the right one. Here's what to keep in mind when buying a CBD product for arthritis:
Topicals might be your best bet
Since topicals allow for targeting CBD directly to the affected area, they're a fantastic choice for localized arthritis. For example, if you mostly experience arthritis pain in your hands, you can apply CBD topicals directly to your hands, rather than taking an oil orally. 
Full spectrum is often best
As with most uses of CBD, full spectrum CBD is considered by many to be the most effective formulation for arthritis. That's because you benefit from the Entourage Effect created by the full range of cannabinoids when you use full spectrum CBD. There are a couple of reasons you might want to avoid it, however – since it contains trace amounts of THC, it may not be suitable for those who are sensitive to THC, or who undergo drug testing.
Whenever you're buying CBD products, you should always look for something that has been lab tested, ideally by a third-party lab. This lets you verify both the cannabinoid content, and the safety of the product – lab tests will show you everything that's in the product, from CBD content to presence of residual compounds like mycotoxins or heavy metals.
Best CBD product for arthritis
Based on these criteria, we recommend Charlotte's Web Ginger Turmeric CBD Recovery Gummies as our #1 pick for CBD for arthritis. Since they contain both full spectrum CBD and turmeric, both known to help with inflammation, they're a fantastic choice for anybody looking to address arthritis with CBD. 
How much CBD to take for arthritis
There currently aren't any formal guidelines on how to use CBD oil to treat arthritis symptoms such as inflammation, pain, or stiffness. However, when using CBD your body is able to utilize more of the naturally occurring cannabinoids in the body which can promote a range of benefits, including decreased inflammation and anxiety.
A 2017 study suggests that a single 300-mg dose may be enough to reduce anxiety and that low doses in general could reduce inflammation, which may be of assistance to people with arthritis. It is always best practice to start with a smaller dose and gradually increase to allow your body time to get used to the oil and reduce the risk of side effects.