Wouldn't it be great to find amazing Delta 8 THC carts quickly and easily? Now you can. After a good amount of research and extensive due diligence, we compiled some of the best vape carts around.
We looked for cartridges that contained high-quality hemp, cannabis strain-specific terpene profiles, had zero cutting agents, utilized premium materials and hardware, and more. Before sharing the products that made the list, let's cover a few important, pressing questions about Delta 8 THC. 
There are over 100 identified cannabinoids in the cannabis plant, and Delta 8 THC is one of them. Some of the most well-known cannabinoids include CBD, Delta 9 THC, CBG, CBN, and a few others. Delta 8 has psychoactive properties, like its close relative Delta 9 THC. The properties and effects aren't quite as strong as those in Delta 9, but they're definitely noticeable.
What are Delta-8 THC carts?
Delta 8 THC cartridges, or carts for short, are compatible with certain vape pens, also called batteries. The cart itself usually holds a half or one full gram of vape oil. And this oil mainly consists of Delta 8 THC distillate. The rest can contain flavors that come from cannabis-derived terpenes, botanically-derived terpenes, natural, or artificial flavors.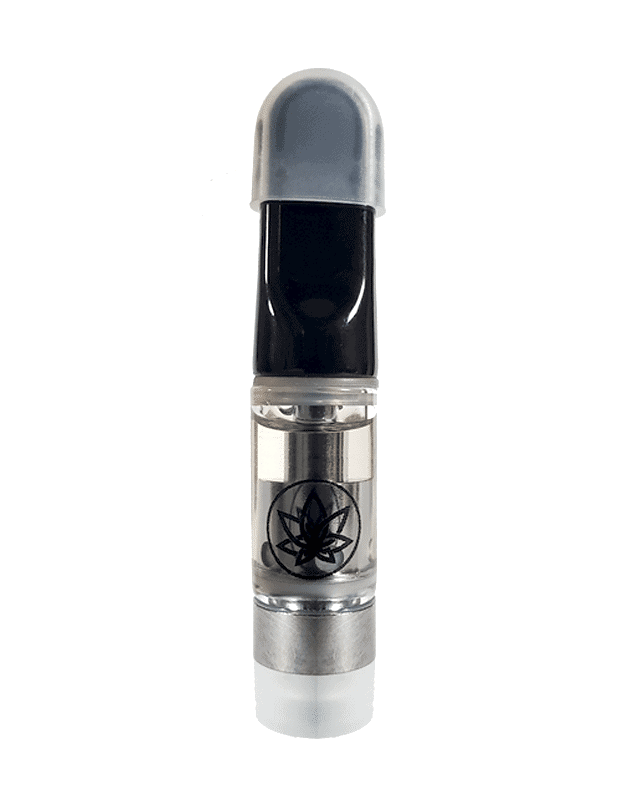 Highlights
Some strains contain cannabis-derived terpenes (CDT)
Third-party lab tested for potency and purity
Company founded by a highly-skilled, veteran biochemist
3Chi is one of the leading companies making hemp-derived Delta 8 THC products. Not only vape cartridges, but D8-THC edibles, tinctures, and concentrates too. Its name comes from the Chinese word for life force energy. And when you combine '3' with 'Chi' it means balancing life force energy between the mind, body, and spirit. 
When you check out 3Chi's Delta 8 THC vape carts, you'll see that there are more than 30 varieties to choose from, all with flavors inspired by an Indica, Sativa, or Hybrid cannabis strain. Over half of the selection of vape carts includes cannabis-derived terpenes, while the other strain options include botanically-derived terpenes.
Even more, the company pays a third-party lab to run a terpene analysis so you can see exactly which terpenes are present in the formula and at what percentage.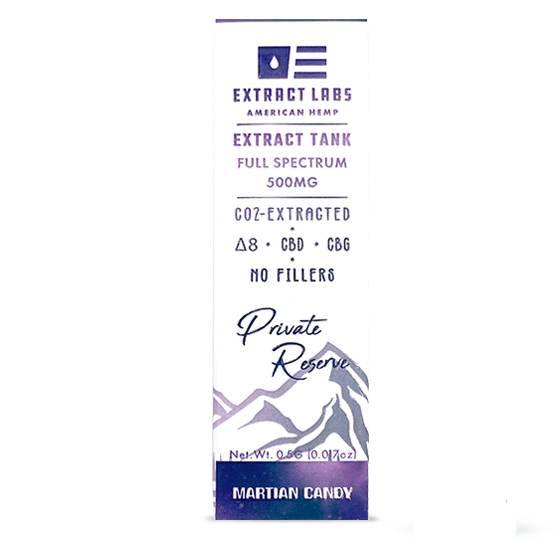 Highlights
60-day money-back guarantee
Free of natural flavors and cutting agents
Internally lab-tested for potency and major contaminants
This privately owned CBD company started out selling only CBD-based products but later expanded its offerings to include other cannabinoid-based products including those with Delta 8 THC. Extract Labs does everything in-house to ensure it has eyes on every part of the process. As a result, it's confident in the quality, potency, and efficacy of its vape cartridges.
In addition, Extract Labs Delta 8 THC vape carts only contain CO2 extracted D8 distillate and cannabis-derived terpenes. The company itself extracted the cannabis terpenes and provides a pie chart on its website showing the ratios of each terpene in the vape tank.
Also, Extract Labs finds it more beneficial and cost-effective to do a lot of the testing in-house. Its lab runs a cannabinoid profile analysis and checks for pesticides, heavy metals, and residual solvents.
3.

Delta Effex Blue Dream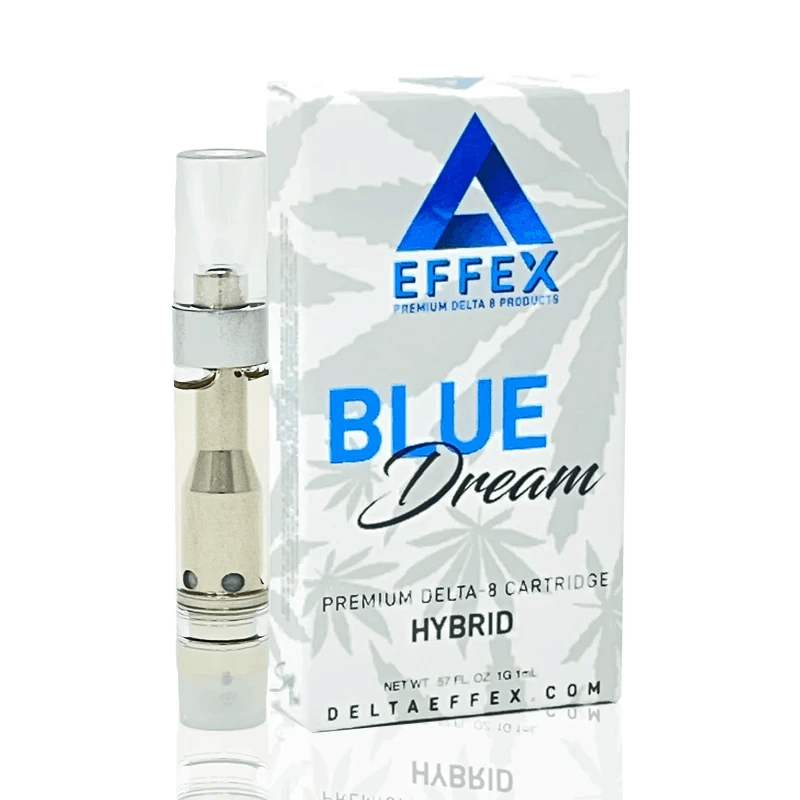 Highlights
The company specializes in Delta 8 THC products
Terpene infusions mirrored after popular cannabis strains
Subscribe and save 15% off
The Delta Effex brand focuses solely on Delta 8 and Delta 10 THC products. Besides carts, the company also carries disposable vape pens, edibles, pods, tinctures, and D8 infused hemp flower. They source high-quality hemp and the lab test results prove this. Based on the lab tests, there are no pesticides, heavy metals, mycotoxins, or microbial contaminants.
As for the Delta 8 THC cartridges themselves, there are several different flavors to choose from, all with specific cannabis terpene profiles. Also, the formula is simple, with no cuttings agents like PG, VG, PEG, MCT oil, or any others. Only the necessary components like the Delta 8 distillate and the natural terpenes get included.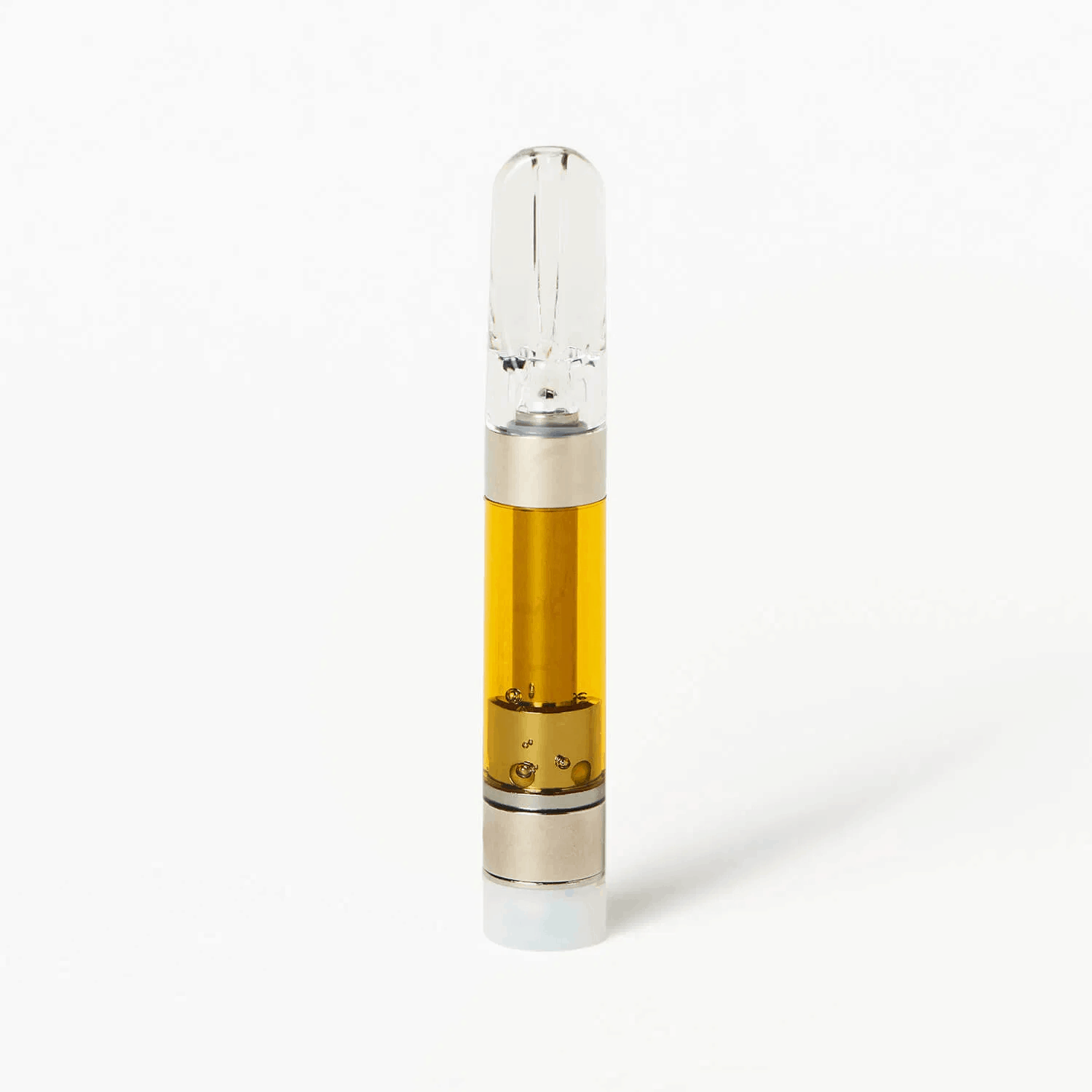 Highlights
Uses organically grown hemp extracts in the formula
Full-spectrum vape oil with CBG, CBN, CBC, and CBD
Third-party lab tests for pesticides, residual solvents, and heavy metals
Since 2018, VIIA has been on a mission to create honest hemp-based products that help people find their way towards healing. Also, with a focus on quality and purity, the company sources organically cultivated hemp and pays an independent lab to test the hemp extracts.
As of now, VIIA vape carts come in five unique terpene profiles, each of which mimics the profile of an admired cannabis strain. In addition, there are no cutting agents like PEG, Vitamin E, MCT oil, or PG/VG.
Lastly, the company partners with 1% For the Planet, whereby it donates a portion of its profits to various environmental organizations.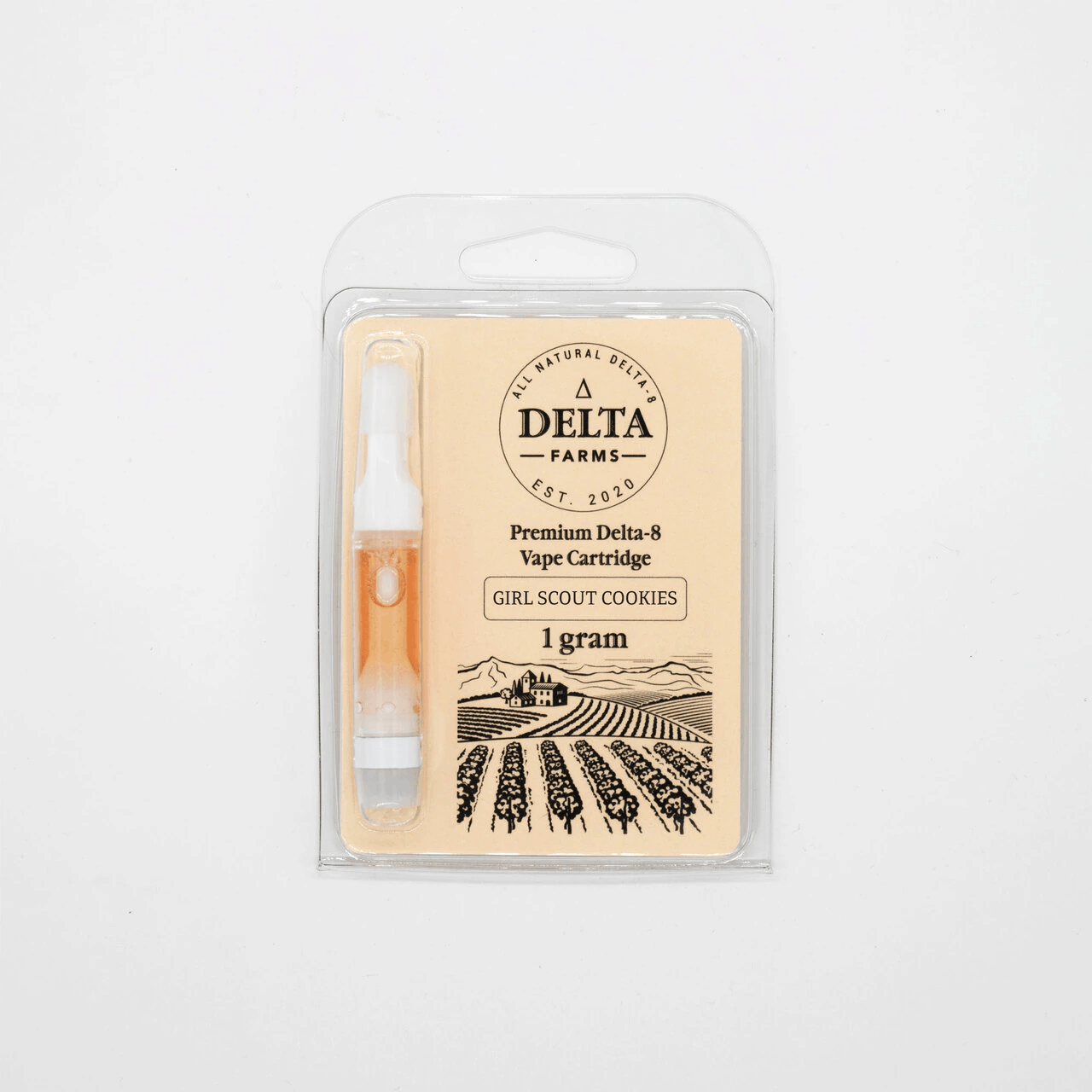 Highlights
Labs test the potency and check for heavy metals and residual solvents
Sources organically-grown hemp
Uses ceramic cartridges for richer flavors
Industry veterans, cannabis farmers, and scientists came together to form Delta Farms. They have farmland in Southern Oregon and Central California where they grow hemp outdoors as well as in greenhouses. Furthermore, the company specializes in Delta 8 vape cartridges and tinctures. Combined, there are over a dozen cart flavors to choose from, and their tasting notes come from botanically derived terpenes inspired by potent and tasty cannabis strains.
For instance, you'll find strains like Gelato, Granddaddy Purple, Northern Lights, Pineapple Express, and more. Each cart is equal to about 1 gram and has 92% or more of Delta 8 THC distillate. Also, since Delta Farms uses ceramic parts rather than metal when you take a hit from the battery, the tasting notes are sharp, bold, and delicious.
What does Delta-8 THC feel like when you vape it?
When you vape a Delta 8 vape cartridge, the onset of effects happens quickly. This is true of any cannabis-based product you smoke or vape. Through inhalation, the benefits of the product reach your lungs immediately and therefore the effects manifest within minutes, or even less.
Some of the reported effects of vaping Delta 8 range from feelings of relaxation, to slight euphoria, calmness, and overall contentment.
There are many Delta 8 THC products for sale online or at local retailers. Yet, not all are made with the same level of quality as others. That's why we put this list together, to narrow down the number of vape cart options to only the best of the best. This can make it easier for you to find the perfect cart for your vape pen. 
Hemp strains don't contain a large percentage of Delta 8 THC, so the process to produce a high content of Delta 8 requires special conversion and refinement. Companies will often start with CBD isolate and then synthesize it into D8-THC distillate.
At this point the levels of D8 are significant and companies can therefore make potent products from the distillate, like vape carts.
According to the U.S. Hemp Farming Act of 2018, any constituent of the hemp plant is legal as long as it contains less than 0.3% Delta 9 THC on a dry weight basis. It doesn't make any delineation about Delta 8 specifically. So, at the federal level Delta 8 THC is legal.
However, some states in the U.S. aren't permitting the sale of Delta 8 products. Be sure to look up the local laws in your state before you buy.