Machine trimming can be a great option for a number of reasons, but looking at the best bud trimming machines can get a little confusing. Perhaps you have a couple grow tents and can't handle all the trimming yourself, or you're scaling up production in a big grow to accommodate larger harvests. No matter the reason, there's lots of different options that are available to you, and you'll have to decide which product is most suited for your needs. Below is a list of the best weed trimming machines that range from home use purposes to full commercial production settings. 
What is a bud trimming machine?
A bud trimming machine is designed to take the labour out of trimming. There's options that keep the trimming process hand held, or others that completely remove any physical labour besides loading the bud in and packaging it once it's trimmed. A trim machine removes unwanted leaves from your flower quickly and with little effort from the user. 
Best bud trimming machines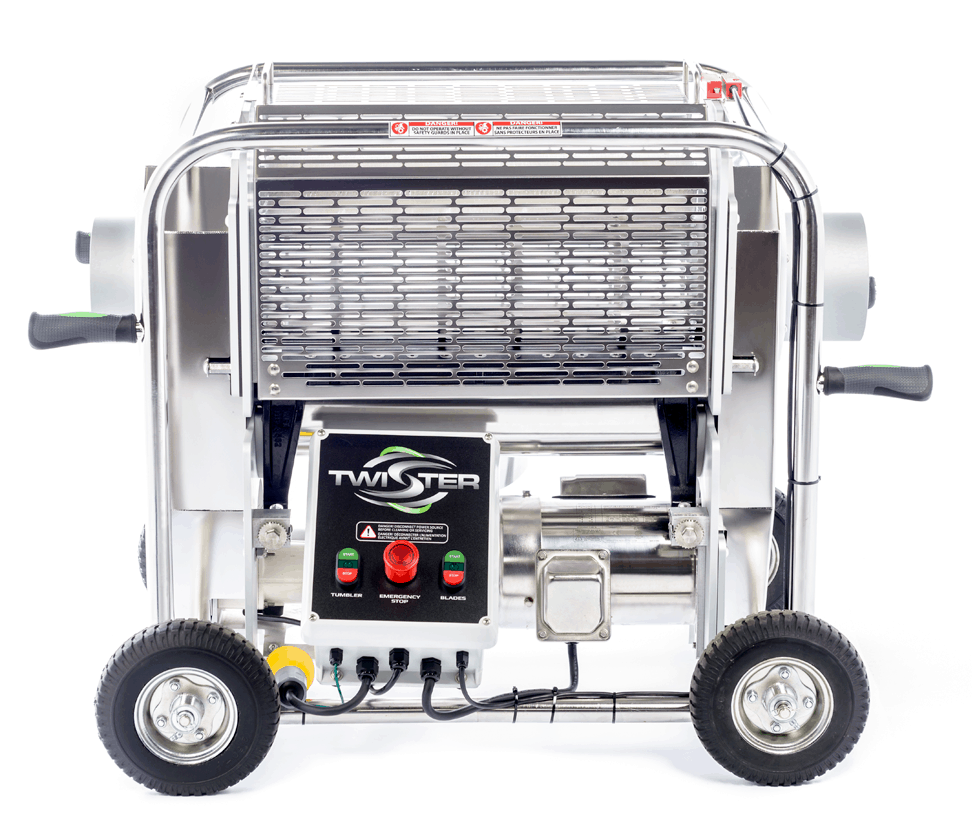 Highlights
Can run multiple units in tandem
Built on wheels
10 year warranty
Here we have the top of the line. The Twister T2 model is the most used trimmer among commercial growers all across the world, it's an automatic weed trimmer.  Multiple units can be set up with a conveyor system pushing out over 85lbs/hour of wet trim. It's very portable as it's frame is set on wheels, easily moved around by a single person. The adjustable features allow almost complete trim for most cultivars, especially running one machine into another. Most importantly you're able to change the incline or the machine, the loading speed of the hopper, and the time the bud takes in the tumbler from end to end. It's designed to be taken apart for maintenance and cleaning in just a few minutes reducing down time. The warranty for this product is exceptional giving customers 10 years of coverage. This is very reassuring when you're trimming thousands of pounds of product.
Product specifications:
Size: 215lbs, 42.5"L, 27.5"W, 32.5"H

Materials: Stainless Steel

Unique Features: Conveyor add-ons available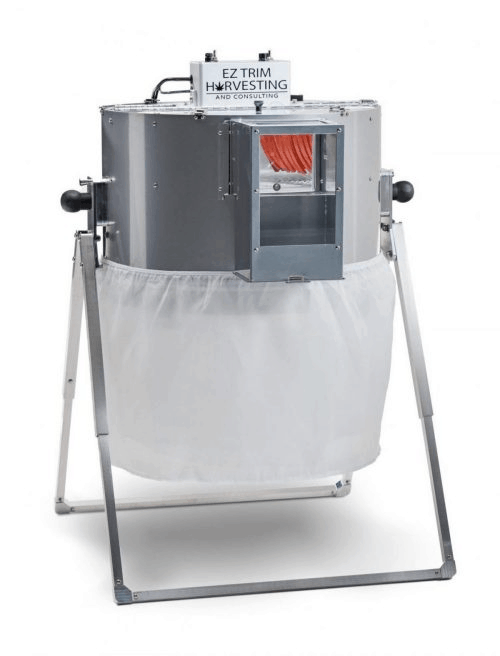 Highlights
Control cycle times
Wet and dry trim settings
4 bag filtration system
The EZTrimmer is pretty similar to the iPower Bowl Trimmer in its technique, but not in its capability. This is another trimmer to be used in a medium to large harvests. Compared to the Centurion or the Twister, this may even have more cutting power. The blades in the unit can be adjusted along with a number of other variables to cater to the moisture content of your bud, allowing both wet and dry trim. It rotates the buds over a grate using suction and airflow pushing the bud as it's done to a slot that drops to a container you place below, removing trim to be graded. It's capable of trimming 44lbs wet or 11lbs dry in an hour's time. While this unit isn't as productive as some of the other options it doesn't make nearly as much noise doing it. 
Product specifications:
Size: 85lbs, 32″L x 43″W x 43″H

Materials: aluminum, silicon, stainless steel, nylon. 

Unique Features: Includes free onsite training and harvest consultation.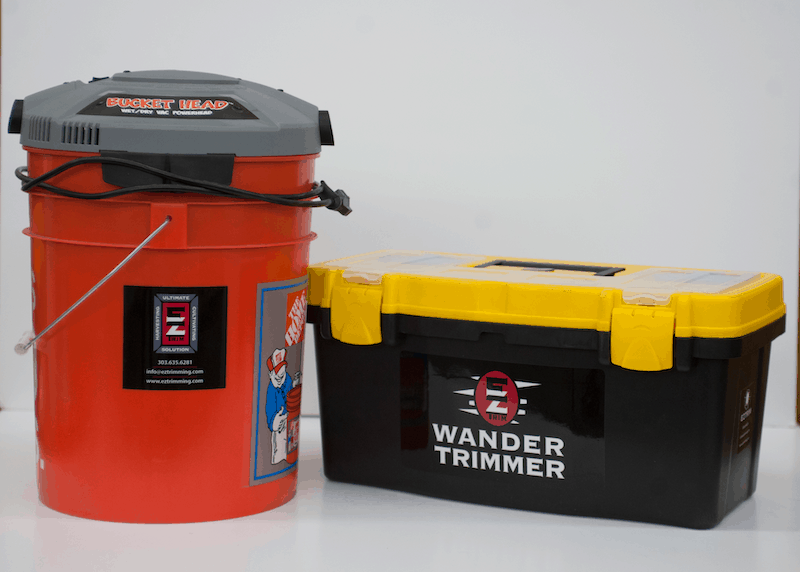 Highlights
Hand trim quality
Minimal clean up
Light weight
The Wander Trimmer from EZTrim is where you start to get into a higher price bracket with an MSRP of USD$2000, but a product that is considered to cause the least damage to the plant, the price tag could very well be worth it. It has multiple components that takes a bit of time and space to set up, but once it's in place it easily replaces 4 hand trimmers pound for pound. This trimmer is designed for wet trim only and intended to be used with bud still on the stem, allowing the bud to still be hang dried.
The Wander Trimmer is meant to be used with a tapping motion that feeds the leaves into the mouth of the blade. The blade itself is housed in a protective tube, keeping the blade from ever touching the buds directly. It attaches to a bucket vacuum that draws all the leaf trim away from your work space leaving almost no plant debris behind. Between the quality of materials, and the design that's focus to your buds safe this is easily one of the best if not the absolute best hand held machine trimmers on the market right now.
Product specifications:
Size and mechanism: 30lbs, electric machine trimmer, multiple components 

Materials: aluminum, stainless steel, silicon 

Unique Features: Vacuums trim waste, hand held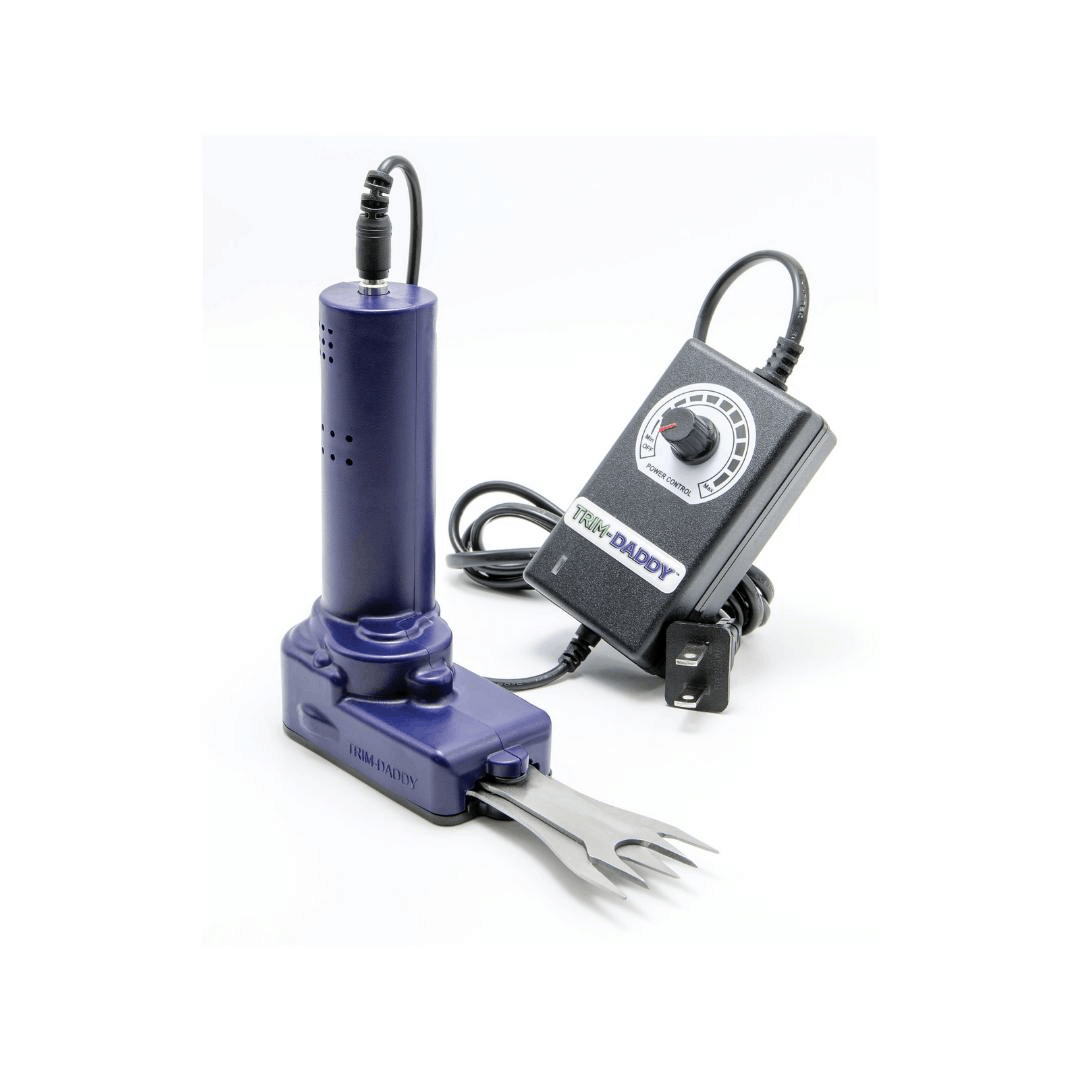 Highlights
Smaller design
Speed dial
No assembly
Trim Daddy has been improving their product for a while now. This is the third generation of the Trim Daddy bud trimmer. The advantage that this trimmer offers versus traditional gardening machine grass clippers is that it's smaller, both in the size of the unit and the size of the blades. The size gives you a lot more comfort compared with other models. There's a speed dial that's great to change depending on your skill and you can really let the trimmers do the work for you. This is much quicker than scissors but is also pretty rough on your flower, you'll need to take your time.
Product specifications:
Size and mechanism: electric, hand held, 3 inch blade 

Material: Plastic and stainless steel

Unique features: speed dial, replaceable blade sets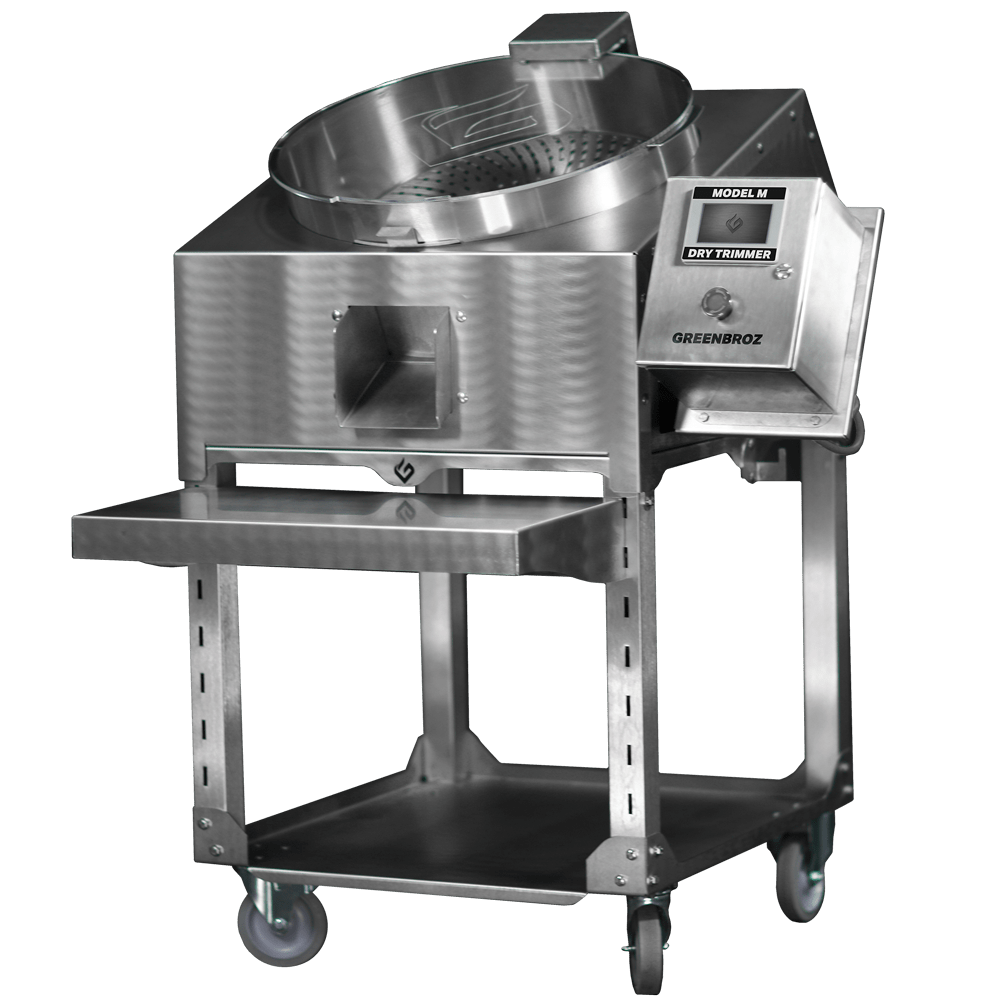 Highlights
Specific for dry trim
Minimal bud contact
Future proof
The Model M is again pretty similar to the iPower or EZTrimmer, but the difference here is that it's built specifically to manicure dry cannabis. It trims dry flower at 8-12lbs/hour. The motor in the unit is completely encased within the body of the trimmer, and the electrical components can be easily removed so it's pressure wash ready in just a couple seconds.
Unlike the similar products on the market there's no brushes moving the buds around, instead using directional plates and a rotating bottom, reducing the surface area contact for your product. Where this is one of the only large(ish) scale trimmers that are meant for dry flower, and having been built to be future proofed to meet requirements set in regulations, it certainly stands above other options.
Product specifications:
Size: 190lbs including stand, 51″H x 37.25″W x 41.25″L

Materials: surgical stainless steel, food-grade stainless steel
6.

iPower 19-inch Leaf Bowl Trimmer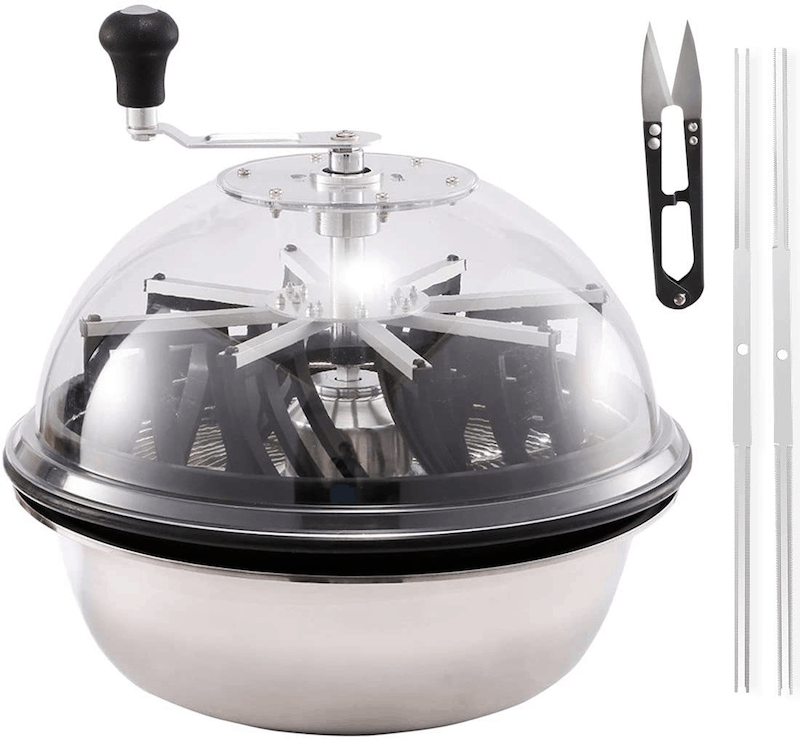 Highlights
Table top machine
Hand powered
Very affordable
This bowl trimmer is ideal for both wet and dry trim, and comes with 2 blade attachments specific to wet or dry. The unit is very easy to disassemble, making storage and clean up a breeze. The brushes push leaves through the grate and a rotating blade chops them off, so lanky loose nugs may get cut too. Like any hand powered tool there's some skill that goes along with this. You'll quickly learn the correct speed to turn the handle at, and how many rotations the buds need. The clear dome lid makes it easy to check visual indicators showing you when the buds are fully trimmed. At $176.78, this is relatively affordable for home growers and will take a lot of work out of the equation.
Product specifications:
Size and mechanism: 19 inch width, hand powered

Material: plastic and metal 

Unique features: clear dome lid, comes with different blades 
7.

Centurion Pro Original Trimmer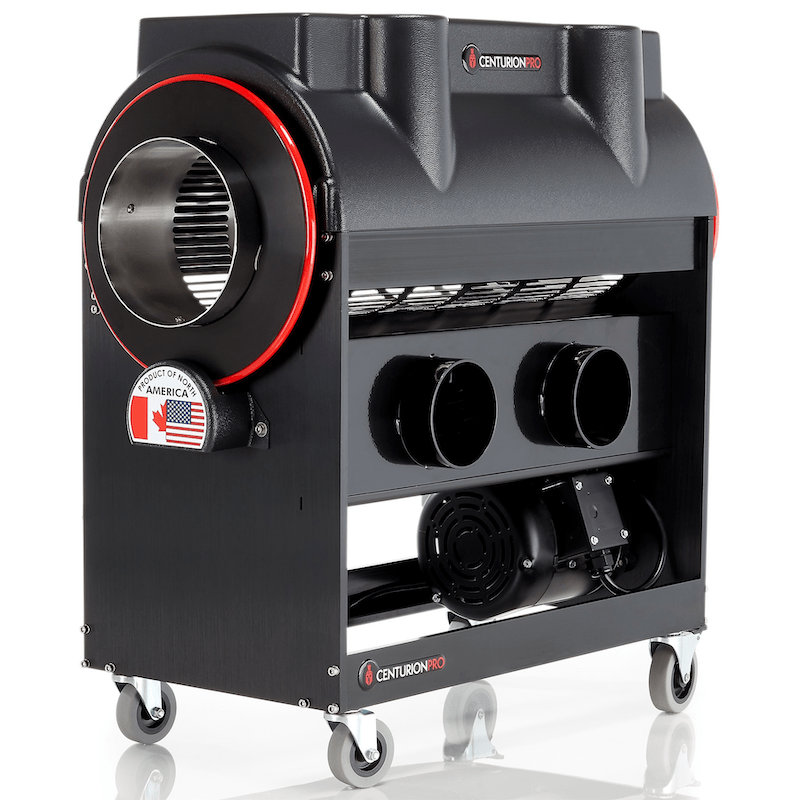 Highlights
Kief separation
Integrated Bluetooth speaker
Middle range price point
Another machine that's best suited for wet trim, the Centurion Original is a tumbler meant for medium to large amounts to be trimmed immediately after harvest. While it's advertised as being wet or dry trim, they suggest spraying your bud with water before using for dry trim, which isn't the best practice to ensure your cannabis is mould free. These machines are however great with wet trim, cranking up your usual hand trim methods to 75lbs of dry trim per hour. It also comes with a suction system to remove leaves, and includes kief separation in 3 different grades. They have a couple different options in their product line that are better suited for large scale productions. The reason this product is ranked lower is that the prep time to set it up, tear it down, and clean it out can add up. That along with the price of roughly $7500.00 really isn't ideal for a predominantly wet-trim-only machine of this size.
Product specifications:
Size: 90lbs for the tumbler, 70lbs for the leaf collector. Just under 50 inches in length for both pieces with a height of 26inches, and 20 inches at its widest point.

Materials: stainless steel, anodized aluminum 

Unique Features: Can be upgraded with different components, including noise reduction. Also has cup holders, but maybe don't bring a drink near your cash crop. 
Pros and cons vs hand trimming
The main debate around machine trimming is about the damage that's done to the bud. More specifically the damage done to the trichomes. A machine that's too rough cuts down the overall THC content of your flower, which really defeats all the expertise that goes into growing high quality cannabis. Some machines can even eat away small fluffy bud. Hand trimming flower will ensure attention to detail, and remove some of the hazards to the quality, and is the easiest route to producing craft cannabis. However when trimming hundreds of pounds, this can be extremely inefficient. 
Final thoughts + best bud trimming machine
All of these different options can handle most types of bud, wet or dry, in large volumes. The quality that they produce and the cost associated with it are the major factors that separate the worst from the best. The Wander Trimmer is the perfect solution on any scale of production, possibly the best bud trimming machine out there. For the cost of some of the more expensive trimmers listed above you could have 5-10 of these in the hands of experts who know what craft cannabis should look like. This trimmer has minimal contact with the buds by design, keeping your potency at its highest and giving you complete control of how tightly you want your cannabis trimmed. 
Yes, bud trimmers do both wet and dry trimming. Some machines are meant for one or the other, but lots do both. 
This depends on the amount of cannabis you're trimming. For a home grower with just a couple plants, I really wouldn't suggest spending the money on a trim machine. But for larger productions this will be a necessity.