It seems like every other day, we are introduced to new CBD products entering the marketplace, and as CBD lovers ourselves, we have no complaints. The consistent influx of products hitting shelves further expands the ways people can take advantage of the therapeutic benefits CBD has to offer, like pain relief, managing anxiety and depression, and regulating sleep cycles. Getting your daily dose of CBD has never been easier with endless options of oils, topicals, edibles, flower, and more. One of the more popular consumption methods is water-soluble CBD. If you've never heard of this term before, sit back and let us explain the latest CBD process to you. Water-soluble CBD reviews are popping up everywhere, and we've put in the time to sift through them to rate our top 5, so you can choose the best product for you and your unique CBD needs.
What is water-soluble CBD?
You know how it goes, oil and water, they just don't go together. Traditional CBD oil needs to be taken sublingually, aka under the tongue. It cannot be mixed with liquids because it is fat-soluble, but there is a new process called nanotechnology that is changing the game. Nanotechnology makes CBD particles smaller than the regular extraction process to create particles that can mix easily with water. These nano-sized emulsions lead to greater absorption and efficacy. Water-soluble CBD typically comes in the form of tinctures or powders that you can easily mix into food and drinks without sacrificing bioavailability. 
Why is it better than regular CBD?
Compared to regular CBD oil extraction, water-soluble CBD is said to make it easier for cannabinoids to be absorbed by the body. If you want to get all scientific about it, Dr. Itzhak Kurek, the co-founder and CEO of Cannformatics, states, "Nano CBD is a CBD molecule packaged in nano-carriers that are the size of about 100 nanometers — or one-billionth of a meter — which allows the "package" to stay in the body for a longer time and to slowly release the intact CBD in the targeted tissue." To further illustrate his point, a 2017 study by the European Journal of Pharmaceutical Sciences reported a 600% increase in bioavailability of oral Nano CBD compared to regular CBD. 
Best Water-Soluble CBD Products
1.

American Shaman Full Spectrum Tincture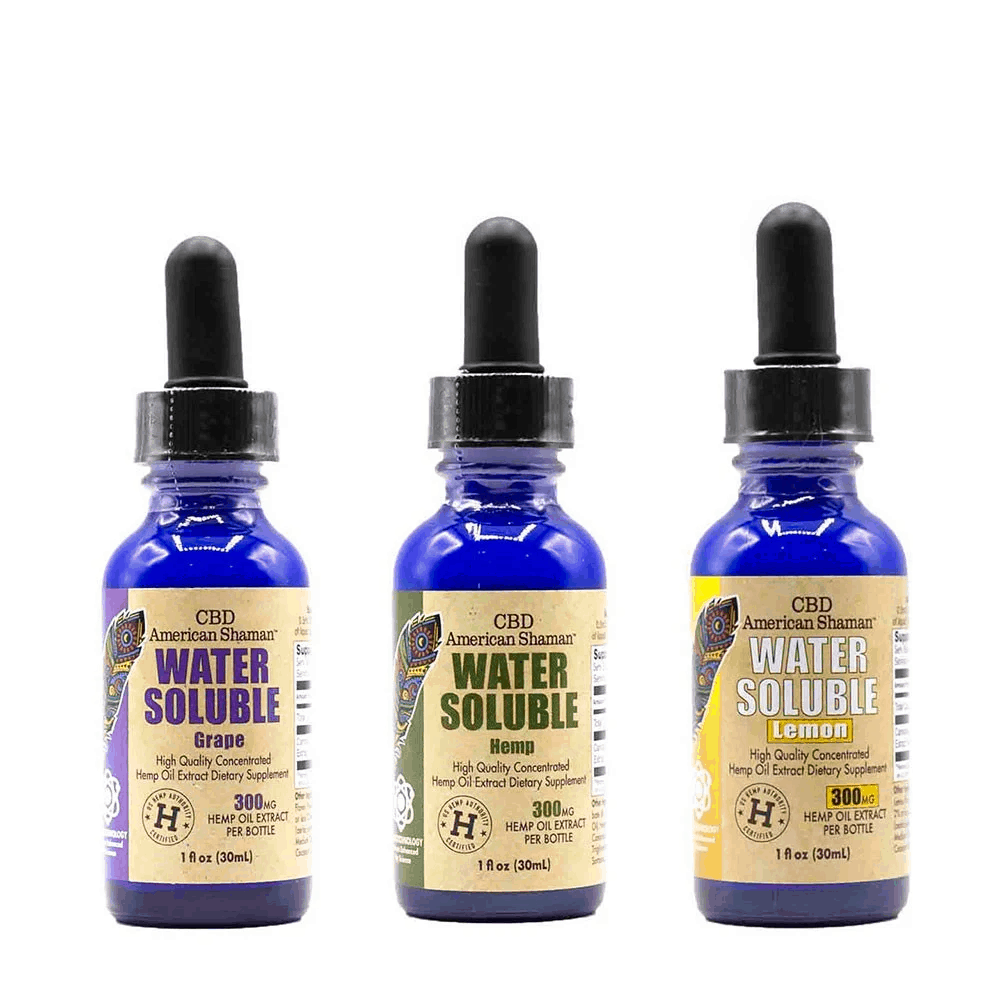 Highlights
Five delicious flavors including Cherry Limeade, Grape, Hemp, Piña Colada, or Lemon
Can be added to any drink to make incorporating CBD into your routine even easier
Full Spectrum formula means that multiple cannabinoids all work together to maximize their therapeutic properties
Get 20% off all American Shaman CBD products as an AmericanMarijuana reader. Use this code at checkout: AMERICAN20
Get Discount
Size of product: 30ml
Potency (mg/ml): 300 mg
Price per mg of CBD: 0.19/mg
Ingredients: Purified Water by Reverse Osmosis, Concentrated Cannabinoid, Terpene Rich Hemp Oil, Citric Acid
This is our pick for the best water-soluble CBD because of its epic versatility. Having a tincture that you can take with you and not worry about dropping under your tongue is a game-changer. This is also the perfect choice for beginners because of how easy it is to use. Add this to your water throughout the day, or get a mouthful of CBD benefits with your morning bowl of yogurt and granola. The possibilities are truly endless with these full spectrum flavored water-soluble CBD tinctures. American Shaman recommends using this product twice a day to help combat stress, anxiety and promote a sense of relaxation.
2.

CBDfx Focus and Chill Shots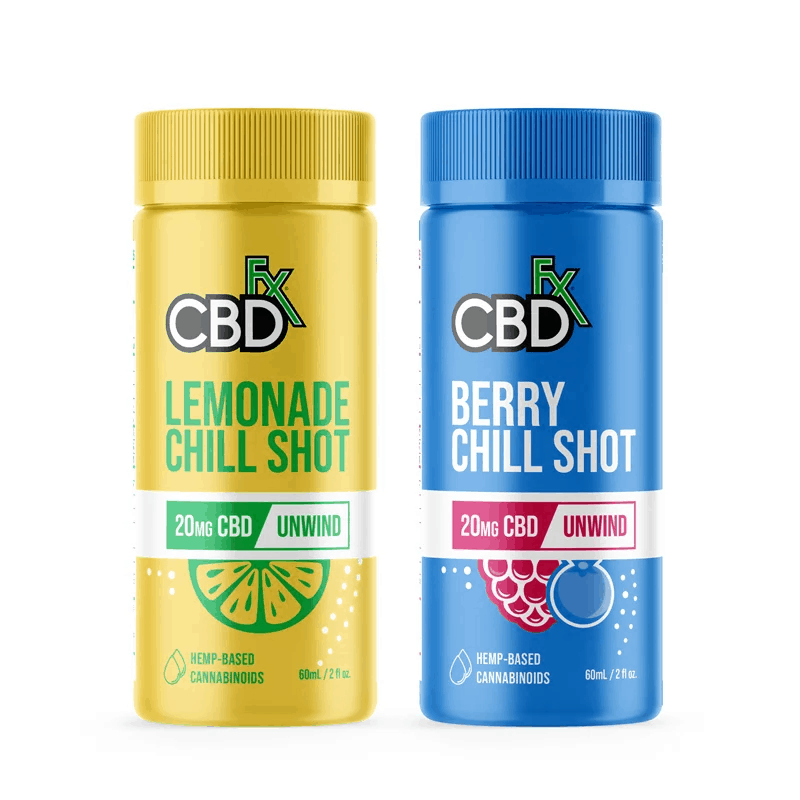 Highlights
Pre-measured ready-to-drink shots to use when you need to relax or amp up the energy
CBD is derived from hemp plants grown organically at state-of-the-art partner farms in Kentucky
Added vitamins to enhance effects from 20mg of broad spectrum CBD
Get 20% off all CBDFx products as an AmericanMarijuana reader. Use this code at checkout: AMMA
Get Discount
Size of product: 60ml
Potency (mg/ml): 0.33mg/ml
Price per mg of CBD: 1.04/mg
Ingredients: Water, Allulose, Juice Concentrates, Natural Flavors, Hemp Emulsion, Natural Plant Extracts
We are slightly obsessed with these shots. Plus, these won't give you a hangover—they provide the opposite, actually. Whether you are looking to chill out or need a boost of energy and focus, CBDfx shots are convenient and pre-measured to deliver 20mg of broad spectrum CDB. The chill shots help you unwind with added vitamins that promote a sense of calm and wellbeing, such as L-Theanine, an amino acid that is said to help ease anxiety, stress, and reduces insomnia. The focus shots will wake up the senses to keep you alert with added caffeine and 150mg of L-Arginine to promote healthy blood flow. Choose your energy from pomegranate or tropical flavors. Shots never felt so good!
Find the best deals with our exclusive CBDfx coupons.
3.

Joy Organics CBD Energy Drink Mix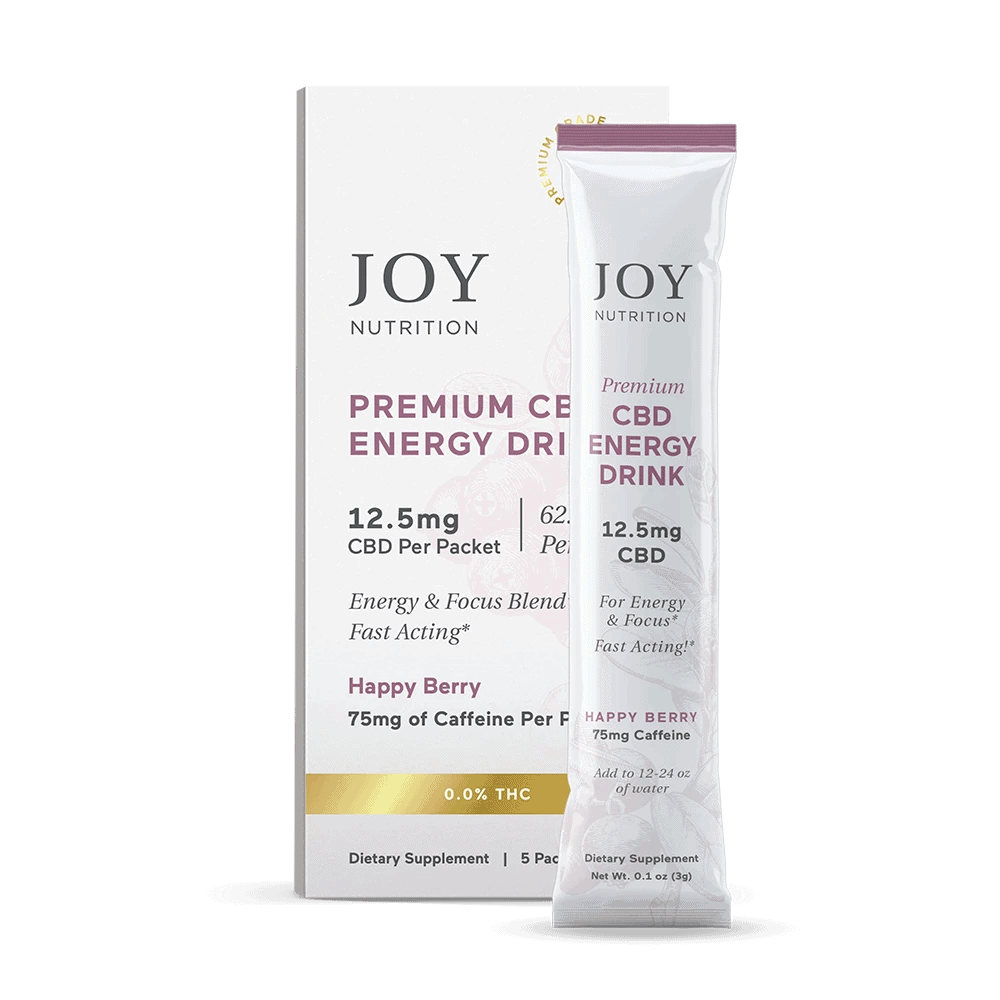 Highlights
CBD combined with caffeine provides the perfect combination to add that extra pep in your step
CBD sourced from hemp plants grown in the USA
Happy berry flavor, naturally sweetened with stevia and 12.5mg of broad spectrum CBD
Get 25% off all Joy Organics CBD products as an AmericanMarijuana reader. Use this code at checkout: AMMA
Get Discount
Size of product: 3g
Potency (mg/ml): 4mg/g
Price per mg of CBD: 0.25/mg
Ingredients: Natural and Artificial Fruit Punch Flavor, Sucralose, Stevia
We've all been there—the dreaded 3pm crash that leaves you dragging your way through the afternoon hours. Joy Organics CBD energy drink mix needs to be stashed away in your desk drawer for these moments to help beat that afternoon brain fog. A super manageable 75mg of caffeine paired with 12.5mg of broad spectrum CBD ensures that you'll feel energized without the jitters or crash. Keep these individual packets in your gym bag for a pre-workout boost or mix it up and enjoy after a workout or hike to help soothe those sore muscles. The verdict is in—these packets are filled with pure joy.
4.

CBD Living Sparkling Water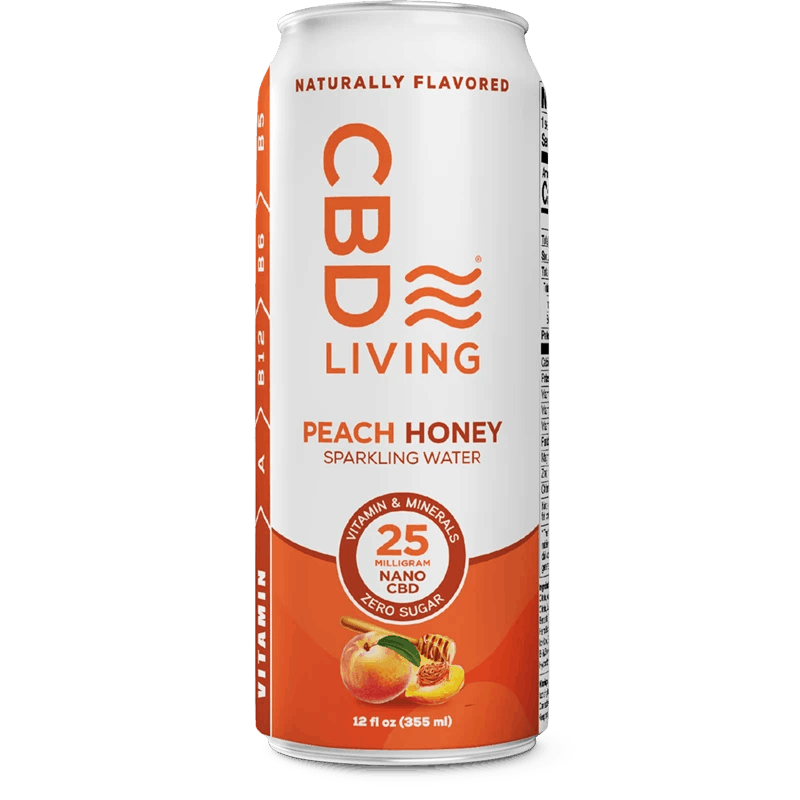 Highlights
Available in four mouthwatering flavors: Apple Ginger, Orange Grapefruit, Peach Honey, Strawberry Lavender
100% organic hemp sourced from farms in Oregon and Colorado
Added vitamins and minerals to provide extra benefits to the body
Size of product: 355ml
Potency (mg/ml): 0.070mg/ml
Price per mg of CBD: 0.19/mg
Ingredients: Carbonated Water, Erythritol, Natural Flavors, Vitamins and Minerals
Who would have thought that pairing CBD with the refreshing crisp of carbonation would be so incredible? You can crack one of these delicious CBD Living sparkling waters whenever your heart desires. With only 5 calories and zero sugar, you can indulge in the amazing benefits of CBD with zero guilt. Enter additional vitamins and minerals to boost and regulate many functions in the body, there is nothing but benefits loaded into these cans of sparkling water. It seems impossible to choose from all of the delicious flavors like apple ginger, orange grapefruit, peach honey, and strawberry lavender. Thank goodness there's a variety pack!
5.

Hemplucid Full Spectrum Tincture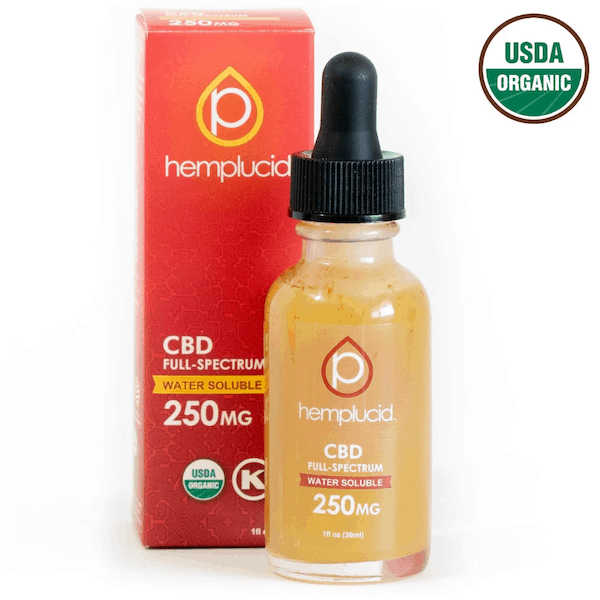 Highlights
Tincture formula mixes well with drinks and other liquids
Natural hemp flavor with a subtle touch of sweetness
Nano-enhanced for fast-acting results
Size of product: 30ml
Potency (mg/ml): 16.6/ml
Price per mg of CBD: 0.09/mg
Ingredients: Organic Vegetable Glycerin, Organic Hemp Cannabidiol Full Spectrum Oil, Nano Electrolyte Blend, Organic Sunflower Lecithin 
Adding full spectrum CBD into your routine is made super easy with this subtly sweet yet naturally hemp flavored tincture. The flexibility this product offers is refreshing. We love that it can be added to drinks, smoothies, and shakes, making it effortless to add the benefits of CBD into your life. Hemplucid full spectrum water-soluble tincture can also be used sublingually if you are not able to (or don't want to) mix it with anything. There is no one-size-fits-all when it comes to CBD, and everyone's journey is truly unique. This tincture makes personalizing your dose and desired benefits stress-free and convenient. 
How to use water-soluble CBD
Water-soluble CBD can be used for the same desired benefits as regular CBD oil. Whether you are looking for a sleep aid, help with managing stress, or need relief from aches and pains, you will find the same benefits from both types of CBD. Incorporating water-soluble CBD products into your routine is no different than using regular CBD (fat-soluble) products. A water-soluble product can come in the form of a tincture, powder, or capsule. Just be sure you know how the product you are purchasing is intended to be used.
CBD isolate is the pure form of CBD and is always THC-free. CBD isolate is in powder form and is not always water-soluble. CBD isolate can be mixed with liquids, however, if it is not a water-soluble product, it will not mix as easily as a water-soluble product. It is important to read labels if you are looking for a water-soluble CBD isolate product. 
Water-soluble CBD can be taken by adding it to food or drinks, but you can also use it sublingually by placing it under your tongue if it is in tincture form. CBD oil that's not water-soluble requires you to hold it there for one to two minutes, but water-soluble CBD only needs to be held under the tongue for 15 to 20 seconds.