Lubricants have long been used to add a touch of comfort and safety during sex. Not long ago, CBD lubes were introduced as the ultimate game-changer in a market dominated by mineral oils and synthetic liquids. 
Cannabis, hemp, and different Marijuana strains have found varying applications in day-to-day life events and are rapidly gaining acceptance, thanks to the ingenious chemical composition. CBD lubricants have been infused with cannabidiol, which, unlike THC, has relaxing and calming effects.
If you're looking for an intimacy oil that will take your arousal game to the next level, hemp or THC-infused lubes are your best pick. We've selected the best brands that have passed the test of time with a good reputation in the market. 
Picking the best CBD lubricants from the market can be daunting, especially if you're not familiar with sex lubricants or don't have the time to try out every product sold in the market. All the CBD lubes seem to be worth trying as many people are now shifting from traditional lubes. 
But before you try any of the CBD lubes, below is a list of our top picks. Feel free to pick one that suits your needs. 
1.

Foria Wellness Awaken Arousal Oil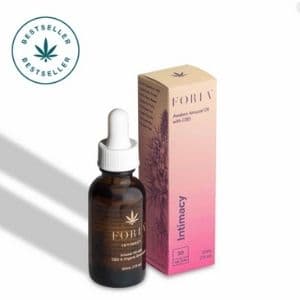 Highlights
Uses all-natural and organic botanicals
Have no additives, fragrances, or synthetic enhancements
Not for use with condoms/latex protection or sex toys
Get 10% off all Foria Wellness vape products as an AmericanMarijuanna reader. Use this code at checkout: AMMA
Get Discount
Floria Awaken arousal is one of the best CBD intimacy oils that offer unique benefits that seek to enhance pleasure and ease discomfort during sex. It is a blend between high-quality botanical ingredients and an infusion of finer CBD strains. Designed to boost sexual satisfaction and wellness for women, Awaken has been effective in easing sexual complications. People suffering from vaginal tearing, endometriosis, interstitial cystitis, and genital & pelvic disorders have reported rejuvenated sex while using this CBD lube.
As one of the formulae that have been tried and tested, Awaken is coconut-based making it an organic compound safe to use with your skin. The CBD in this lubricant is USDA organic-certified and has no psychoactive effects, meaning it will not get you high.
Floria cannabis lube is free from alcohol, gluten, phthalates, parabens, petroleum-based compounds, dyes, and glycerin, just like with many CBD topicals and lotions. However, Awaken arousal is oral-friendly and safe to use. 
The fact that it's free from strong scents and fragrances gives this CBD lube a natural smell and taste that's amazing and refreshing.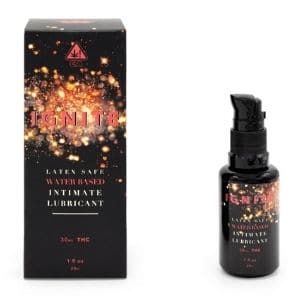 Highlights
Water-soluble CBD lube approved for use with condoms
It's third party lab tested for quality and safety
It's manufactured using a proprietary nanotechnology
Get 10% off all Kush Queen Ignite vape products as an AmericanMarijuanna reader. Use this code at checkout: AMMA
Get Discount
Kush Queen Ignite is a popular and best CBD intimacy lube designed for both men and women. As a true water-based CBD lubricant, Kush Queen Ignite CBD lube can be used with latex or polyisoprene condoms and sex toys. It's paraben and petrochemical free and non-staining, hence safe to use for great sex and intimate exploration. 
If you are THC-sensitive, you don't have to worry about psychoactive effects as Kush Queen is zero THC guaranteed. The hemp CBD isolate is sourced from high-quality hemp extract obtained through a process called "biomass." Here, the extract is processed to a point where it's free of any residual solvents before infused into the Kush Queen Ignite CBD lube. 
Once the CBD oil has been extracted, a chromatography process separates the oil into phases, each with a different molecule concentration for varying CBD applications. 
To guarantee your safety, the hemp-derived CBD is tested through a third-party lab. This rigorous and independent testing process ensures that the compound is free from heavy metal compounds or pesticides. 
Exclusive nanotechnology is also used to ensure that the CBD is water-compatible and fully absorbable. The target is to have the CBD particles 2000x smaller than your skin pores. 
3.

Hemp Bombs – Hemp Bombs After Hours Pleasure Gel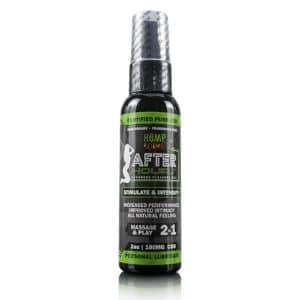 Highlights
It's a thick formula designed for long-lasting performance
Tested by independent 3rd party labs
Obtained from superior grade industrial hemp
Get 10% off all Hemp Bombs vape products as an AmericanMarijuanna reader. Use this code at checkout: AMMA
Get Discount
Hemp Bombs after-hours pleasure gel is a 0.03% THC infused lube that's unique in its own right. Instead of a thin and slippery formulation for instant pleasure, it's thick and oily for powerful and long-lasting sexual pleasures. 
This CBD oil lube is made from 100mg of high potent CBD strain mixed with other ingredients such as citric acid, purified water, Hydroxypropyl, Sodium Benzoate, etc., all of which are tried and proven to be safe.
The Hemp Bomb CBD used in the formulation has an excellent texture and taste and is one of the most affordable CBD oils in the market. This gives this CBD lube a competitive advantage in terms of use, price, and quality. 
If you're looking for a cheap CBD personal lubricant or one you can use with your partner, Hemp Bomb after Hours Pleasure gel has got you covered. One of the advantages of using this CBD lube is that it's a long-lasting performance lubricant that can improve endurance and boost sexual stimulation. 
4.

Privy Peach Sensation Intensifying Erotic Oil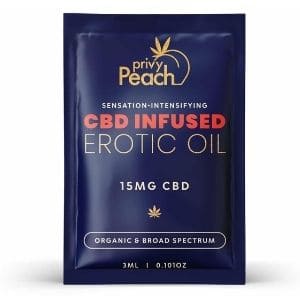 Highlights
Intimate oil for a better sexual experience
Not for use with condoms
Get 10% off all Privy Peach vape products as an AmericanMarijuanna reader. Use this code at checkout: AMMA
Get Discount
Privacy Peach Erotic oil is one of the best CBD lubes formulated to enhance a warm and cooling sexual sensation. If you normally have issues getting to sexual climax, this lubricant will be quite useful.
In one box, you get 12 single packets of the incredible hemp lube oils, each with 15mg of high-quality CBD. The ingredients making up this product include hemp-infused well-refined coconut oil, vanilla, cocoa butter, cardamom, lavender, Cinnamon, and Spearmint oils. All these give the lubricant a soft and fine texture that helps rejuvenates sexual drive as you get ready to play the long game. 
The lubricant is semi-solid at temperatures below 76 degrees Fahrenheit (equivalent to 24 degrees Celsius). This ensures that the CBD lube melts on contact with the body and not at room temperature. 
If you're having trouble getting to sexual climax and looking to take your sex life to the next level: where you can let yourself soak in the sensations of pleasures and heightened satisfaction, Privacy Peach Erotic oil is the right product for you. 
5.

"O" by Dani Pepper™ – Orgasm Enhancer
Highlights
Alleviates sensations of dryness, tension, and discomfort
Best CBD water-based lube
Compatible with all condoms and sex toys
Get 10% off all Dani Pepper vape products as an AmericanMarijuanna reader. Use this code at checkout: AMMA
Get Discount
If you're looking for quality lube and sexual flexibility, "O" by Dani Pepper ensures that your cravings are met with style, elegance, and convenience. This CBD lubricant is designed for the life-lovers who adore real intimacy, bringing fun, pleasure, and safety in one complete package. The fact that "O" by Dani Pepper is water-based means it contains no oils which could otherwise wear or degrade latex or silicone condoms. This ensures you have a safe, comfortable, and tension-free sex. 
The organic CBD content inside this lubricant promotes euphoria, a state of well-being, calm, and relaxation. Another important ingredient in this lubricant is aloe Vera, whose healing and skin-caring properties are well-documented. Vitamin C has also been added to help treat and prevent skin damage.
To experience the maximum delight while using this CBD lube, gently apply one pump on the clitoris, and another pump on the inner labia, then massage gently. Intensified sexual sensations pick after 5-10 minutes, and you're sure to like this product that has transformed the sex life of many. 
However, it's recommended to consume it within the recommended serving size to avoid unnecessary psychoactive effects. However, "O" by Dani Pepper shouldn't be used during pregnancy.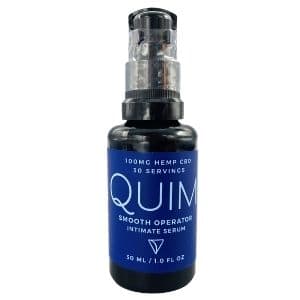 Highlights
One of the best CBD Latex safe lube
Intimate oil with Aloe Vera
Promotes pelvic relaxation
Get 10% off all Quim vape products as an AmericanMarijuanna reader. Use this code at checkout: AMMA
Get Discount
The quim lube smooth separator is a water-based CBD-infused lubricant designed to boost blood flow and decrease pain or inflammation. The non-psychoactive compound, together with Aloe Vera found in this lubricant, has been shown to help moisturize the skin and improve vaginal elasticity. Aloe Vera also improves collagen and acts as a natural antiseptic.
Besides being latex compatible, this CBD lube is naturally soothing with pH balancing properties to ensure your sex organs are always in the best conditions. Quim smooth operator is also paraben and glycerin free, and you shouldn't worry about your vaginal ecosystem being introduced to some harmful bacteria. 
When using quim lube, shake it well, then apply 4 to 6 pumps on the clitoris, vagina, and vulva. For the best results, allow the lubricant to interact with your skin for 5 to 6 minutes before getting the game started.
The dosing limits are 3 – 4 mg of CBD per serving. Some of the active ingredients are Aloe Vera, plant-derived emulsifiers, Vitamin E, passionflower extract, lactic acid, peony root extract, etc. If you are allergic to any of its ingredients, be sure to test it on a small patch of your exposed skin before using the product. Consult a physician if you're to use quim lube during pregnancy or while breastfeeding.  
Why people are using CBD Lubricants
You're probably wondering, "why all the hype about CBD lubes? Why not any other organic lubricants. Or why use lubricants at all?" Worry no more; there's probably a reason why people are using CBD lubricant instead of the ordinary sex lubes. We've highlighted it below. 
Sex lubes generally used to better the sex experience. People of all genders use lubricants to boost arousal and set the mood for self-expression, play and exploration, learning, and joyful abandonment. 
CBD has been widely studied as a compound of marijuana or hemp, but not much has been covered as far as CBD lubes are concerned. The little that's known about CBD lube has, however, been popularized, and people who have used it have seen significant changes and success in the bedroom. 
According to Diana Urman, a San-Francisco based sexologist, CBD lube can increase receptivity to touch and arousal. Still, it's not always guaranteed to get one in the sexual mood. It also enhances sexual stimulation by getting the body ready quicker since it promotes blood flow and muscle relaxation.
Most CBD lubes have been formulated with organic compounds such as Aloe Vera, which besides taking the sex game to a new level, leaves the body with a soothing, refreshing, and healing sensation. Women who normally feel pain during sexual intercourse have been able to relax as they enjoy comfortable sex like their peers. 
By now, you know that lubricants are used to promote safer and more comfortable sex. They help reduce friction, which results in pleasurable sex. But why add CBD to lubricants? Or what benefits do CBD offer inside these sex lubes?
Increased Sensitivity 
Your body's response to sexual stimulation varies based on your moods and several other underlying factors. Once CBD lube is applied to the body, it is directly absorbed by the endocannabinoid receptors. The effect is increased blood flow, which boosts sensitivity to touch and leads to sexual arousal. 
Better Orgasm 
Not everybody will experience better orgasm after using CBD lubes, but the fact that it increases sensitivity and arousal means better orgasm could be part of the equation. Some women have reported increased sensation and better orgasms, which makes much sense. 
Increased Relaxation 
The ability to relax during sex is key in making the experience lively, fun, and intimate. Several CBD oils have been studied and proven to help ease anxiety and depression. When these CBD oils are used in lubes, they help promote a sense of relaxation. This works especially for partners who feel shy or embarrassed to engage in sexual activities.
Reduced Pain during Penetrative Sex 
People who suffer from pain and discomfort during penetrative sex can use lube CBD as it comes with anti-inflammatory compounds that alter the genital area's endocannabinoid receptors. It also guarantees comfort and eases the pain that would occur due to prolonged sexual encounters.
CBD products are safe to use both in food and topical creams and lotions. According to the World Health Organization, there's no public health risk or abuse potential for Cannabidiol. By extrapolation, you cannot experience adverse or life-threatening side effects after using CBD lube.
However, mild side effects exist, especially if you use a CBD lube with an active THC compound. Only a few people have reported mild side effects from CBD: such as fatigue, changes in appetite, and diarrhea. 
The one thing affecting CBD products in the market, including CBD lubricants, is the lack of regulation. To avoid such challenges, it's recommended to always be on the lookout when buying hemp or marijuana-infused lube. You should also be keen on where to buy sex lubes. Only purchase CBD sex lubes from licensed companies that are fully transparent about the product's ingredients.
Another thing to keep in mind is that most CBD lubes are oil-based and shouldn't be used with latex protection and sex toys. You should also check the CBD lube ingredients you want to purchase to ensure no allergen could lead to bodily reactions. 
If you're under prescription, always consult your physician before trying out a CBD lube as it could interfere with the drug's efficacy. 
What to look for in CBD lubes
With the hundreds of CBD lubricants in the market, you need a quick formula to identify what works and what's best suited for your unique needs. Below are some factors to look for in CBD lubricants. 
Third-party tested
A CBD lubricant that is 3rd party tested means that it had undergone rigorous and independent lab testing to ascertain that all the ingredients are safe to use. When different chemicals are mixed, it's possible to create a new compound that could otherwise be potentially harmful to the body. 
Since a third party does lab testing, it's possible to acquire accurate results without bias. From these analyses, it's easy to know the CBD's quality, potency, and efficiency inside the lubricant. Some of the common tests done by independent labs are:
Potency testing

 – checks the CBD content in the lubricant and determines its efficacy. 

Solvent contamination testing

 – CBD extraction, either from cannabis or hemp plant, follows an extraction process where different solvents are used. This test analyzes the level of solvent contamination if any.

Pesticide testing

 – Pesticides used to grow and nurture hemp or cannabis plants can end up in the final CBD product. This test ensures that there are no traces of pesticides in the CBD lube.

Heavy Metal Testing

 – Hemp and cannabis are known to absorb metals from the soils they are cultivated. While most of the metal nutrients are considered harmless, some, like Lead, are not safe to use and can lead to health complications. 
Organic Ingredients
CBD lubes are infused with hemp or Marijuana extracts, and the main ingredients are the organic compounds used in the formulation. Many lubricants will have organic components such as Olive Oil, Aloe Vera, and virgin coconut oil as the base compounds. These products are natural lubricants and can be used alternatively as lubes, but CBD is introduced for its added benefits. 
As far as organic ingredients are concerned, you want to make sure that what you're using is right for your body. Always avoid lubricants that have an alcohol content as they can cause irritation or dryness over time. Glycerin and certain sugars may also increase the chances of infections, and it's wise to avoid them. You can check the product site's privacy policy to uncover all its ingredients. 
If you've had issues with the traditional lubricants, there are pretty high chances that CBD lubricants will work perfectly for your case. You can also consult your physician in case of any doubts. 
CBD sources 
CBD can be obtained either from cannabis or industrial hemp, and it's the strain's chemical composition that determines the strength and effectiveness of the extracted CBD. The definition and classification of cannabis and hemp have evolved over the years. Most recently, people have been turning to CBD derived from industrial hemp for medicinal purposes, i.e., to relieve chronic pain, insomnia, anxiety, etc.
However, many believe that industrial hemp isn't the best source of full-spectrum CBD products. This is because high-resin cannabis plants have been shown to have upregulated genes for CBD synthesis. Therefore, marijuana has a greater variety of CBD than hemp plants. 
Other studies show that CBD and THC may work better together than when used separately, and this is why some CBD lubricants have a certain percentage of THC. It's worth noting that those CBD lubes with THC content often have less than 0.03% THC concentration in the entire formulation. 
This helps avoid the high feeling caused by the active neurochemical compounds. The whole idea of combining THC and CBD in lubricants is a highly debated topic, and it's safe to use and stick to what you believe or know better. 
Oil, silicone or Water-Based 
If you're looking for a CBD lubricant to use with condoms/protection or toys, you should opt for a water-soluble CBD lube; otherwise, an oil-based lubricant could tear or break latex condoms. Some oil-based lubes advertise their products as latex-friendly but offer no guarantee that it won't degrade the latex. To be on the safer side, use water-based CBD lubricants for protected sex. The only downside with water-based lubricants is that it dries out faster, and you might need to reapply it more often. 
Oil-based lubricants are best used without a barrier method of contraception. Silicone-based lubes, on the other hand, are best suited for both protected and unprotected sex. However, always avoid silicone-based lubricants when using sex toys as they can damage or wear them out. 
Depending on what you want and what works best for you, feel free to choose any of the three types of CBD lubricants. You can also inquire more from your physician before making up your mind. 
Fragrance and Scent
CBD lubes naturally do not have a strong or detectable smell. However, certain brands use scented ingredients or flavors. When buying a CBD lube, be sure to check whether there is a scented additive to avoid after-purchase frustrations. Many people are sensitive to certain scents and perfumes, and you don't want it spoiling your sexual moods. 
Many perfumes and fragrances are made by industrial extraction of scented oils from naturally occurring ingredients. These could include plants, animal secretions, fruits, etc. Others are petrochemicals, alcohols, tars, and coal. The latter group might not be your perfect pick considering you'll be using these products on exposed skin. You want to minimize alcohol or petrochemical compounds as much as possible. 
Unflavored CBD comes with an earthy smell and taste, and while many people will have no problem with that, some will seek a better or distinct scent. This is where you need to be picky and keen on reading labels and ascertaining that you've asked for the different CBD lubricant flavors available. As a rule of thumb, you want to pick a scent that's favorable to both you and your partner, as this will ensure comfortable and pleasurable sex.
Reputable Brands 
If you're unsure which is the best CBD lube to go with, you can pick one from the many reputable brands available in the market. This means doing your research and sorting the best from the pack. It would be best if you also kept in mind that the CBD industry isn't well regulated, and purchasing any CBD-based product may not be a prudent idea. Always check the CBD content of the lubricant before making a purchase. 
To make the selection process easier, you can base your research on the common and best CBD oils. The latter has been widely studied, and there are several brands, strains, and formulations designed for several applications. Just so you can know what to look for, there are those formulated for pain management, anxiety, depression, chronic conditions such as Parkinson, etc. Some are even kids and pet friendly. 
It's worth noting that lubes are meant to make sex more pleasurable. They work to reduce friction between the skins in contact, eliminating uncomfortable rubbing, chafing, and pain. 
CBD lubes aren't only gaining acceptance in the market, but they are also proving to be more effective and safer than traditional lubricants. Picking only the best from the several brands can be quite overwhelming; that's why we've listed the 6 best CBD lubricants so you won't have to.
As an assurance, you won't go wrong, choosing any of the options above to inspire and embrace your sexual intimacy, either solo or with your partner. Always remember to keep safe if you're having sex with someone you don't know to avoid the risks of contracting STIs.