CBD-medical marijuana is a relatively new industry. It follows that companies in this nascent industry have to train people. They need to inform them about what they are doing and the benefits of what they have to offer. Blue Moon Hemp is no exception. Since commissioning in 2015, this company has sold over a million bottles of different CBD products, including CBD oil tinctures for humans and pets. They specialize in hemp CBD as their raw material, and the hemp they use comes from a single farm in Kentucky, USA. The following is a Blue Moon Hemp review.
Blue Moon Hemp was established in 2015. The company seeks to contribute to making CBD benefits known and available to as many people as possible. They pursue this goal by developing a wide variety of products and defining their price points in a manner that enables different categories of people to afford. 
Their products have a considerable consistency in composition because they use hemp from one genetic strain that is grown by a single farmer. This means that besides genetics, the husbandry of their hemp is also consistent through time. All the hemp they process is organic and entirely non-GMO.
It is worth noting that this hemp is grown in Kentucky, which is a jurisdiction with the most rigorous hemp farming protocols in the world. This speaks to the high quality of the hemp from which Blue Moon Hemp extracts its products.  
Besides hemp, Blue Moon uses other natural ingredients to enhance the effects of their products on users. We shall discuss these ingredients later as we analyze individual products. 
This manufacturer takes a step further to assure its customers of the veracity of their claims on their customers products contents. They contract the services of a third-party lab, and the lab report is available for the perusal of all interested parties.
Another distinguishing marker on this firm is the fact that it waives shipping fee for customers who place orders that are worth more than $99.  On the downside, Blue Moon Hemp doesn't avail information on who owns or runs the company, and this may reduce the trust of some of the consumers.
Blue Moon Hemp Product Highlights
Blue Moon Hemp CBD E-Liquids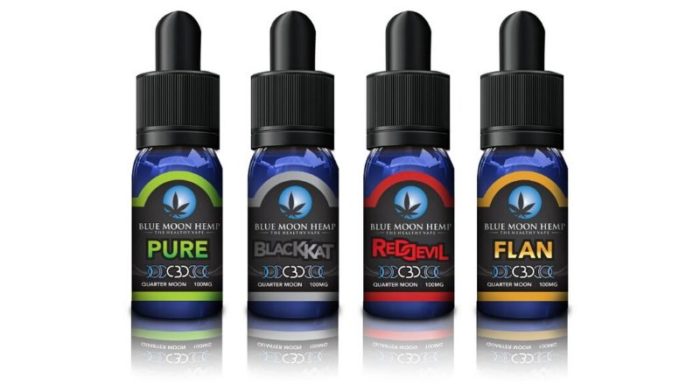 Blue Moon is one of the companies that manufacture products that are geared towards taking advantage of vaping, a quick and efficient method of intake. The e-liquids come in different flavors, and different potencies cut across flavors. Blue Moon has simplified the process of ordering by ensuring that all strengths cost the same regardless of their taste.
The choice available for potencies is as follows;
Kush: –

This e-liquid has the flavor of regular marijuana so that a person who vapes it has an experience similar to a weed smoker – except for the high.

BlackKat: –

It has the flavor of breakfast cereal with a touch of cinnamon.  

Red Devil: –

This flavor is a combination of vanilla and strawberry.  

Flan: –

Carmel and vanilla flavor. 

Pure: –

As its name suggests, it has the natural hemp flavor.  

Mango Moon: –

This e-liquid has the flavor of ripe mango. 
These e-liquids are based on broad-spectrum hemp, meaning that their THC content is greatly diminished.
Potencies of e-liquids are the same across the different flavors. It is as follows;
Potency 

Name

Price ($)

125mg 

Quarter Moon 

25

250mg

Half Moon 

49

500mg 

Three Quarter Moon 

69

750mg 

Full Moon 

89

1000mg 

99
All these e liquids come in 30ml bottles. 
Blue Moon Hemp CBD Oil Tinctures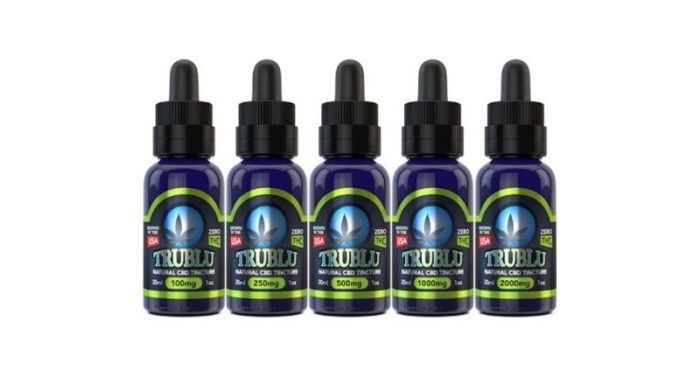 The company packages their CBD oil in 30mls bottles and in the same potencies as e-liquids above. The prices are also the same. Despite the above similarities, there are some differences between the packaging of these two products. 
For starters, tinctures also have options for higher doses of 2000mg and 3000mg. The 2000mg tincture goes for $159 while its 3000mg counterpart goes for $209. Tinctures are based on hemp seed oil. As a result of having a hemp seed oil base, Blue Moon's unflavored, flagship brand, TruBlu has a more pronounced hemp flavor than your ordinary natural hemp tincture. 
Tinctures also come with other flavors for people who prefer something other than the earthy hemp taste. They are peppermint and Berry.
Blue Moon Hemp CBD Salves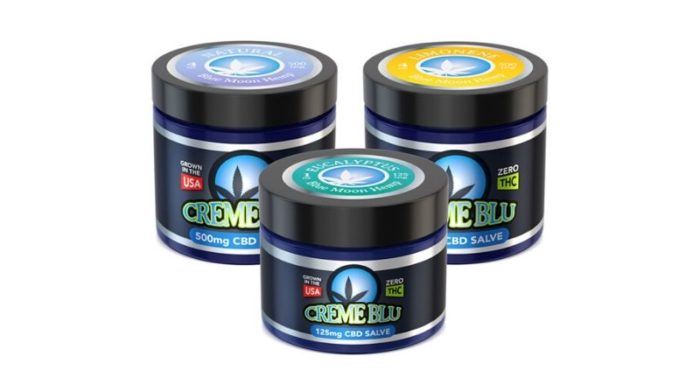 For people with arthritis and others who need CBD for external use, Blue Moon has manufactured a salve. The salves come in 1, 2 and 4-ounce packages. Please note that there is no distinction in potency between different volumes.
The formula used in the manufacture of these salves allows them to penetrate the skin quickly, delivering relief where it is needed. The following are the ingredients:
– Vegetable Oil 
– Extra Virgin Olive Oil
– Beeswax
– Grape Seed Oil 
– Jojoba Oil
– Arnica Oil
– Hemp CBD
– Oil 
– Hemp CBD
The ingredients also make the salves ideal as regular skincare products. They come in three fragrances: – natural, eucalyptus and Limonene. 
Blue Moon Hemp CBD Shatter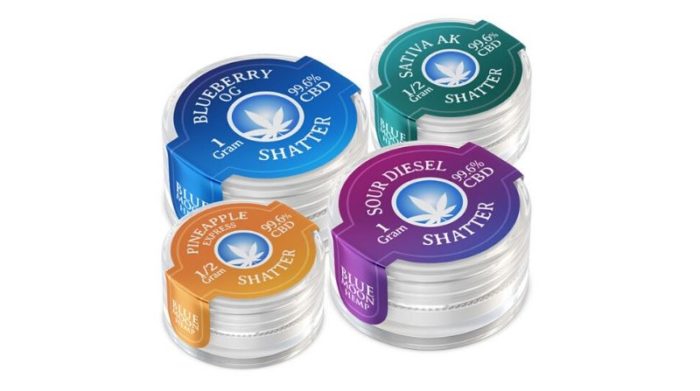 The provision of this product is intended to meet the needs of those who prefer to dab their CBD. Blue Moon Shatter has purity levels of up to 99.6% CBD, which probably makes it the purest product in the market today. The shatter is packaged in 0.5 and 1gram, which costs $35 and $59 respectively. The shatters are flavored with terpenes from different marijuana strains giving them popular marijuana flavors. The flavors include Pineapple Express, Blue Berry OG and Sour Diesel.
Blue Moon Hemp CBD Gummies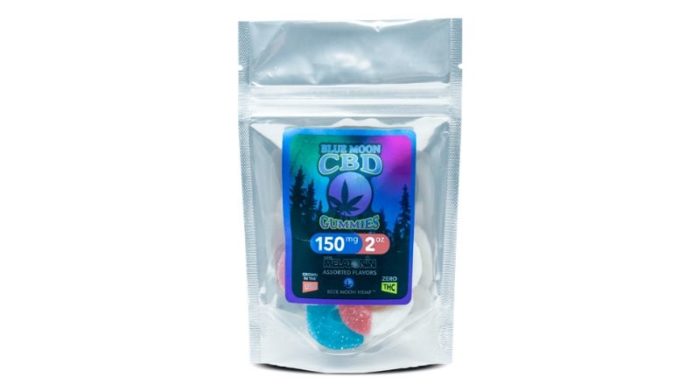 The distinction in the gummies that Blue Moon Hemp offers is not in their taste. It is in whether they contain melatonin or not. The gummies come in sweet and sour, which are blended in every package. Melatonin gummies are ideal for people battling insomnia. The cost is $7.50 for a one-ounce package and 2-ounce bags with 100mg or 200mg, which cost $14.50 and $25 respectively.
Blue Moon Hemp Pet Tinctures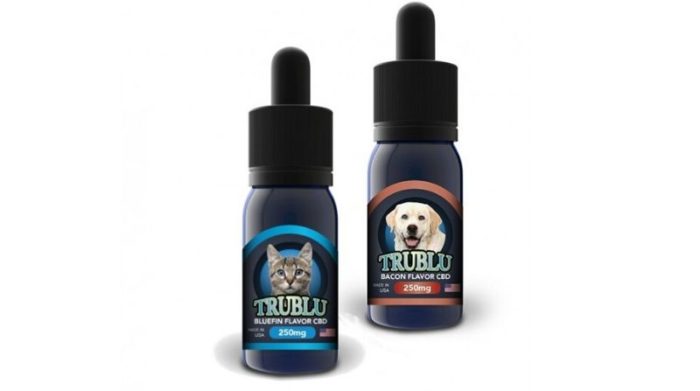 These tinctures are formulated precisely for pets. The bacon flavor is ideal for dogs, while the tuna flavor is more suitable for cats.
Blue Moon Hemp also manufactures blunts and pod systems for sale. 
Wide Variety of Products: –

The above review shows that the company has enough products to meet the needs of different categories of CBD users.

American Grown Hemp: –

The hemp used in the manufacture of Blue Moon Hemp products is grown in Kentucky, this state has

some of the most stringent laws

on hemp farming anywhere. This means that the quality of hemp positively impacts the final products. 

Transparency: –

Blue Moon Hemp is so confident about the quality of its products that it makes all analysis reports available to everyone at the click of a mouse. The reports are available on its website.
Difficulty Choosing: –

The range of products that this company offers is so diverse that it can easily confuse a CBD newbie trying to figure out which product is ideal for them.

 
The commitment of Blue Moon Hemp to meet the needs of its customers shines through the entire production process. They also place a high premium on consistency. This attribute is clear from the fact that the company uses the same hemp farmers and the same strain of marijuana. They continue in their push for consistency by providing products of different potencies. 
These different potencies help consumers move from lower levels of usage to progressively more potent products within the same brand. We recommend this product on the strength of its quality and the seriousness it takes customer care.