Empire Wellness is one name you can't really miss when looking for high-quality CBD products. It's bound to end up in your search results as a lot of people rave about it.
But can it really live up to its claims and reputation?
This Empire Wellness CBD oil review can give you a glimpse of why it could be one of your best choices.
What Is Empire Wellness CBD?
Empire Wellness is a brand that focuses on producing high-quality CBD products. It uses naturally grown hemp from Colorado.
The brand has a state-of-the-art facility which it uses for the production, distribution, and packaging of their products. And to further ensure quality, they also work closely with different experts in the field, including technicians and farmers.
This collaboration enables Empire Wellness to offer CBD products with excellent quality.
In addition to that, all of the products it sells are free from THC. This means that they won't leave you feeling "high" or compromise your drug test results.
Empire Wellness Products Range
Empire Wellness has an impressive range of products. In addition to the usual oils and tinctures most brands offer, it also has crystals, resin waxes, and relaxation syrups.
To give you a clearer idea of your options, below is a quick overview of each product.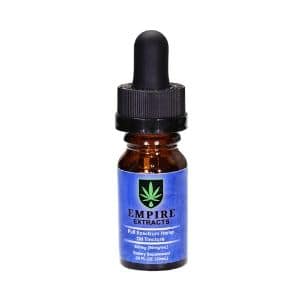 Let's start with the most popular item on this brand's list- CBD oil.
The brand offers 4 types of CBD oils which you can get either as crystal isolate or full spectrum CBD oil tinctures. As for strength, there are four options for you- 150mg, 500mg, 700mg, and 1500mg.
These dosages are actually great since there's an option for you, whether you're just starting out or looking for a higher dose to obtain relief from your health issues.
None of the CBD oils are flavored. You may want to keep that in mind if your tastebuds are a little picky when it comes to taste.
Empire Wellness CBD Hemp Flowers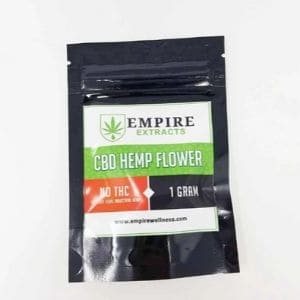 If you're like most people, you'll find the idea of smoking hemp to get the benefits of CBD a bit uncomfortable. There's the fear of ending up high or failing your routine drug tests. 
However, the brand offers a variety of strains of hemp flower which you can smoke and enjoy without the need to fear for those things. That's because they contain no more than the legally allowed 0.3% THC.
There are 6 different strains for you to choose from, such as Lemon Drop, Grape Juice, Narnia, Frost Bite, Fiona, and Green Gum. There are also pre-rolled joints which you can purchase if you're not that comfortable or confident in rolling your own.
The oils are made with CBD, hemp seed oil, and coconut oil. And just like most CBD brands, these oils are labeled as a dietary supplement. They aren't marketed to be used as a medicine or anything similar.
The list of ingredients is quite brief. There isn't much information regarding the company's harvesting process, too.
The only thing that's clear is the fact that the oils are harvested from stems and mature stalks.
Empire Wellness Edible Products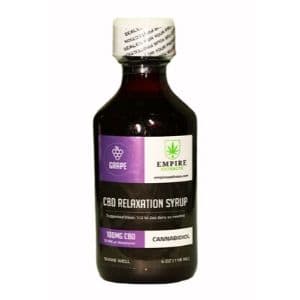 If smoking isn't your thing, then you can go for Empire Wellness edibles and you have two options.
For one, you can take the gummies. They are big bear gummies containing 150mg of CBD in total. They can give you an easier way to get your daily dose of CBD.
Next is the CBD Relaxation Syrup. 
Each bottle contains about 100mg of CBD. Apart from CBD crystal isolate, it's also infused with melatonin which promotes relaxation and better sleep.
The syrup can be added to your water, tea or soda to make it easier to consume.CBD Relaxation Syrup.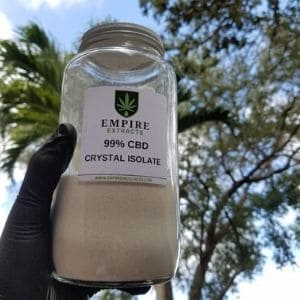 These crystals are made from 99% CBD. You can enjoy them on their own or you can add them to other Empire Wellness terpenes.
The crystals are available in different strains, allowing you to choose the exact profile and effect you ant.
In addition to the crystals, the brand also offers Resin Wax. It's rich in CBD and other terpenes and cannabinoids.
Where to buy Empire Wellness CBD
It's also a good idea to do your research, particularly if it's your first time to try a CBD product. Apart from reading reviews like this one, you may also want to visit forums, like Reddit, to get an idea about how other people react to Empire Wellness CBD products.
You have the option to search online and buy from different online platforms. However, for your safety, it's best if you purchase the products directly from the brand.
Apart from authenticity, buying directly will also give you the chance to use Empire Wellness discount codes. These codes can reduce the price you have to pay upon checkout. Visit their website by clicking the button below.
Empire Wellness CBD isn't the most well-known brands out there. It's also not the biggest brand around.
However, if you are looking for a wide range of options, its range of CBD products won't disappoint. It has almost everything- from CBD oils to edibles and crystals.