The CBD market has exploded in the last few years. From gummies to concentrates, joints, and oils, there are endless ways to get your daily dose of CBD. Vaping is still holding the top spot as one of the most effective ways of consuming. Vaping is fast-acting and absorbs into the bloodstream faster than alternative consumption methods. If you're wondering where to find easy-to-use and effective CBD vape products, read on for our CBD JUUL pod reviews.
When it comes to a quality vaping experience, if JUUL hasn't popped up in your conversations, we will assume you've been living under a rock. JUUL manufacturers some of the best vape pens on the market that have become even more user friendly with the added compatibility for CBD pods. Pods are an alternative to pre-filled CBD cartridges that can be inserted into compatible JUUL devices. Just pop in a CBD JUUL pod and puff. It's that simple.
JUUL CBD Vape Producs: Juul-Compatible CBD Pods
Loyal JUUL fans swear by the CBD JUUL pods as the ultimate portable vape options compared to some of the best CBD vape pens. JUUL devices were initially designed as an alternative source of nicotine, holding 70% of the e-cigarette market in the United States. JUUL only sells nicotine pods, creating an opportunity for brands to follow the demand for CBD products by making CBD pods that are compatible with JUUL devices. We rounded up some of the best CBD JUUL pods to save you time that will be better spent with your head in the clouds.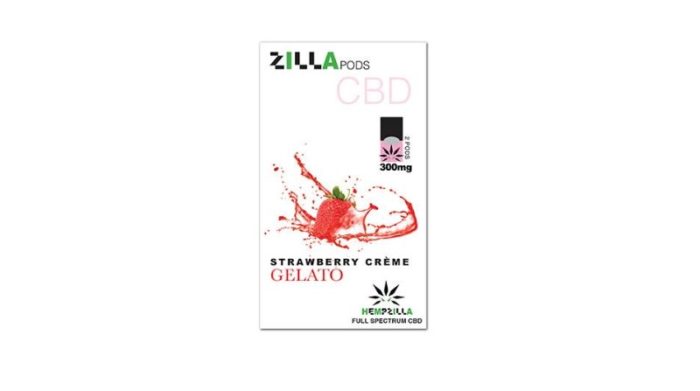 This is a THC-free CBD product made from American hemp. The hemp is grown according to the strict Colorado Department of Agriculture protocols. Each pod is formulated with 300mg of broad-spectrum, non-GMO CBD to ensure a pure vaping experience packed with potent flavor and strength. This is one of the highest doses on the market compared to other CBD JUUL pod brands. 
The Zilla Pod formula is infused with natural flavors, in addition to VG and PG for enhanced vapor production. Third-party labs test every pod to ensure consistent quality and potency. The hemp flower in these CBD JUUL pods is non-GMO and free from pesticides. The extraction method eliminates the presence of heavy metals, impurities, and trace amounts of THC while preserving the plant's naturally occurring cannabinoids. 
The pods are currently available in six flavors: Berry Wild, Loop Milk, Natural, Strawberry, Watermelon Ice, and Tango Mango. These products are available online for $19.99. Hempzilla publishes all of the third-party test results to make it easy for consumers to verify what's on the label is actually what is in the product.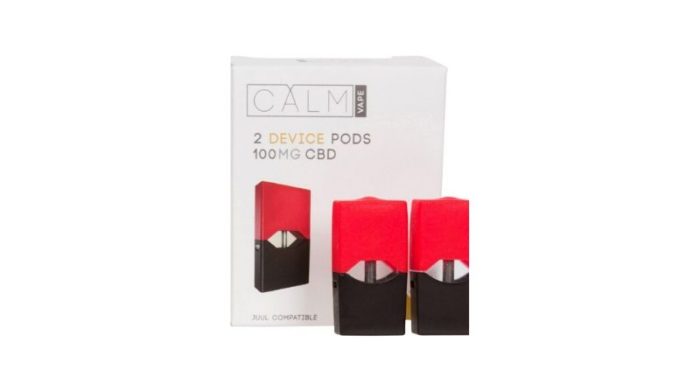 Manufactured by Calm, these CBD JUUL pods use full-spectrum organic CBD cultivated from industrial hemp grown in the state of Colorado. You can choose from three different strengths of 200mg, 100mg, and 50mg of CBD. Each package has two cartridges, and each one contains 1ml of CBD vape juice, which amounts to approximately 300 puffs per pod. While full-spectrum extract typically contains traces amounts of THC (less than 0.3%), Calm has removed all THC, leaving the remaining phytocannabinoids and terpenes intact. The manufacturer sends each batch to a reputable third-party lab for rigorous testing. The Certificate of Analysis is publicly available on the website, with links on every product page for easy access. 
The carrier oil used in the Calm pods is MCT (fractioned coconut) Oil. The terpene profile of each batch is determined by the strain of hemp used. These pods come in a variety of flavors to hit those sweet high notes with every puff. These flavors include; Tango Mango, Girl Scout Cookies, Blue Dream, Gelato, Super Lemon, Train Wreck, Grand Daddy Purple, Haze, and OG Kush. The prices of these pods vary according to capacity. 50mg pods go for $29.99, 100mg – $49.99, 200mg – $69.99.
Airbender JUUL Compatible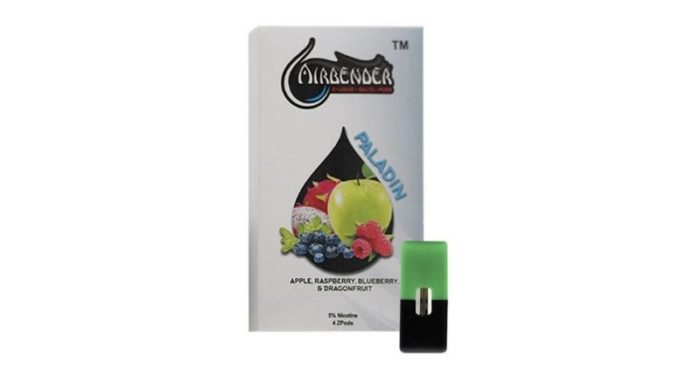 Airbender is a company that specializes in e-liquids. Each pack of this product contains one cartridge, which has a potency of 200mg of CBD. The volume of the juice per pod allows the user to enjoy up to 200 puffs of vaping. Airbender Juul compatible vape juice comes in four flavors from which a user can choose. Lemon Bar, Mint, Sweet Melon, and original, which has the natural hemp flavor. The packaging of these cartridges is a bit different from other brands as they are available in 1, 3, or 5 pods per package. Pricing ranges from the lowest $19.99 to the highest at $94.99.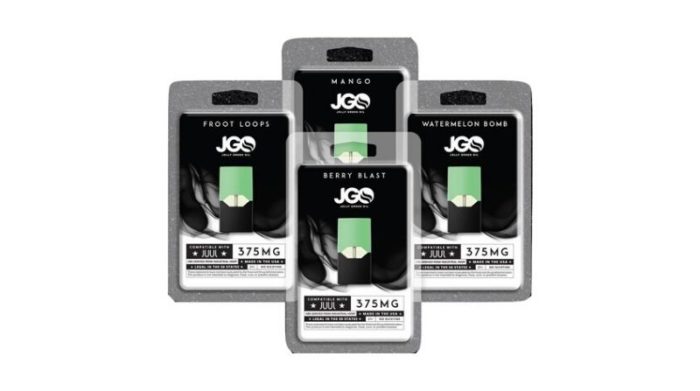 These CBD JUUL pods pack 375mg – 425mg of CBD into a 0.6ml pod, which makes Jolly Green Oil (JGO) miles ahead of competitors when it comes to potency. The pod formula is made using CBD sourced from domestic hemp that is free from impurities and third-party lab tested for potency, pesticides, and heavy metals. 
JGO vape pods sell for $17.99-$24.99 and come in the original formula and terpene formula to ensure that you enjoy a variety of compounds while vaping your daily dose of CBD. Not only will you get some of the most potent CBD liquid on the market, but you also get to choose from a large selection of inspired flavors: Cherry Pie, Fruit Loop, Granddaddy Purps, GSC, Methanol, Orange Cookies, Pink Lemonade, Sour Apple, Strawnana, Berry Blast, Gelato, Mango, OG Kush, Pineapple Express, Sour Diesel, Strawberry, Sour Lemon Haze, and Watermelon Bomb.
Product manufactured by reputable companies: 

All the vape juices in this list are made by well-respected companies with track records for safety and quality. They also send products to third-party labs to back up their claims.




Vaping quickly delivers CBD

 

to the body:

 Vaping doesn't require CBD to go through 'first pass' to the stomach and liver for it to be absorbed. The effects of CBD are felt almost immediately after smoking, and this makes vaping among the most effective ways to take CBD. The 

best CBD gummies

 or other edibles have to be digested, prolonging the wait time until effects set in. 




JUULs are high quality: 

JUUL didn't get to be the hard-hitting champ in the vape industry by accident. Their vapes are designed for reliability using the highest quality materials and advanced vaporizing components. 
Different manufacturers make vape oils: 

This situation leads to a lack of consistency. If JUUL Labs manufactured CBD pods, there would be more quality control to produce products in line with JUUL standards. 




They are expensive: 

The CBD pods and the JUUL are not necessarily expensive as separate products. But everyone who buys a JUUL has to buy with it nicotine that they probably don't need. 
CBD has firmly etched itself as a superior alternative to many of the health and wellness products flooding shelves and online stores. One of the many potential health benefits CBD can provide relief from is tobacco addiction. Instead of vaping traditional vape juice and e-liquids to curb the nicotine habit, smokers are loading up their JUUL devices with CBD vape oil pods. This trend doesn't seem to be slowing down any time soon. As more research continues to come out on the benefits of cannabidiol (CBD) and other natural cannabinoids, such as CBG and CBC, we expect to see more companies join in on manufacturing JUUL-compatible CBD pods. 
The length of time a JUUL pod lasts is determined by the contents and how often the user vapes. Manufacturers usually indicate the volume of vape oil in the pod and the amount of CBD in the pod. Many of them will also provide an approximate number of puffs a user is expected to get from each pod. You can take all of this information and figure out roughly how long your CBD JUUL pod will last, depending on how heavily you vape.
There are many types of JUUL pods, nicotine JUUL pods, THC JUUL pods, CBD pods, and even terpenes JUUL pods. These pods can be further subdivided into several other categories, such as volume, broad-spectrum, full-spectrum, isolates, organic, and so on. Without JUUL manufactured pods to set consistent product standards, there are too many variations to provide a specific number of ml per pod. However, the pods we have reviewed are within the 0.6mls – 1mls per pod.
CBD JUUL Pods: Where to buy?
While you can find some CBD pods in stores, we live in a digital world, so most pod manufacturers sell them online. You can purchase pods directly from the manufacturer's website, a third-party re-seller, or visit and of the authorized dealers. Some manufacturer websites have a store locator page to help you find a location nearest you.