As medical marijuana continues to edge its way firmly towards the center of the health and wellness industry, a lot of research is going into how best to take it. One of the fastest ways of delivering CBD into the body is inhaling. When smoked or vaped, CBD doesn't have to undergo 'first pass,' and this makes it more bioavailable and also enables it to work faster. Hemp Direct is one of the leading experts when it comes to hemp 'inhalables,' especially hemp flowers.  Keep reading for a comprehensive, CBD Hemp Direct review.
If you're looking for a CBD brand that is as good as CBD Hemp Direct, check out Spruce CBD Oil:
Hemp Direct produces many different types of products in the market, including some of the best CBD gummies in the market today. Their area of specialization, however, is in the hemp flower. The company is pushing the frontiers of medical marijuana by introducing hemp flower products that have different non-psychoactive cannabinoids being dominant. 
They have managed to develop strains of hemp explicitly designed to meet the needs of their customers because they are hemp farmers and breeders who have fulfilled all requirements to be licensed in different states in America. They can handle the product they manufacture from farm to shelf, and they, therefore, control the quality of their products quite effectively. 
Hemp Direct also subjects its products to third-party testing to ensure that these products have the right cannabinoid profiles to meet specific needs. The cannabinoid profile of each product is pasted on its packaging material. This helps a buyer to know exactly what they are getting and whether it is suitable to meet their needs. The products, as we are going to see, have authentic marijuana flavors without being psychoactive. This attribute will likely please users who want the taste of marijuana without having to deal with its psychoactive effects. 
The company's hemp is grown in the US, which means that it is produced under strict government protocols. These protocols are besides the company's measures to ensure that the hemp is safe for human consumption.
Many users feel that American hemp is more trustworthy than those grown in other countries. Well grown industrial hemp is particularly vital with hemp flower because you mostly have to take it without much processing. If there are toxins in the hemp, the user will inhale them, and hemp being a bioaccumulator, retains the toxins in the soil on which it grows. Organically grown hemp is the best option for all uses but mainly for flower vaping.  
CBD Hemp Direct Products Range
This company has a range of hemp flowers that generally fall under two categories. Cannabidiol (CBD) and cannabigerol (CBG). The flowers are bred in different ways to suit the preferences of different users. Still, the main distinguishing feature is that they have significant percentages of the cannabinoids that are dominant in them. Being full-spectrum products, these flowers give their users the entourage effect from cannabinoids and terpenes.  The following are some of the company's flowers. Please note that the products are named according to the marijuana strain they come from.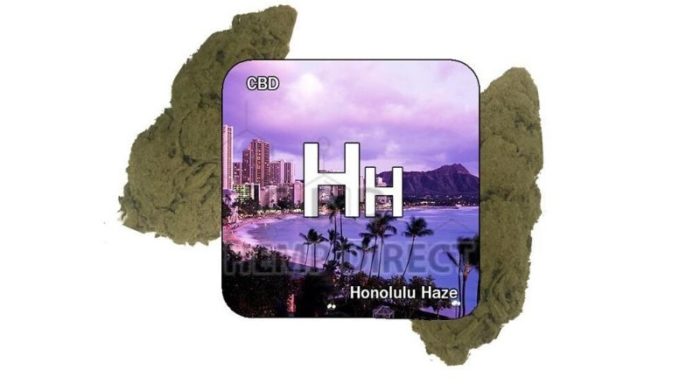 Honolulu Haze contains 22.6% CBD. It has a THC content of just over 0.1%, which is less than half of the maximum legally accepted percentage. Its aroma is natural, flowery, and mild, and it contains several terpenes, including Myrcene, Pinene, Caryophyllene, and Bisabolol. This flower comes from the Sativa strain of marijuana, and it causes a calm, relaxed feeling when inhaled.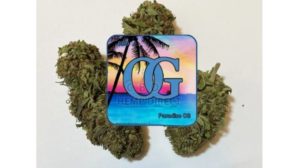 It has 24% CBD, which is the highest percentage in the CBD Hemp Direct stable. It also has a 0.116% THC, which means that it has almost zero psychoactivity. Besides CBD, this flower contains many terpenes, including caryophyllene, humulene, bisabolol, guaiol, and myrcene. It comes from the organic paradise lineage, and it has a musky flavor. The flower is best used to provide relief from pain or produce relaxation and calm.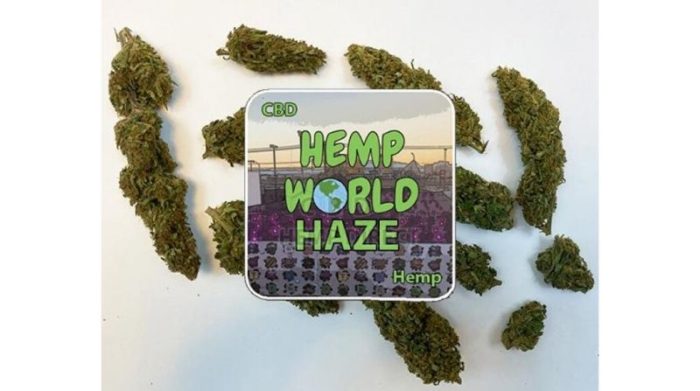 Its name is because it is grown at Hemp World. It has an impressive 22.6% CBD content, which is among the highest for the flowers in the market today. Sometimes it is referred to as Honolulu Haze #2 due to similarities in CBD percentage and also because they both come from the Sativa strain. Its aroma is a combination of dank, floral, and fruity, and this is the flower to vape if you feel the need for calmness and relaxation.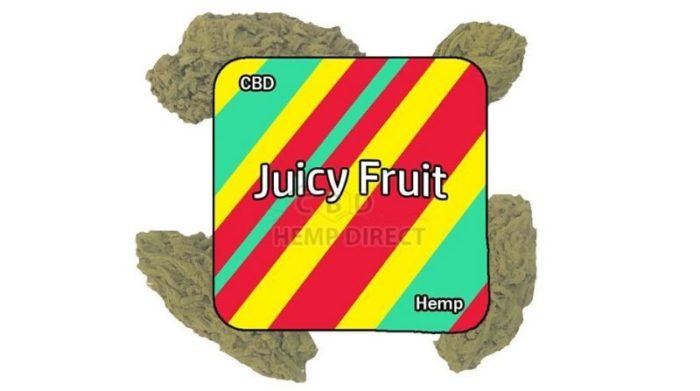 It is referred to as juicy fruit due to its citrus/ tropical fruit flavor, which may appeal to people who dislike the natural, earthy flavor of hemp. The flower comes from a Sativa dominant hybrid, and people use it because it leaves them feeling happy and relaxed. It falls in the category of flowers with upwards of 20% CBD since it has a 20.7% yield.  
There are many other CBD flowers from which to choose. Many of the other choices fall below the level of these products' potency.
CBG is usually referred to as the parent cannabinoids since all other significant cannabinoids develop from it. It is non-psychoactive, and it has many health benefits, which is why it is an excellent product to use. One of these health benefits is its antibiotic abilities. The following are some of the CBG dominant strains with the highest potency in the Hemp Direct Stable.
This flower has an impressive 21.8% CBG content with a THC content of below 0.3%. It contains several terpenes such as bisabolol, caryophyllene, guaiol, and humulene in reasonably substantial amounts, which enables them to provide relaxation, pain relief, and other forms of assistance to users.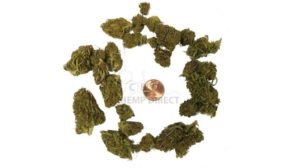 It has 19.7% CBG content and 0.3% THC content, which is within the legal limit across America. This flower also contains considerable levels of humulene, caryophyllene, guaiol, and bisabolol. These are terpenes that work together to provide the user with a relaxing entourage effect. The flower is packaged in different packages of varying sizes from 1.5 grams which go for $9.99 to 120 grams at $299.99
Flowers, both CBD and CBG, are also formulated into different products such as small buds, joints, cigars, Kief Nugs, trims, blunts, among others. They also sell various products in batches such as 'Farmer's Batch.' All these products may be made up of exclusively one of the strains discussed above or of a blend of hemp flower strains. 
CBD Hemp Direct Products Price
The following are the price ranges for the reviewed flower strains. 
| | | | |
| --- | --- | --- | --- |
| Strain   | Dominant Cannabinoid | Package Size Range (grams) | Price Range ($) |
| Honolulu Haze  | CBD | 1.5g – 120 g  | 9.99 – 299.99 |
| Paradise OG | CBD | 1.5g – 450 g | 9.99 – 899.99  |
| Hemp World Haze  | CBD | 1.5g – 450 g  | 9.99 – 999.99 |
| Juicy Fruit | CBD | 1.5g – 450 g  | 9.99 – 999.99 |
| Desert Snow  | CBG | 1.5g – 120g  | 9.99- 299.99 |
| Jazzy CBG Flower | CBG  | 1.5g – 120g  | 9.99 – 299.99 |
CBD Hemp Direct Products Features and Highlights
Specially bred hemp

: – Breeding is vital for hemp flowers. This is because what a customer gets from the product depends on the quality of the whole plant. CBD Hemp Direct, therefore, invests in research to ensure that the strains it produces have an appropriate percentage of the cannabinoids in question.
Wide Variety

: – Although the company focusses mostly on hemp flower, it has made an effort to produce a wide variety of products. They come in many different potencies, flavors, and terpene profiles. These varieties of products ensure that users get to have their different needs met by the hemp flower.
Fast Acting

: – One of the greatest advantages of smoking and vaping is that the CBD gets absorbed into the body quickly. The effects of these products mostly last between one and two hours. This combination of factors means that they can be quite effective for on-demand usage and then wear off quickly, enabling the user to go on with their activities.
Hemp Flower contains no Additives

: – The hemp flower used in these products is natural without flavoring or preservatives. This makes it much safer to smoke and vape than many other products.
Educational Website

: – The Hemp Direct website has a lot of information on how cannabinoids in the hemp flower work for the benefit of users. 
Products Could Have Negative Effects on the Lungs

: – Vaping and smoking means that the users' lungs have to come into contact with smoke. Some studies have suggested that all smoke contains a certain level of carcinogens, and the use of hemp flower, therefore, puts the user at risk. 
Where to buy CBD Hemp Direct
The company has a CBD store in Vegas where customers can walk in and buy their products with the assistance of friendly staff. If you can't get to Las Vegas, you can order your product online, and it will be delivered to you. The company website gives details about the product's shipping arrangements.
This article doesn't review all the products manufactured by Hemp Direct; it focuses more on their hemp flower, which is their strength. They have high-quality tinctures, gummies, and even concentrates. While it is not easy to state categorically that they have the best CBD oil in the market, it is easy to say they have some of the best hemp flower products. Of course, to smoothly enjoy the full effect of some of these products, you will need to have the best CBD vape pens you can find.
Again, if you're looking for a CBD brand that is as good as CBD Hemp Direct, check out Spruce CBD Oil.