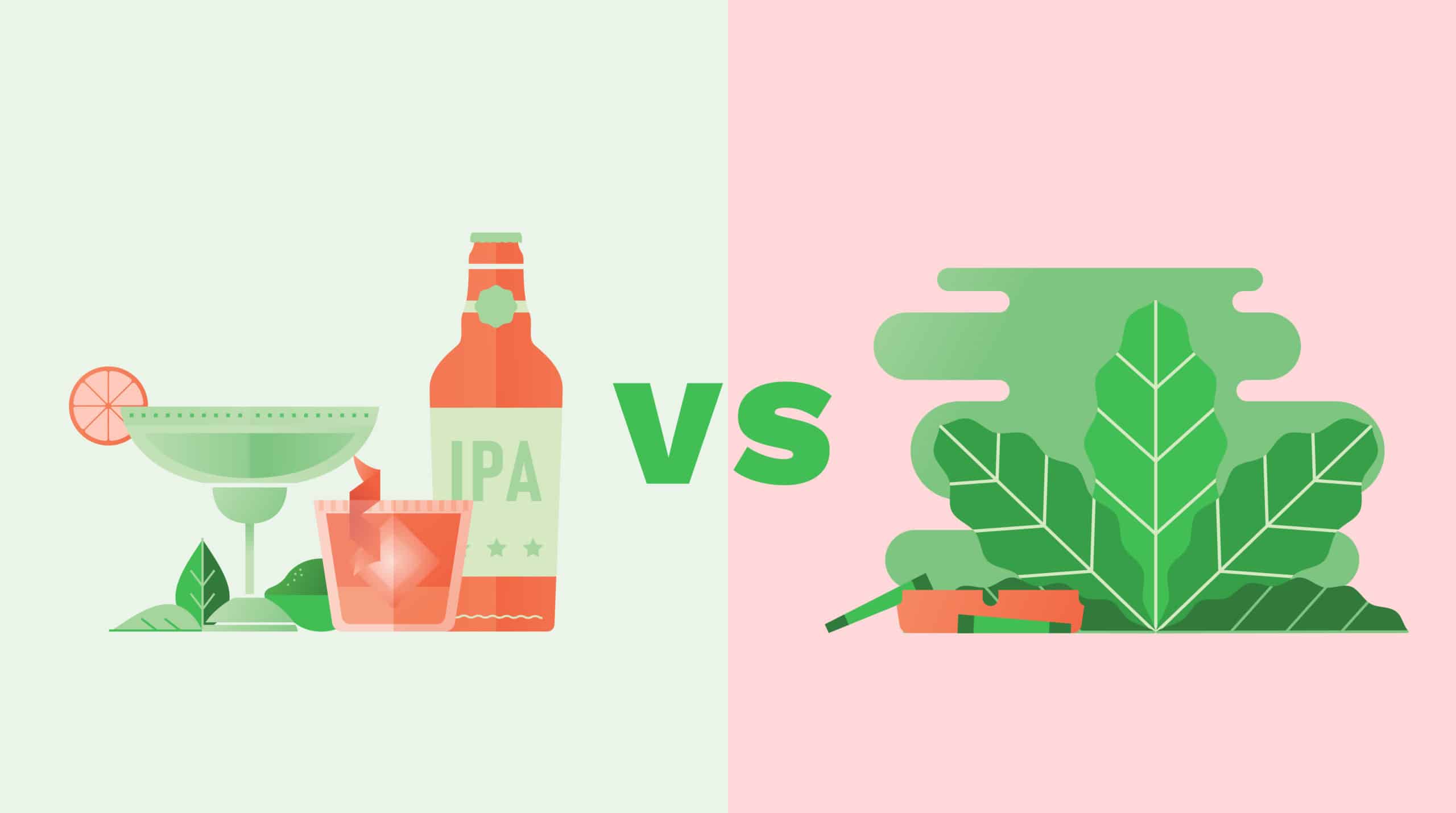 People drink for various motives. But according to Mulford and Miller, it boils down to two categories: "to drink to escape, avoid, or regulate unpleasant emotions", or to "celebrate social occasions, and to have a good time with others."
However, as cannabis grew in popularity over the past decade, more and more U.S. adults were reported to have smoked marijuana as of 2019.
How popular has cannabis turned this year? Were there more U.S. adults smoking weed now compared to drinking alcohol?
We recently surveyed 2,080 Americans to see:
If people these days would prefer smoking weed over drinking alcohol.

Their experiences when they or they are with stoned/drunk friends.

Their willingness to drive when under the influence of alcohol or marijuana.
Most of our respondents were aged between 18-29 years old, representing 41.8% of the 2,080 survey takers, followed by 31% of respondents aged 30-49 years old.
There are more respondents aged 60 years old and older (10%) than respondents aged between 50-59 years old (7.2%).
Most of the survey participants (32%) are receiving a monthly salary between $0 – $2,499 while only 6.2% of them are receiving a monthly salary of $10,000 – $14,999.
10.8% were being paid over $15,000 while there are only 6.2% who are getting paid 10,000 – $14,999 monthly.
People Prefer Smoking Weed or Drinking Alcoholic Drinks?
Does legalizing weed affects the general U.S. population's preference between weed and alcoholic drinks, especially since the number of alcohol-induced deaths (excluding accidents and homicides) amounted to over 35,000 in 2017?
Between smoking weed and drinking alcohol, only 40.8% of the survey takers would prefer weed over alcohol (59.2%).
How Much Are Smokers Consuming?
Of those who would smoke daily, 13.7% smoke about 2 grams or more daily compared to 28.7% of them who only smoke a gram or less.
40.4% of survey participants smoke and get high once or twice a week compared to 24.6% that only get high once or twice a month.
How Much Are Drinkers Consuming?
Among those who would prefer drinking alcohol weekly, 51.8% drink regularly with a moderate amount while only 16.5% drink and get drunk whenever they do.
Only 2.1% get drunk from drinking alcohol every day compared to 29.6% of survey takers that only drink a little every month.
Why Do People Prefer Smoking Weed?
We asked our survey participants what motivates them to smoke weed over drinking alcohol, and most of them (59%) said it's because this doesn't give a terrible hangover like alcohol.
43.2% of them preferred to smoke weed because getting high feels much more awesome than being drunk.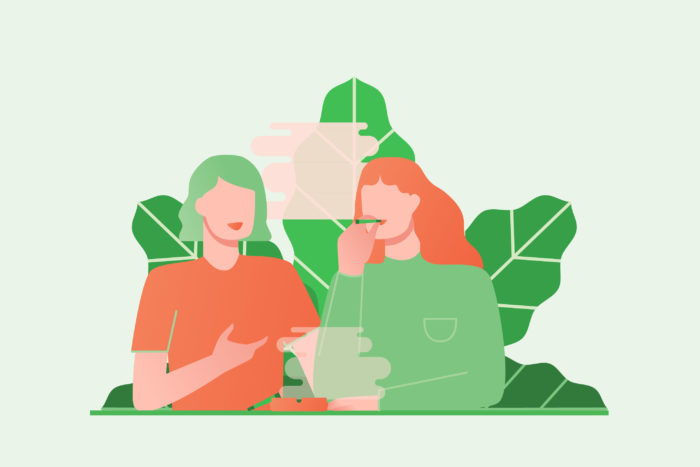 Why Do People Prefer Drinking Alcohol?
39.3% of the survey takers choose to drink alcohol over smoking weed because it's cheaper where they live compared to 35.9% of the survey takers who choose alcohol over weed because weed is illegal where they live.
The second-most popular answer among the survey-takers (39.4%) is because they have the option to adjust the amount of alcohol they can drink whereas they have the need to "get high" when smoking weed.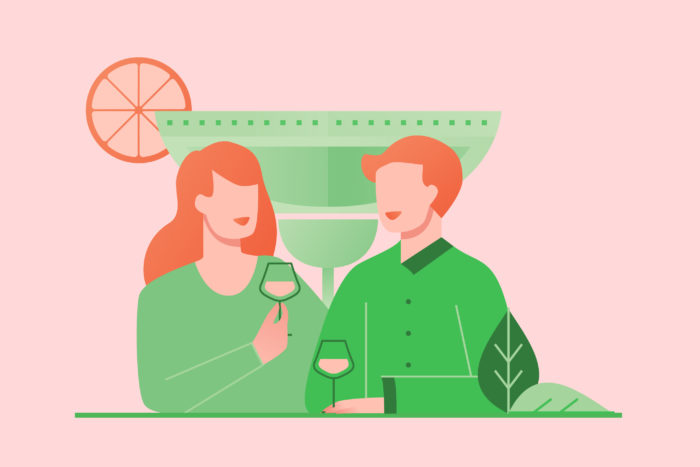 What People Do When They..
According to most of the survey participants

(61.1%)

, whenever they smoke weed, they

watch movies

.

Other people smoke weed to get better sleep

(44%)

while others perform exercises and workout

(17.8%)

.

31.4%

of survey participants would prefer to

play video games

whenever they smoke weed compared to

30.5% who would rather have sex

.

9.2%

of people were found to

smoke weed before they go to work

.

While it was found that

34%

of the survey takers choose to

communicate with people

after they smoke weed,

5.7% of them sometimes uncontrollably hurt themselves

and other people either mentally or physically after getting high.
More than half (51.9%)

of the survey takers were found to choose to enjoy their meal with a glass of fine wine or a cold beer, followed by

50.7%

of people who prefer to

talk with people

, not casual talks but high-quality time.

While

18%

of the survey takers

suddenly feel capable of doing things they've never done before

after drinking,

14.8% just blackout and can't remember anything

the next morning.

44.3% would get lost in thoughts

and the world around them while

15.5% felt their productivity rate is boosted

several times higher.

There are

1.3% more people  (19.7%) who choose to play video games

than

reading books (18.4%)

after drinking alcoholic beverages.

45.6%

of survey takers found

the need to go to the bathroom a lot

after drinking.

There are more people

(6.7%) who uncontrollably hurt themselves and other people around them

when

they're drunk

compared to the number of people who also do so

when they're high (5.7%)

.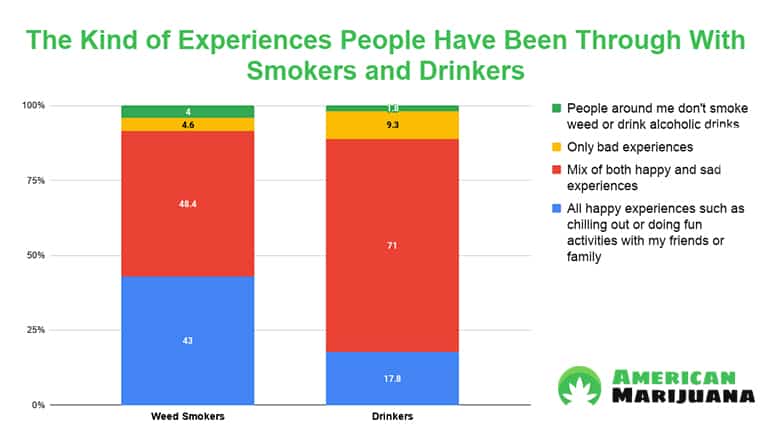 48.4% of people who were with their stoner friends have experienced both happy and sad experiences.
43% said they all experienced nothing but happy times when they're with people who were stoned compared to only 4.6% who said they experienced nothing but bad experiences
71% of our survey participants experienced both happy and sad times when they're with their drunk friends.
There are more people (17.8%) who had fun with their drunk friends than people (9.3%) who only   had bad experiences when they're with drunk friends.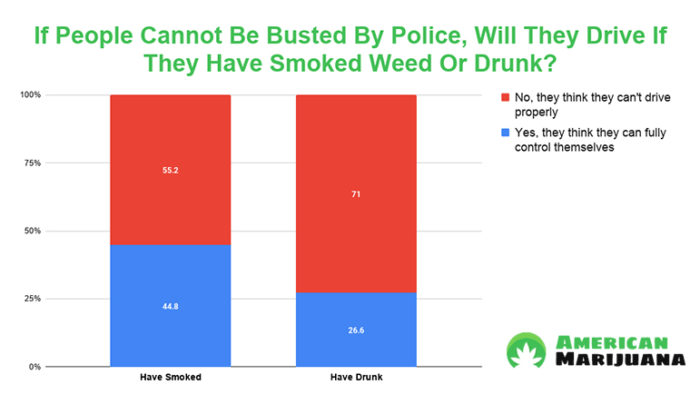 There are 15.8% more people who are honest enough to admit they can't drive anymore when they're drunk (71%) than people who would also admit they can't drive when they're high from smoking weed (55.2%).
But there are 44.8% of people who would still drive even after smoking weed than people who would drive after being under the influence of alcohol (26.6%).
Methodology and Limitations
To collect the data shown above, we surveyed 2,080 consumers in the United States who have consumed weeds and alcoholic drinks. Two attention-checker questions were included to ensure the participants are qualified to do the survey and did not mindlessly answer questions. 
Because the survey relies on self-reporting, issues such as telescoping and exaggeration can influence responses. Please also note that this survey's results do not reflect our opinions. 
If you know someone who could benefit from our findings, feel free to share this project with them. The graphics and content are available for noncommercial reuse. All we ask is that you link back to this page so that readers get all the necessary information and our contributors receive proper credit.