If you're considering an upgrade from the baggie you get your buds in, to something a little bit more sleek or more functional, this is your sign to do it. You don't want to be the friend that's always pulling out a bag of pancaked nugs from your pocket. There's so many interesting features to choose from, and different colors or styles, you may want them all – it really isn't an easy thing to pick all on your own! Maybe you're an easy customer, and just looking to keep your stash a secret with a smell proof container for weed. Let us help with a list of some of the best weed stash boxes to make the selection process a little easier. 
Well for starters, a stash box doesn't have to be a box. Simply put, it's any container you use to store your cannabis in! From there, everything is an upgrade, or something to brag about next time you're smoking with friends. It can be portable or something you keep at home. Maybe it's a smell proof container, or has perfect spots to put all your rolling gear in. It should be durable, and most importantly, cool. 
Where and how you store your cannabis can be a source of pride for some cannabis connoisseurs, you've probably seen some really unique DIY containers! Beyond being a creative outlet and a way to show off your "stoner-engineering" skills, this is the item you use to keep your bud safe, secure, and perfectly smokeable. You don't have to be an engineer to know those ziplock bags only keep your stash fresh for so long. So use your weed box as an expression of self, and expression of quality!
Top 7 Stash Boxes For Weed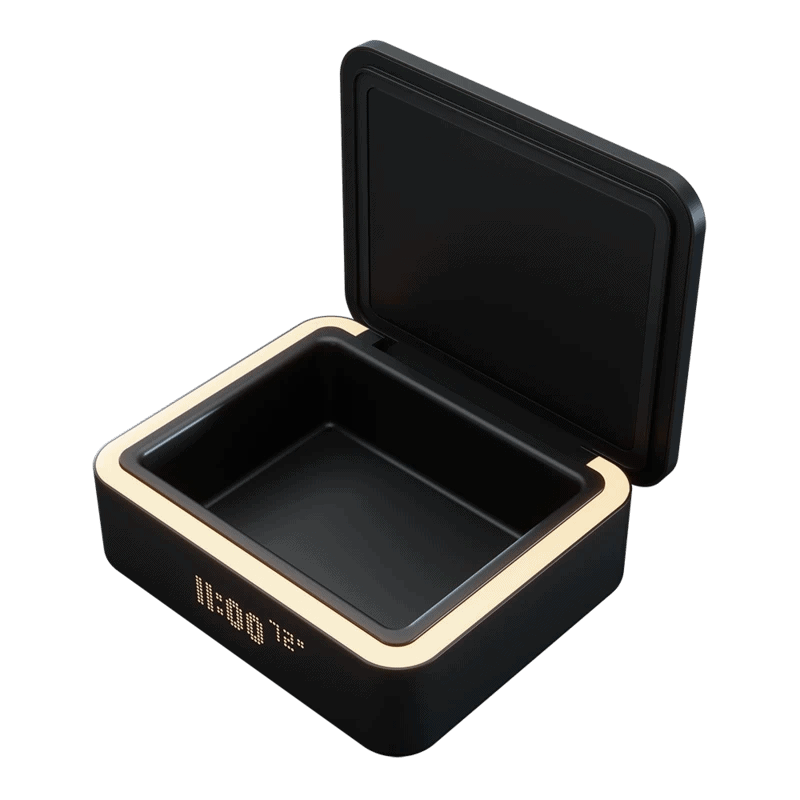 Highlights
Electronic display
Chargeable, long battery life
Phone app control
If George Jetson smoked weed, this is what he'd want to keep it in. The Keep is the first smart cannabis storage device, a very futuristic, techy way to "keep" your herb safe and secure. The guys who designed The Keep are a couple dads who wanted a container that focused on keeping cannabis responsibly, and stepping away from the stigmas that are associated with smoking cannabis. This auto-closing, environmentally controlled, phone app paired, face recognizing, finger print scanning, motion sensing stash box is 100% top of the line. Stay updated of when it was opened, and manage temperature or humidity all through the app. There's nothing comparable in the way of discrete, table top containers that you can leave on display with pride.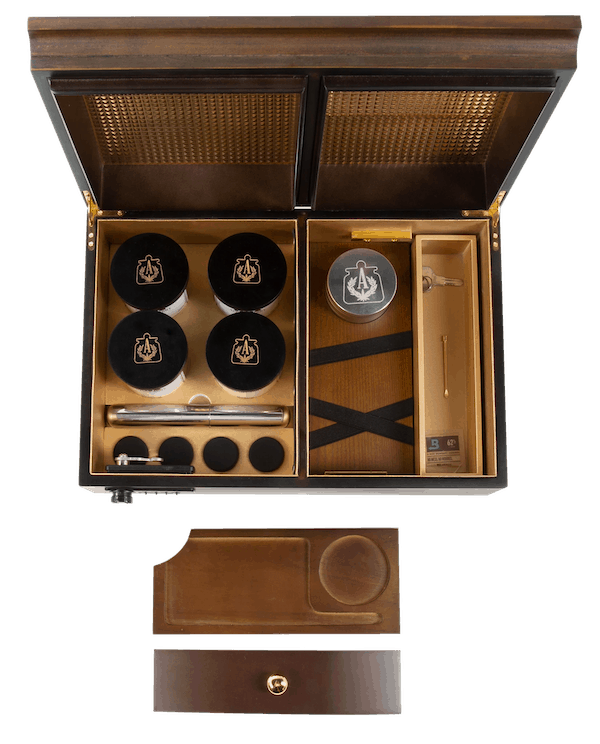 Highlights
Humidity controlled environment
Comes with dab containers
Comes with grinder
Sometimes you get the pleasure of buying high quality cannabis that is, for whatever reason, a strain you want to hold on to for a rainy day. Like a bottle of wine you save for your retirement. This stash box is a humidor, suitable for preserving your cannabis for long periods of time with complete humidity control. Don't let quality deteriorate with time, invest in a container that's designed to store your product at its absolute best. The Apothecarry Case even has elastic straps inside that keep your jars upright on the bumpiest of rides, as well as including a grinder and jars for your bud, all built to dimension for the weed stash box.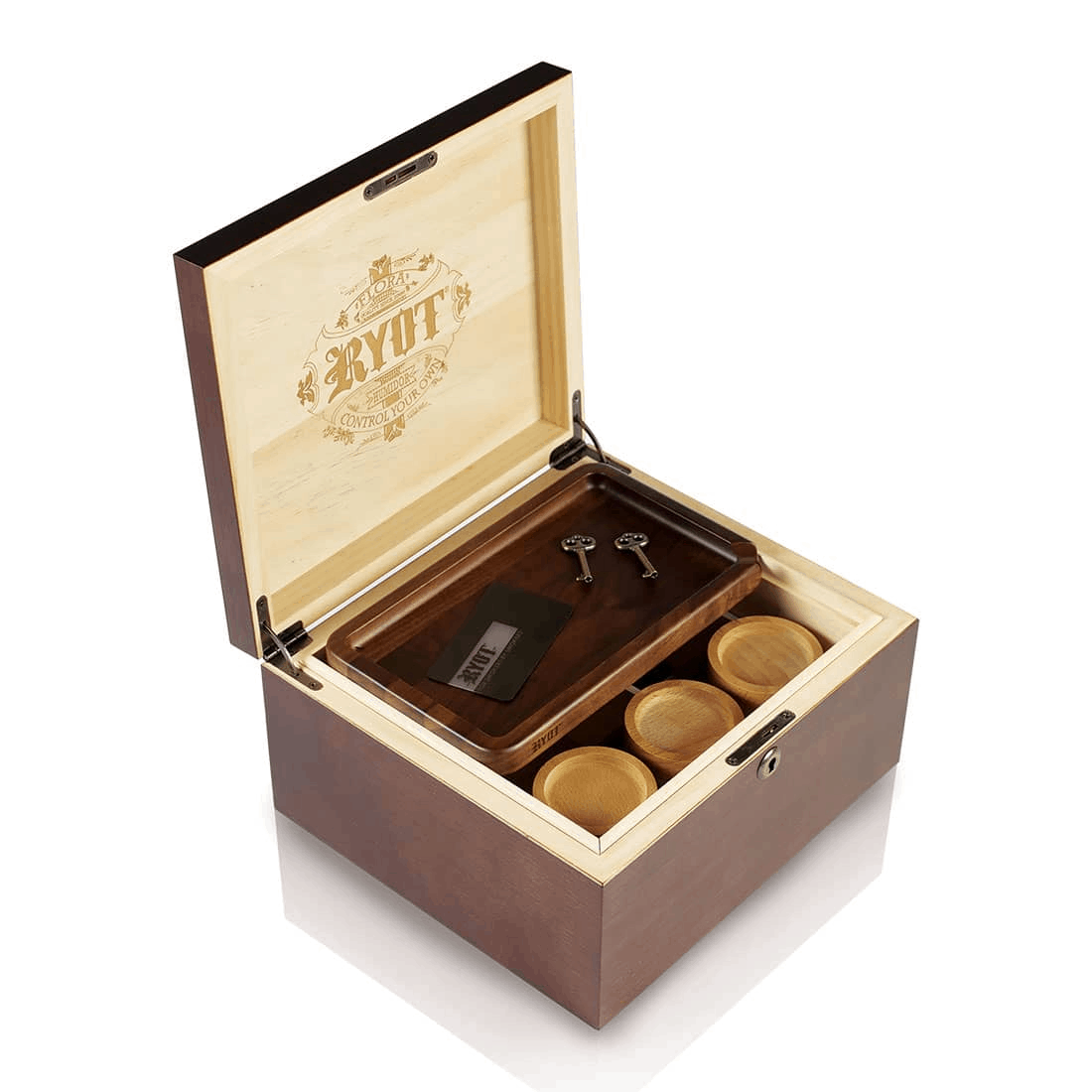 Highlights
Comes with a rolling tray
Comes with containers
Comes with lock and key
The Lock-R Box is definitely a classy weed stash, it's stylish wood material gives it an aesthetic that would make it welcome in any office or study room – and giving it a durable exterior that keeps the contents safe inside. It also comes with 3 glass jars, a walnut rolling tray, and dividers to keep everything organized. You'll find included is a walnut rolling tray that fits nicely in the top of the box, and a lock and key for added protection. The Lock-R Box is going to be everything you need in a stash upgrade for an at home container and probably a little bit extra too.
4.

Formline Extra Large Smell Proof Case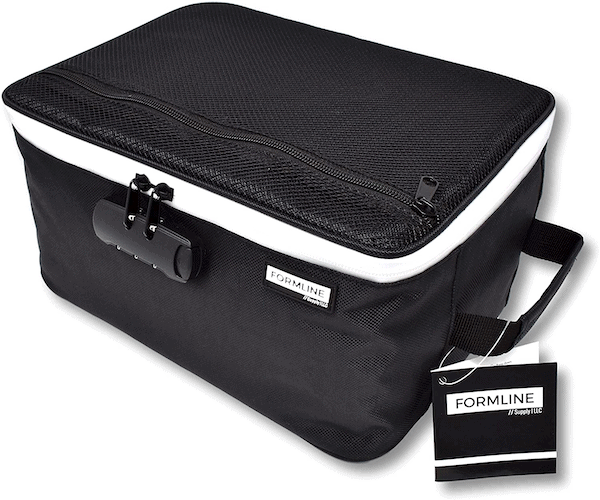 Highlights
Lots of storage
Smell proof
Lockable
Here's a pretty straightforward upgrade from the Ozchin product below. If you're transporting large personal quantities, or you need space for a few jars to keep your strains separated, this purchase will be the better pick. It's still lockable, and still has a smell proof layer to keep everyone guessing what you're bringing along with you. The lock on this is a combination lock, another area where you can see an upgrade in product design. With the extra space, they've included Velcro dividers to keep everything in place. 
5.

Ozchin Smell Proof Bag
Highlights
Easily portable
Smell-proof
Lockable
This is an on the go stash box, or maybe more of a stash pouch. Regardless of what term is correct, this little guy is ideal for an adventurous stoner! It's large enough to fit a tablet, so you'll definitely be able to throw your grinder, some papers, and a couple jars in there. The smell proof design gives you comfort in social circles where you don't want everyone to know how you like to relax, and the built in zipper lock feature means anyone curious enough to take a look inside will have a tough time finding out what's in your stash. Although this doesn't have any extravagant add-ons, this simple solution covers the bases for a budget option.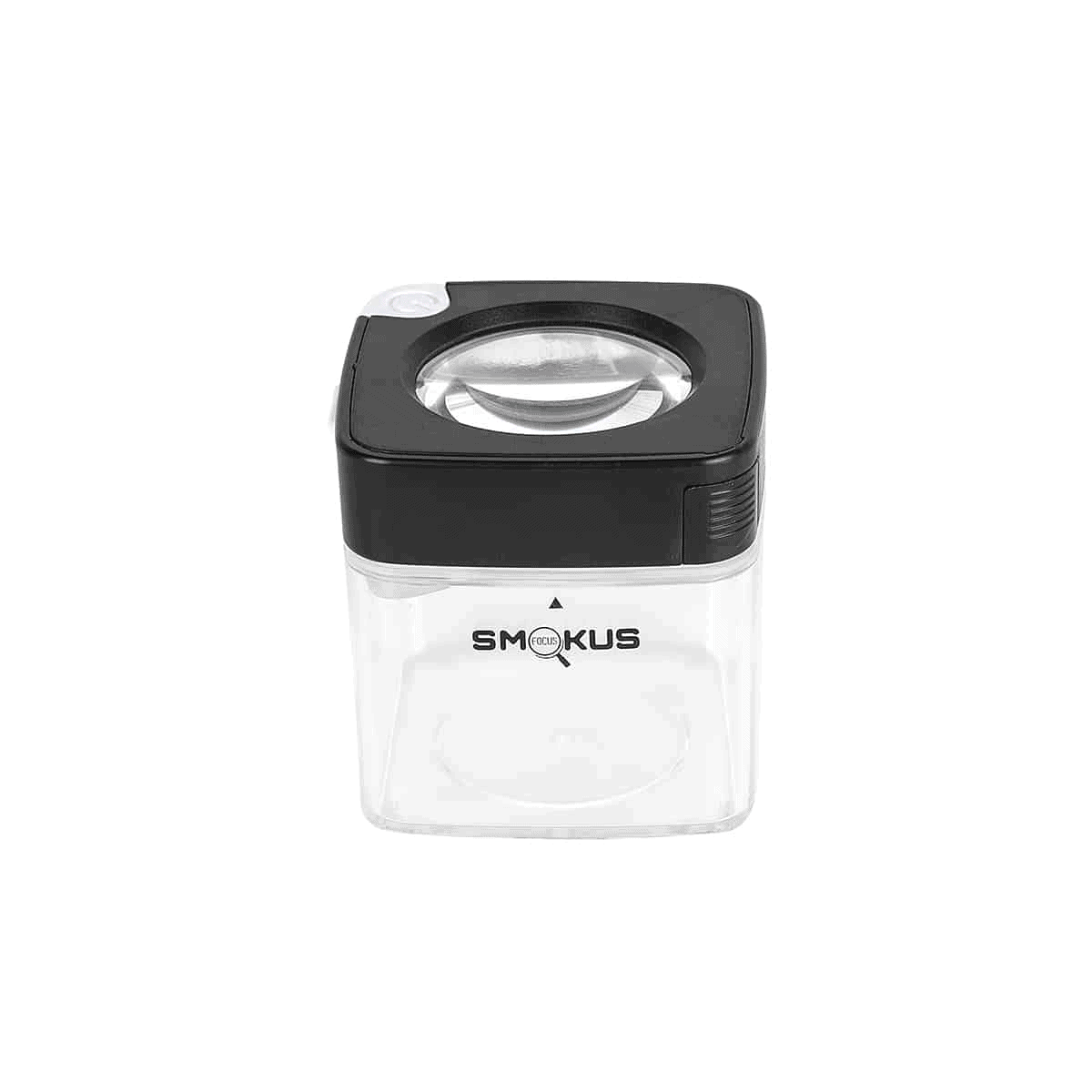 Highlights
Air tight
Inside light
Magnifying glass
How many stoners do you know that go home with their fresh bag and do a show-and-tell with their bud for whoever's around to listen? Here's the perfect 4/20 gift for that person! These budget friendly airtight containers light up on the inside, and part of the lid is a magnifying glass! You can see those gorgeous flowers in HD 1080p quality, right at your fingertips.  If you haven't seen one of these in use before, they give you a cool perspective of your cannabis that you don't usually get to enjoy. You can usually find them in nice dispensaries that understand bag appeal is half the battle. You could combine a couple of these with a smell proof bag, and you're ready for the day! 
7.

Nice Paper x Sackville Stash Box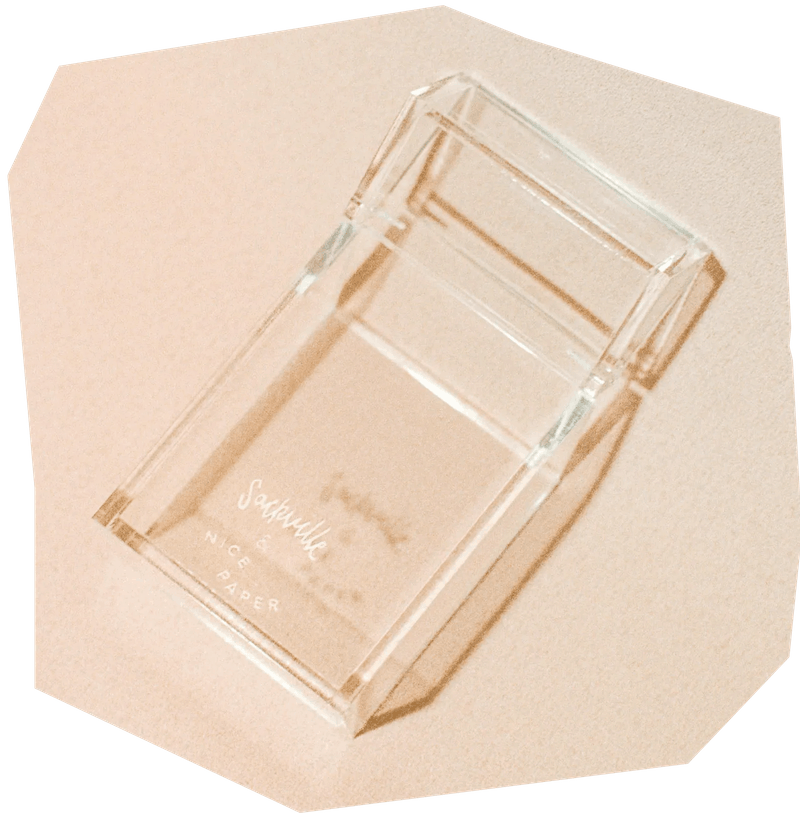 Highlights
Popular with influencers online
Pocket sized
Fits bud and rolling papers
Okay, I'll admit it. This really isn't that functional, nor does it sport any amazing features. It's more or less just very aesthetically pleasing. If you're a clout chaser or trying to one up your homies with the latest street wear trends, just spend the money. Keep your finger on the refresh button, it tends to sell out pretty fast. You can consider this a picture perfect option to pull out a couple prerolls when your friends have their cameras out. 
Like I mention above, stash boxes are personal; there isn't a set list of criteria that makes one better than the next. The Keep definitely has one of the larger price tags on the list but that's because it's worth every penny you spend. There's no other products that offer everything that you find here in such a well designed, surprisingly user friendly stash box. 
That's kind of like asking "what makes a flower pretty?" – it's just something that's very personal. Ultimately it's up to you what features are most important to make your weed box the best. Smell-proof, air tight, discrete, and portable are some features that you may want to keep in mind when deciding what makes a top contender on your buy list. That doesn't mean a simple container that keeps your weed fresh isn't any good though. 
Not all stash boxes have to be! High quality cannabis is known for its pungent scents, and terpenes that seep through poor grade plastics. So if being discrete is a top priority for you, make sure you're looking for a product that's listed as being smell proof. This is usually with materials like bamboo, or cotton. Certain blends of nylon will also be used, usually in combination with a carbon filter.