When you think of a bong, do you immediately think of a decorative glass contraption? While your imagination is not necessarily wrong, it is a bit outdated—the silicone bong is the bong of the future. 
We know that you might stop and think to yourself "silicone? Really?"  But trust us on this one. Truth be told, silicone bongs are not necessarily new. They just haven't made their place in the mainstream to the extent that we think they should. 
In this article, we will introduce the concept of the silicone bong, and then go over some of the main advantages that it has over its counterparts. We will then share a collection of our favorite models that are available on the market.
Looking for something a little stronger? Check out our guide to the best gravity bongs.
As you are probably familiar, a bong is a type of water pipe that is often used to smoke cannabis. Every bong comes with a small bowl compartment that hotels (dried) cannabis. When you ignite the weed, the combustion process begins. However, instead of inhaling the cannabis directly, the smoke first goes through a water chamber before meeting the smoker's mouth. 
This filtration system is the main reason why many smokers prefer smoking through a bong over smoking a joint or even vaping. Of course, there are many other reasons why a bong may be the preferred cannabis vessel, such as the fact that smoking with a bong is economical (less weed is required for impact) and the fact that using the right bong can enhance cannabis flavors significantly.
Most bongs are made of glass, but progressively, there are more options arriving on the horizon. Bongs that are made of silicone provide a non-toxic, durable, and flexible vessel for cannabis smoking, as well as a method that is highly portable.
Pros and Cons of a Silicone Bong (Versus a Glass Bong)
Durable—can survive a tall fall! 

More portable than glass (collapsable and less fragile) 

Come in a variety of fun patterns and colors

Extremely easy to clean—you can even throw some silicone bongs in the dishwasher

Relatively inexpensive

Silicone bongs are non-toxic (glass ones are too, but we figure it's worth a mention)

Silicone bongs maintain a more even temperature throughout the smoking process, when compared with glass bongs
Less of an "art piece" than a glass bong

Some users of a

silicone bong

report a faint "plasticy" smell

Silicone bongs may require a few break-in sessions before they work optimally
Top 8 Silicone Bongs on the Market in 2021
1.

Strong Silicone After Glow Adventurer Bong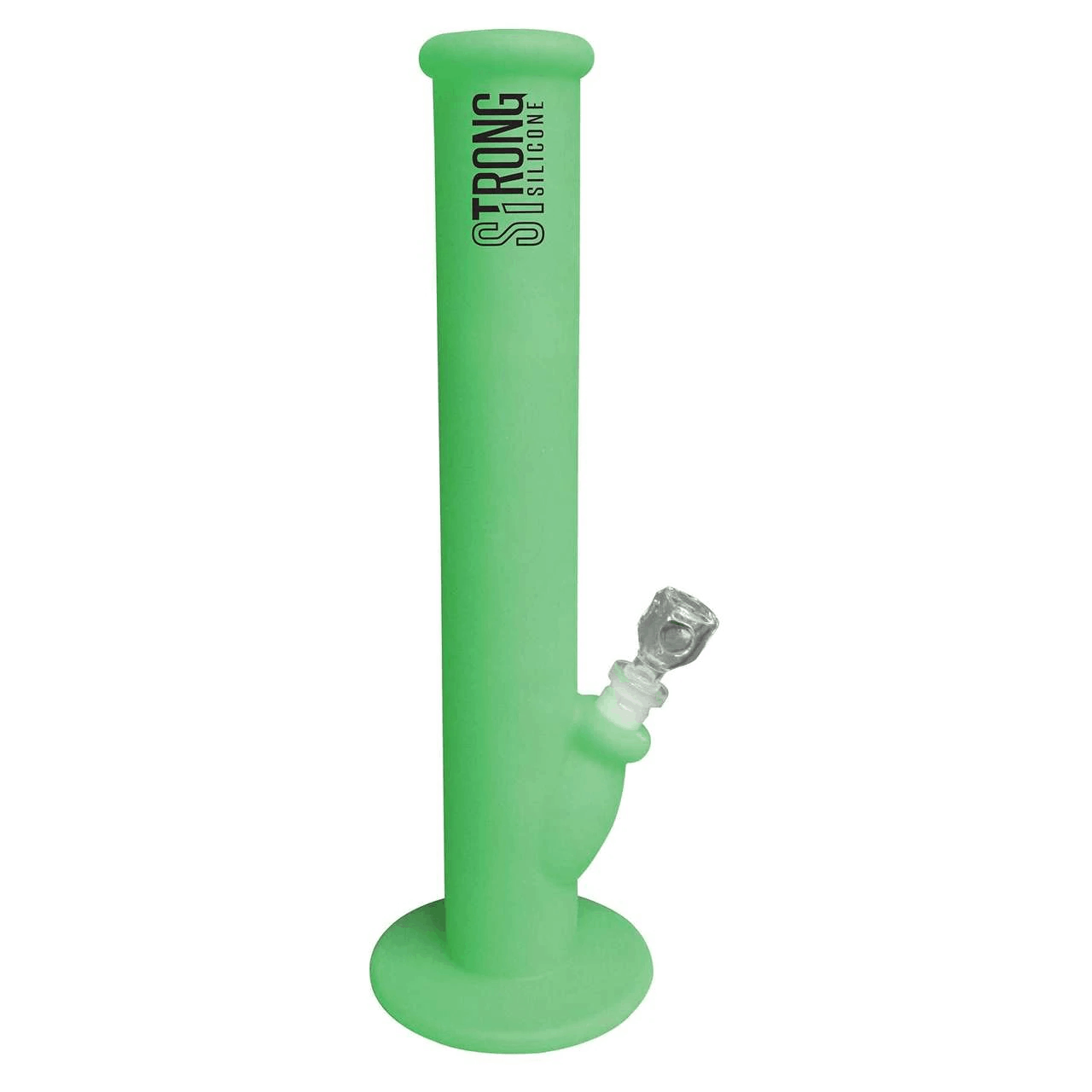 Highlights
True to its name, this is a bong designed for travel
Incredibly lightweight
It glows in the dark!!!!
Describing itself as "the original unbreakable silicone water pipe", there is no doubt that a Strong Silicone product deserves a spot on this list. Every product from Strong Silicone is made from food-grade silicone, but when we saw that they offered a glow-in-the-dark bong, we knew that we had to include it in our write-up with haste. 
Reasonably priced at only $40, the Strong Silicone After Glow makes a serious punch. With a weight of only 1 lb, this bong is just waiting to be taken on a camping trip or to a music festival. It can easily be collapsed and thrown into a bag. Did we mention that it glows in the dark? 
14" tall

14 mm joint size (male) 

Suction cup base 

1 lb
2.

Eyce Tall Silicone Beaker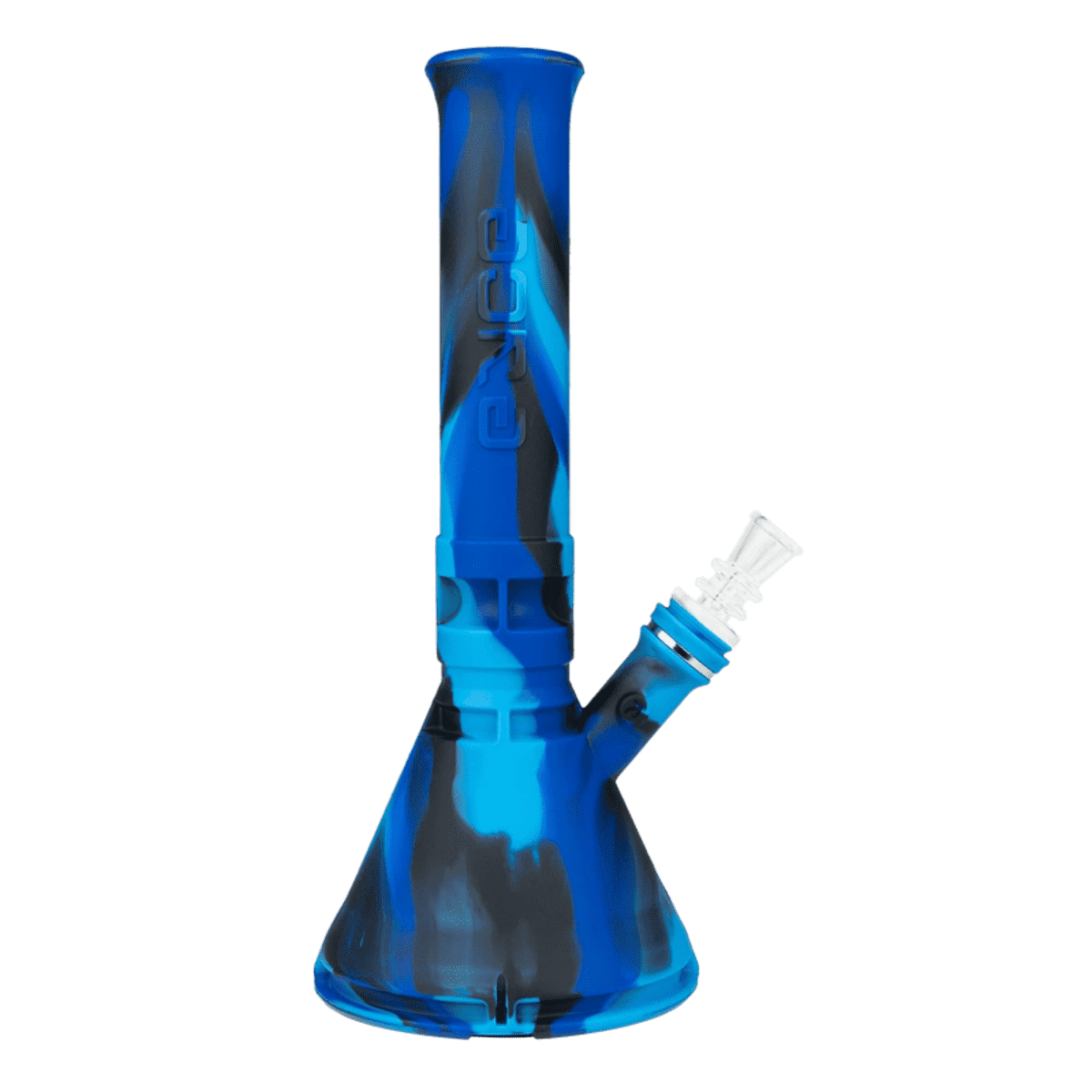 Highlights
Beautiful colorful contemporary design
Comes with magnetic lighter holder
Replaceable glass mouthpiece
One of the main complaints that classic glass bong smokers may have about silicone bongs is that they are not tall enough. With the Eyce tall silicone beaker, you will not have any complaints about bong height—this one stands at a comfortable 12" tall. 
It's also worth noting that this bong comes with a beautiful design that mimics that of its glass counterparts. For your convenience, the Eyce Tall Silicone Beaker also comes with built-in compartments which ensures that your accessories will never be lost when you're on the road. It also comes with a magnetic lighter holder—somewhat of a rarity among silicone bongs. 
12" tall

14 mm joint size (female) 

Beaker base 
3.

PieceMaker Kali Go Silicone Bong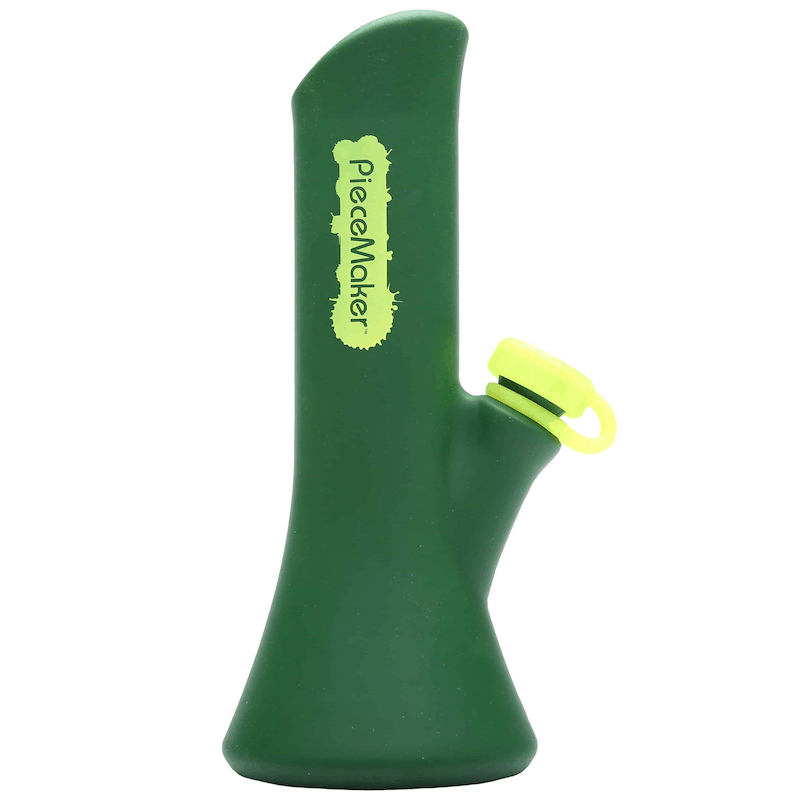 Highlights
Unique boxy design
Indestructible—mouthpiece is stainless steel
Honeycomb-shaped downstream
The PieceMaker Kai Go! is pretty unique in its appearance, as far as bongs go. With a wide stem and square edges, it doesn't really look like any of the other silicone bong options on this list.

It's a difference that is reflected in the inside just as well as the outside, with this bong featuring a honeycomb-shaped downstream trajectory that results in above-average bubble generation. The bong's bowl piece is made of stainless steel, which makes this bong virtually indestructible since you do not have to worry about any glass components.

The Kai Go! Is an improved iteration over its predecessor, the Kali Bong, which was itself a bestseller. Overall, it's great for anyone who isn't tied to the idea of having a conventional looking bong.
8.5" tall

18 mm joint size (female) 

3.5" base 
4.

Tilted Silicone Water Pipe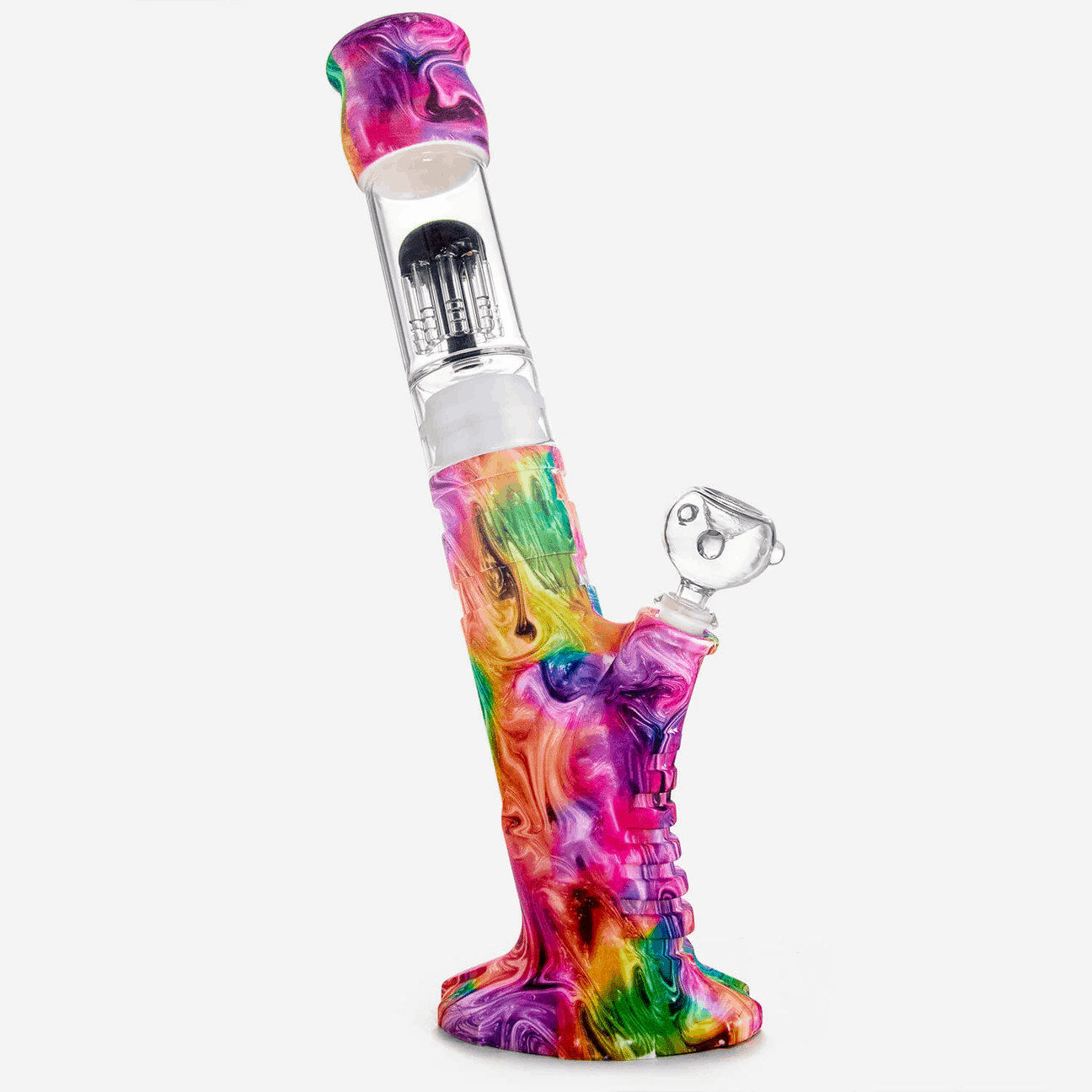 Highlights
Glass centerpiece
Ergonomic tilted design
Unbreakable
Shop the Tilted Silicone Water Pipe now. Save 15% as an AmericanMarijuana reader - use code AMMA at checkout for 15% off.
See Lowest Price
While by now it's no secret that we love a good silicone bong, we are the first to admit that it is not very often that you can find a silicone bong that makes you go "wow". This, however, is the reaction that this Tilted Silicone Water Pipe elicits, thanks to its breathtaking multicolor design that rivals even the most elaborate of glass bong designs. 
This silicone water bong is not just all looks, either. From its design (a perfect 15" that is somehow both huge and perfectly collapsable), to its functionality, this bong is definitely one for your list. Its unique design includes both silicone material as well as heat-resistant glass, which means that it is virtually impossible for your hands to slip while using the bong. Although this bong does feature a glass component, its silicone surroundings mean that it will bounce back immediately after any fall. 
15" tall

18 mm joint size (female) 

4.5" base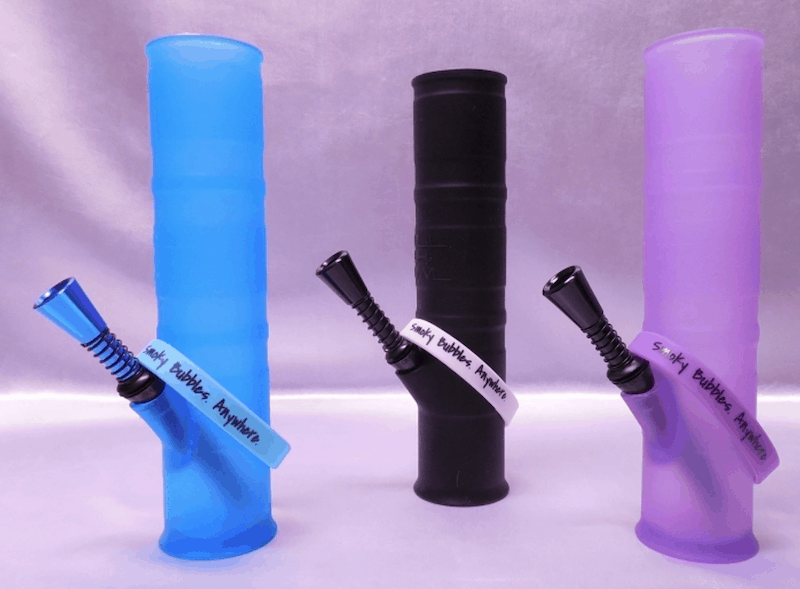 Highlights
Dishwasher cleanable
Made in Maine, United States
Inexpensive
The Roll-Uh-Bowl is pretty famous on the scene, which is no surprise considering that it was the first patented silicone bong on the market. However, if you do happen to get your hands on one of these bowls, then you will want to pick it up, as it will make a handy, ultra-portable addition to any collection. 
This model is quite basic, and as a result it does have its limitations. You won't find a hidden compartment in this bong, nor will you find a magnetic lighter attachment. However, what you will get is a compact and reliable water bong that is perfect for traveling. The Roll-Uh-Bowl comes with a silicone band that can be used to hold the bong together when rolled. 
6.

Silicone and Glass Water Horn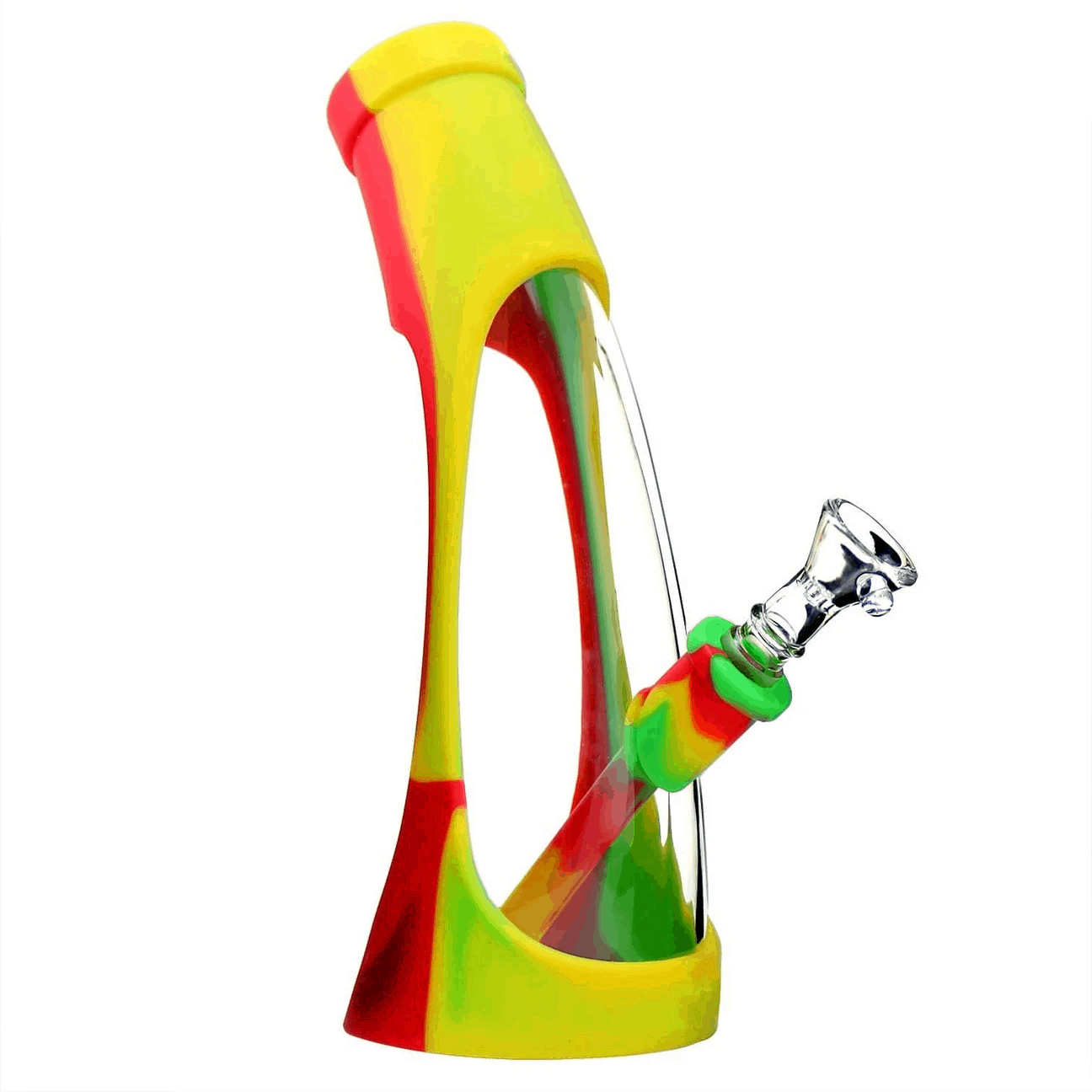 Highlights
Curved, artsy appearance
Combination glass/silicone bong
Anti-slip grip
Shop the Silicone and Glass Water Horn now. Get 15% off as an AmericanMarijuana reader - use code AMMA at checkout.
See Lowest Price
There is no denying that this water horn bong is beautiful in its appearance, with a unique curved shape that wouldn't look out of place on a fireplace mantle. We can also appreciate the fact that this design finds a clever way to combine glass with silicone, as the bong's glass body is protected by the silicone encasing.

Overall, this is a pretty but basic bong that may feel limiting to experienced smokers who are used to fancier outfits. However, its simplicity does make it an easy-to-use choice for beginners. 
8.6" tall

14 mm joint size (male) 

Combination silicone and glass
7.

Trailer Park Boys Silibong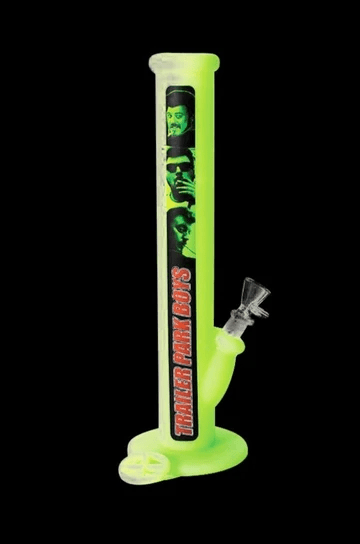 Highlights
Print of Trailer Park Boys characters
Removable ice catcher
Removable downstem
A Trailer Park Boys-themed bong? What a world we live in. While this offering will most likely appeal most to fans of the hit TV show, we are impressed with the way this bong goes beyond gimmick to offer a high-quality product.

First of all, this bong is virtually unbreakable, as it is made completely from food-grade silicone. It features a 45 degree joint, which makes it undeniably easy to smoke from with hits that are impossibly ripe to boot. 
14 " tall

14.5 mm joint (female) 

Suction cup base 
8.

Mr Y Beaker Base Silicone Bong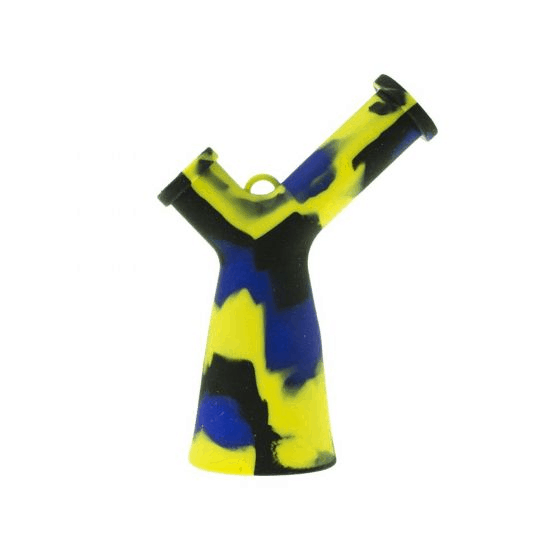 Highlights
Perhaps the cheapest silicone bong on the market
Colorful, unique "Y-shaped" design
Designed for easy gripping
Have we mentioned that one of the greatest benefits of the silicone bong is its economical cost? Nowhere is this better demonstrated than with the Mr. Y Beaker Base Silicone Bong, which comes in at around $25 retail. 
This bong comes with a unique Y-shaped collapsible design that is great in a pinch, but can be a little flimsy to the other options on this list. It also comes with some features that we find ourselves shaking our heads at, like the lanyard-adaptable keychain—do we really feel the need to carry our silicone bongs around our neck? 
6.1" tall

Open end diffuser 

Beaker base 
It's hard to be in the business of choosing the best silicone bong, but if we had to choose, you can't go wrong with the Strong Silicone After Glow Adventurer. When it comes to bongs, sometimes less is more, and we find this one ticks off the most boxes of what we look for from a silicone bong, meaning that it simultaneously does not lack important features and does not add superfluous touches. 
Overall, though, you can't go wrong with any of the above choices. What's the next bong that you'll add to your collection? 
Using a silicone bong is exactly like using a glass bong, besides the fact that you will not be able to see water levels change as your smoke. In some cases, you may need to assemble your silicone bong before you use it. You will then want to fill the bottom of the bong with water by pouring it through the mouthpiece. You can then attach the bowl to the mouthpiece, and light your cannabis. Put the bong to your lips, inhale, and enjoy. 
Yes, silicone bongs are safe! Not only is silicone a non-toxic material, but it is also highly resistant to heat. This is the reason why silicone is often used as a material in baking ware, and also why it is safe to light cannabis inside of it. To be precise, silicone is heat-resistant up to an amazing 600 degrees Fahrenheit. What's more is that silicone is hostile to bacterial growth, which means that you can worry less about harmful bacteria showing up on your bong (though you should still wash it regularly).