Caliper CBD strives to deliver high-quality, fast-acting, and extremely bioavailable CBD products. They put a focus on the science behind their products and helping others work through the misinformation this industry has been plagued with. Currently, the company offers two types of CBD powders. Each can be used in a variety of different manners giving you much more freedom in how you want to take cannabinoids. The following is our review of Caliper and its CBD products.
Caliper genuinely believes in the numerous benefits cannabidiol has to offer when it's consumed properly and given at the right dose. Of course, in such an unregulated landscape, not everyone has been able to obtain the therapeutic treatment CBD has to offer. With all the misinformation going around, Caliper has made it their mission to combat false claims and only sell products they believe are beneficial.
When it comes to Caliper, they place an emphasis on clinical substantiation. In a peer reviewed clinical study by Colorado State University, Caliper was found to have 30x more absorption than regular CBD oil in the first 30 minutes, and it was absorbed into the bloodstream within 10 minutes – making it the only clinically proven fast-acting CBD powder on the market. This is largely thanks to the fact that this powder is absorbed through the same pathways as water-soluble nutrients, such as vitamin C.
Caliper is able to offer such quality products with the help of its team of food scientists. These experts have brought decades of experience in food quality and safety to the table at Caliper and have ensured you're only getting the best of the best. And this showed within the two products we received.
But don't just take it from us. Caliper's website is filled with testimonials and reviews from people who have been able to relieve a number of health conditions thanks to these powerful products. We invite you to follow along as we take a closer look at Caliper CBD.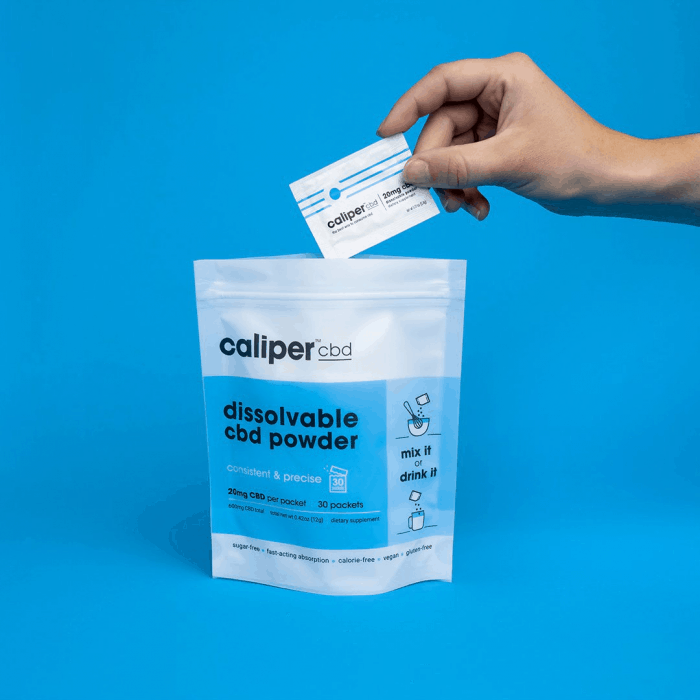 Caliper CBD is a flavorless dissolvable powder that can be mixed into various types of food and beverages (both cold and hot). Each packet is convenient for on-the-go use and contains 20mg of CBD which Caliper claims is the perfect dose. However, because of the high bioavailability, you're likely to experience benefits within 10 minutes of consumption.
Due to this, many have found these powders to be perfect for cooking into their favorite dishes. However, other people have preferred taking them straight to the mouth similar to CBD oil. This is the beauty of Caliper CBD – it's up to you how you want to experience the effects of their cannabidiol extraction. These powders require no measuring, mess, or any weird flavors. They're 100% THC-free, vegan, gluten-free, non-GMO, and calorie-free.
Currently, Caliper CBD offers a 30-pack for $49.99 (or $44.99 a month with their subscription service) which comes with a total of 600mg of CBD. If you find yourself a fan of these powders, you can always opt for their 60-pack. However, this is only available through their monthly subscription at $75.60 a month.
While these aren't the cheapest products on the market, it's vital to consider the bioavailability of each packet. Chances are you can use a single packet multiple times over and, with that, one purchase can last you well over a month even if you're taking it daily.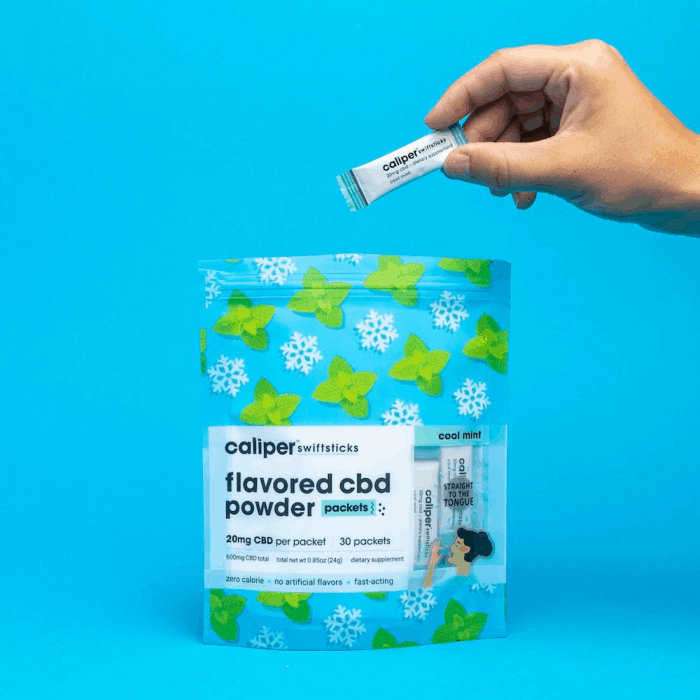 Caliper Swiftsticks are almost identical to their standard Caliper CBD product. The key difference here is these come in a multitude of flavors, including Cool Mint, Mixed Berry, and Lemon Lime. These flavored powders are preferable when taken directly to the tongue rather than being mixed with foods or beverages. They provide you with the same fast-acting bioavailable CBD and remain THC-free, vegan, calorie-free, gluten-free, and made without GMOs.
Pricing for Caliper Swiftsticks is the same as pricing on Caliper CBD – $49.99 for a 30-pack ($44.99 per month with subscription) or $75.60 per month for a 60-pack. The only downside here is you can't mix and match flavors when you purchase either pack. A bit of a bummer if you were hoping to try all three.
CBD Your Way

– One of the greatest benefits of Caliper CBD is the fact that it allows you to use CBD in a variety of different manners. This dissolvable powder can be cooked into your favorite meal or taken straight to the tongue – this is CBD your way.



Fast-Acting CBD

– Caliper was found to have 30x more absorption than CBD oil in the first 30 minutes, and it was absorbed into the bloodstream within 10 minutes, making it the only clinically proven fast-acting CBD powder on the market.



Easy-to-Use

– Caliper has delivered an innovative product that's designed to be easy-to-use. Each packet can conveniently fit in your pocket making for great on-the-go CBD relief. Not to mention, these packets are each dosed with 20mg of CBD, making it more convenient for you to figure out the right amount to take.



Dedication to Science

– Caliper's team is made up of food scientists who have a great deal of experience concerning dietary and supplemental products. These scientists ensure the quality and safety that comes with each batch.



Certificate of Analysis (CoA)

– Each batch of Caliper CBD products is tested in a third-party lab to ensure a number of aspects of the CBD, including its cannabinoid count, purity, and whether or not it contains contaminants, such as heavy metals.



Subscription Service

– If you find yourself a fan of Caliper's products, you can opt for their subscription service. This will provide you with product(s) on a monthly basis at a reduced price.
Limited Product Selection

– While the science behind Caliper's products is incredible, we were a bit disappointed to learn that they only had two products on offer (both of which are quite identical). We hope they continue to innovate with different ways to consume CBD.
When it comes to the CBD industry, we're constantly bombarded with new tinctures, capsules, gummies, etc. It's quite refreshing to see a new company hit the market with a product unlike any other. Their dissolvable CBD powder is easy, convenient, and allows you to take CBD in any way you see fit. For this reason, we highly suggest giving Caliper a try.