When you're going through the huge CBD market just to find the right brand for you, things can get overwhelming. There are tons of factors to consider and you have your own preference and needs to keep in mind.
If you're looking for a reliable Koi CBD review, then this article is exactly for you. It has all the information you need to decide whether or not it's the right brand for you.
Koi CBD started in 2015. Although it's relatively new compared to the big names in the industry, the brand is already having tons of followers.
One good reason is the quality of the products they offer. They have products that contain 99% pure cannabidiol. They process them in a cGMP certified facility.
It enables them to have full control over each stage of their pharmaceutical-grade processes.
Another thing that makes this brand stand out is the fact that they offer CBD oil with 0% THC. If you don't want to fail your drug test or you want to avoid that unwanted high, their products are a must-try for you.
Koi CBD Product Highlights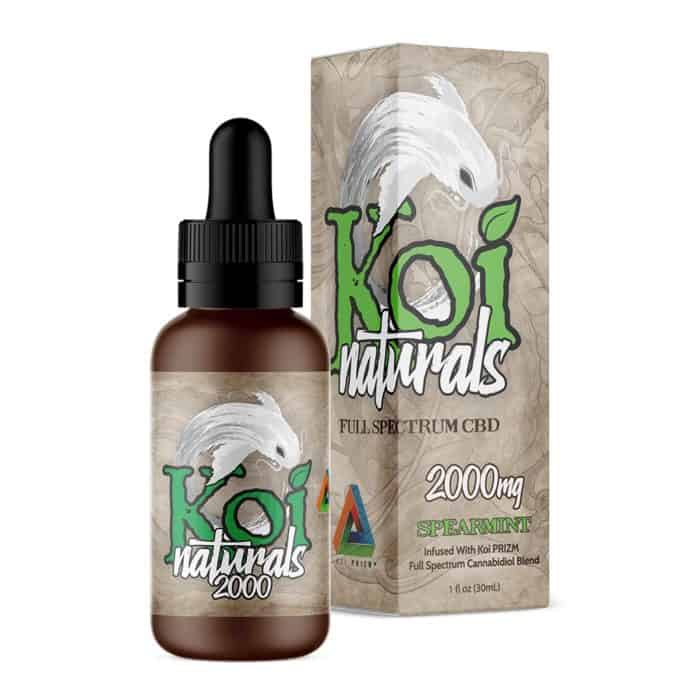 Let's start with the brand's top product.
Koi Naturals CBD oil comes in a range of various flavors. They make an excellent choice for anyone who prefers interesting tastes and hates the natural taste of CBD.
The oils are full-spectrum. In essence, this means that they contain a blend of terpenes and cannabinoids for that entourage effect full-spectrum oils are known for.
Koi CBD oils are made for oral consumption. You can put a couple of drops of the oil under your tongue or you can just add it to your food and drinks.
If you are looking for something you can use with your vaping device, Koi CBD has a different set of products for that. We'll talk more about them later.
One thing that makes the oils unique is the packaging. There's an option for you to get a spray top bottle to make it easier for you to administer the right dosage.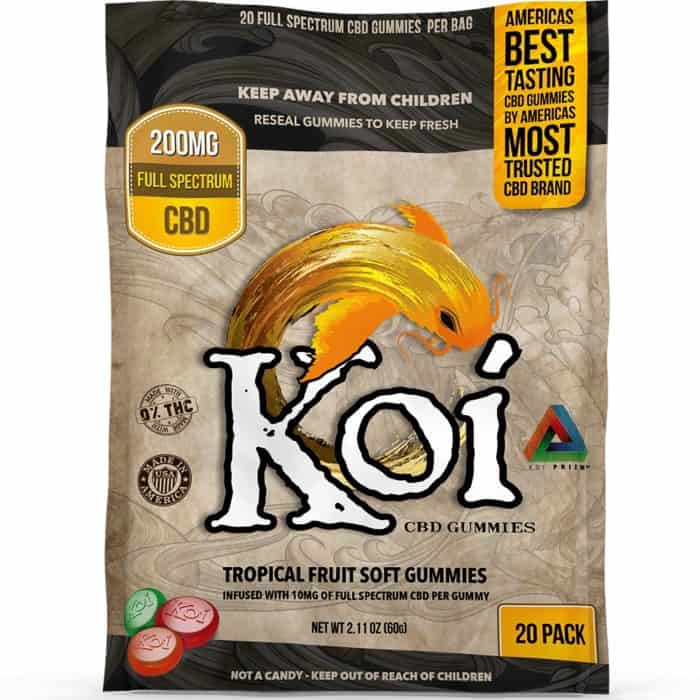 Next on the list is the edibles.
Koi CBD is unlike most brands that spray CBD on their edibles. The brand really takes its time when it comes to making sure that their products have an even distribution of CBD per piece.
This simply means that they mix and roll the CBD blend into the gummies several times. The extra steps ensure that the gummies are consistent when it comes to effects.
Now, that's not the only thing you'll find impressive with the gummies. Their tastes are quite interesting, too.
They have this variety of tropical fruit flavors. There's acai pomegranate, tangerine, and lime. You can also get them in sweet or sour flavors.
Each pack of the gummies has 20 pieces and each piece has 10mg of full-spectrum CBD.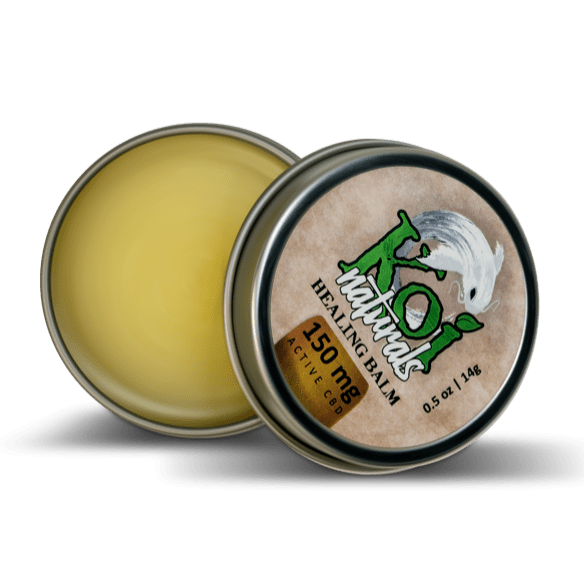 You have two options from this brand- the lotion and the balm.
The lotion has 200mg of CBD mixed with natural extracts, organic coconut, and organic aloe. The combination of these ingredients makes the product not only effective in relieving pain but also in boosting the skin's health.
The Koi Lotion is available in three variants and you can get them completely THC-free. However, despite that, make sure to check with your doctor before using them, particularly if you are nursing or pregnant.
Koi Healing Balm, on the other hand, has natural ingredients that are perfect not just for easing inflammation but also in keeping the skin healthy and beautiful.
Just make sure to avoid applying it near your eyes and face as these areas are sensitive.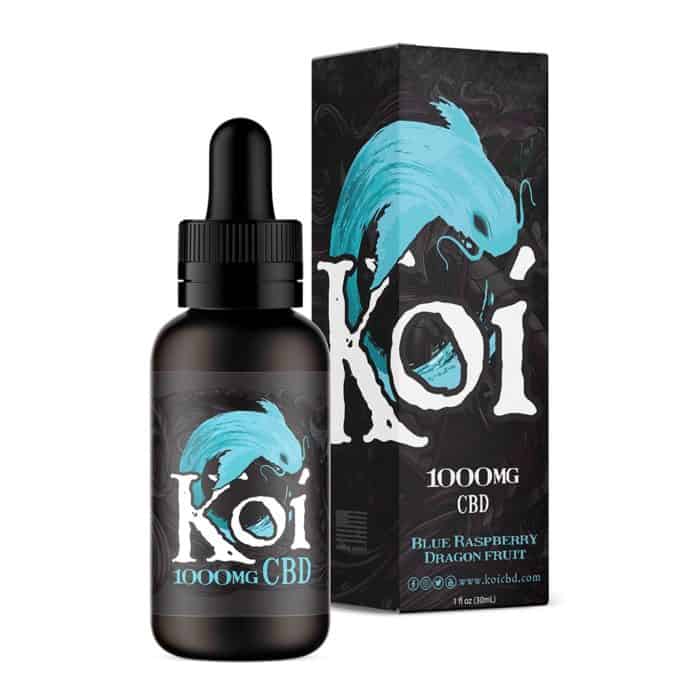 Vaping is probably the fastest way for you to experience the effects of CBD. As you inhale the smoke, your body absorbs all the benefits of CBD.
It's one of your best options if you have anxiety or insomnia.
Koi CBD vape juices are available in 4 potencies: 100mg, 250mg, 500mg and 1000mg.
You have options whether you're starting out or looking to increase your daily dosage.
As for flavors, the brand doesn't disappoint as there are 7 options for you. If you can't pick one, Koi CBD offers a variety pack so you can try all of them.
Take note that apart from the juices, you can also buy vaping devices and cartridges from this brand. You won't have to look elsewhere just to complete your vaping experience.
Koi Vape Devices & Cartridges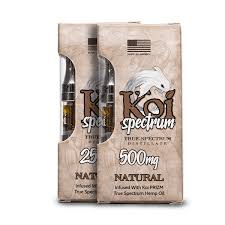 Let's start off with the Koi Stik. 
This device is small in size, allowing you to take it with you everywhere you go.  Designed with a built-in USB charger, you won't need a charger or a cable to keep it working.
Koi Stik features a one-button operation which makes it hassle-free to use. Its pod is easy to fill and you can fill it up 1 to 2 times before you need to discard it.
The lifespand of the pod will depend on how you use it.
In addition to the Koi Stik, there's also the Koi Zen. It's a portable vaping device specifically designed for the Koi CBD liquids.
Refillable cartridges, battery, and pods are also available from this brand.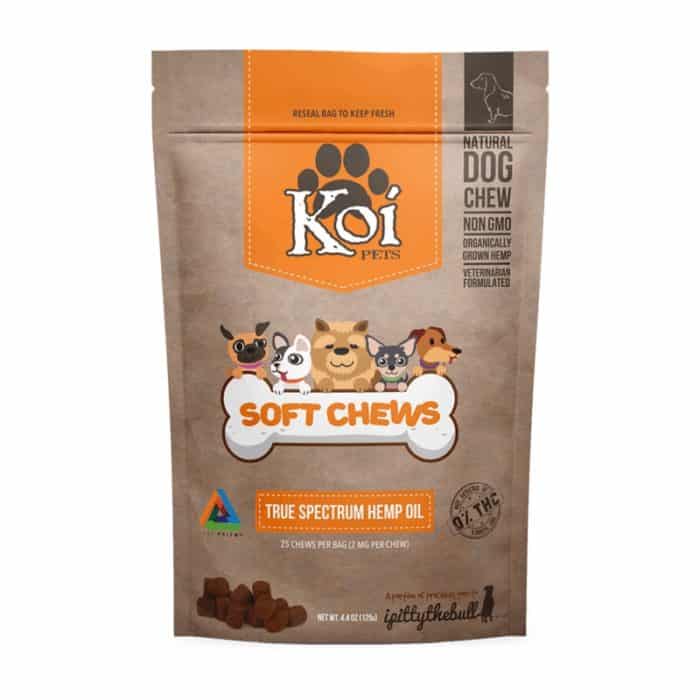 Koi Pets has soft chews and just like the gummies, they are also made with non-psychoactive and pure hemp oil. They are made with natural ingredients so you won't have to worry about the safety of your pets.
There's also a CBD spray for pets which is quite clever. If you own dogs and cats, you know how hard it is to get them to take something by their mouths.
Koi CBD is becoming one of the fastest-growing brands of the industry and below are some of the reasons why:
Most people are fearful of using CBD products because they think that they'll end up getting high. Some are afraid of trying them out because they don't want to compromise their work with failed drug tests. 
Koi CBD is 100% THC-free. No matter which product you are using from this brand, you won't experience any unwanted mind-altering effects.
Full-spectrum cannabinoids
Products made with full-spectrum oils are capable of delivering more potent effects because of the variety of cannabinoids and terpenes they contain. The synergy of these components creates an effect that is similar to the hemp plant, making the products generally more effective.
Getting your hands on Koi CBD products is quite easy as the brand sells products online and offline. They have about 12 stores located in North America and one shop in the United Kingdom.
Koi CBD is probably one of the easiest websites to navigate. It has intuitive navigation which makes it quick for anyone to find a specific product or information.
It even has a store finder on its website which you can use to look for areas where you can buy Koi CBD products from.
Not everything about the brand is good. It still has its own set of cons, including the following:
One of the things that determine the quality of CBD products is the extraction process used to create them. In the case of Koi CBD, they aren't clear about that.
The best and safest way to extract CBD oil is through the CO2 extraction process. It involves no chemicals and solvents so there's no need to worry about your oil getting contaminated.
Koi CBD isn't the most expensive brand out there. It's not the cheapest one either.
However, if you compare the price of the smaller bottles, you'll notice that they are above average. The larger ones, on the other hand, are within the middle range when compared with what other brands have to offer.
While the brand is quite proud of its products, there's no money-back guarantee you can turn to in case you don't end up liking them. Although it's not really a deal-breaker, the lack of such guarantee can make you question if they are truly confident in what they offer.
About Koi CBD Customer Service
Koi CBD's customer support is quite good. 
It has a live chat option so you can get answers right away. You can also leave a message in case their agents are away.
You can reach them through email and social media, too.
Koi CBD offers a wide range of products. From oils to creams and vape juices, you won't run out of options from this brand.
All of their products are THC-free which means that you won't get high after using them or fail routine drug tests. They won't even affect your focus at work, too.
Buying products from the brand is quite easy as you can do so online and offline. And if you can't find a store in your area, their agents are available to help you out.