Sunday Scaries is more than a catchy name for a CBD brand. It's actually one of the best brands out there in terms of transparency, quality, and potency.
But is it for you?
In this review, you'll get to know more about the brand's CBD tinctures, gummies, and energy drinks. You'll also get to know more about what makes this brand highly recommended for people with active lifestyles.
Do you ever feel dreadful and anxious whenever you realize that it's just a few hours before it's Monday again?
That's the same feeling that inspired Beau Schmitt and Mike Sill to start Sunday Scaries. The idea came after they realized how CBD was able to help them deal with the anxiety they experience in the last few hours of Sunday and the stress of managing their businesses.
Unlike brands that use ingredients from overseas locations, Sunday Scaries work with family-owned Colorado farms. These farms are regulated by the agriculture department of their state.
Being regulated, it means that their source are pesticide-free. It's something you need to know as a consumer.
Sunday Scaries Product Highlights
Sunday Scaries has a wide variety of CBD products. This enables you to pick the right one for you based on your needs and preferences.
Sunday Scaries CBD Tincture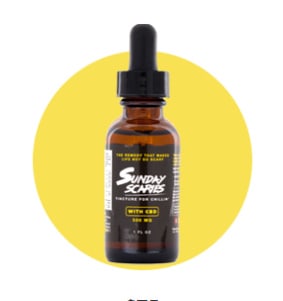 This brand's CBD tincture is a bit different from what you can find in today's market. Its high-quality broad-spectrum CBD is infused with vitamin D3 and vitamin B12.
Vitamin D3 can help improve your immune system. Vitamin B12, on the other hand, is helpful in keeping your nervous system healthy.
The tincture also has coconut oil which is a good source of energy. Organic stevia has also been added to make the tincture a bit more sweet.
Each dropper offers about 30mg of CBD. While the brand claims that most of its users experience quick relief, it doesn't mean that you'll experience the same thing.
Remember, people have different reactions to CBD. While some experience fast results, others may need to consume higher and more frequent doses just to feel any effects.
Sunday Scaries CBD Gummies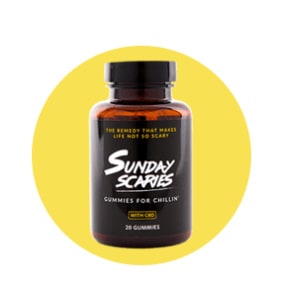 There are two versions of the brand's popular CBD gummies. 
The regular CBD gummies are made with gelatin, pure cane sugar, citric acid, and colors and flavorings. The vegan CBD gummies, on the other hand, are made with organic sugar, fumaric acid, modified starch, and corn syrup to replace animal ingredients.
Both versions pack 10mg of CBD in each CBD gummy. And just like the tinctures, there's also vitamin D3 and B12 in the formula.
For every bottle you buy, you get 20 CBD gummies. Ideally, you'll need to take 1 to 3 gummies per day.
Sunday Scaries CBD Energy Drink
Sunday Scaries highly recommend this product to people who like working out and those who need to prepare for exams. It's also an excellent choice for people who participate in sports.
Each energy shot is infused with about 50mg of CBD. Based on the company's estimate, that's close to about 5 hours of energy.
In addition to cannabidiol extract and vitamins B12 and B6, this product also has organic green coffee beans and taurine for energy. It has ginseng, too.
The energy shot can be taken any time. However, if you want to experience the best results, it's a good idea to take it 20 to 30 minutes before your big workout or game.
For your safety, try to keep it to one shot per day. If you are not comfortable with that, try spreading that one shot throughout the day.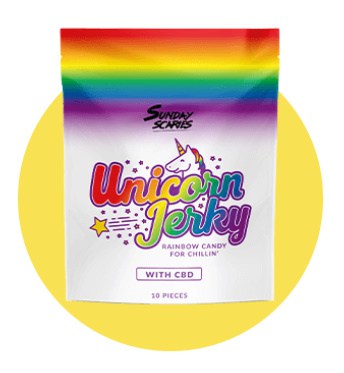 This product isn't just a treat for your eyes but for your tastebuds, too. It's a bit chewier than the gummies.
Each piece of Unicorn Jerky has about 10mg of CBD. You can take 1 to 3 pieces per day to experience the best results.
However, because people react differently to CBD, it's best if you take the process slowly. Start with taking 1 piece a day and see how it affects your body.
Sunday Scaries Bath Bombs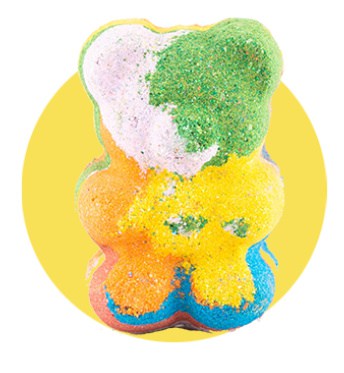 This product is actually fun and super easy to use. All you need to do is drop the bath bombs in a warm bath and feel relaxed and calm.
Each bath bomb has about 50mg of broad-spectrum CBD. There's no THC in its formula.
In addition to cannabidiol oil, these CBD bath bombs also have coconut oil. This ingredient isn't just great for energy but it's quite good for the skin, too.
The bath bombs smell quite nice, too. It has refreshing oils, like Italian lemon essential oil, orange essential oil, and lavender essential oil.
Discounts in bulk purchases
As a way to help you save money on your purchases, Sunday Scaries offer CBD bundles. 
There's an option for you and your pet. There's also an option for beginners and those who like to always be ready to step up.
If you have family and friends who also use cannabidiol products, you may want to consider enrolling in Sunday Scaries' referral program. 
The process is easy. You just need to create an account and you can start earning points.
Try to get as many points as you can. The points you earn will determine the product you can get.
For example, if you earn 32,000 points, you can get a CBD candy. Earning 130,000 points entitles you to a CBD oil tincture.
THC or tetrahydrocannabinol is the compound that creates that psychoactive effects you get from marijuana. It's something you should avoid if your work requires routine drug tests or if you operate machines that require focus and concentration.
Scary Sunday has THC-free CBD tinctures. You can use these products without worrying about those things.
Sunday Scaries' website is easy to navigate. It has separate sections for the products, bundles, and referral program.
Another impressive thing about its website is its FAQ section. This is a big help, particularly for people who are new to using CBD products.
The website also has a section for its products' lab results. There, you'll find all the information you need to know about the products, including their cannabinoid and terpene profiles.
The process of ordering and shipping is quite easy and straightforward. Whether you are buying in bulk or doing a one-time purchase, you won't find it confusing.
Sunday Scaries also offers free shipping for all your orders. They usually send out items within 2 business days. 
Take note that the company only ships products within the United States.
Limited product selection
While the brand offers CBD tinctures and gummies, it would be nice to have more options, like topical CBD products or more edibles.
All of Sunday Scaries' products are formulated with coconut oil. This can be an issue for people who are allergic to it.
Added flavoring and sweetener
This isn't really a big issue unless you have diabetes or you are cutting back on your sugar intake. Sunday Scaries use organic and artificial ingredients in its products to improve their taste.
Although their customer service hours aren't clear, Sunday Scaries' customer service team is quite responsive whether you reach out to them through phone or email.
Sunday Scaries has a 30-day money-back guarantee. They process refunds in 2 to 3 days.
Sunday Scaries is a brand you can consider if you are looking for CBD products that can meet your lifestyle's demand. It offers THC-free tinctures and CBD energy shots to help you stay on top of your game. It also has CBD products to help you relax.
Take note that CBD products aren't for everyone. Pregnant and lactating women should consult their doctors first before adding them to their routine. The same applies to people who are planning on using CBD products to replace their medicines.
You see, even though there are tons of studies that show the potential benefits of CBD, their results are not conclusive. This means that there's no solid way for you to determine if taking CBD tinctures and edibles will cure your condition.
However, you can use CBD products as a part of your existing treatment plan. Just make sure to discuss the idea with your doctor.
Be open about your condition and all the medications and supplements you are taking to avoid negative drug interactions.