Many people take a cup of coffee in the morning as a way of giving themselves a much-needed energy boost for increased productivity.
But great as it is, coffee can be improved to make the user more productive and healthy for the day. One way of achieving this improvement is by adding CBD to coffee to form CBD coffee. CBD coffee is also referred to as CBD-infused coffee. The highest level of health benefits from this novel product can only be achieved if the best CBD is used as an ingredient in its manufacture.
In this article, we shall attempt to help you understand this product and also know where to find good CBD coffee. 
5 best CBD Infused Coffee
1.

Green Roads CBD Coffee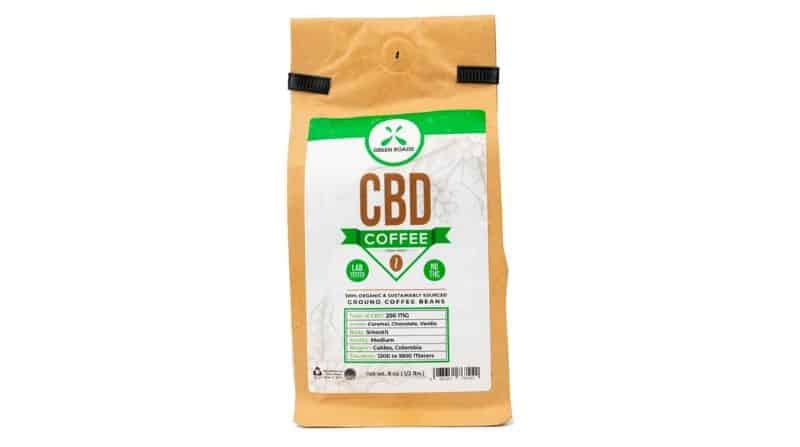 Highlights
Award winning product
In house pharmacists
Full-strength and decaf products
Ground and full-bean varieties available
Get 15% off all Green Roads CBD products as an AmericanMarijuanna reader. Use this code at checkout: AMMA
Get Discount
Green Roads is a premium CBD manufacturer. Their status at the pinnacle of product quality can be borne out by their 2018 win of the highest CBD Products Award during the Cannabis Business Award. With this background, newer additions to their product stable, including CBD coffee, would follow the tradition of excellence.  
This company has an in-house pharmacist who ensures the coffee is made to the highest standards. They also subject their CBD coffee, like the rest of their products, to third party testing in reputable labs. Lab testing leaves you with the assurance that you are taking a product that is free from toxins. 
Green Roads coffee comes in full strength and decaf. The full-strength variant comes in three packages; two ounces, eight ounces, and sixteen ounces. The two-ounce bag contains 60mg, and there is 250mg in the eight-ounce bag. Their biggest package of CBD coffee is sixteen ounces, and it contains 500mg CBD. It is estimated that in all potencies, one tablespoon contains 6-7.5mgs CBD.  
The decaf variety from Green Roads CBD only comes in an 8-ounce package. This product is made from a combination of Colombian coffee and broad-spectrum hemp extract from American grown hemp. The coffee also comes as pre-ground and also CBD infused beans to suit the various preferences of users.
2.

Diamond Chill CBD Coffee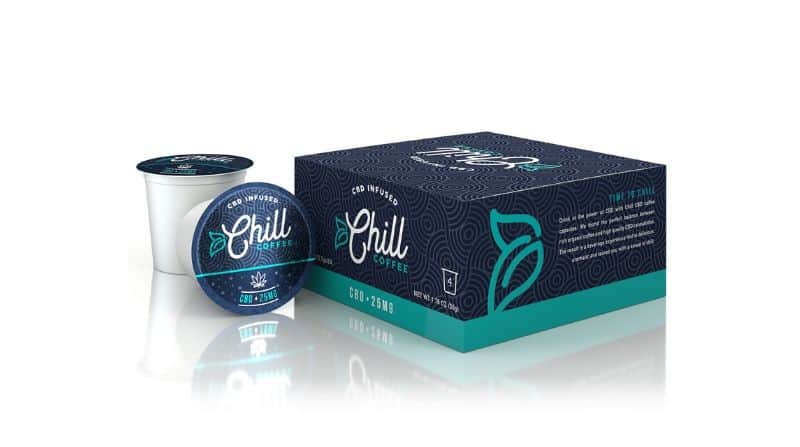 Highlights
Ground coffee
In house pharmacists
Full-strength and decaf products
It contains no THC
Get 15% off all FAB CBD products as an AmericanMarijuanna reader. Use this code at checkout: AMMA
Get Discount
Diamond CBD offers the user ground CBD coffee. Their coffee is, therefore, ideal for people who would rather not spend their time grinding coffee beans. The coffee is available in both full strength and decaf. Packaging of this product is unique because the coffee comes in pods, which removes the need for one to measure it by tablespoons. All that is needed is to pop a pod into the coffee maker for a great cup. Each of these pods weighs 12grams, and it contains 25mg of CBD, and the CBD infused coffee pods are also referred to as capsules. 
The CBD infused into the coffee is an isolate. Being made from CBD isolates means that the coffee contains no THC, and it is ideal for people who have to take drug tests from time to time. Although full-spectrum hemp extract contains only trace amounts of THC, if someone takes it regularly, they may return a false positive in a drug test. This risk is exceptionally high when the product containing the THC is CBD coffee that the user is likely to be taking every day. This is why the infusion of this coffee with CBD isolate is so significant. 
Diamond CBD is the only NYSE listed CBD Company, and therefore, the quality of its products can be expected to be among the best. Diamond takes the coffee through third-party testing to help maintain the tradition of excellence, and the Certificates of Analysis are on display on the website for every product. 
Besides, the manufacturer provides a 15-day return policy for people who are unhappy with the product, after which they get a refund. The money-back-guarantee is an indication of the confidence they have in the quality of their products.  Shipping of the CBD coffee is free for all orders above $100, and they ship within two to five business days from the day of ordering. The duration of the shipment depends on the destination where the coffee is to be delivered. You can enquire about the exact length of your shipping time.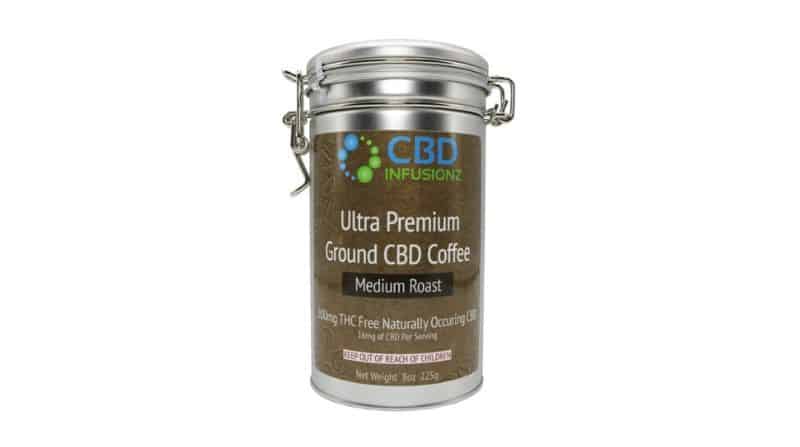 Highlights
100% Arabica coffee
Vanilla, caramel and natural flavors
Made from medium roast coffee
Each serving has 16mg CBD
The coffee used in the manufacture of this product is 100% Arabica that is sourced from Colombian highlands, which are known for producing richly flavored coffee. The CBD coffee comes in vanilla, caramel, and natural. The product is made from medium roast coffee, and each serving contains 16mg of CBD. The manufacturer takes the coffee through third-party testing like they take their other products. Test results that give a full picture of the coffee and each of the other products are available on the company's website.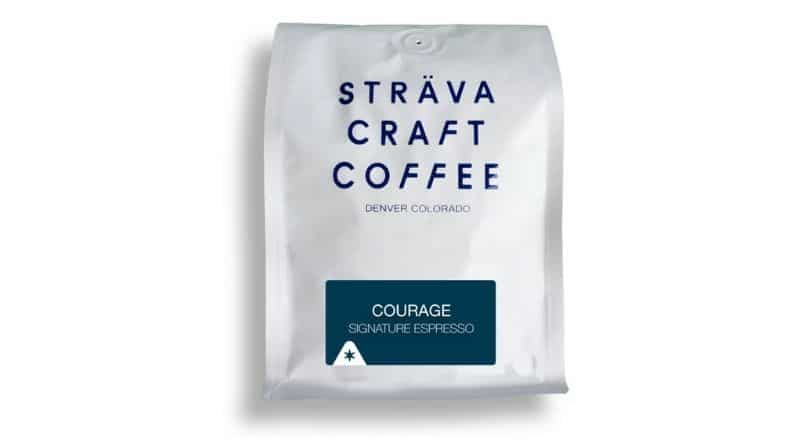 Highlights
High public acclaim
Trace amounts of THC
Full-spectrum product providing customers with the entourage effect
NYSE listed company
This is a highly acclaimed CBD coffee with many media houses featuring it for its quality. The coffee is blended from broad-spectrum hemp extract, which is produced from Colorado-grown hemp. Being a broad spectrum, the hemp oil used in the coffee doesn't contain THC, but it includes the other cannabinoids that are typically found in hemp. 
The inclusion of other cannabinoids means that the coffee provides the user with entourage effects from all the other cannabinoids without putting them in danger of returning false positives in drug tests. The broad-spectrum CBD is infused into the roast coffee, and the coffee comes in both decaf and full-strength. Both of these variants of coffee also come in medium roast and dark roast. There are also whole bean and ground options for all of the products, which help cater to the preferences of different coffee users. 
Strava Craft Coffees are usually blended with different ingredients to influence the user's body in specific ways. Some of these blends are mentioned below.   
Focus: –

This is a low potency CBD coffee which contains 30mg CBD in 24 serving. The cost of the coffee per serving is relatively low due to the low CBD content. The coffee blend for this product is full strength, and you, therefore, get low CBD- high caffeine in this one. 

Escape:

– This option contains 60mg CBD in 24 servings of coffee. The coffee used to blend it is decaf, which allows you to avoid the adverse effects of caffeine while at the same time, enjoying the benefits of a higher CBD intake.
The coffee blended with CBD to get these products is of the Arabica variety, grown in Colombia.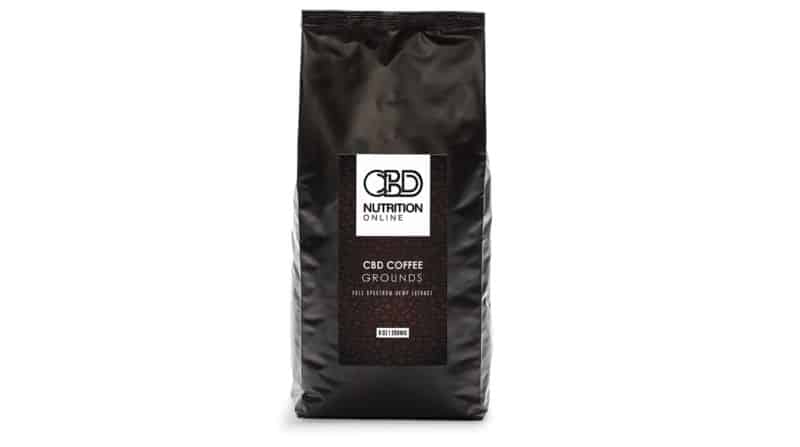 Highlights
10mg per serving dosage
No decaf
Full spectrum and CBD isolate options
Free shipping throughout the US
The dosage contained in this CBD coffee is 10mg per serving. This is because one bag of the product includes eight ounces of coffee.  This manufacturer doesn't have a decaf option for their coffee. They, however, produce some of their coffee with CBD isolate, which eliminates THC from the coffee almost entirely. They also have a full-spectrum option, which benefits the user with the extract's entourage effect.  
The hemp and the coffee used in manufacture are both organic, and lab tested to establish contents. CBD coffee is one of the company's products for which a buyer can get free shipping to any destination in the United States.
For a long time, people have wanted to combine the benefits of CBD with those of coffee. It used to be that, for one to enjoy these twin benefits, they had to brew the coffee, lace it with CBD oil and then blend it thoroughly in a process that took a lot of time and energy. 
This method of combining the two often resulted in low bioavailability of CBD even if the best CBD oil and the best coffee were used. The fact that it was time-consuming made it unsuitable for the morning rush.
Today, manufacturers are producing coffee that is already CBD infused, and that benefits from their endeavors to make CBD in their products bioavailable. Due to the thought and effort put in its manufacture, CBD coffee is much more sophisticated, healthier, more effective, safer, and more transparent than the concoction that resulted from putting drops of oil into the coffee. 
Manufacturers have also gone the extra mile to find the best flavors to blend with coffee and CBD. Experts attached to these companies think through the process of flavoring the coffee used, and they test the ingredients in a laboratory. This process is more likely to result in a more palatable product than the situation where the coffee was laced with CBD oil manually. 
How is CBD Infused into Coffee?
The first step in this process is to look for the right kind of hemp extract. It needs to be free from all toxins. For hemp, to be free of toxins, it needs to be organically grown since hemp accumulates all the chemicals it finds in the soil on which it is grown. 
Chemical fertilizers and pesticides, therefore, do not auger well for the safety of the hemp extract. Toxins could also find their way into the hemp extract through the method of extraction. When a solvent is used when getting the extract from hemp, one must make sure that the extract is distilled thoroughly to clean it. 
Manufacturers can avoid the risk of extracts altogether by going for the supercritical CO2 extraction method, which is both highly efficient and uses no solvents. This means that a product whose hemp extract was acquired through the supercritical CO2 process is always better than those extracted using solvents.  
The coffee, too, should be carefully sourced according to the desired quality of the final product. The coffee is then roasted in readiness for infusion with CBD. Some manufacturers may simply soak the coffee in a tincture or CBD oil and then dry it.  That approach isn't very different from lacing an already brewed cup of coffee with CBD oil – the outcome would be mediocre at most. 
CBD is best infused into the coffee without the use of carrying agents such as PG, VG, and PEG or infused agents such as MCT oil. These carrier agents may reduce the extent to which the coffee is soluble in water. The best way is to use the oils that occur naturally in coffee and those produced during the roasting process. The manufacturer who uses these oils mixes them with hemp extract and then infuses the compound produced into freshly roast coffee for maximum effect. Freshly roast coffee is best since the oils work best soon after roasting the coffee, and therefore, infusion works best within a day of roasting the coffee in question. 
Health Benefits of CBD Infused Coffee
The health benefits of CBD infused coffee can be seen simply as a combination of the benefits of coffee and the benefits of CBD. They are listed below:
It

reduces the risk of stroke by up to 20%.

This is due to the caffeine found in the coffee component of the product. 

Some people suffer anxiety after taking caffeine. This effect of caffeine is likely to be reduced when the product is a blend of CBD and coffee since CBD is known to reduce anxiety. CBD coffee may also reduce anxiety, panic, and stress in people who suffer from these conditions.

It may reduce seizures in people who get them. The reduction of seizures is due to the influence of CBD, which has been known to have this effect. The use of CBD for the management of seizures is so well documented that the FDA licensed the production of Epidiolex, a CBD based drug, to help in the management of drug-resistant epilepsy in children.

It helps the user improve their focus, thus increasing productivity through the influence of caffeine.

Caffeine in the product helps the user reduce their risk of diabetes.

It helps

reduce the chances of getting Basal Cell Carcinoma

by almost twenty percent.  

It helps in the management of post-workout joint pain and also reduces the symptoms of Alzheimer's and Parkinson's disease.
The way to brew a cup of the best CBD coffee is using the French press as it gives the excellent coffee taste. The user's taste can determine the amount of CBD coffee to use. If, however, a person wants to maintain a certain amount of CBD per day, they need to consider the amount of CBD in each helping and adjust their coffee intake accordingly. 
After the French press, the next step would be to blend the coffee and add any preferred extra ingredients thoroughly. Such ingredients may include sugar, milk, butter, among others. If the CBD coffee you are using is not flavored, you can add your flavors such as cinnamon, vanilla, among others. Once the brewing process is over, you can proceed and take your coffee. The method of brewing CBD coffee is more straightforward when the coffee is already infused from the manufacturer than when you have to blend CBD and coffee as two separate products.
Side Effects of CBD Coffee
There is still a lot of research ongoing on CBD and its effects on the body of the user. The side effects of CBD, are, therefore, not as well-known as the side effects of coffee, which has been researched over a long time. Despite the limited information available, there is some information on side effects a cup of coffee infused with CBD may cause a user. We have listed them below.
Coffee and CBD have some opposing characteristics. For example, while coffee is a stimulant, CBD has been known to cause the user to relax and sometimes to become drowsy. This means that the two ingredients may counteract each other, causing the user not to enjoy the benefits they are looking for. Sometimes this counteraction may lead to a reduction of CBD's ability to manage symptoms of illness. Coffee is, for example, known to cause anxiety, and even if the CBD coffee is made from

the best CBD for anxiety

, it may still not be effective in dealing with the condition.  

Too much sweating. 

High blood pressure and dizziness. 

Nervousness instead of the calmness that CBD alone would give the user.
People who drink large volumes of coffee are the ones that are most likely to benefit from CBD coffee. This is because they already know how their bodies react to coffee, and they would probably be using CBD coffee to moderate the effects of caffeine in their bodies. The reason why CBD may be used to lessen the effects of coffee is that in some ways, caffeine and CBD are opposites, especially in the way the user's body reacts to them. Coffee is generally a stimulant, while CBD causes relaxation, CBD reduces inflammation while coffee may increase inflammation, among others.
It follows, therefore, that it is not advisable to take CBD coffee if you need CBD in your body for any reason other than recreation and general wellness. If you use CBD to manage a condition, you never know how the two ingredients may combine to counteract each other and thus deny you the benefits you seek. In the case of managing symptoms, you are better off getting the best CBD oil you can get or other CBD products and using them.
The reputation of your manufacturer is of great importance. Some manufacturers may produce low-quality CBD coffee that has toxins. Such coffee may end up causing you more harm than good, and you should do all you can to avoid using it. The best way to do this is by ensuring that you only buy products whose Certificates of Analysis you can easily access and which have been prepared by reputable labs. It is essential to note that CBD coffee is a product with immense potential if appropriately manufactured and used correctly for recreational purposes.
Best CBD Infused Coffee: Green Roads