This article was vetted for scientific accuracy by Dr. Leah Zitter, PhD.
Migraines are a real pain (literally), with symptoms that extend anywhere from 4 to 72 hours and that agonize far more than regular headaches. Some people prefer to avoid over-the-counter painkillers like aspirin, acetaminophen and ibuprofen, as they can carry a risk of side effects ranging from nausea and stomach pain to liver failure. What about taking CBD oils for migraines?
Many people praise CBD for its healing and restorative properties, including pain relief. Is there scientific evidence that CBD could help with migraines? 
The Best CBD Oil for Migraine: Our Picks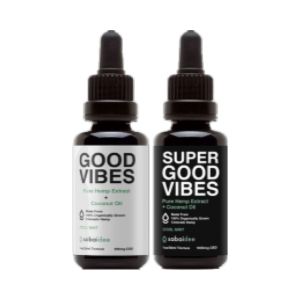 Highlights
Public laboratory tests
Top quality all seasons
Potency 250mg - 2500mg
Get 15% off all Sabaidee CBD products as an AmericanMarijuana reader. Use this code at checkout: AmericanMarijuana
Get Discount
Sabaidee CBD uses organically grown hemp from Colorado. They ensure the quality of their CBD products, particularly their CBD oil, by using cloned seeds.
Now, why is that good?
Well, using cloned seeds enable the company to be consistent with the quality of their products- no matter what the season is.
Sabaidee's best-selling CBD product are the CBD oils. They are full-spectrum oils that come in four different strengths.
They offer the Good Vibes 250mg+. It s flavored with peppermint oil for that refreshing taste and has coconut oil as its base.
The addition of coconut oil increases the bioavailability of CBD in your system. Plus, the oil is also a good source of saturated fatty acid.
Each serving of this oil offers 8.33mg of CBD oil.
Now, if that seems too low for you, then get the Super Good Vibes 1000mg+. Each dropper from this bottle has 33.5mg of full-spectrum oil.
The Mega Good Vibes 2500mg+, on the other hand, is the strongest tincture you can get from this brand. It offers over 88.33mg of CBD per serving. And just like the previous bottles, this is also peppermint flavored.
In case you don't like the taste of peppermint, you can buy the unflavored Pure Good Vibes. It has 1000mg of CBD per bottle.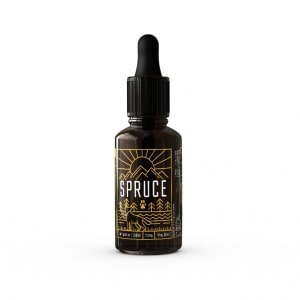 Highlights
Highly potent CBD oil
Full-Spectrum CBD Oil
Consistent quality
Get 10% off all Spruce CBD products as an AmericanMarijuana reader. Use this code at checkout: AMMA
Get Discount
Spruce CBD oil, on the other hand, is made from 100% organic hemp. The plants are grown without pesticides to ensure your safety.
Now, if you doubt that, you can check the third-party lab results of Spruce's products. They are posted online so you can easily read them.
Spruce has a limited product line which is honestly not a bad thing. In fact, the small product range enables the brand to focus on the quality and purity of its products.
Let's talk about the oil.
Spruce CBD oil is available in two options in terms of strength- 750mg and 2,400mg.
The 750mg lab-grade oil offers 25mg of CBD per dropper. It has a nice peppermint flavor and it's made without sweeteners and preservatives.
The 2,400mg lab-grade oil, on the other hand, is unflavored. This is to ensure that it's able to reach that level of potency in relation to the size of its bottle.
Adding flavorings would make it hard to achieve that strength in a 30ml container.
Although this option doesn't allow you to choose a flavor, it does provide options in terms of the carrier oil. You can get your bottle with either organic hemp seed oil or organic coconut MCT oil.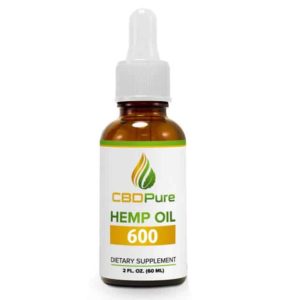 Highlights
Third-party lab tested
Hemp from Danish farms
Potency 100mg - 600mg
Get 10% off all Pure CBD products as an AmericanMarijuana reader. Use this code at checkout: AMMA
Get Discount
CBDPure is a good brand to look into if you're new to using CBD products. The strengths of its CBD oils aren't that intimidating for beginners.
The lowest potency you can get from this brand is 100mg while the highest is 600mg of CBD.
CBDPure uses one of the best methods of extracting CBD and that's the CO2 extraction process. Without the use of solvents and other harmful chemicals in processing the oil, you can expect each bottle to be safe and pure.
And for added peace of mind, the company follows strict quality control protocols and manufacturing guidelines.
Its final products are routinely tested for heavy metals, pesticides, residual solvents, and cannabinoid profile. Microbiological testing is done as well.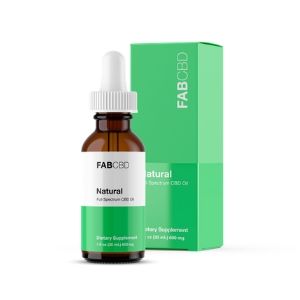 Highlights
Colorado Hemp
Third-party lab tested
Potency 150mg - 1200mg
Get 15% off all FAB CBD products as an AmericanMarijuana reader. Use this code at checkout: AMMA
Get Discount
Next on this list is Fab CBD oil.
One of the nice things about this brand is that they provide a range of concentrations to its consumers. You can get your CBD oil in as low as 150 milligrams to as high as 1,200 milligrams.
There's a lot of options in terms of flavors, too.
For those who don't like the natural taste of CBD oil, you can try their citrus, vanilla, mint or berry options. Of course, there's an unflavored option as well.
Fab CBD oil, just like the rest of the products you can get from this brand, is extracted from non-GMO hemp sourced from Colorado farms. They are grown with zero pesticides.
The product is tested by an East Coast-based third-party lab. The tests it conducts include testing for stability, shelf-life, homogeneity, and presence of pesticides.
The lab also checks the amount of CBD in each bottle.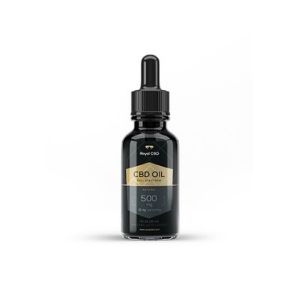 Highlights
CO2 extraction process
Third-party lab tested
Potency 250mg - 500mg
Get 15% off all Royal CBD products as an AmericanMarijuana reader. Use this code at checkout: AmericanMarijuana
Get Discount
Wrapping up this list is Royal CBD Oil. It's a full-spectrum oil that contains 0.3% THC or tetrahydrocannabinol.
With that amount, this CBD oil isn't likely to change your mental state.
Royal CBD oil is available in two flavored options- berry and vanilla. You can also get the natural version if you don't mind the tart taste of CBD.
In terms of strength, you have three options from this brand. The lowest is 250mg which gives you about 8.33mg of CBD per serving.
Because it's a full-spectrum oil, each bottle may also contain other phytocannabinoids that enhance the effects of CBD.
Royal CBD uses supercritical carbon dioxide to extract CBD. It's considered the most efficient and safest way to produce CBD products because it doesn't involve the use of toxic solvents.
And just like the other products on this list, the brand also submits their products to a third-party lab that checks and confirms their accuracy, potency, and quality.
The oil is made with cold-pressed hemp seed oil. This extra ingredient doesn't just increase the bioavailability of CBD in the body, but also enables the product to last long.
In fact, each bottle has a shelf-life of about 2 to 3 years.
Migraines are more than just headaches.
They are more severe and they tend to last longer. The pain often affects one side of the head and may go to your eyes, sinuses, and the entire face.
More often than not, they are debilitating. 
Now, what causes migraines?
Generally, a migraine begins when overactive nerve cells pass out signals that trigger the nerve that carries sensation to your face and head. This is known as the trigeminal nerve.
Its activation also triggers the release of serotonin and CGRP or the calcitonin gene-related peptide. It causes swelling in the brain's lining which triggers the release of specific chemicals that causes pain and inflammation.
There are several things that can trigger a migraine attack. The list includes stress, exhaustion, changes in weather, not eating on time, having your monthly period, and changes to your sleep.
Your caffeine intake- either an excessive intake or sudden withdrawal- can also cause migraines.
There are a variety of symptoms associated with migraines. Below are some of the most common ones:
Headache that starts as a dull ache and becomes severe throbbing pain

Sensitivity to smells, noise, and light

Pale skin

Dizziness

Upset stomach

Exhaustion

Loss of appetite
Migraines can last for around 4 hours. In severe cases, it can last for more than 3 days.
As for frequency, it's not the same for everyone. Some people experience it twice a month while others get it every few days.
When it comes to treatment, there's really no cure for migraines. Most of the drugs work by preventing some of the attacks. Others can lessen the severity of the pain and other symptoms to a certain degree.
This is one of the reasons why some people with migraines look for alternative treatments and among their long list of options is CBD. 
CBD or cannabidiol is naturally present in the cannabis plant. It's different from marijuana and it doesn't cause the kind of intoxicating effects you can experience from the latter.
Now, at this point, you probably have one question in mind:
Will CBD Work for Migraines?
To be honest, the research about CBD oil and migraines is quite limited. There are no conclusive studies and there's no strong evidence to tell you that CBD oil can end your migraines once and for all.
However, the studies that do exist suggest the potential benefits of CBD in managing migraines.
A study published in 2013 showed the potential capability of CBD to prevent the body's metabolism of anandamide, a compound linked to pain regulation. If there are high levels of anandamide in your system, you are less likely to feel pain. A separate study in 2015 showed how CBD may limit the inflammation in the body which may also minimize one's pain and other related responses of the immune system.
Studies show CBD oil alleviates nausea, joint and muscle spasms, and body pains – all symptoms of migraines. As for migraines themselves, there is currently limited research on CBD's effect on migraines – most studies are conducted on a combination of CBD and other cannabinoids like THC. 
However, a study conducted on a CBD-THC combination showed a "a 40.4% reduction in migraine attacks" in their test group receiving the cannabinoid combination.
How can CBD oil help with migraines?
While CBD for migraines is underresearched at present, there are some promising studies that include CBD as a treatment for migraines:
Research presented in 2017 at the Congress of the European Academy of Neurology

showed that cannabinoids could help prevent migraines

as well as soothe the pain of migraine headaches. 79 chronic migraine patients were dosed with a compound mixture of 9% CBD with 19% THC. Researchers found that 200 mg or more of the oil reduced acute migraines by 55%. 

A

2017 review of cannabinoid treatment for headaches

showed that, although we still need many more well-designed clinical trials to test whether cannabinoids can prevent and treat headaches, some cannabinoids appear to offer relief to certain headache sufferers. 

A

2018 review in the Journal of Head and Face Pain

suggests there is consistent evidence that cannabinoids that include cannabidiol (CBD) assuage pain. When it comes to headaches and migraines, CBD oil could be effectively used to prevent and treat the pain they cause, as well.
It's worth noting that most of these studies focus on THC, or a blend of cannabinoids, and not CBD on its own. Further research is needed to determine the efficacy of CBD oil for migraines.
Should You Use CBD for Your Migraine?
If you are experiencing migraines, the first thing you need to do is see your doctor. As mentioned, there are several treatment methods that can help treat it.
Just make sure that you check with your doctor first before you start your hunt for the best CBD oil for migraines. It's critical, particularly if you are also dealing with other health issues or taking other medications and supplements.
It's one way to make sure that you won't cause any negative interaction or put your safety in danger.
Things to Consider When Looking for The Right CBD Oil for You
The process of finding the best CBD oil for migraine isn't that different from finding the best CBD oil for other health issues. Here's a rundown of the most important things you need to consider:
Sourcing and Manufacturing
Companies that sell CBD products have different hemp sources. Some source their raw materials within the United States while others partner with farms from other countries.
If you are going to ask the industry experts, they'll tell you that Colorado is considered as one of the best places to get hemp. This is because of their impressive agricultural hemp program.
They have this program that spot-test hemp plants while they are still planted to ensure that they are growing properly and safely.
Now, although it's perfectly fine to use CBD products made with hemp grown overseas, you need to be extra careful when buying them. Since they are not required to undergo federal or state testing, it can be difficult to know their quality and purity.
Another thing you need to consider is the company's cultivation process. As much as possible, pick manufacturers that do not use pesticides or follow synthetic practices to ensure your safety and the benefits you get from the products.
This refers to the amount of CBD in a certain product. 
Ideally, the best CBD oil for migraine should be clear in stating not just how much CBD in a bottle but the amount of CBD per dose as well.
That way, you'll have a clearer idea of how much CBD you are ingesting and you'll be able to gauge how it's affecting you.
If you are new to using CBD oil to manage migraines, it's important to start with low doses first. After you are able to see the effects on your body, you can work your way up.
Now, when increasing doses, it's important to do the process slowly. Give your body enough time to adjust to the new dose before taking anything higher.
It's extremely important to buy from a company that's fully committed to transparency and liability. The market is saturated with sketchy businesses that make sales because of false claims and low-quality products.
Apart from the reputation of a company, you should also look if it does third-party lab tests. And if it does, the results of those tests should be readily available on its website.
If you can't find those results online, try to ask for a copy by sending them an email, calling their customer support agents or writing a letter. If they fail to respond and provide the results, it could mean a lot of things.
One is that they aren't being true to their claims. Their products probably do not contain CBD or they aren't telling the truth regarding purity.
THC or tetrahydrocannabinol is an active cannabinoid in the cannabis plant. It's generally the compound that produces psychoactive effects.
Generally speaking, consuming a little amount of THC isn't really a big deal. The legally allowed amount in CBD products which is 0.03% isn't likely to cause any change in your focus or behaviors.
However, if you undergo routine drug tests at work or your job involves operating heavy types of machinery, then you need to know exactly how much THC is in your CBD oil.
The simple answer is yes. 
Based on the Farm Bill passed by the government, hemp and other products derived from it are no longer considered under drug laws that concern marijuana. They will be managed by the country's Department of Agriculture, just like other crops.
However, there's a catch.
CBD products can be considered 100% legal as long as they don't possess THC or they are within the legally allowed amount.
This makes it super important that you only purchase CBD products from brands that conduct third-party testing and post the results of those tests on their websites.
Whether you are ordering online or buying your CBD oil from a local retailer, make sure to do your homework. Read reviews first and try to get as much information as you can about the product.
Before anything, see your doctor first.
This is important if you have existing health conditions or if you are taking other supplements and medications. Consulting your doctor allows you to clear any questions you may have about taking CBD oil as well.
At present, there is little scientific evidence that shows that CBD cures migraines. At the same time, research shows CBD can help with various kinds of pain and discomfort, and its side effects are insignificant most of the time.
If nothing else helps you, there's little risk in giving CBD oil a try. Short term use, starting with the smallest possible dose, could soothe your muscle pains if not reduce your headache.
Dr. Stephen Silberstein, director of the Headache Center at Jefferson University Hospital in Philadelphia, had this to say about CBD for migraines: "If you have a lot of neck pain or soreness," he told readers of the Journal of The American Migraine Foundation. "it is perfectly reasonable to use CBD oil. It may even prevent nausea and vomiting." 
Note: It's advisable to speak with your healthcare provider before using CBD.
Now, based on our review and what we know so far, Sabaidee CBD Oil is the best CBD oil for migraines. 
The product is made from organically grown hemp, without pesticides and other harmful chemicals. In addition to that, the oil is also available in different strengths, allowing you to choose the right one for your condition.
If you plan on taking this oil as part of your treatment, it's a good idea to start with the lowest dose first. Once you know how it works and your body's response, you can increase your dose as necessary.
Remember, if you need to take a higher dose, do the transition slowly and don't expect the oil to work right away.
Research suggests cannabinoids may help tension headaches, although it seems to have minimal to no effect with cluster headaches. This research is currently inconclusive, with regards to whether the effects come from CBD, THC, or the combination thereof. 
Some research shows cannabinoids may lessen migraine pain in its initial stages and maybe even stop headaches from starting. It can depend on how strong and frequent these migraines are.