Are you looking to improve your heart health? Or help a family member improve their heart health? This is an important topic to many of us because sadly, heart disease is the number one cause of death around the world. There are a lot of different things to try to improve heart health – including CBD for high blood pressure.
Yet, there are many things we can do to lower blood pressure and have a healthier heart. For starters, we can exercise more, limit alcohol consumption, get better sleep, and eat whole foods (i.e. skip the fast food lines and ditch processed foods).
Also, stress plays a big part in heart disease. This is one reason using CBD for high blood pressure made its way into this discussion. There are many benefits to this hemp plant compound, some of which you've probably heard of. But, in this article, we're going to specifically share the science on heart health and answer the much-anticipated question "can CBD lower blood pressure?"
How does CBD affect blood pressure?
Based on preclinical studies involving CBD, results showed that this non-psychoactive cannabinoid found in hemp had positive benefits for the cardiovascular system. Researchers wanted to dive in deeper to discover the impact CBD had on blood pressure specifically. 
Is CBD good for high blood pressure?
A recent study helps to answer this question. A JCI Insight study published in 2017 took nine healthy adult males and observed the effects CBD had on blood pressure (BP). These volunteers were either given a 600mg dose of CBD or a placebo.
The results of this study showed that CBD reduced resting BP and it reduced BP increases that tend to occur when humans face stress. So, CBD's ability to lower stress is the main reason it affects blood pressure in a positive way.
It's important to note that stress comes from more sources than we may realize. Of course, there can be stress at work and in our home life, but there's also stress caused by suppressing our emotions or not releasing them in healthy ways. Stress can also occur when we over-exercise, especially when it's not matched with equal amounts of recovery and rest.
CBD's ability to lower stressors of all forms relates to its anxiolytic properties. Evidence from human studies shows it has this property and in turn can help reduce anxiety. 
Stress and anxiety are closely related, and anyone who's experienced chronic forms of either one knows this first hand. As such, the ability of CBD to lower stress and anxiety is the reason it has a significant impact on the state of our blood pressure.
Best CBD products for high blood pressure
When it comes to choosing the right CBD product for high blood pressure, there are a few things to consider; you'll want to find a CBD oil that is reasonably potent, given that most studies about CBD for blood pressure involved fairly high doses, and you may also look for something that's high in CBN or CBG, both of which are known to have anxiolytic properties.
Let's take a look at the top 3 CBD products for high blood pressure:
1.

CBDfx Calming Tincture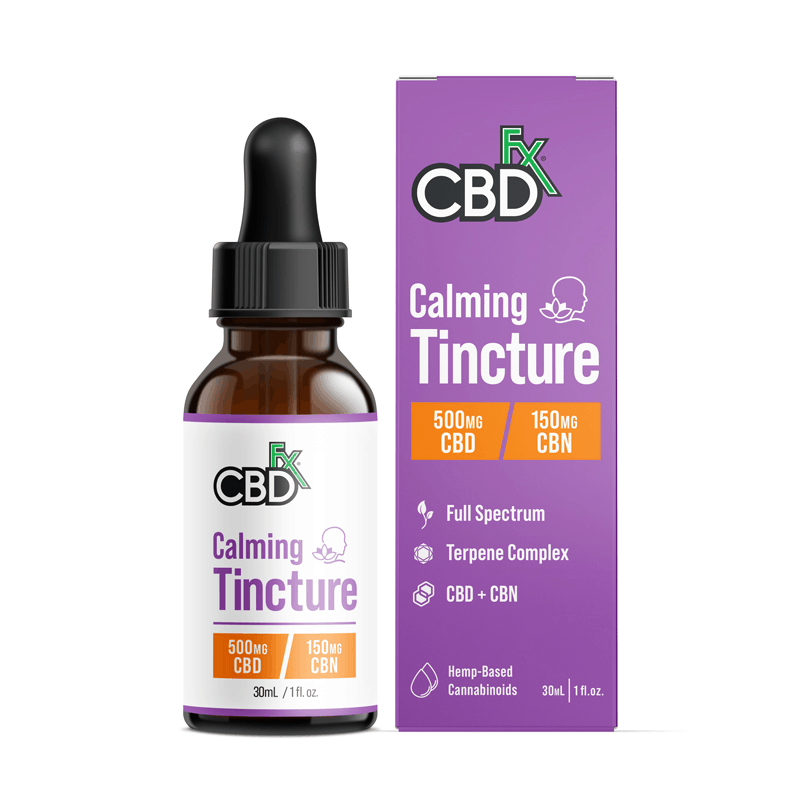 Highlights
High in CBN
Up to 4000mg per bottle
Calming terpene complex
Get 20% off all CBDFx products as an AmericanMarijuana reader. Use this code at checkout: AMMA
Get Discount
This Calming CBD+CBN tincture from CBDfx ticks all of our boxes: it comes in high concentrations, up to 4000mg per bottle, it contains a full range of cannabinoids and terpenes to help create the entourage effect, and it's very high in CBN content.
Since it's full spectrum, you benefit from all of the compounds found in the hemp plant – not just CBD and CBN, but CBG, terpenes, and everything else that hemp contains naturally. This blend of compounds can help reduce stress and anxiety, two leading causes of high blood pressure.
2.

Miraflora +Immunity Gummies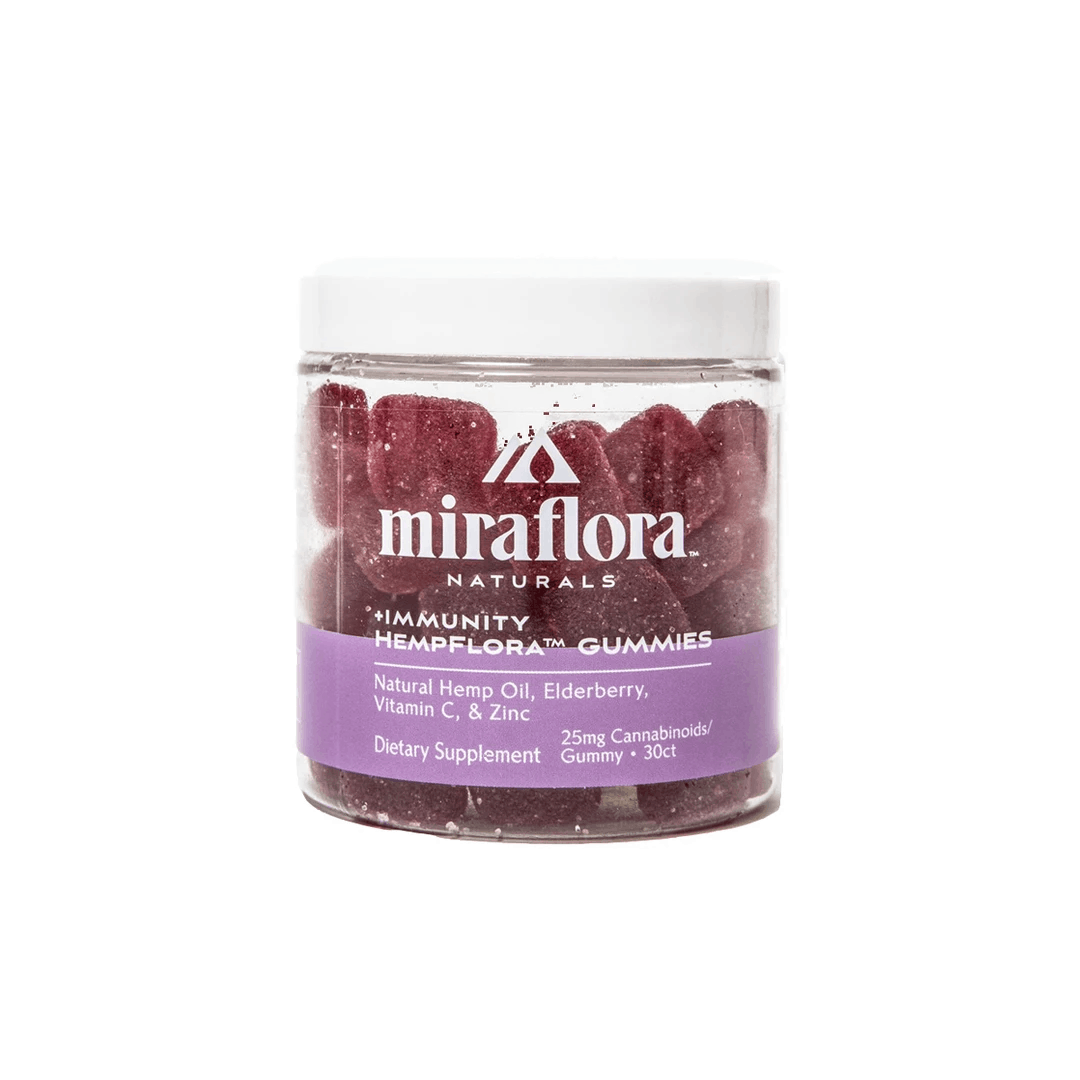 Highlights
Contains elderberry, vitamin C and zinc
Helps immune system
Organic and lab tested
Shop Miraflora CBD gummies now and get 30% off all products with coupon code AMMA
Get Discount
While not formulated specifically for high blood pressure, these +Immunity gummies from Miraflora pack a serious punch – at 25mg per gummy, they're a higher concentration than many other CBD edibles. Lots of CBD edibles clock in at the 5mg-10mg per piece range, meaning these Miraflora gummies are about a 2.5-5x higher concentration. Since we know reducing blood pressure can require hefty doses of CBD, these are a great option if you prefer edibles to oils.
As a bonus, these gummies contain elderberries, vitamin C, and zinc – all compounds known to help boost the immune system. While your immune system is not immediately related to high blood pressure, it's definitely helpful – especially during cold and flu season.
3.

Joy Organics Curcumin Softgels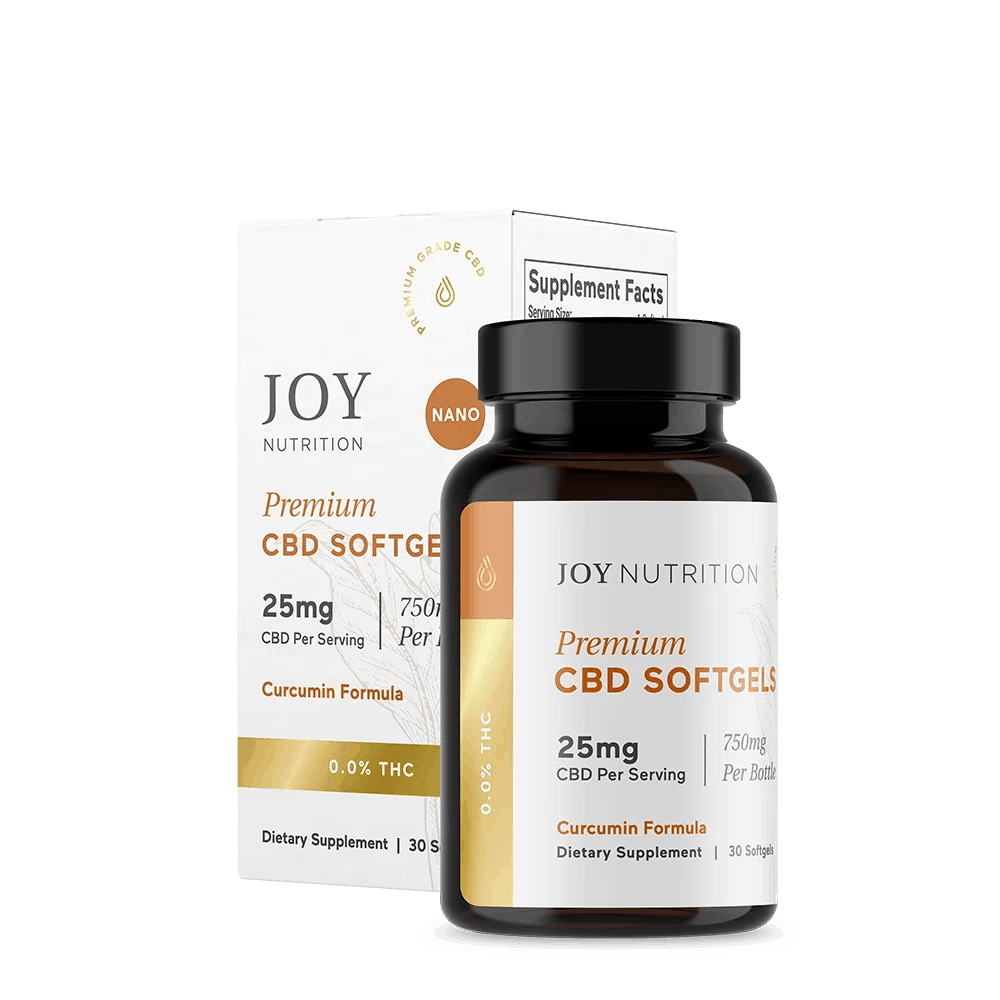 Highlights
Made with curcumin
Zero THC
Free carbon-neutral shipping
Get 25% off all Joy Organics CBD products as an AmericanMarijuana reader. Use this code at checkout: AMMA
Get Discount
These softgels from Joy Organics are made with curcumin, the active ingredient in turmeric. Curcumin is known to help with a whole bunch of different ailments and conditions, and research shows it may be able to lower blood pressure through sustained used.
At 25mg per capsule, these CBD and curcumin softgels pack enough of a punch to achieve anxiolytic effects along with a potential reduction in blood pressure.
We recommend consistent use if opting for a curcumin-infused CBD softgel – blood pressure studies related to curcumin state that prolonged and consistent use was most effective. That means taking a regular amount at the same time every day for at least a few weeks, ideally 12 weeks or more. Luckily, softgels make it easy to get a consistent and regular dose of CBD.
Can CBD help with other heart conditions?
Yes, because of its antioxidant and anti-inflammatory properties, CBD has the potential to assist the cardiovascular system and specific heart conditions. Studies discuss these health properties, but more shockingly a U.S. Patent granted in 2003 already discovered this about CBD. It reads:
"Cannabinoids have been found to have antioxidant properties….This new found property makes cannabinoids useful in the treatment and prophylaxis of a wide variety of oxidation associated diseases, such as ischemic, age-related, inflammatory and autoimmune diseases."
Many diseases, including those that affect the heart, stem from excess inflammation. In particular, inflammation can lead to high blood pressure, coronary heart disease, and stroke. So, taking in the anti-inflammatory effects of CBD can be very beneficial. Also, antioxidants from high-quality CBD oils can fight free radicals and can lower the risk of developing heart disease.
Is it safe to take CBD if you have high blood pressure?
In general, CBD is well-tolerated in humans, safe for consumption, and has very few side effects. The World Health Organization (WHO) came to this conclusion when it released its Critical Review Report on Cannabidiol (CBD) in 2018.
However, it's still advised to speak with your healthcare provider if you have high blood pressure. Especially if you're taking any prescribed medications. This isn't only true of taking CBD for high blood pressure. It's also true of any supplements or medications you're on.
Besides unpleasant side effects, prescription medications can also have contraindications. This makes it necessary to have everything you're taking checked out by a licensed healthcare professional.
How much CBD should you take for high blood pressure?
A low dose of CBD is around 10 to 20mg, a medium dose is around 30mg, while a high dose is 50mg or more. These are average estimates, some people may take 100mg or more, but they're generally experienced users.
If you're taking CBD for high blood pressure, or if you're starting out with CBD for the first time, start low and go slow. That means starting out with 10mg, twice daily, and after a few days inch up the dose a little more. You may find that your ideal dose is 25mg twice daily, or even 50mg. Whatever it is, make sure the amount you're taking works best for you.
CBD and high blood pressure is a popular topic because people are searching for better solutions to their health. It's well established that pharmaceutical drugs come with a fair share of side effects, and people are sick of dealing with them.
Hemp-derived CBD products (with less than 0.3% THC) have an awesome safety profile, are natural plant remedies, and are relatively affordable. And when it comes to lowering blood pressure, this plant compound shows good promise.