Established in 2014, this company is entirely owned by employees. The purpose of its establishment is to enhance the penetration of CBD products to reach the people who need the help most. Lazarus manufactures a variety of products, including CBD tinctures and other CBD products. Their supplements come in different potencies. Besides CBD oil, Lazarus infuses other natural extracts such as Coconut oil to enhance the effectiveness of their products. They have full spectrum products and CBD isolates among their products. Keep reading for a more detailed Lazarus Naturals Review.
What is Lazarus Naturals?
Lazarus remains an authentic CBD company. People who own the company include farm managers, researchers, and other players in the production chain. The sense of ownership by employees keeps them focused on providing high quality products for their customers and maintaining their company's place among the best CBD in the market. 
The company's products are affordable because of the lower cost of production. Unlike some other companies that use CO2 extraction, Lazarus uses ethanol extraction. Ethanol extraction is much cheaper when compared to CO2 extraction, as CO2 requires expensive machinery.  Over and above being cheaper, Lazarus products are 40% off for veterans, people living with disabilities, and people who come from low-income families.
The company has its hemp farms, and this helps maintain product consistency because the company has control of the entire production cycle. They use their hemp to produce over 70% of their products and source the remaining 30% from farmers in Oregon.
Like the hemp produced on their farms, the cannabis they outsource must be non-GMO, and it must be grown to the highest standards. It helps that in Oregon, there is a Hemp Research Pilot Program. All hemp farms in the state must go through a stringent certification process due to the pilot program. Oregon Department of Agriculture is charged with the responsibility of inspecting farms to ensure compliance. 
The company ensures that all its products go through third-party testing to ascertain that their contents are as per the manufacturer's claims. Third-party labs are contracted to perform tests on every batch to ensure that solvents and other toxins don't remain in the extract. Lazarus offers free shipping services for all orders above $50
Lazarus Naturals Products Range
The following are the products that Lazarus manufactures.
Lazarus Naturals High Potency CBD Oils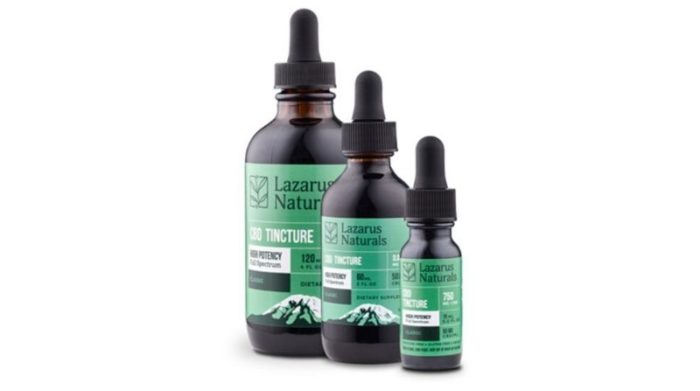 Like their standard counterparts, the high potency oils come in various varieties of flavor, such as natural (flavorless) vanilla, chocolate, and winter mint. Some of the high potency CBD oils are isolates while others are full spectrum. A user chooses what they prefer. They come in packages of 15, 60, and 120 Mls, and each serving contains 60mg of CBD. 
Lazarus Naturals CBD Capsules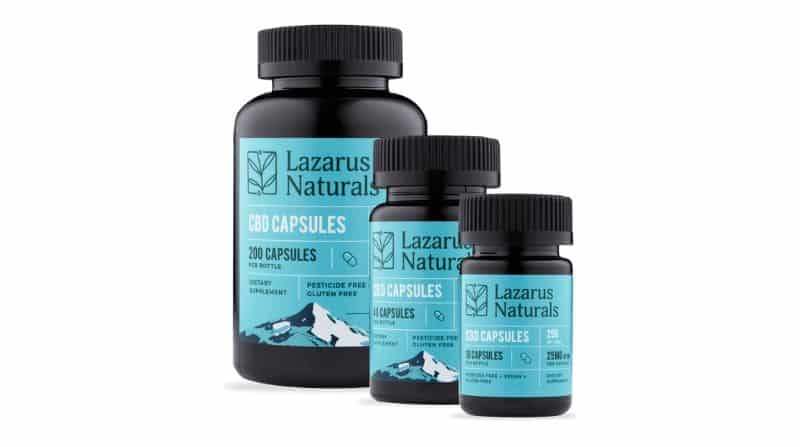 These capsules work best for travelers or those who dislike the taste and feel of CBD oil in their mouths. Their suitability for CBD in transit is because a user can take them discreetly. Lazarus CBD capsules contain full-spectrum hemp extract and also crystalline isolate. Being a full spectrum extract means that they contain as much THC as you would find in industrial hemp, which is 0.3%.
Standard potency capsules have 10, 25, and 50 mg. They also have high potency capsules that contain 100 and 200mg per capsule. Capsules come in packages of 4,10,20,40 and 200 capsules for standard potency and 4, 20, and 40 counts for high potency capsules.
Lazarus Naturals Standard Potency CBD Oils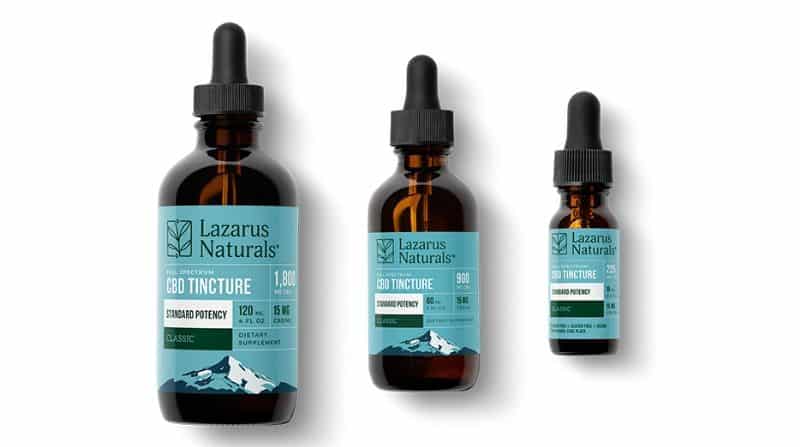 Although it comes in packages of different sizes, each serving of 1ml contains 15ml of CBD. There are three packages of 15, 60, and 120 Mls. They come in different flavors, including natural, vanilla, chocolate, and winter mint. Some of the oils are isolates, while others are full-spectrum products.
Lazarus Naturals CBD Isolate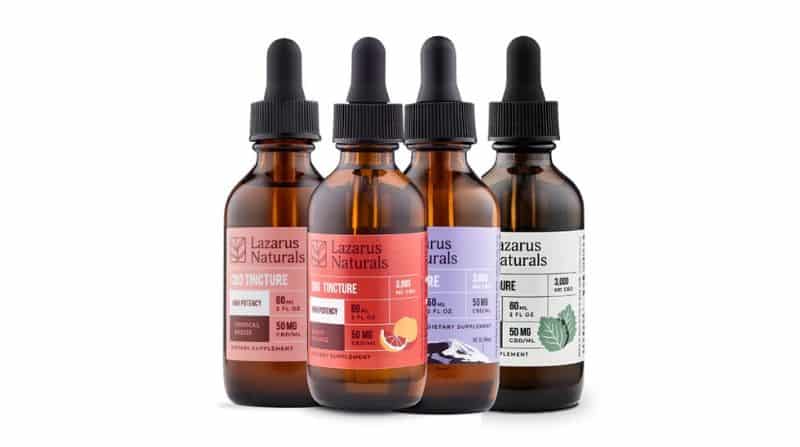 This product is almost 100% pure CBD. It comes in two varieties; raw and terpene infused. This product is available in several flavors, including Valencia Orange, Raw, Citrus, Lemon Lime, and raw. It comes packaged in tabs of 1 gram for the flavored options while bulk option comes in tubs of 20 and 50 grams in natural flavor.
Lazarus Naturals Coconut Oil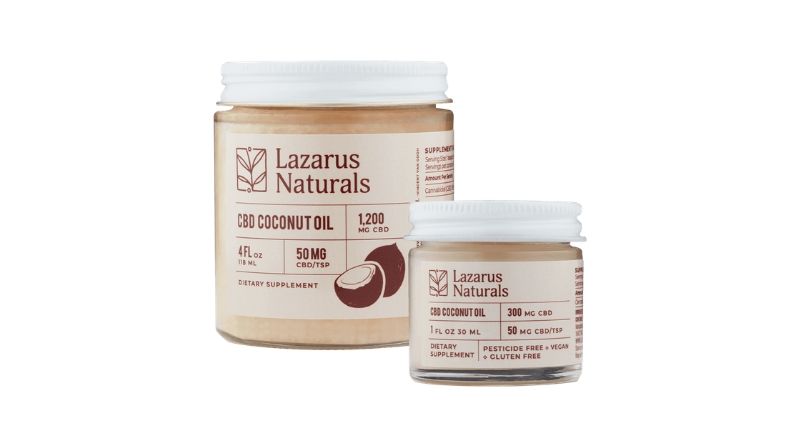 This is the product for anyone who would like to cook using CBD. It is made up of organic coconut oil and a CBD isolate. Each tablespoon of this oil contains 50mg CBD.
Lazarus Naturals for Pets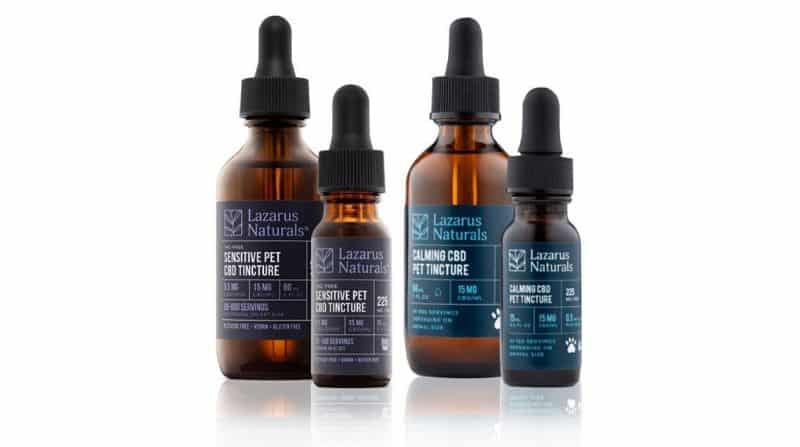 For anyone who has been wondering whether there exists Lazarus CBD oil for dogs, the answer is yes. The oils contain 0.5mg of CBD in each 1ml drop. This small amount caters to the pets' smaller sizes. The oil can be administered directly under the pet's tongue, or it can be mixed with wet food. 
Lazarus Naturals Products Price
The prices of Lazarus Naturals products are generally friendly by market standards. The following are price ranges for different products.
| | | |
| --- | --- | --- |
| Product  | Lowest ($) | Highest ($) |
| Lazarus Naturals CBD Capsules  | 8 | 360 |
| Lazarus Naturals Standard CBD Oils | 15 | 70 |
| Lazarus Naturals High Potency CBD Oils | 32 | 200 |
| Lazarus Naturals CBD Isolate | 30 | 1100 |
| Lazarus Naturals Coconut Oil | 15 | 50 |
| Lazarus Naturals Pet Products | 15 | 40 |
Lazarus Naturals Products Features and Highlights
40% Discount for veterans, low-income earners, and people with disabilities: –

Lazarus Naturals products are already highly affordable, and reducing the price by 40% makes them reachable for the eligible people. 

Employee-owned and run: –

This business model causes employees to feel obligated to enhance the company's image, thus the high standards.  

High potency products: –

the standard potency for CBD products is 25 mg per serving. Lazarus offers up to 100mg per serving, which is quite convenient for people who require such doses. 

Ethanol Extraction: –

Some people may consider the use of ethanol and not CO2 extraction a risk factor. This is because CO2 uses no solvents, and it, therefore, runs no risk of containing toxins. These fears can be allayed by the fact that all these products are third party tested, and no batch can be released to the market if it contains toxins.   
Where to buy Lazarus Naturals
Lazarus Naturals products are available to buy online on the company's website and other authorized online retail outlets. The company also authorizes walk-in stores to stock their products. The company also has approved stores where customers can walk in and buy. These stores can be located on the Lazarus Naturals website.
After reviewing this company and its products, it is difficult not to recommend Lazarus Naturals products to any CBD user. The products are an excellent bet for veterans, people living with disabilities, and those who otherwise wouldn't afford them. People who need to take high CBD doses will also find Lazarus Naturals a true friend as they will get their preferred products at highly affordable rates.