Finding a high-quality full-spectrum CBD oil can take a lot of work. With so many brands to choose from, you may need to test out most of them before you can find out if they are actually worth your money.
This Royal CBD oil review should make the process easier and simpler for you. It has everything you need to know about the brand, including a quick overview of the brand's CBD gummies and softgel capsules.
Read on to get started.
Royal CBD is a company based in California. It aims to enhance the quality of their customers' lives in a way that won't compromise their safety or health.
The brand source its CBD from organic and GMO-free hemp that's cultivated without using harmful chemicals and pesticides. This is actually important as hemp is considered as a bio-accumulator.
This means that hemp has the ability to draw all the chemicals and compounds from the soil.
Royal CBD only offers full-spectrum CBD products. This enables you to fully experience the benefits of cannabidiol.
The brand makes sure that all of its products are tested by third-party laboratories which check for the presence of heavy metals, toxins, and solvents that compromise users' health.
Royal CBD Product Highlights
Now, let's get to the products.
The brand doesn't offer a lot of choices but it isn't entirely a bad thing. Having limited products allow the brand to focus on quality, safety, effectiveness, and purity.
Royal Full Spectrum CBD Oil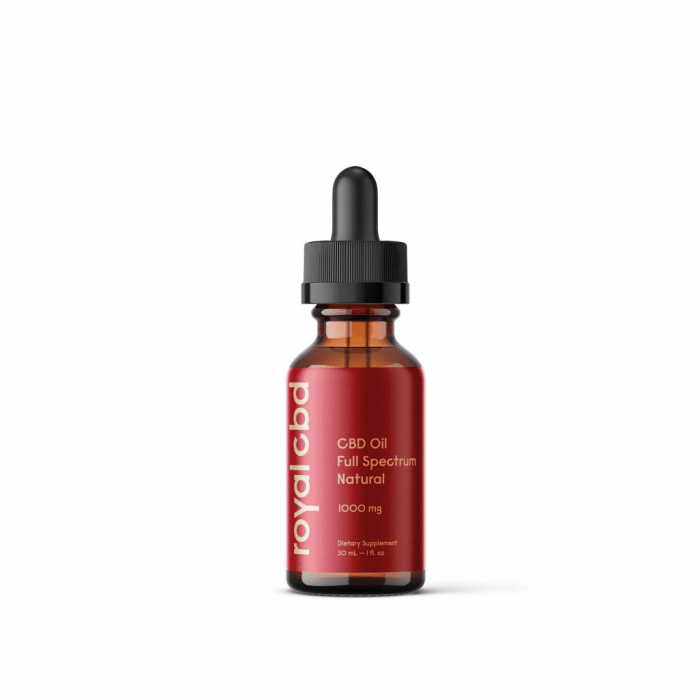 The brand's most popular product is its full-spectrum oil. Well, that doesn't come as a surprise.
In addition to the high-quality hemp Royal CBD uses, the brand also invests in CO2 extraction. This method is considered by many to be the safest and best way to extract CBD oil.
Unlike other extraction methods, this one minimizes the risks of having traces of solvents and other chemicals in the final products.
Now, as a full-spectrum oil, the product provides the advantages of whole-plant synergy. The phytochemicals and terpenes it has work synergistically, and may help to provide relief of chronic pain and anxiety and depression.
It's available in a large variety of concentrations, from 250mg per bottle all the way up to 2500mg.
Royal CBD Softgel Capsules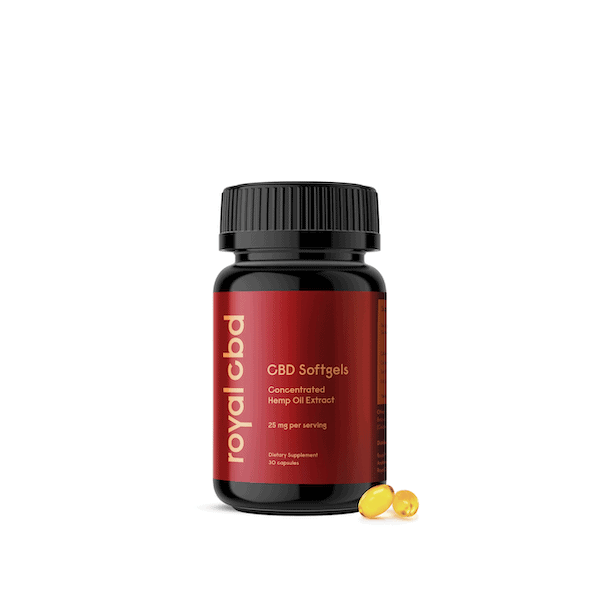 The taste of CBD oil isn't for everyone. In fact, there are people who can't tolerate even the flavored ones.
Now, if you are one of those people, then you should consider switching to CBD softgel capsules. 
Royal CBD Softgel Capsules contain premium hemp extract mixed with MCT oil. The addition of organic MCT oil greatly increases the bioavailability of CBD.
Plus, it also helps extend the shelf-life of the product. Royal CBD claims that it can last from 2 to 3 years.
Each bottle has 30 capsules and each capsule contains 25mg of CBD. In total, you get 750mg of CBD per bottle.
The softgel capsules are easy to swallow. Unlike some larger pills, you won't feel uncomfortable swallowing them.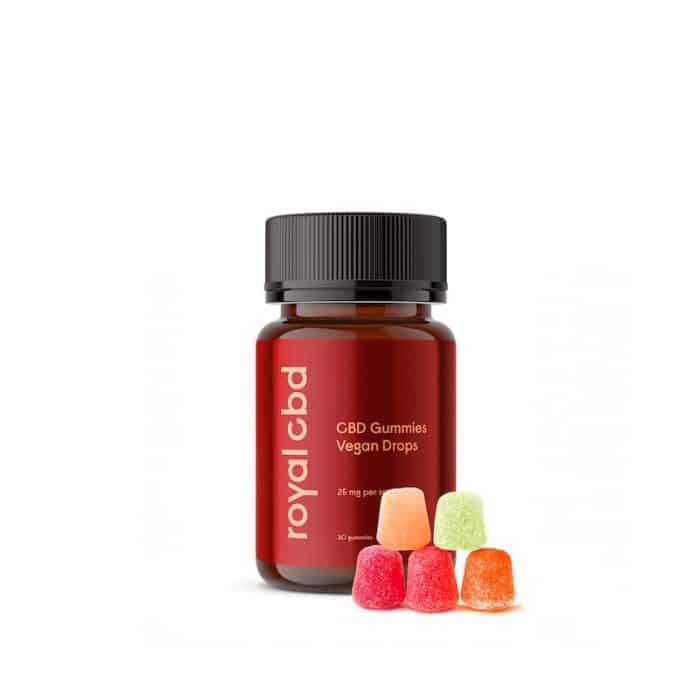 If you prefer something tasty, then gummies are for you.
The product is formulated using natural flavors and broad-spectrum CBD extract, making them THC-free. Compared with oils, these gummies are easier to take in terms of consistent dosage.
Each gummy has 25mg of CBD. That means no more guessing at the right dose – you'll get a consistent serving, every single time.
And if you need to take more, you can just increase the number of gummies you take per day.
Another nice thing about CBD gummies is that they are easy to take no matter where you are. You can just fit them into your pocket, gym bag or purse and take them whenever needed.
Royal CBD submits every batch of its products to third-party labs which test them for purity, safety, and quality. Plus, those labs test the products to ensure that their THC level does not go beyond 0.3%.
One of the best things about Royal CBD is its commitment to using only the best ingredients for its CBD products. They know how critical it is to maintain an environment that doesn't have pesticides and fertilizers because of hemp's ability to absorb any substance on the soil.
Plus, the farms they work with follow strict growing standards.
Royal CBD doesn't offer the cheapest products in the industry but the price tags they put on their products are quite reasonable. The cost of their CBD products covers high-quality ingredients, third-party lab tests, and the best extraction method.
Considering all those factors, the products offer good value for your money.
30-Day Money-Back Guarantee
Now, if you're not satisfied with the products for some reason, Royal CBD has a 30-day money-back guarantee. This allows you to try out their CBD products risk-free.
Not all people are comfortable with the idea of using CBD products because of the misconceptions about them. There's the idea that CBD products can make you high or compromise the results of drug tests.
Royal CBD makes an effort to clear those misconceptions and promote awareness about CBD and its health benefits.
Its website has a separate section that explains how CBD oil is made, the difference between cannabinoid spectrum options, the effects of CBD, and so much more.
The website also provides a guide for people taking their products for the first time. It explains how many gummies or capsules you can take in a day as well as the best way to take its full-spectrum CBD oil.
Royal CBD only offers three types of CBD products. 
Compared with other brands, the choices are quite limited. The flavors and strengths are limited, too.
About Royal CBD Customer Service
Royal CBD has a separate section on its website where you can contact them. Simply fill in the details required and your message and hit send. You'll get a reply soon.
If you don't get a response, you can reach them through different social media platforms. And if that doesn't work, you can just give them a call.
You can find their number at the bottom of their website, including their office hours.
Royal CBD is one of the best brands in the industry when it comes to quality and effectiveness. It makes sure to use only high-quality ingredients and the safest extraction method to guarantee that.
While the products aren't the cheapest you can find, they are still worth every penny. Remember, the products have been tested by third-party labs to ensure that.
The brand offers limited options in terms of product type, flavors, and concentrations. 
If you are new to using CBD products, you should be able to find one that's right for you. The lowest concentration should be enough to address minor symptoms.
However, if you are looking for a stronger dose for chronic conditions or different flavors to excite your tastebuds, you might want to consider looking at other brands.
As a guide, we have reviewed the best CBD oil in the market today. You can find out more about it here.