Finding an honest brand in today's CBD market is not as easy as you think. As the number of companies that focus on revenues instead of their consumers increase, it can feel more like a battle.
In this Receptra Naturals review, you'll learn everything you need to know about the brand, its organic hemp source, and its best-selling CBD oil products like the Receptra Elite and Receptra Pro.
By the end of this article, you should be able to know if its the CBD brand you can rely on for your health and wellness needs.
Receptra Naturals is a remarkable CBD brand when it comes to being transparent with its customers. It's highly committed to giving exactly what its customers need.
This family-run business is based in Colorado. It works with organic hemp farms to manufacture full-spectrum CBD products which you can buy in different strengths. 
It also assures its consumers that the farms they work with don't use hemp from genetically modified crops.
One of the most notable things about Receptra Naturals is its focus on creating products that meet the specific needs of the athletic community. This is a bit different since most CBD brands these days are highly focused on targeting consumers who need CBD for health reasons.
Receptra Naturals follows organic growing practices. This means that they only use high-quality hemp in making their CBD products.
Additionally, the brand extracts its hemp oil from hemp flower. This allows them to pack only the good stuff in every CBD product they bring to the market.
Receptra Naturals Product Highlights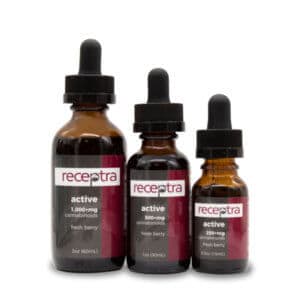 This product is an excellent choice for new CBD users with an active lifestyle. It's made with all organic ingredients to give you peace of mind when it comes to your safety as a consumer.
In addition to hemp seed oil, Receptra Active also has MCT oil which is infused with hemp extract. The addition of MCT oil increases the bioavailability of CBD in the body.
Additionally, each bottle of Receptra Active CBD oil also has avocado oil, grapeseed oil, sunflower oil, and extra virgin olive oil.
This product has mint/berry oil flavor to help mask the natural taste of CBD.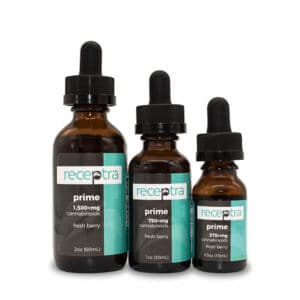 This variety, on the other hand, is formulated to address mental clarity and focus. 
Compared with Receptra Active, Receptra Prime has fewer ingredients. It only has MCT oil, hemp extract, and sunflower oil.
Receptra Prime also has a mint/berry oil flavor for that fresh berry taste. If you're not a fan of that flavor, you can get the unflavored version which has a mild hemp taste.
Take note that CBD oil has a distinctive taste. However, if you are using hemp extract that's been carefully processed, its taste shouldn't be bothering.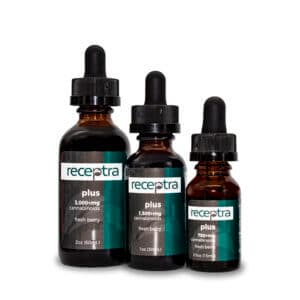 For those who have advanced health and wellness routines, you might want to consider this variety. Receptra Plus has MCT oil which is quite helpful when it comes to boosting metabolism and energy.
It's ideal to be taken daily, one to three times a day. You can take up to a full dropper of this CBD oil to get its full benefits.
Just like the rest of the extracts on this list, Receptra Plus CBD Oil is available in three different sizes.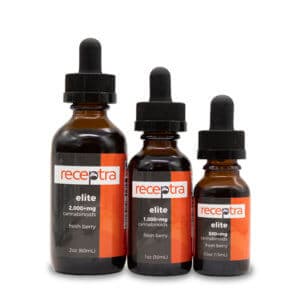 This particular CBD oil is formulated for people who engage in moderate to extreme physical activities. It's made with ingredients that promote faster recovery and higher energy, such as turmeric.
If you are highly concerned about employment regulations or your focus at work, you can get the Elite 0% THC. It's third-party lab tested and certified to be THC-free.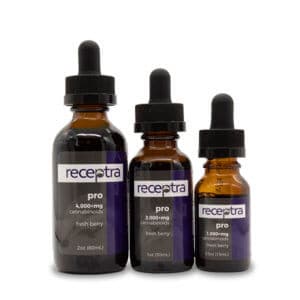 This oil is more commonly used by professional athletes and those who engage in intense exercises. It's also marketed to people who experience injury-induced pain and discomfort.
Because of that, Receptra Pro CBD Oil has higher potency options than most CBD oils on the market today. The lowest potency you can get from this brand is 1000mg while the highest is at 4000mg.
If you are new to using CBD, it's a good idea to talk to your healthcare provider first. That way, you'll be guided on what dosage you can start with.
Receptra Targeted Topical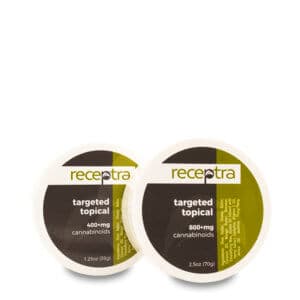 This is an all-natural topical CBD product. The company claims that it can help minimize swelling, promote recovery on your joints, and aid in achieving peak performance.
The product is made by mixing the brand's high-quality hemp oil with jojoba and arnica to deliver its intended benefits. And to facilitate better delivery, Receptra Naturals added camphor.
This product also has a THC-free version. It's' non-psychoactive, non-toxic, and non-addictive.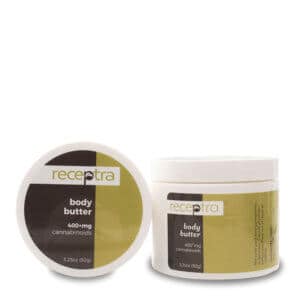 Each container of Receptra Body Butter has about 175mg of CBD to help moisturize your skin.
This product smells nice. It has this therapeutic scent because of jasmine and camphor.
Its list of ingredients is quite impressive, too. It has aloe vera juice, shea butter, and jojoba oil which are great for the skin.
It also has vitamin E which has potent antioxidant benefits.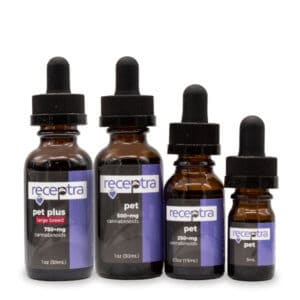 Receptra Pets are formulated to work well with most pets' endocannabinoid system. 
For smaller breeds, you  can get either the 250mg or 500mg bottle. For large breeds, you can get the 750mg Receptra Pet bottle.
Each bottle comes with a guide that shows the brand's recommended dose depending on the weight of your pet. It also offers ideas on how you can add the CBD product to your pet's diet.
As for taste, this product has a mild hemp taste. This shouldn't be a problem because it's easy to mask.
Receptra Naturals only work with Colorado farms which are mostly family-owned. This helps ensure the quality of the products you buy from them. 
Receptra Naturals ships to all 50 states. However, they don't offer free shipping.
If you will be placing an international order, it's a good idea to check the existing laws first to avoid any problems.
In case you've tried the products and you're unhappy with them, you're allowed to request a full refund up to 30 days of your purchase. Receptra Naturals claims that they can resolve issues quickly.
Receptra Naturals' transparency is quite impressive. 
On its website, you can find a section where you can trace the product you brought to its source. You can also find your product's Certificate of Analysis in the same section.
Additionally, you can find a lot of information about your products on the packaging. This is something you don't get to see all the time in the CBD market.
Most brands simply post results or email their consumers.
As previously mentioned, Receptra Naturals offer products for people who have an active lifestyle. They have more potent extracts and topical products to address their needs.
The brand even has THC-free versions to give its consumers peace of mind when it comes to legality and their concentration at work.
You see, the laws concerning cannabinoid and CBD products are still confusing. Only products that contain no more than 0.3% THC are considered legal.
They are also less likely to cause false-positive results in drug tests unless you overload your body with CBD.
Third-party laboratory tests
To ensure their products' safety, purity, and quality, all of Receptra Naturals' hemp oils and CBD products are submitted to a third-party lab for tests. After testing, the results are posted and shared with the consumers.
If you've tried the CBD products and you find yourself not satisfied with their effects on your body, you can return them and get a full refund from Receptra Naturals. Just make sure to return them within 30 days.
Receptra Naturals' website isn't the worst website you'll see but it's not the best either. Its design is not up to par with what the big names in the industry have.
Apart from that, if you take a really close look, you'll notice that it lacks a clear About Us section. While it isn't really a big deal, it would be a big help for consumers to know the brand better. 
It's a section where the brand can discuss more of their goals, who they are, and what they aspire to contribute to the community. It's supposed to give a glimpse of who they are as a CBD brand.
The options for flavor is quite limited. You can only get the products in either berry or unflavored versions.
If you have really picky taste buds, this might be a problem for you.
Receptra doesn't offer capsules or even gummies. This can be an issue for those who have a busy lifestyle and those who prefer to take CBD without attracting a lot of attention.
Receptra Naturals Discounts and Coupon Codes
Prices of CBD products aren't cheap and if you're looking for a way for you to purchase them at a much lower price, then you'll need discount codes and coupons.
You can get Receptra Naturals Coupons right from their website. All you have to do is join their mailing list and go through their social media accounts.
The company will send you the best offers they have in your email.
Receptra Naturals also offers discounts to both active and retired military personnel. You can get as much as 15% discount by joining the program.
If you highly value transparency in a brand, then Receptra Naturals is a strongly recommended brand for you. It's committed to ensuring that all of its consumers know exactly what they are putting inside their body.
Receptra Naturals submits every product to a third-party laboratory which runs tests to ensure potency, quality, and safety. After checking the products, they post the results and other relevant information for everyone to see.
Receptra also offers a 30-day money-back guarantee which is important. It's a sign that the brand is confident about the products they offer and they consider consumer satisfaction over everything else.
A word of caution:
Even if Receptra Naturals seems promising to you, it's still a good idea to check with your healthcare provider. Discuss the pros and cons of adding CBD products to your daily routine and make sure to take the process slowly.
Not everyone responds the same way to cannabinoid and CBD products. Some people experience relief right away while others need to take a higher dose just to feel a change in their condition or body.