Medterra CBD oil is typically up to 99% pure CBD. The reason for this high concentration is because the company produces CBD isolates and then blends them where necessary. Unlike Endoca CBD products, Medterra CBD tinctures and other products are all without THC and other compounds such as terpenes. In the Medterra CBD review below, you'll see when and how the company was established, its products, and additional information. 
This is one of the new CBD companies having been established in 2017, it specializes on products based on CBD isolates. Owing to its recent establishment, one may not consider Medterra to be a big company, but it is holding its own against older, well-established firms. The company began with the production of tinctures, but it soon branched out to other CBD products such as oils, capsules, among others, as we are going to see in the product highlights section.
Medterra uses American grown hemp from the state of Kentucky. The hemp is non-GMO, and it is grown organically in compliance with the rigorous standards set by the state department of Agriculture. 
Still, on quality, the company gives third party laboratories access to its products for additional testing. This is even though the company itself has pharmaceutical-grade laboratories of its own. Third-party testing is a common way of authenticating a manufacturer's claims concerning their product. Medterra makes the lab results for each product available to customers on its website. 
It is impossible to do a complete Medterra CBD review without talking about the people behind the brand. The company has a medical advisory board that is made up of highly qualified and respected professionals who are specialized in different areas of both human and veterinary medicine. This board advises on the formulation of the products to make them suitable for different conditions.
For extraction, Medterra employs the CO2 method, which is efficient and safe. Once the hemp extract has been made, they then isolate the CBD from other organic compounds in the hemp. The final product is an isolate that contains more CBD than products from other brands. To improve the bioavailability of CBD, they use MCT, coconut oil as a base for its CBD. 
In furtherance of its vision to promote the understanding of CBD and its benefits, the company spends time and resources to educate customers on the benefits and uses of CBD. They also have a particular interest in the improvement of standards in the CBD industry.  
Besides all the above, the company offers free shipping for the US for orders of $99 and above. Delivery is usually within hours for American buyers. At the same time, it can take up to three weeks for international customers depending on the country to which the delivery is to be made. International customers should note that Medterra doesn't sell its products in the UK, Canada, and Australia.  
The company is acknowledged as one with the lowest prices for CBD products within the same range of potency and sophistication.  A 30-day money-back guarantee is one of the main distinguishing features for Medterra.
Medterra CBD Product Highlights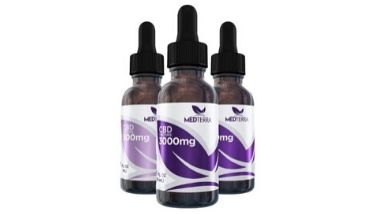 Tinctures are Medterra's flagship product. They were the product the company manufactured first, and they remain very popular with customers even after the company introduced other items. The tinctures come in 30 ml bottles, and each bottle has a dropper calibrated to release a drop of 1ml with each serving. The droppers are also graduated to allow for measurements in ¼ Ml increments. 
The tinctures contain over 99% CBD, and they come in three packages:
500mg which contains 16mg per 1ml serving 

1000mg which has 33mg per 1ml serving

3000mg which contains 1000mg per serving 
There are only two ingredients in the tinctures: 
Medterra's CBD tinctures contain no THC at all, and this makes them legal throughout the United States and in other Jurisdictions where THC is illegal.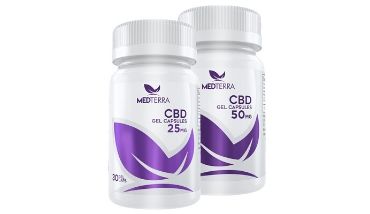 The company refers to its capsules as Gel Capsules. They are ideal for people who want to take their CBD oil discreetly on the go since all they have to do is to take as many caps as they need for their CBD dosage and swallow them. CBD capsules are also preferable for people who prefer to feel the effects of CBD oil slowly over some time. The capsules come in bottles of 30 pieces and two potencies.
750 mg which is equal to 25mg per capsule 

1500mg which translates to 50mg per capsule 
The ingredients of the capsules are as follows;
MCT Oil 

Medterra pure CBD oil and 

Bovine Gelatine 
Like other Medterra products, the capsules don't contain THC, and this makes them acceptable across the board.
The company has three wellness products: 
CBD Good Morning 

CBD Melatonin and 

CBD morning wellness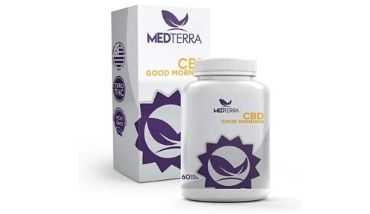 CBD Good morning: – These are soft gel capsules that are intended to boost the energy of the user for the day. They combine CBD oil with other energizing ingredients. Each bottle of the capsules contains 60 capsules, and each of the capsules has 12.5 mg. In total, therefore, a bottle of the capsules contains 750 mg.  
Ingredients 
The Following are the ingredients of 'Good Morning.'
CBD oil

L-Tyrosine

L- Theanine

Vitamin B6

Vitamin B12 

MCT oil, and 

Bovine Gelatine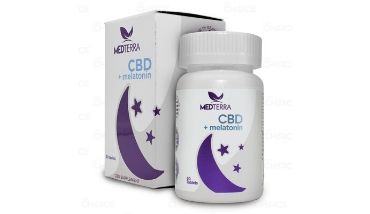 CBD Melatonin: – This product is ideal for those who struggle with insomnia. They are easy-to-dissolve tablets with a spearmint flavor. They contain a mix of CBD and Melatonin at 25mg and 10mg, respectively. The infusion of melatonin makes them much more effective than pure CBD oil. The tablets are packaged in bottles where each bottle contains 30 pieces, and you take them, placing them under the tongue where they dissolve.
Ingredients 
CBD

Melatonin 

Crospovidone 

Dibasic Calcium Phosphate 

Avocado Oil Powder

Xylitol

D-Mannitol

Silicon Dioxide 

Magnesium Stearate 
Medterra's Women Monthly Wellness: – The company develops this product to help women reduce their discomfort during menses. It is made from a combination of pure CBD and other ingredients, all of which are derived from nature. The product's formulation is in gel capsules, where each bottle contains 60 pieces of 25mg each. The manufacturer recommends a dosage of two capsules every twelve hours for the duration of the cycle.  
Ingredients 
Ginger

Cinnamon

Valerian Root

Cramp Bark

Chasteberry

Magnesium

Vitamin E

Vitamin C

CBD

MCT Oil

Bovine Gelatin, among others.
These are developed with the same Medterra proprietary technology to help users with skincare. They include:
Medterra CBD Rapid Cooling Cream

CBD + Manuka Cream and 

CBD Roll-OnOn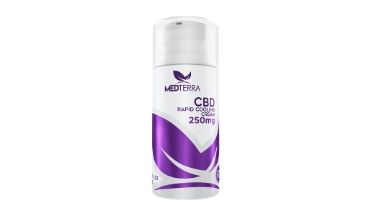 Medterra CBD Rapid Cooling Cream: – This cream is entirely THC free, and it is ideal for joint pain and skincare. All the ingredients are natural, and they include soothing menthol, arnica and CBD oil. Each bottle of cream contains 100mls, and it comes in two potencies; 250mg and 750mg CBD.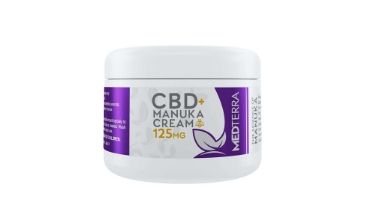 CBD + Manuka Cream: – This cream contains large quantities of Manuka honey mixed with CBD oil and over 20 other plant extracts. Manuka honey is found in New Zealand, and it has excellent natural skincare qualities. 
The manuka cream nourishes the skin, and it can be used as part of regular skincare. It also restores the skin with many different conditions such as dryness, acne, among others. 
The cream and other topicals are manufactured with the help of highly trained dermatologists who are part of the company's medical advisory board.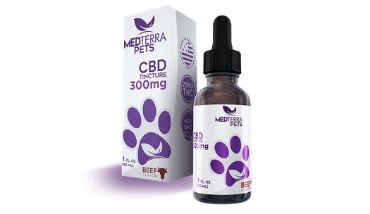 Pet products include tinctures which come in three flavors;
Chicken 

Beef, and 

Natural 
They also have Joint Support and Calming Chews for pets and cats of more than 12 weeks of age. Valerian root is added to the CBD oil alongside L-tryptophan because the two enhance CBD's calming effects. Each chew has a relatively low 10mg to help you give your pet the right dosage depending on its size.
Medterra Products Are Low Priced:

– When compared to other products of comparable quality and potency, Medterra products cost less on average. This lower cost is beside the amount the Medterra discounts and deals the company offers on its website. 

30 Day Money-Back Guarantee

: – The company allows you to return the product if you are unsatisfied, provided you return it within 30 days from the date of purchase, and they refund your money.

Varying Products and Concentrations: – Medterra has perfected the art of combining CBD oil with other natural ingredients to develop a good number of unique products for the benefit of users. There are also different concentrations within the same product to cater for people with varying needs of dosage.
Human Products Are All Unflavored

: – The products manufactured for human consumption only come in natural flavor. This puts users who are averse to the natural CBD taste at a disadvantage.

There Are no Edibles:

–

Edibles such as gummies

, chewing gums, and cookies are a convenient and discreet way of taking CBD for some users. Failure by Medterra CBD to manufacture them puts such users at a disadvantage
This Medterra CBD Review shows that even if the company is young, it deserves to be taken seriously by users and other industry players. The medical advisory board helps the company develop products for various conditions, including cancer and other chronic diseases. The product range is enough to make the company a one-stop-shop for those who are comfortable with unflavored CBD.