Kat Naturals is one of the genuinely premium CBD brands in the market today. It distinguishes itself from other brands by working hard to understand customer needs and taking steps to meet them. Due to this keen understanding of customer needs, the CBD products by Kat Naturals, from CBD oil to topicals and everything in between, are variously formulated to dispense the goodness of CBD and other natural ingredients where consumers need it most. Knowledge of the history of Kat Naturals is vital to give you the background that informs product design. Keep reading to get this history in our detailed Kat Naturals review below.
Kat Merryfield is a trained herbalist and nutritionist. Before she ventured into the manufacture of CBD products, in 2015, she had been processing other natural products for ten years. Initially, she would grow her ingredients in her backyard, but she started sourcing for products elsewhere as her business grew.  
Kat redoubled her efforts to develop exceptional products after her husband, who is a veteran, was diagnosed with PTSD. Kat was determined to find a remedy for him and other people with similar symptoms. 
The founder's training and experience as an herbalist shine through in the formulation of products as the company is artful in the infusion of other natural remedies into their CBD products, enhancing effectiveness.
Kat's Naturals are different from other CBD manufacturers because their stated aim is to heal and not just provide nutritional supplements as other CBD companies do. Their motivation is to meet the needs of CBD users, ethically, and sustainably. 
Also, known as Kats Botanicals, the company keeps its packaging deliberately minimalistic as a way of reducing their carbon footprint. The carbon footprint is further reduced by Kat's Naturals' decision to source their hemp locally. If they sourced it from far away, it would require to be transported over long distances, and that would burn fossil fuels polluting the environment.
They source their hemp from three farms in the state of Tennessee, which have considerable experience in hemp production. Laws and standards for hemp production in the state are quite stringent. They regularly examine the soil upon which their hemp is grown to establish whether there are pesticides in it. 
All the hemp used for the manufacture of Kats Natural products is non-GMO and 100% organic, which speaks to the purity of the end product. 
Kat's Naturals uses the supercritical CO2 extraction method of extraction from which they get both CBD isolates and full-spectrum hemp extracts. The CO2 process ultimately results in CBD isolates of up to 99.9% purity and safe full-spectrum products. 
Kat's Naturals is aware of the fact that CBD and medical marijuana, in general, are just reappearing from the shadows, and many people still don't understand them.  While not all their products may be categorized as cheap affordable CBD oil, the company tries to improve access in different ways. Kat's Naturals also educates the masses on the benefits of CBD by posting educational materials on their website. Their informative blog provides information on diverse topics such as how to buy CBD, how CBD is manufactured, among others. 
The company encourages people who would like to start using CBD by offering them a limited money-back guarantee.
The products, after they have been processed, are taken to a reputable third-party laboratory for testing. Kat's Naturals is one of a select few CBD companies that put the Certificate of Analysis into each of the product packages. 
Kat's Naturals Product Highlights
This company has a relatively high number of high impact products. The following are some highlights of the products. 
Kat's Naturals Organic CBD Oils – Broad Spectrum
This CBD oil comes in three broad categories;
Heal CBD Oil 

Naked CBD Oil

Relax CBD Oil 

Metabolize CBD Oil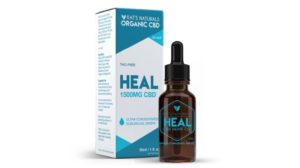 This product is Kat's Naturals' bestseller. The company is the only CBD manufacturer to be confident enough to claim that its product heals users, as seen in the name of this product. 
 Heal CBD oil is a CBD isolate, which means it contains no THC.  The CBD is blended with essential oils from peppermint, and the two ingredients work in concert to promote the general well-being of the user. It is important to note that even the peppermint used in this oil is organically grown. This makes Heal CBD oil entirely free of agricultural chemicals. 
 The manufacturer then mixes the CBD and peppermint oil with cold-pressed hemp seed oil. The hemp seed oil is the base that carries all the other ingredients of this oil, but it also brings with it fatty acids and other nutrients that are beneficial to the user's health. These fatty acids are Omega 6 and Omega 3, while the additional nutrients include vitamin A and Vitamin E.  
There is a small disadvantage in using hemp seed oil as a carrier for CBD. While the oil has many nutritional benefits, it has a low-fat content. The lower fat content is significant because CBD is fat-soluble, and it can only be delivered into the body using fat. 
 Besides adding flavor, peppermint has specific health benefits which it brings to the oil. It promotes respiratory health and boosts the user's digestive system. 
 Additional organic compounds from the hemp extract include cannabinoids (CBD and cannabidiolic acid (CBDa) and terpenes. The terpenes are eucalyptol, limonene, B-Pinene, A-Pinene, and Beta-Caryophyllene. 
 Heal CBD is a high potency product that contains 1500mg of CBD in 30ml bottles. This means that each 1ml drop contains 50mg of CBD. The best way to take the CBD should be with the advice of a healthcare professional. 
 In general, however, it is advisable to shake the bottle well before use, put drops of the tincture under your tongue, and keep it there for sixty seconds. The high potency of Heal CBD makes it ideal for people dealing with severe illnesses like Parkinson's, cancer, HIV/AIDS, and other such conditions.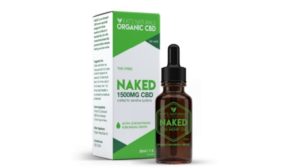 Kat's Naturals is mindful of the fact that some people dislike flavors. It is to cater to the needs of these consumers that they developed 'Naked.' The oil is referred to as naked because it has no flavoring other than the natural, earthy hemp flavor. 
 Its ingredients, besides the supercritical CO2 extracted American grown hemp extract, are organic hemp seed oil, which is its base and carrier for cannabinoids. The hemp seed oil also has its nutritional benefits as it contains Omega-6 and Omega-3 essential fatty acids and high levels of vitamin A and E.  
 Having been specially formulated for people who don't like flavors, 'Naked' contains no terpenes since terpenes are flavors. 
 The CBD oil comes in a 30ml bottle, which has a potency of 1500mg.  Kats Natural Naked CBD oil goes through third party testing, and the Certificate of Analysis is enclosed in every box.
 The inclusion of the COA gives users a view of precisely what to expect from the package. It builds the users' confidence in the product. It is also worth noting that this product is entirely THC free. It is, therefore, a product to go for if you are a regular user who needs to take drug tests often for work or any other reason.
This is a lower potency oil that Kat's Naturals have specially formulated to help users cope with the pressures of life. It is also ideal for people battling mild anxiety. To achieve the objectives of the product, Kat's Naturals blends CBD oil with wild orange essential oils and hops. 
 The wild orange contains high quantities of monoterpenes, which have many positive effects on the body. The blend works together to stimulate receptors for vanilloid and serotonin, which ultimately boosts the users' mood.  The relaxation this oil causes doesn't only affect the brain; it also affects the body. This means that the oil can be used to provide relief from fatigue for a tired person besides reducing their anxiety. The oil also contains some anti-inflammatory effects. 
 'Relax' is THC free, and it comes in a 30ml bottle, which contains 300mg CBD. Like the other oils we have discussed, this CBD oil has a hemp seed oil carrier. The use of hemp seed gives the products additional advantage of having Omega six and three alongside vitamins A and E.
 The tincture also contains limonene terpenes, which Kat's Naturals extracts from lemon peels. Other terpenes in the oil include Myrcene, alpha-humulene, linalool, alpha-pinene, and beta-caryophyllene. 
 This oil is best taken sublingually, and it doesn't necessarily require the advice of a physician due to its mildness. One can just take the oil when they need help relaxing. A user should take the oil in intervals of four to six hours.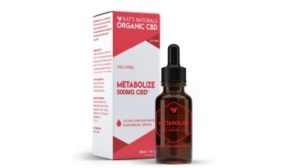 The ingredients of this oil include cold-pressed hemp seed oil, grapefruit, lemon, peppermint, ginger root, cinnamon, cannabinoids, and terpenes. The purpose of the oil is to speed up metabolism and reduce appetite; both of these effects are important for weight reduction. The following is a breakdown of what each of the ingredients brings to the oil. 
Hemp seed oil: – It contains Omega-3 and Omega-6 essential fats as well as Vitamin A and Vitamin E. 
Grapefruit: – this fruit helps to develop healthy metabolism. It can also raise the user's mood, which is useful for weight loss for people who eat when they are in low spirits. Grapefruit is also a source of the terpene limonene.
Lemon: – Lemon helps to build a positive mood in the user. It also helps with digestion, increases respiratory health, and helps with the digestive system of the user. Besides these, lemon is also a natural detoxifier.
Peppermint: – This ingredient increases the health of a user's respiratory tract to enhance breathing. It also helps with the digestive system to keep it healthy. The health a person's digestive system is necessary for proper balance on matters of appetite and metabolism.
Ginger Root: – Ginger root enhances digestion; it also reduces bloating.
Cinnamon: – It enhances metabolism and boosts the user's immunity. 

Besides the above ingredients, metabolize oil contains CBD and cannabinoids, and several terpenes, all of which work together to enhance the effects of products. The oil is THC free, and it is recommended for daily use.  
Kat's Naturals Organic CBD Oils – Full Spectrum.
The company has two of these:
Balance CBD Oil and 

Restore CBD Oil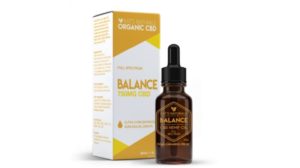 This oil comes packaged in a 30ml bottle that contains 750mg of cannabinoids. It comes with a dropper that releases 0.05mls of oil in each drop. This means that each drop has 1.25mg of cannabinoids. This oil is specially formulated to ensure homeostatic balance throughout the body. Its ingredients are as follows.
Coconut Oil: – Coconut oil is high in saturated fats. These fats make it the ideal carrier for CBD to increase its bioavailability. Besides helping deliver CBD to the body, Coconut's saturated fats can help the body burn unwanted fats, which results in energy boosts for the user's brain and body. It is also laden with antioxidants – which are great for skincare, among other things. Coconut oil also has antibiotic and antifungal properties.
Peppermint: – It promotes the health of the digestive system when taken internally. Peppermint also clears the respiratory system. 

Cannabinoids: – Since this product is made from a full-spectrum hemp extract, it contains all the cannabinoids found in the plant from which it was extracted. The oil still qualifies to be referred to as CBD oil because its source hemp is massively CBD dominant. The other cannabinoids, therefore, only exist in trace amounts in the oil. The entire list includes CBD, CBG, CBC, CBGa, THC, CBDV, and THCa. Please note that the presence of trace amounts of THC in this oil may lead to a positive in drug tests if the oil is taken in large quantities before a drug test. 

Terpenes: – This oil contains several terpenes such as B-Caryophyllene, Guaiol, myrcene, eucalyptol, humulene, and menthol, among others.
 All these ingredients work in concert to restore balance and calm in any part of the body that may be out of homeostatic balance. These are issues such as fever, inflammation, hormonal imbalances, among others. This oil is safe for daily use, and like all other Kat's Naturals products have been tested by an independent lab and results enclosed with each bottle.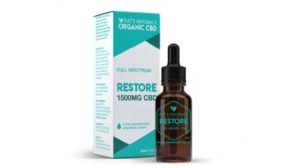 With 1500 mg of cannabinoids in a 30 ml bottle, this is one of Kat's Naturals' most potent CBD oils. It contains natural peppermint oil for flavoring, among many other ingredients. The following are its ingredients.
MCT Oils: –

This oil is also referred to as coconut oil because it is sourced from coconuts. It acts as the carrier oil for cannabinoids to Restore CBD oil, and it also has many health benefits of its own that enhance this oil's effectiveness.

Peppermint:

– Despite adding flavor, peppermint also has health benefits for the user, such as the promotion of the health of the user's digestive system.

Cannabinoids and Terpenes: –

The full spectrum of the cannabinoids from which the hemp is extracted are found in this product. They include CBD, CBG, CBC, CBGa, THC, CBDV, and THCa. The terpenes in the product are usually extracted from other plants and then infused into the oil to enhance its effectiveness.  
 The amount of CBD in this product is high, and the additional ingredients in it make it even more potent. The oil helps in the restoration of normal body functions whenever there has been an imbalance of any kind.
Kat's Naturals Professional CBD Capsules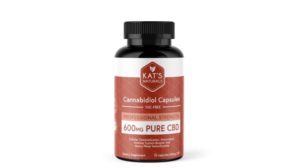 Capsules are ideal for users who want to be discreet as they take in their CBD. All one needs is to put a cap in the mouth and swallow. Capsules also make a user sure of how much CBD they take in since the mgs in each capsule are marked. Each bottle contains 30 capsules, with each capsule containing 20mgs of CBD. This means that the entire package has 600mgs CBD.
 All the ingredients used in the manufacture of these capsules are natural, a factor that facilitates the quick and efficient absorption of active ingredients into the body.
 Ordinary CBD capsules have absorption rates in the region of 15%, which is exceedingly low. Kat's Naturals remedies this situation through the use of Growth Cell Oligopeptide. This compound activates the endocannabinoid system and satellite cells, which results in an almost 100% absorption of CBD. It is noteworthy that these capsules contain no THC. Other ingredients include: – 

Humic and Fulvic Acid: – Humic acids are usually found in the soil. It is the source of minerals for plants, and taking it makes it possible for the user to get those minerals directly. Fulvic acid, on the other hand, enables the body to utilize the nutrients it gets from plants quickly. Having them in the capsule, therefore, allows a user to enjoy the benefits of other plant-based nutrients faster. This is another measure to enhance absorption.
BCAA: – This is short for Branch Chain Amino Acids. These are among the nine essential amino acids. Essential amino acids are those that the body can't manufacture, and they can, therefore, only be obtained through diet. 
BCAA consists of three acids, leucine, valine, and isoleucine. These acids help in muscle growth, reduction of fatigue, and muscle soreness, and they also help improve liver function for people with cirrhosis of the liver. According to its benefits, this ingredient makes the capsules ideal for use after workouts and people with liver problems.
Three CBD creams fall under this category.
CBD Cream w/Arnica and

CBD Cream w/Capsaicin 

Professional CBD Cream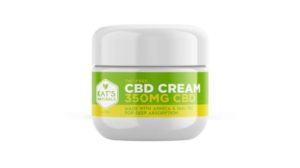 This cream comes in a 30ml bottle, and it has a potency of 350mg CBD. It also contains other natural ingredients that help to treat skin conditions and also to regenerate healthy skin. They can thus be used as part of the user's general skin care regimen. Ingredients include: –
Hemp Seed Oil: –

This oil contains omega-6 and omega-3 saturated fats, which are known to

reduce wrinkles and repair damaged skin

. 

Emu Oil: –

The Emu is an Australian bird whose oil has been used for over 40,000 years as a remedy for skin conditions and injuries. The oil heals skin conditions better than all known plant-based remedies. Emu oil is normally domiciled on the bird's skin and is acquired, ethically, after the birds have been harvested for meat.

Avocado Butter: –

Avocado oil contains a high concentration of saturated fats. It contains Omega 3 and 6 fats and oleic acid, which makes up 70% of avocado pulp. All these organic compounds in avocado contribute immensely to the positive impacts of this cream on the user's skin.

Almond Butter: –

This ingredient can protect the user's skin from UV rays, keeping it smooth and soft. It also eliminates fine lines from the skin, and this helps the skin to be smooth. Almond oil contains fatty acids that help the skin retain moisture, and they can also help in the restoration of chipped skin.

Arnica:

– This is a well-known homeopathic remedy that helps to heal wounds and reduce inflammation. Arnica shouldn't be used internally. 
Other ingredients include; the essential oil of lemongrass, frankincense, and lavender. These work together to provide the skin with preservative and healing effects. Frankincense, known as 'the king of oils' enhances relaxation, and it has antibacterial effects on the body.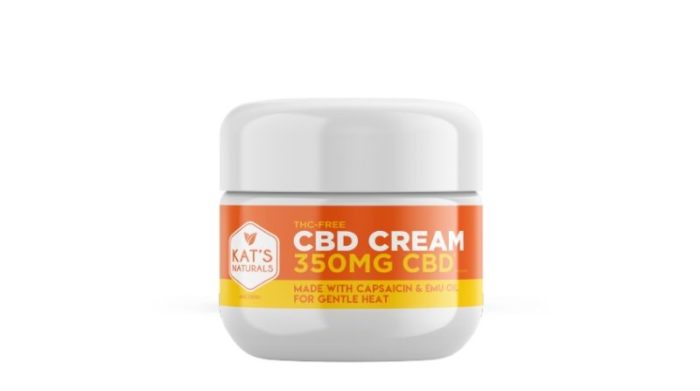 This oil contains Emu oil, avocado butter, and almond butter. All these ingredients are also found in the 'w/Arnica' cream and are well explained above.
Other ingredients include: – 
Capsaicin: –

Kat's Naturals uses olive oil to carry this compound. Capsaicin is extracted from chili pepper. It is included in the cream because it helps to reduce pain. Capsaicin achieves this feat by lowering the concentration of the neuropeptide that travels through the body to signal pain to the brain.

Ginger essential oil: –

This oil contains antioxidants that prevent inflammation of the skin while at the same time increasing blood flow. It is because it contains this ingredient that this cream is ideal for use with varicose veins and inflammations such as gout and arthritis. 

Black Pepper:

– This also aids in enhancing circulation. 

Marjoram:

– Besides increasing aroma in the cream, marjoram can be used to relax muscles before a workout and heal bruises after the work-out. 

Juniper: –

It detoxifies the muscles and joints. This compound also helps to tone the skin. 

Rosemary:

– This helps to increase joint flexibility, and it also helps with varicose veins.  
All these ingredients work in concert in the Capsaicin cream, each bringing its abilities to make this cream effective in the management of various conditions. These products shouldn't be used internally, as some of the ingredients are harmful.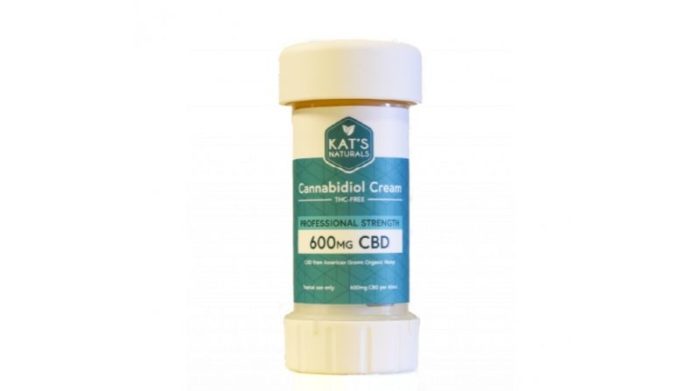 This cream contains previously discussed ingredients, including Emu oil, arnica, lemongrass essential oil, lavender, and frankincense. Each of these ingredients has a unique benefit, and they bring these attributes together to benefit the user.
Emu oil:

– A powerful skin restorer

Arnica: –

  An anti-inflammatory agent 

Lemongrass:

–  a skin purifier 

Lavender:

–  heals irritations 

Frankincense:

– Antibiotic, reduces skin imperfections and causes relaxation
 This cream has an ingredient that is unique to it; the Pluronic Lecithin Organogel, which is used by doctors to help ingredients penetrate the skin. Its use leads to an 80% penetration rate.
 The cream also has a click applicator that dispenses 1ml per click. The applicator means that one doesn't have to use their hands to apply the cream, and also it enables the cream to be dispensed accurately.
Kat's Naturals CBD-infused cosmetics
This product helps the user reduce wrinkles, scars, and skin tightening, thus reducing stretch marks. Besides this, it treats acne and moisturizes the skin, fights free radicals. It has the following ingredients.
Carrot seed oil
Rosehip oil
Grape seed oil
Pumpkin seed oil
Lavender and
Chamomile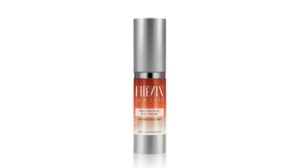 The cream is made by blending a large variety of oils.These ingredients work together to protect and regenerate the user's skin
. 
Rosehip contains beta carotene, and it is also very rich in vitamin C, which is an essential ingredient for skincare. 

St. Paul's Wort protects and nourishes the dermis while at the same time enhancing the skin's systems to remove toxins from within it. The wort also helps reduce the appearance of tiredness on the face. 
 Other ingredients, such as the calendula extract, also enhance blood flow to the face improving a fresh appearance. This cream also helps reduce the dark circles that appear under the eyes when a person is tired. 
 The last ingredient, acetylated glucuronic, helps the skin to synthesize elastin. It is elastin that enables the skin to remain smooth, thus reducing wrinkles. All these ingredients are then infused with CBD for a more significant effect. The cream should be used in the morning and evening by rubbing it under the eyes before the user applies makeup.
 Other CBD infused cosmetics include the Daytime Replenishing Cream, Face Mask, and Nighttime Repair Cream. All these products are made up of powerful natural ingredients that work together to improve the health of the user's skin. 
Kat's Naturals Hemp Chocolate
There are two brands of Hemp Chocolate: –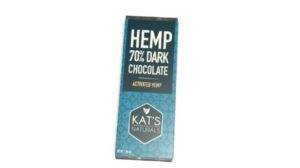 Hemp Dark Chocolate
These are made from a blend of 70% cocoa and decarboxylated hemp. It helps improve the user's immunity and digestive system as well as their emotional health. Besides the hemp and chocolate, this product also contains cocoa liquor, cane sugar, and cocoa butter. All these ingredients are organic.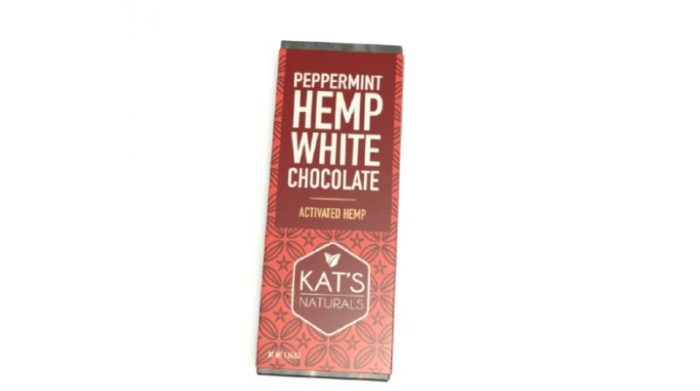 Hemp White Chocolate 
This product is made by blending organic white chocolate with decarboxylated hemp. It also has organic peppermint, milk, and soy as ingredients. This product contains other cannabinoids besides CBD. They include CBDa, THC, CBDV, THCA, and CBG. There are also some terpenes blended into the chocolate to enhance its effect. All the ingredients work together to improve the user's digestive system, emotional health, and immunity.
Kat's Naturals Activated Hemp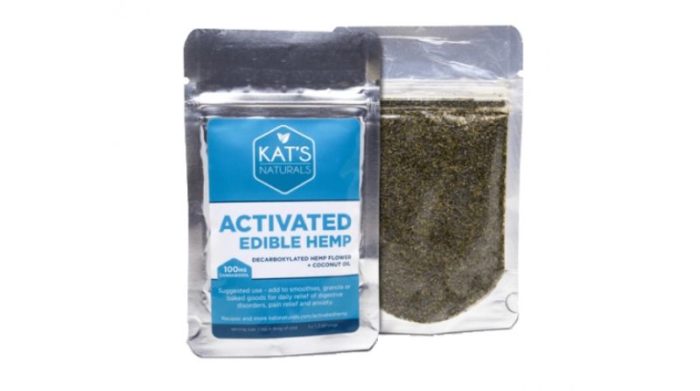 This product is made from full spectrum activated hemp. It is consumed by adding it to baked goods, granola, and smoothies. The hemp from which the product is made is decarboxylated, which makes it much easier to absorb than oil extracts. Activated hemp is ideal for people who would prefer not to use CBD oils for whatever reason, and it falls under the category of edibles. Activated hemp is packaged in sachets where each sachet has 30 grams, and each sachet contains 100mg CBD.
Kat's Naturals Pet Products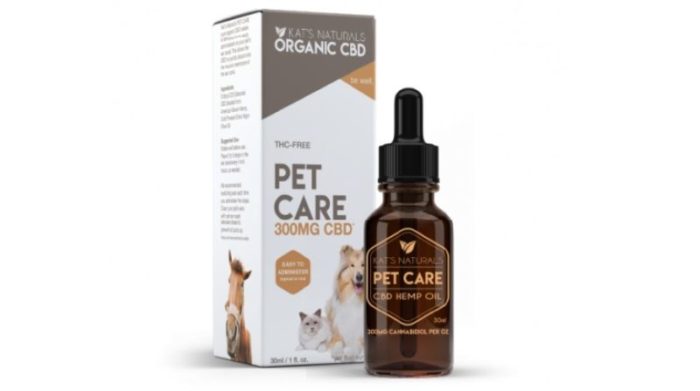 Besides making products for humans, Kat's Naturals also makes CBD oils for pets. They include Pet Care, Rally, Comfort, and Mend. These products help with the growth of fur for pets and reduction of anxiety as well as other conditions common with dogs and cats. They also improve the general health of the pets. 
 All these CBD products are blended with other herbs and to boost the health of pets in different circumstances. The tinctures come in various potencies, which enables pet owners to buy according to needs.
American Hemp and Powerful Herbs: – All the products are formulated from purely organic American grown hemp. The standards for growing organic hemp in America are very high, thus ensuring the safety of products. The hemp is blended with carefully selected herbs and other biological compounds to solve the specific needs of the user. 
Keep it coming ordering system: – This program allows you to subscribe to a program where the products you select will be delivered to your home every month. Besides saving you the hustle of going online every time you need a refill, this program also makes you eligible for discounts of up to 20%. 
Certificates of Analysis are available: – Having a product tested by a third party is good practice to ensure transparency. While many brands claim to have had their products analyzed, it is usually challenging to prove because results are not accessible. Kat's Naturals displays certificates of analysis for all products for all to see.
Wide Variety of Products: – Kat's Naturals has CBD products that meet everyone's needs.
Hemp Seed Oil: – Some of Kats Natural CBD oils use hemp seed oil as a carrier. While it has some helpful compounds, hemp seed oil makes it difficult for the body to absorb CBD.
Non-Vegan Friendly: – Some of the products in Kat's Naturals stable have some of their ingredients extracted from animals. This shuts out vegans from using some of their products. 
Kat's Naturals, without a doubt, produces some of the best CBD products. The blending of hemp extracts with other organic compounds that are specifically targeted to make the resulting products work for you. There are no artificial additives to these products, and this only enhances their utility to the body. One should determine the correct dosage for these products after consulting a physician who can advise them on how much product to take depending on their age. One other thing notable about Kats Botanicals is that they have put measures in place to help the body absorb as much of the CBD as possible. This is a common trend whether the products in question are topicals, capsules, oils, or chocolates. We recommend Kats products to anyone seeking high quality, effective CBD products.